The Ninja Hardware
Traditional Crafts Since 1500 Years Ago
What is Ninja Hardware?
Ninja Hardware are traditional architectural hardware that are used in Samurai houses and Japanese temples to decorate their exteriors and interiors. Our products are authentic architectural hardware actually used in these traditional buildings. You can do it in the same way for your gates, walls, fences and gardens!
Shiro Kanagu and other products in Ninja Kanagu category are made by experienced artisans with traditional skills of handling metals.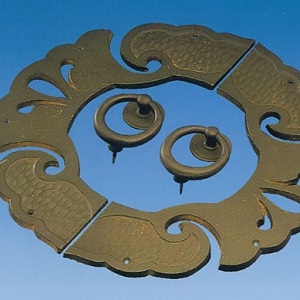 Shiro Kanagu
Shiro Kanagu means "hardware used for castles". Literally, architectural hardware listed in this category are items actually used to decorate castles, big houses and gorgeous temples. Decoration plates, decorative tacks, gate plates, oriental design cylinder locks are included in this category.
Products are handcrafted by experienced artisans using traditional design and technology. Most products are made of brass, so they are durable enough to keep its beauty for a long time. You can also enjoy aging of the material.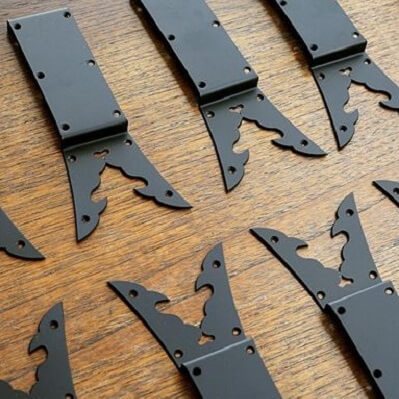 Kajiya
Kajiya means the blacksmith. They are artisans who used hammer and other instruments to forge iron and make various products.
In "Hidukuri" medhod, iron is heated upto 1200℃, almost the melting point of iron, followed by hit into mold to make its shape. By hitting thoroughly by hand, density of the iron become uneven, therefore artisans heat the product again to appropriate temperature, then leave it in ash for a couple of days to make its condition stable.
Products of "Hidukuri" have unique looks because of their handcrafted method by artisans. You can feel tradition and profoundness compared to mass-produced industrial products.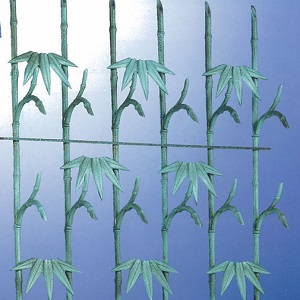 Shinobi Gayeshi
Shinobi Gayeshi is a fence guard which is designed to install on a fence or a wall in order to avoid "Shinobi" (another word meaning Ninja) invading in your home.
Japanese castle, mansion, and samurai residences had installed Shinobi Gayeshi in the old era when Ninja often tried to spy their enemies.
Our Shinobi Gayeshi products are designed to image these era and match not only Japanese house but also any buildings. Decorate with this, and you can add Samurai/Ninja taste!
FEATURED PRODUCTS