Installation Example of Traditional Fence Guard "Shinobi Gayeshi"
Shinobi Gayeshi is a fence guard which is designed to install on a fence or a wall in order to avoid "Shinobi" (another word meaning Ninja) invading in your home.
Although Ninja or Shinobi is not acting in the present era, Shinobi Gayeshi is used for multiple purposes. In addition to its original purpose to prevent thieves from invading to your facility, you can install it to avoid pets/animals or just to add oriental taste to your fence.
Shinobi Gayeshi on Modern House
A house in residential area installs Shinobi Gayeshi fence guards on its wall. In addition to security purpose, owner of the house might intend to avoid cats invading or laying on the wall.
This type of Shinobi Gayeshi does not stand out too much, therefore it doesn't impair design of nice stone wall.
Shinobi Gayeshi on Traditional Houses
These are installed examples of Shinobi Gayeshi in traditional style houses in Kyoto. Of course they match the design of Japanese traditional architectures like these.
OrientalSouls.com has variety of Shinobi Gayeshi. You will be able to find one suitable for your porpose. If you don't want it too Ninja-ish, some products have simple design which can naturally blend into the landscape.
Schools adopted conspicuous design to show its safety.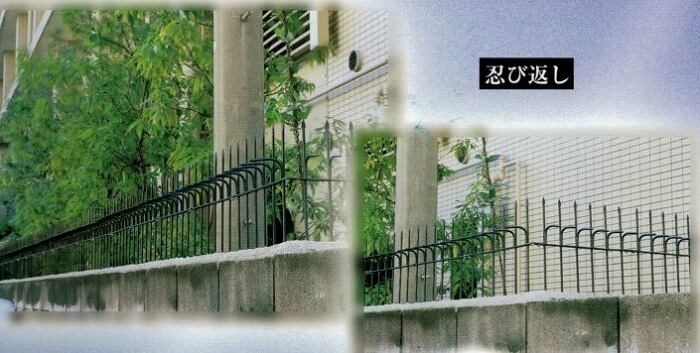 All our products have produces under strict quality control. We accept high-volume orders.
Contact us for any questions. We're happy to answer and think about the best product for your purpose!
Related Pages
CONTENTS
PRODUCT CATEGORIES