How Ninja Hardware Used in Kyoto
Autumn and Spring are the best seasons to visit Kyoto, the most beautiful historical city in Japan.
Abundant nature surrounding the city is well used to form scenery of Kyoto. In Autumn, tree leaves in avenue, gardens and mountains turn yellow or red, which makes the city like burning. To see that scenery, more than millions of people visit Kyoto during Autumn season only. (more than 56 million tourists visit Kyoto annually)
Portfolio from the Best Season in Kyoto
What make scenery of Kyoto so beautiful are not only nature but also traditional buildings and shrines. And an important component to make those buildings and shrines majestic and traditional look is the decorative hardware. In this post, we will introduce how buildings in Kyoto are decorated with hardware in a portfolio style.
Ninja Hardware in the City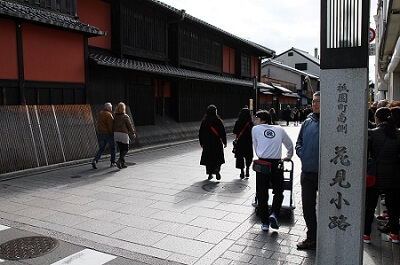 Hanami Koji Avenue
Hanami Koji Avenue locates at almost the center of Kyoto city. It still preserves historic scenery and also known as a traditional entertainment district.
Because many shops in this district utilize old buildings lasts for hundreds of years, you can see how those buildings are made and decorated.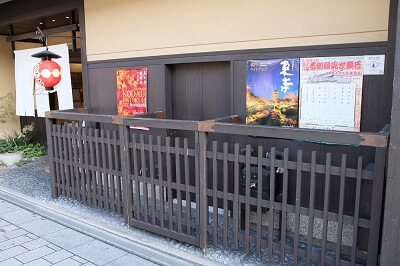 Handrails or fences made of wood are framed with decorative hardware made of brass which become characteristic color by aging. In combination with wood material, it gives elegant style in the shop facade.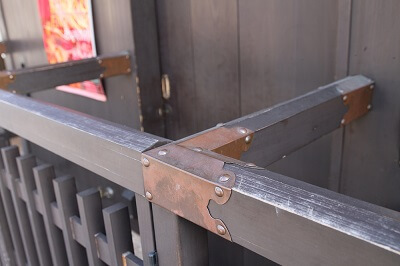 Zooming up. Wood fence have also become rubbed and peel off. However, we feel it as traditional taste rather than old and untidy thanks to the metal hardware.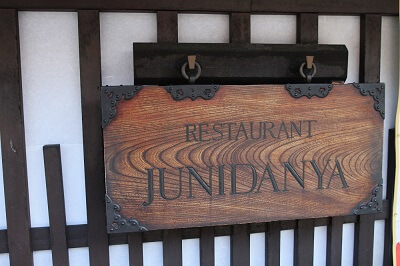 Signboard of a restaurants is trimmed with decorative hardware made of iron. The board is hung with hanging hardware also made of iron and nailed on wood board.
By using this kind of oriental decorative hardware design, a simple wood board can be designed to match Japanese style buildings even written in English.
By the way, this restaurant Junidanya is famous for Sukiyaki. Try it here when you visit Kyoto!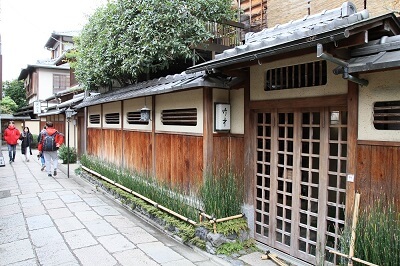 Higashiyama Area (Kiyomizu)
This is a restaurant probably renovated old private house. The wall is made of wood and mud, roofing Japanese tiles on top of it.
From the wall roof, a decorative light is hung. (See next photo for the details)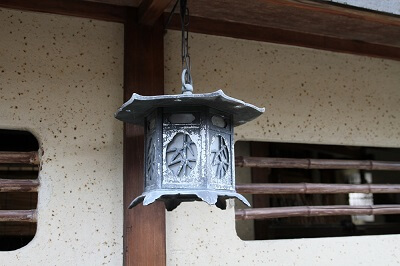 The single light hanging from the wall roof gives the wall elegant by adding accent to the monotonous repeating design of the wall.
The light seems to be made of brass and colored by black painting.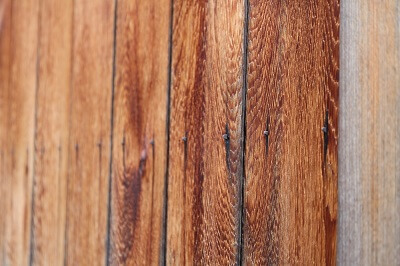 Having a close look at the wall, the nails used for the wall are traditional Japanese nail made of iron steel. These nails are forged one by one by hand, therefore their size and looks are not completely same.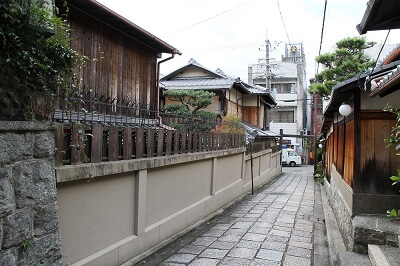 This big old house, probably owned by a merchant in the old era, install Shinobi Gayeshi on its walls. Shinobi Gayeshi is a fence guard in order to avoid "Shinobi" (another word meaning Ninja) invading in houses.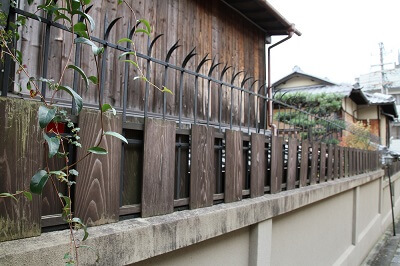 This Shinobi Gayeshi (fence guard) seems to be made of iron with black coating. Biforked edge design matches very well with traditional mood of the house.
Ninja Hardware in Historic Buildings
There are approximately 2,500 shrines and temples only in Kyoto city. Most of them has long histories although it varies from a few hundreds to 1400 years; the oldest temple in Kyoto, Koryuji-temple, built in 603 AD.
Some of them are built by authorities of the era to display their powers, therefore these buildings are gorgeously decorated. In the same way, authorities private houses, we call them Buke-yashiki (meaning Samurai's houses), are also decorated with traditional decorative hardware manufactured by hand by artisans. When you walk around Kyoto city, these houses catch your eyes with their scale and traditional atmosphere.
Here we introduce how shrines and Samurai houses (bigger than merchant houses) are decorated with Ninja Hardware.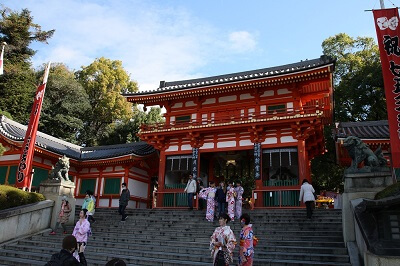 Yasaka Shrine
Yasaka shrine locates in the east side of central Kyoto, which is close to Shijo, the biggest shopping district in Kyoto city. It is said that this shrine founded more than 1000 years ago, but exact year is still unknown. This shrine hosts one of the biggest festivals, the Gion Festival, in July. Starting from its entrance gate colored in vivid red, buildings in this shrines nicely decorated with hardware.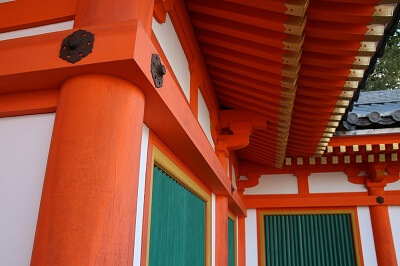 Pillars and beams are decorated by large tacks and colored beautifully by red, green and gold.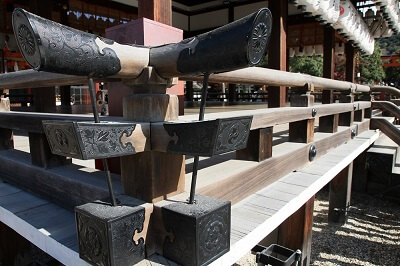 When you go inside, buildings have natural colors unlike entrance gates in vivid colors. However, they are decorated by complicated ornaments which demonstrate how much power the shrine have had.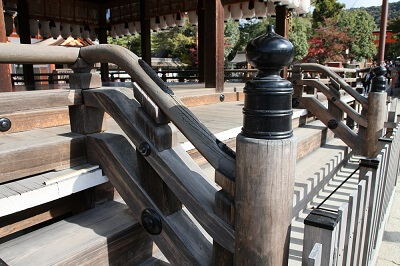 This is the entrance stairs of Maiden where shrine maidens devote dance to the god of the Shrine. To avoid interfering brilliance of shrine maidens, decoration of this building may not be made too gorgeous.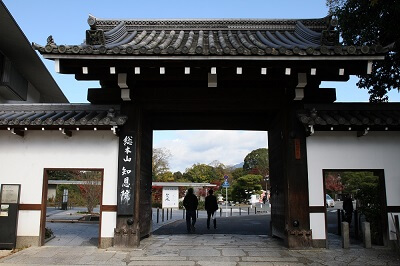 Chion-in Temple
An entrance gate of Chionin-temple, which has hundreds of years of history. This temple is known as head of a Buddhism school, Jodo-shu.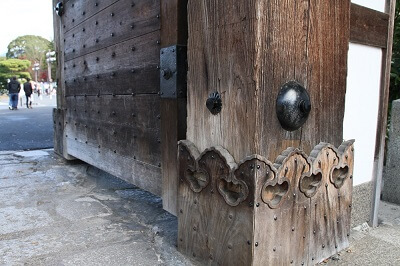 The gates are decorated with a few large decorative tacks and many simple tacks.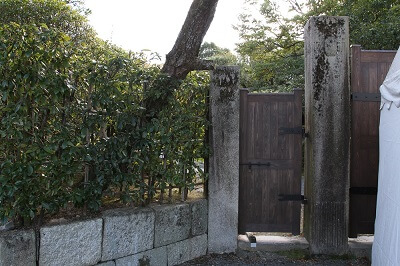 When you go inside, some gates has a side gate to make it easy to enter when the main gates are closed. This kind of structure is popular for large gates because it is hard to open/close main gates. Employees use this type of small gates installed aside of large main gates.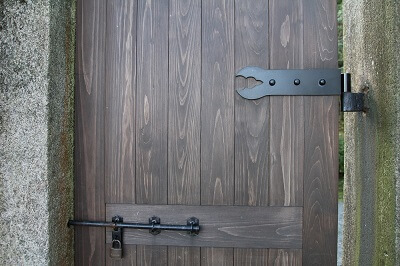 Side gates generally have simple hardware compared to gorgeous main gate's decoration. However, you can see that the quality of these hardware is great enough and have lasted long for its quality.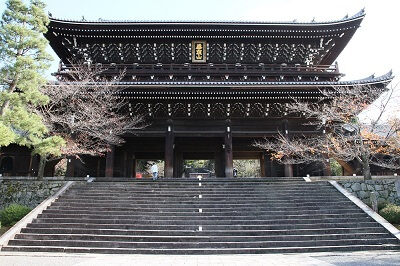 Kachozan Mountain Temple
As you walk toward North from Yasaka Shrine, the huge entrance gate of Kachozan mountain temple has appeared in front.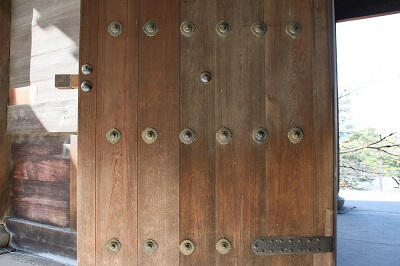 Each entrance gate is decorated with gorgeous brass decorative tacks, each of them is bigger than your fist.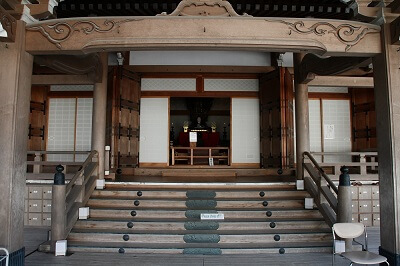 Front view of the main building. Stairs and handrails are decorated with hardware made of iron, and each stair has large decorative plate.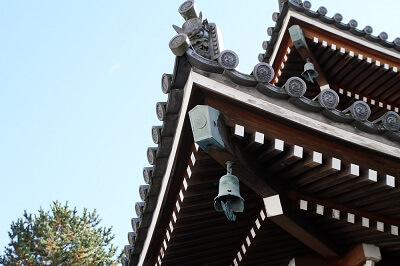 Looking at the exterior, Futaku (a traditional style wind chime which sounds are believed to protect from evil) decorates four corners of the square roof. The edge of beams are decorated by bronze hardware which have turned into green due to oxidation of the material for long years. Decoration of the roof tiles are also gorgeous.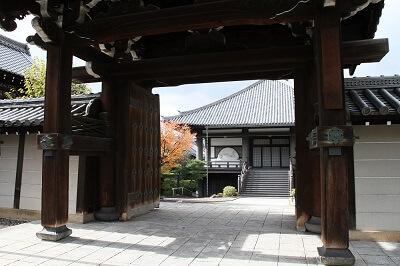 Higashiyama and Kiyomizu Area
Although this small traditional building is not listed on guidebook and not accepting tourists to enter, it has also gorgeously decorated entrance gates.
Actually, many temples in Kyoto only accept visits of parishioner, economical supporters of a Buddhist temple, but you can still enjoy exterior of these small size temples.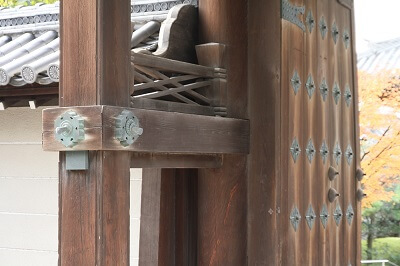 You may notify that decoration pattern is similar among the entrance gates. This might be a tradition or a trend of the era; some private residents having similar decoration pattern demonstrates it.
Let's take a look at some private residents of Samurai, authorities or big merchants. They also had decorated their private houses with hardware.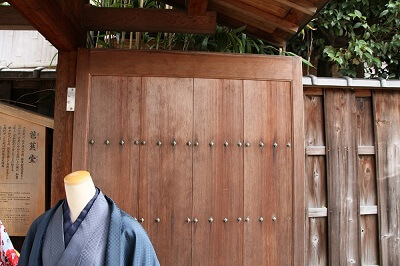 The entrance gate of a private residence of famous poet in Edo-era (1644 AD-). Many simple decorative tacks are used.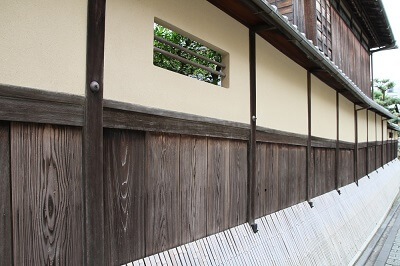 A private house of a merchant. Some decorative tacks are installed in its wall.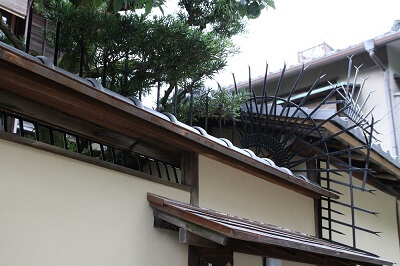 This house installs Shinobi Gayeshi (fence guard for anti-Ninja) on top of its walls.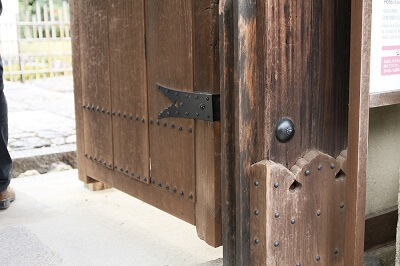 Entrance gates of a big private residence imitates decoration of entrance gates of shrines/temples. Though its scale is smaller than shrines/temples, this decoration displays powers of the owner.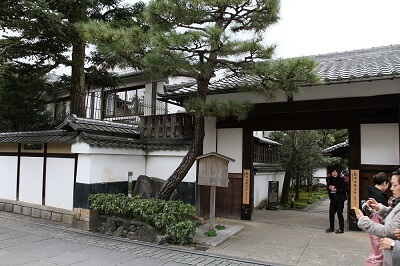 Famous Samurai Hideyoshi's House
The last spot we introduce in this post is this Samurai house. This was a private residence of a wife of one of the most famous Samurai, Hideyoshi. This residence is used as a tourists' facility, and you can also go inside to experience how Samurai's house had been like.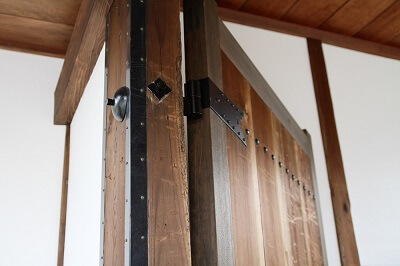 The main entrance gates are decorated by tacks, edge hardware and plates. These are made of iron which may be same series of our Kajiya product series.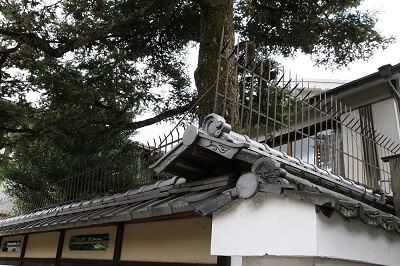 Outside walls are also gorgeous; they are decorated with decorative roof tiles. Shinobi Gayeshi must have protected his wife from enemies.
We hope you enjoyed this post to know how decorative hardware are used in the old capital city of Kyoto.
Finally, most of the decorative hardware introduced above are also sold in OrientalSouls.com shop. Please take a look at our shop if you're interested.
Related Pages
CONTENTS
PRODUCT CATEGORIES