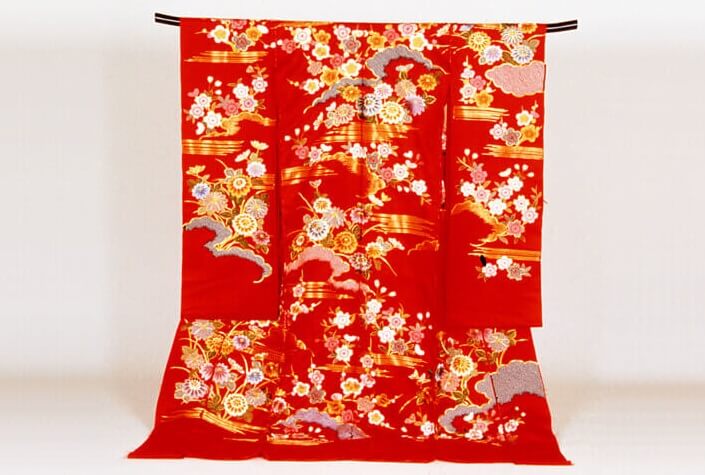 (Image: visitgunma.jp)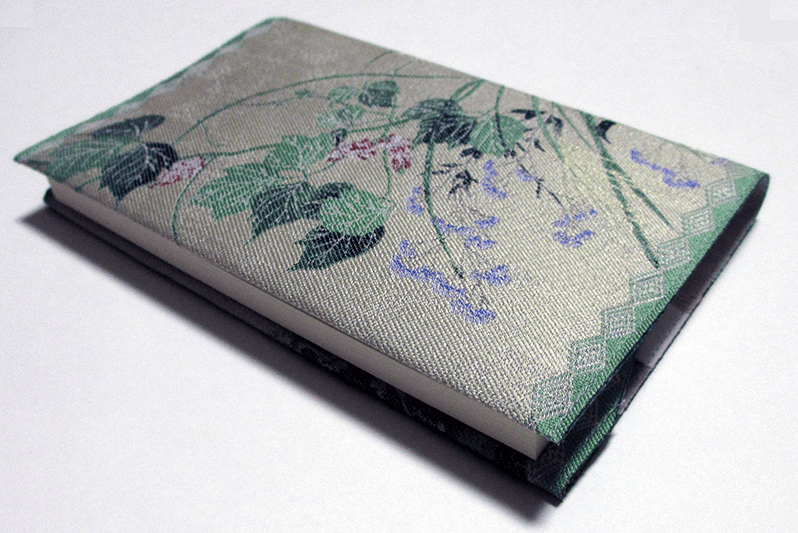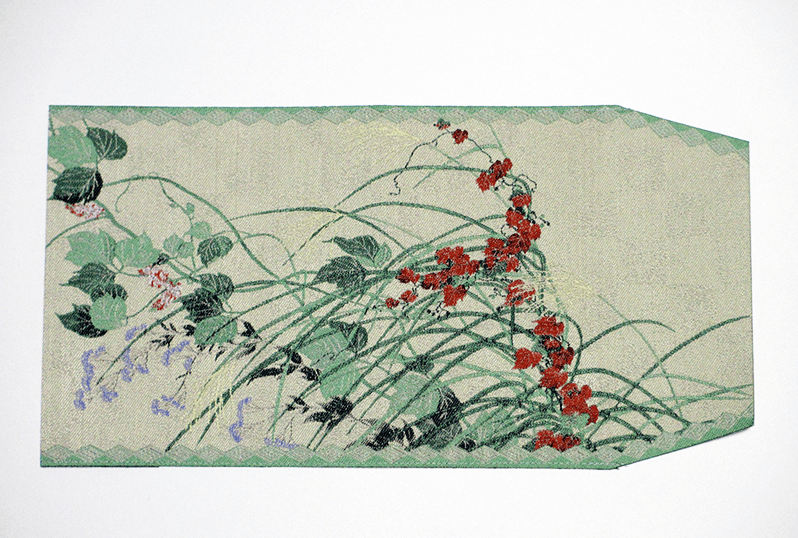 (Image: iroha-dou.com)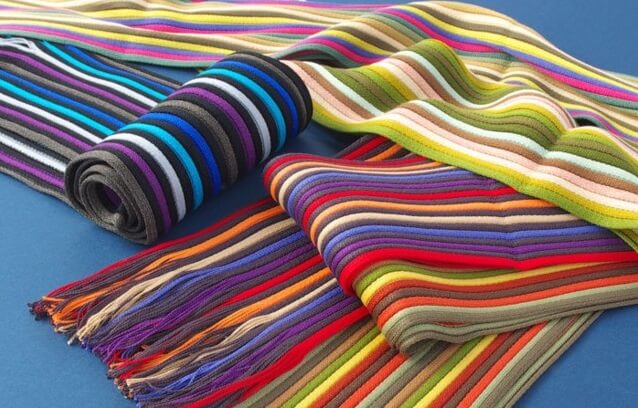 (Image: p.twipple.jp)
Kiryu Kimono Fabric has over 1000 years history. The fabric has soft texture and gorgeous luster, so that it is used in various clothes such as Premium Kimono and clothing accessories.
"Nishijin in the west, Kiryu in the east" are cities with most tradition and formality in Japan. Kiryu Kimono Fabric is regarded as a historical finest art aligning with Nishijin (Kyoto) fabric.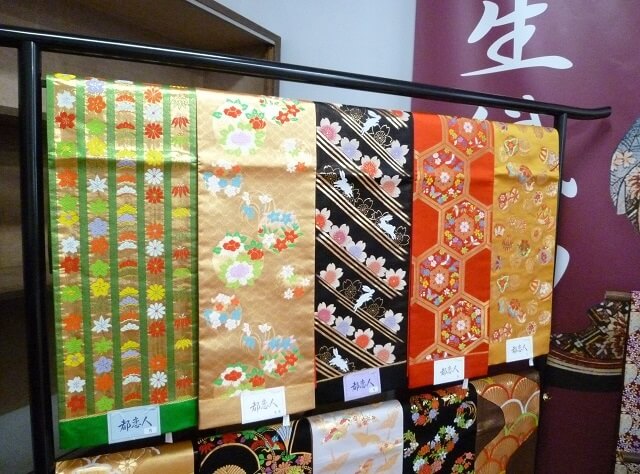 (Image: kiryuorimono.or.jp)
There are 7 techniques to weave Kiryu Kimono Fabric. Each technique has its own unique texture. And another distinctive feature of Kiryu Komono Fabric is that different types of techniques developed at the same time even in same local area.
Kiryu Kimono Fabric is Used for Famous European Brands As Well As Traditional Japanese Clothes
From the Edo period (17th century), various types of premium clothes are created by introducing Nishijin and Western culture successfully. Mass-producing method of manufacture is developed and advanced through division of labor system with large number of craftsmen/workers.
Capital is raised because of advancement of manufacture, so it makes possible to introduce automation using machines at once. Even state-of-art weaving machine with highest accuracy at the era is introduced. Also, during Edo period, Jacquard machine which is newest technology in the Western is introduced. Due to modernization of this manufacturing system, Kiryu become one of the resource for clothes globally.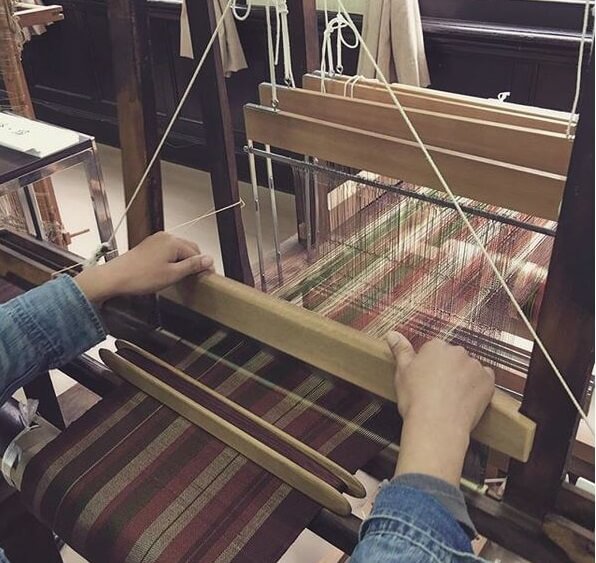 (Image: Kiryu Fabric Memorial Museum)
Kiryu city is raising brand name of Kiryu fashion town, and still strives actively even now. In the following paragraphs below, famous places are introduced from Gunma prefecture which is producing place.
Excellent Silk Products of Kiryu – Five Places You Must Visit
(1) A World Heritage, "Tomioka Silk Plant"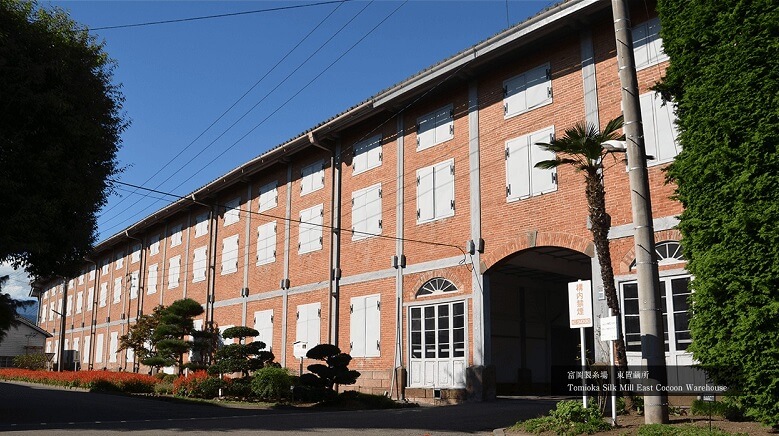 (Image: tomioka-silk.jp)
First of all, this is Fukuoka manufacturer which is registered as a world heritage. This company started at 1872, it is famous by still in the same building.
Official Site: http://www.tomioka-silk.jp/tomioka-silk-mill/
(2) "Japanese Prefectural Silk Village"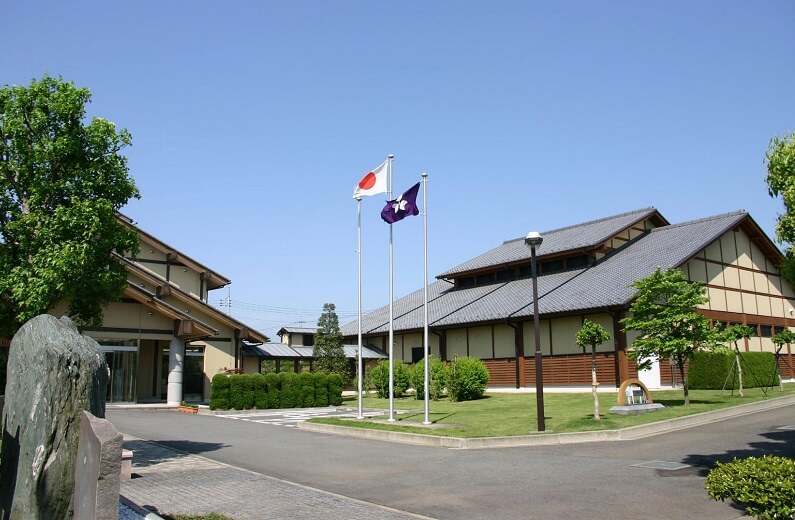 (Image: official site)
It is the specialized museum of silk. You can learn the history of cocoon and raw silk material. It is possible to experience weaving and dyeing. So, suitable for families and children.
Official Site: http://www.nippon-kinunosato.or.jp/hp/wp-content/uploads/2017/07/english-guide170716.pdf
(3) Watarase, Kiryu Tourist Information Center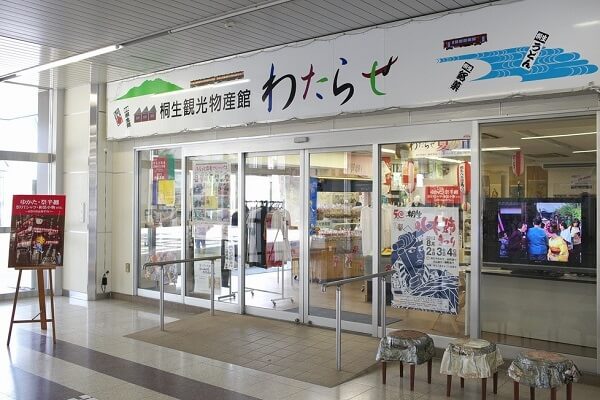 (Images: mesousa2.exblog.jp / anta-net.com)
It is a souvenir shop inside the JR Kiryu station. There are plenty of sightseeing pamphlets of Kiryu city. Kiryu special product also there in the shop. You can get various types of silk products starting from small handkerchief to luxurious belt.
Station Site: http://www.jreast-timetable.jp/timetable/list0608.html
(4) Kiryu Regional Industry Promotion Center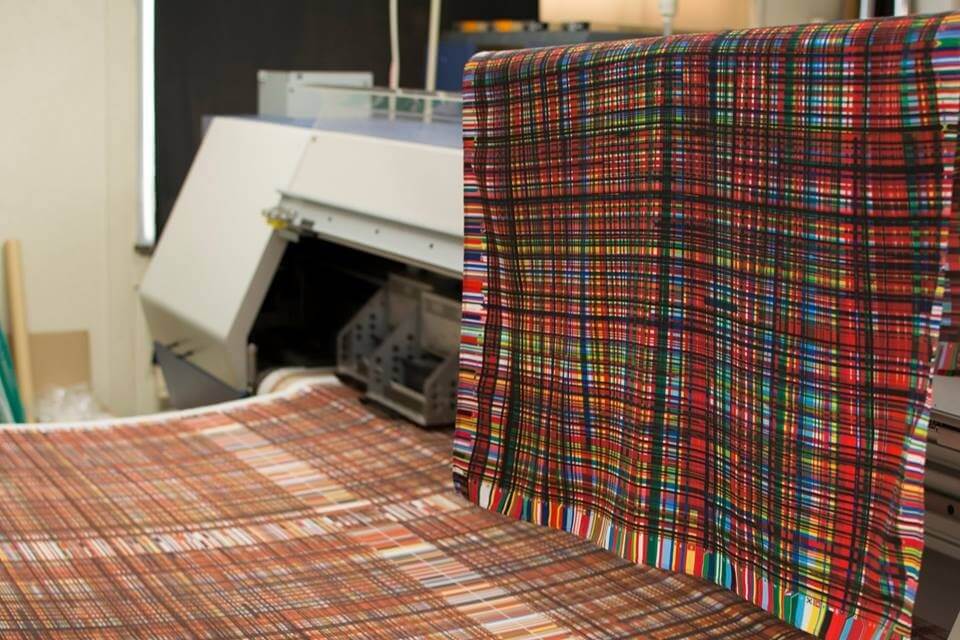 (Image: Faecbook official site)
It is very old place founded in 1892. This place makes products including Asakura dyed cloth. Asakura dyed cloth was used in silk fabrics, however, later mainly synthetic fiber dyeing is adopted for it in 1955.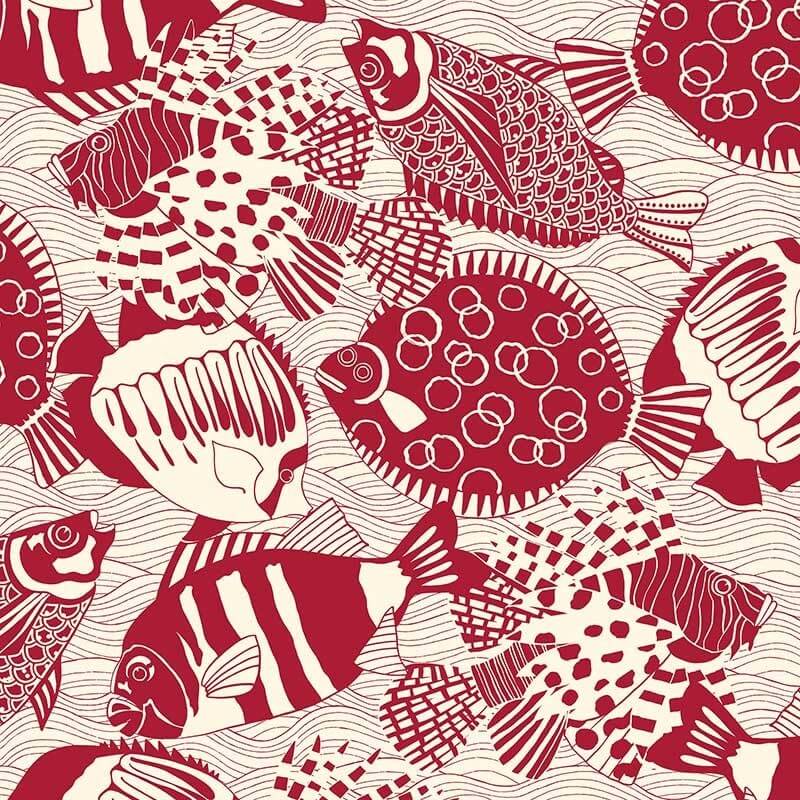 (Image: Rakuten.co.jp)
Official Site: http://www.kiryujibasan.or.jp/index.html
(5) Matsui Knitting Institute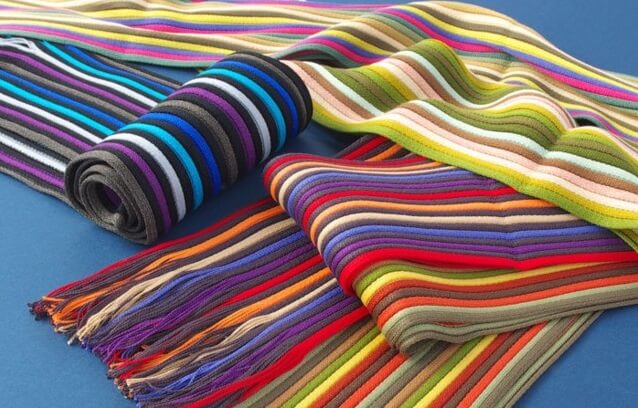 (Image: p.twipple.jp)
Have you ever seen such colorful knitted muffler above? This is an original product of the institute and the muffler is sold at the New York Museum of Modern Art. Since 2000, it had listed as a top sales products for consecutive 5 years! The muffler is loved all around the world.
Surprisingly, this brilliant border has weaved by a remodeled machine of Russel machine from 50 years ago. Craftsman is knitting on the picture. Only this kind of machine is able to create best quality products.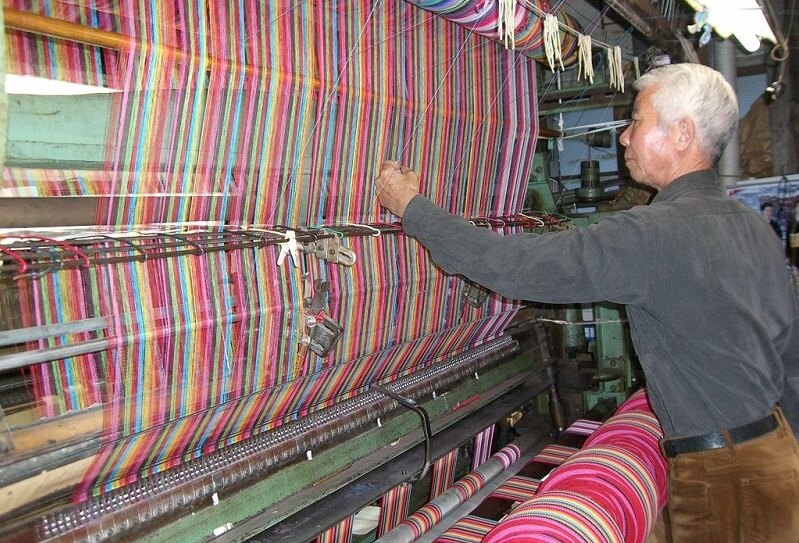 (Image: syokuto.com)
Official Site: http://www.matsui-knit.com/
In Conclusion
Kiryu Kimono Fabric is one of the finest products in Japan. It can be proving that this fabric is being used for creating top premium Kimono. So, if you want premium product of Japan, Kiryu Kimono would be best choice. Kiryu Kimono lines with best cultural and historical things even from Kyoto city. Also, there is also another western clothes and other Japanese clothes made from Kiryu Kimono is available fortunately. Kiryu fabric is really strong and some of it even has water repellant. This means Kiryu fabric strong and lasts long time. In addition, as usual, it is made by very skilled craftsmen, so it has colorful and beautiful design and it feels very nice while using it.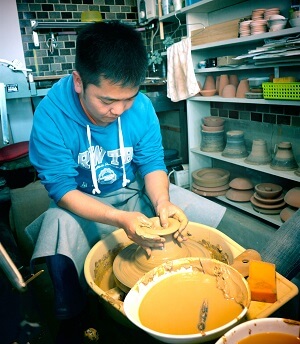 Author - huchka
I am from Mongolia and studying abroad in Japan since 2007. Currently, I am living in Osaka and studying at Graduate school of Information Science and Technology, Osaka University. I have always fascinated about Japan product's quality in so many different levels, especially in deep specific fields. Also, Japan has very interesting long historic and traditional culture and it has been kept so well within modern era that I found amazing.
Recently, I am taking interest in handmade crafts and it's background culture and history. So I can introduce what you are looking or interesting.