An event of writing your first calligraphy of the year is called Kaki-zome. It is one of events in the Japanese new year festival, by which people write his or her goal or ambition of the year. The even has a long history; it is originated in an ancient Japanese court event in Heian era which started late 8th century. In this post, I'll introduce origin of Kaki-zome calligraphy writing, how it has spread among people, and meaning and how-to.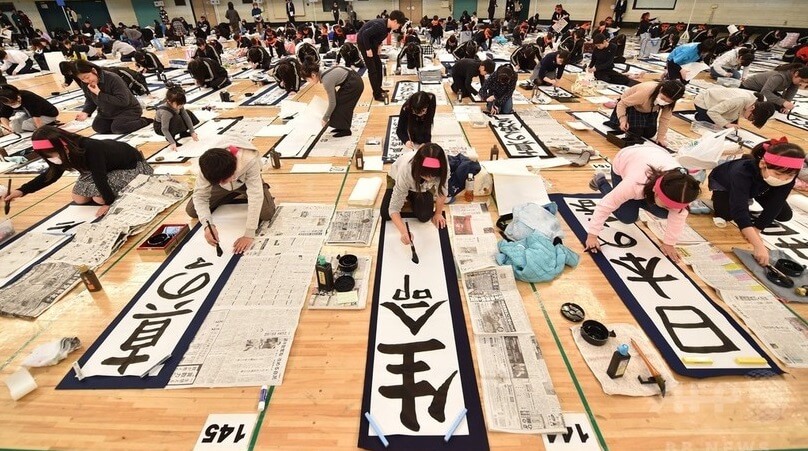 (Image: AFPBB News)
Origin of Kaki-zome Calligraphy Writing
Origin of Kaki-zome calligraphy writing, or the first shodo writing of the year, was a court event in ancient Japan in late 8th century. Its process starts from dissolving sumi ink (Japanese ink for shodo writings) in drawn water in the morning of the first day of the year. Then, people take a writing brush and write a short poem facing a favorable direction of the year. This custom was continued for next several centuries, but it widely spread among general public in Edo era starting 17th century. Temple schools established for common people had established in various places in Edo era, and they started to let people follow custom of Kaki-zome shodo writings. In the following Meiji era, government took Kaki-zome in compulsory education. Process of Kaki-zome have also changed as it became accepted among common people, to different process from one is done by noble people in Heian era.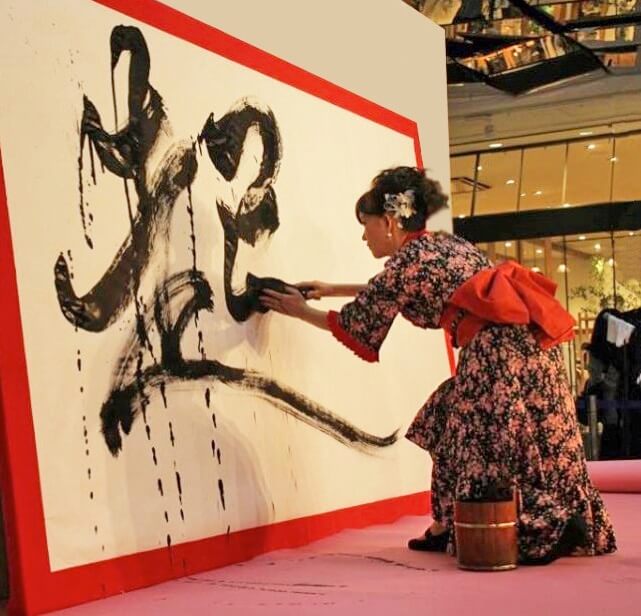 (Image: Yokohama Sogo)
Why Do Kaki-zome? Purpose of the Custom
There are two purposes for Kaki-zome shodo writing at the beginning of a year.
One decides a goal or declares an ambition of the year
One plays his or her improvements in shodo writing
In present, it is more common for people to do Kaki-zome for the first purpose. They intend to achieve a goal or an ambition by writing in at the beginning of the year. But more traditionally, Kaki-zome has a meaning of the second purpose; people commonly hoped to improve their shodo writings when the custom widely accepted by general public.
Dondo-yaki is a festival held in new year period, which is related to the second purpose. By burning your Kaki-zome works in a shrine or temple, people believe your skill in calligraphy writing improves as it is burned and fly high in the sky.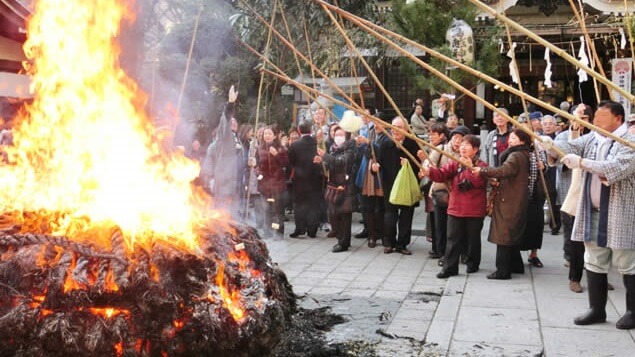 (Image: Torikoshi Shrine)
When You Should Do Kaki-zome?
Officially, it is supposed to do your Kaki-zome shodo writing on January 2nd. This continues since its origin in 1200 years ago. And then you'll burn your Kaki-zome work in Dondo-yaki festival described above in a middle of January. Dondo-yaki is commonly held in temples and shrines all over the nation, from the most northern part in Hokkaido to the most southern part in Okinawa.
Preferable Words You Should Try for Kaki-zome?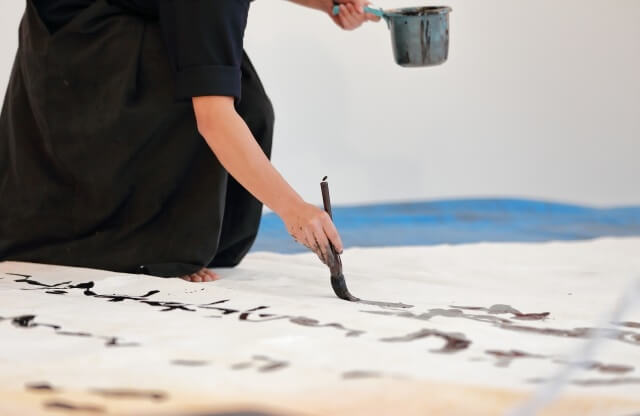 (Image: okanon1220.com)
Although there's no rule what you should write in Kaki-zome shodo writing in a new year, here are some proverbs popular among Japanese. They consist of four characters and have good meanings for your goal or ambition of a year.
心機一転 ・・・ changing one's attitude; turning over a new leaf; getting a fresh start
獅子奮迅 ・・・ being irresistible; being furiously vigorous; being intensely forceful
初志貫徹 ・・・ carrying out one's original intention
一家団欒 ・・・ a harmonious household; happy family get-together
無病息災 ・・・ sound health
明鏡止水 ・・・ clear and serene as a polished mirror and still water
You May Also Be Interested In...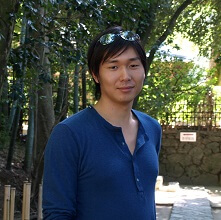 Author - Hiro
Lived in Kyoto in school days, I was impressed by profundity of history and tradition of the city. Had a job to join the three major festivals of Kyoto: Aoi, Jidai and Gion festivals. Love Kyoto and Japanese culture.
Manager of OrientalSouls.com, selling items of Japanese culture, tradition and craftsmanship. I'll introduce interesting information about Japan!