So you've read all about Japanese shodō calligraphy here on our blog. You know about its history, its beauty, and even its calming, spiritual effects. Since getting interested in shodō, you've even begun to see it online, in the background on TV, and maybe even hanging in a local gallery or sushi restaurant. But without years of training, you probably think it would be impossible to create a work like the ones you've seen out in the world – and maybe you are right.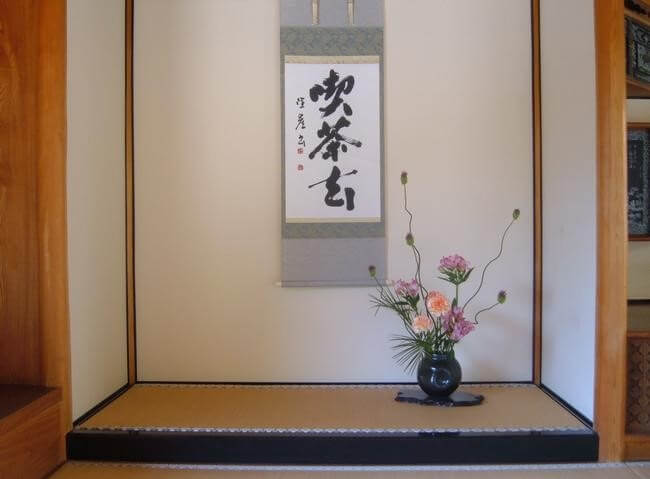 (Image: city.fukui.lg.jp)
So how do you get a work of authentic Japanese shodō calligraphy for your own home? Where can you buy Japanese calligraphy art? How can you display it?
Today I want to give you the scoop on buying, storing, and enjoying Japanese calligraphy at home.
Purchasing Quality, Authentic Calligraphy
For those of us looking to buy a work of calligraphy, there are a few options. The first is to find a well-known, professional calligraphy artist and select a work from their catalogue. You might first decide on an artist to follow based on their individual style, and then select a work that spells out a particular word, sentence, phrase, or poem that is dear to you. These professional works can range from several thousand yen upward (1000 JPY = roughly $9 USD). Like other forms of visual art, the purchase will be made through a gallery or the artist's dealer of choice – possibly even online.
Or, you might commission an artist online to write something you've come up with yourself. This can be a great way to get a personal message or passage you have a pre-existing connection with made into beautiful shodō calligraphy. What's more: you get to decide the size yourself! Both of these first two options will require some online hunting – you've got to find the right artist to either match your tastes or take your commission.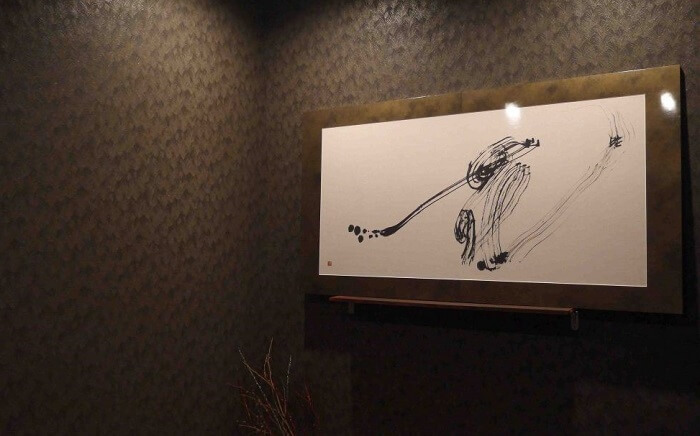 (Image: kokisugita.com)
Small galleries will often have works for sale, so finding those online is probably the best way to get your hands on hanging scrolls or 'modern' style calligraphy.
For more classic, gyōsho or even sōsho flowing, connected calligraphy, Japanese used book stores will usually have a selection for sale (while you are there, ask them about their ukiyo-e woodblock prints – you never know what they might have for sale!). These shops are usually found in a certain part of town or on a certain street. In Osaka, you can find many under the Hankyu trains tracks at Umeda station. In Tokyo, try the Jinbōcho neighbourhood, one of the city's historic literature districts.

(Image: tripadvisor.jp)
Finally, independent artists might be selling their calligraphy online (shipping to and maybe even from a North American address) on sites like etsy or ebay. You will have to do some hunting, but who knows – you might the next great art superstar!
Displaying Your Calligraphy: Sharing and Preserving its Beauty
Whether you have received a professionally crafted hanging scrolls, like in the takonoma alcoves of a traditional Japanese tea room or are looking to frame a standard size hanshi (25cm x 35cm) work drawn by your friends or family, the post-purchase mounting and displaying of calligraphy is an important part of getting to enjoy its beauty for years to come.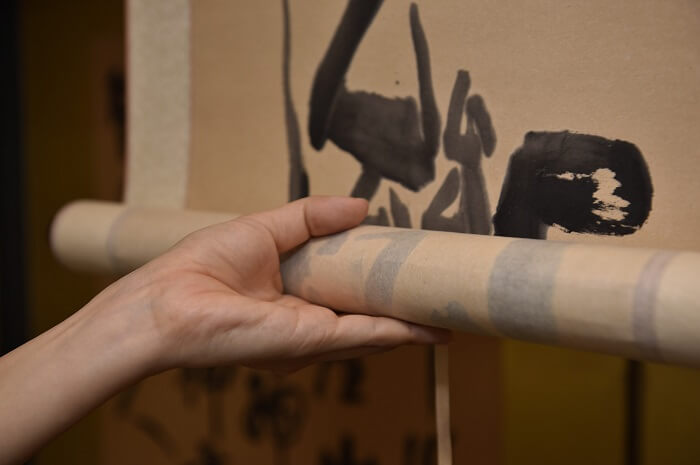 (Image: shoyu-net.jp)
For the standard size hanshi calligraphy works, Japanese stationary and art stores have special envelopes made to store the work safely before you bring them out for display. For longer works – like the famous vertically hanging scrolls – a roll is used to store calligraphy. Either one will work and are readily available for sale online. The frames are as you would imagine a large, simple (never flashy!) frame of glass on a wood or card back plate.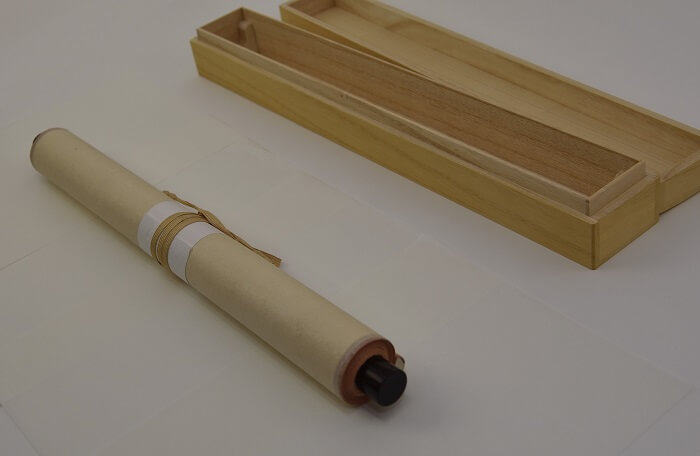 (Image: shoyu-net.jp)
For a simple, temporary solution to storage when in a pinch is to get a set of document files – B5 size clear files or pocketed binder, to be exact. These can be found in any dollar store (or hundred yen store, in Japan) and will keep your hanshi calligraphy works safe until you can find them a more permanent home.

(Image: shoreku.jimdo.com)
Thereafter, displaying them is as easy as mounting a photograph in a frame and hanging it on the wall.
Or, maybe you've found yourself with a massive work the size of this (the world's largest) Buddhist mantra written out and on display in Shizuoka, Japan. Somehow, I think your piece might be a little smaller – but certainly no less beautiful or important! If it isn't, and you've really got a piece like this, please do let me know how you fare because I can't help you!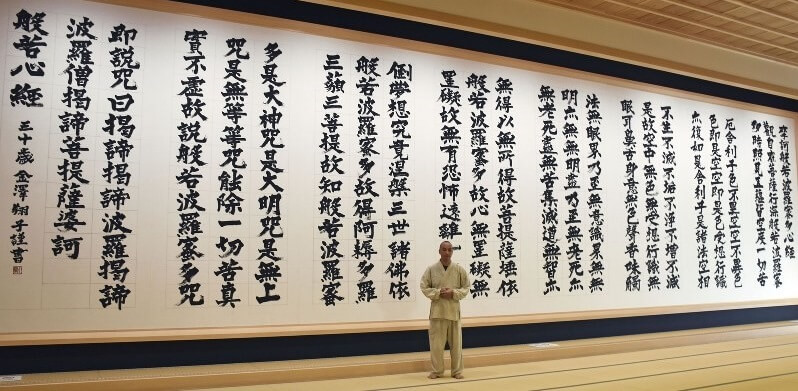 In Conclusion: One More Way to Bring Japanese Shodō Calligraphy Home
You know, there is also one more option how to bring personal, meaningful calligraphy home with you – write it yourself! Many Japanese cultural centres run calligraphy classes and are often looking for new students. If you live in Japan, there is probably an after-work school running classes just around the corner from you! Or you could try the ol' self-taught method. Searching on YouTube for videos titled "日本習字" (nihon shūji) or "書道" (shodō) is sure to bring up some informative videos. Who knows, you might just find a new calling – and in the meantime you'll get a bunch of your own handmade calligraphy works to give to friends and family – or to hang up for yourself at home!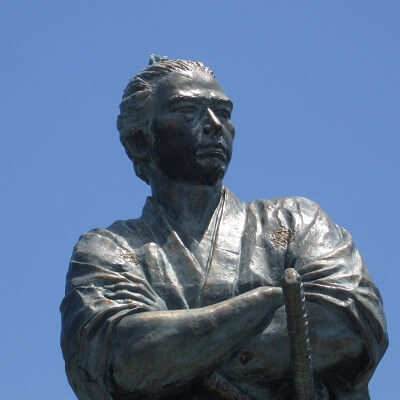 Author - Jay
In my spare time I enjoy watching baseball, tasting local cuisine, and exploring by road and rail. Having lived in several cities around the world, I have an appreciation for local as well as international histories and cultures. Excited by cultural and social exchange, it is my hope that this blog will help promote an interest in Japanese traditional wares and practises by introducing you to their history and meanings.
You May Also Be Interested In...