Have you ever wanted to try your hand at filling in the deep, moving colours of some of Japan's most famous ukiyo-e woodblock prints? Well now is your chance! Today, OrientalSouls is proud to offer blank colouring book pages of Hokusai's masterpiece woodblock prints – for free download.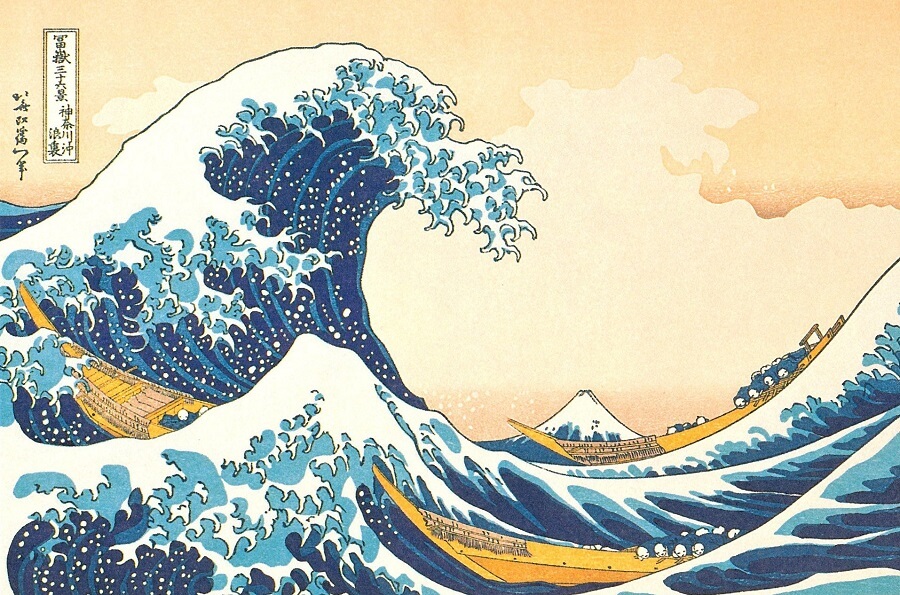 Experience the care and thought behind each of Japan's masterpiece artistic treasures first hand and in your own home. Follow Hokusai's Great Wave across the front of Mount Fuji; then, head over to its foothills as you fill in its illustrious slopes, majestic peak, and the vast Japanese sky that surrounds it. Then travel to an Edo Period construction site in the bustling capital alongside Japanese carpenters.
Traditional Japanese Art in a Colouring Book: Ukiyo-e Crafts at Home
Remember the stacks of colouring books you as a kid? Well colouring has made a comeback! That's right; it's once again popular with both kids and adults. For kids, colouring is a fun way to recreate beautiful works of art at home while improving hand-eye coordination. For adults it's a great way to de-stress while learning about the intricacies of these original artworks and their influential and timeless aesthetic beauty. Today, 'adult colouring books' are popping up in more and more bookstores around the world – a simple search on Amazon brings up hundreds! As a stress-relieving hobby, colouring has been featured on self-help blogs and in the conference rooms of North America's leading graduate school faculties. What better way to spend a rainy afternoon? But you don't have to colour Disney characters all day …
We've combined the artistic beauty of Japan's most famous woodblock masterpieces with the fun, calming experience of colouring books. We know all about the ukiyo-e woodblock printmaking process, right? (Hint: the process was featured on our blog, here – LINK) We know how the artist – as in 17th century Japan and as even today – applies their paint upon the wooden block, colouring in the areas they wish to print their deep shades and lifelike colours, right?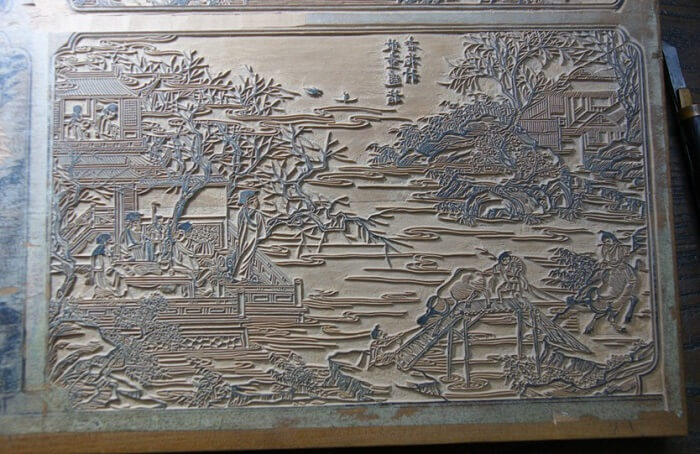 Now the perfect way to understand the steps of the ukiyo-e woodblock print process would be to carefully apply paint to a hand-carved wooden block – one block and one press for each unique colour. But who has the time, money, or skill for that? No, no – only the modern ukiyo-e masters are capable of that, and there are rumoured to only be a handful of practising printers left in the world!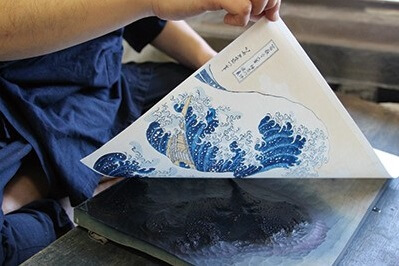 For us, the regular ukiyo-e woodblock print and Japanese art and culture fan, carefully filling in the colours ourselves is the best way to truly get a sense of how Japan's greatest artists (like Hokusai and Hiroshige) created their masterpieces. You will learn just how unique and innovative Japanese woodblock artists used toyed with perspective and the use of lines. Remember: there is a reason why Vincent Van Gogh, together with Europe's most famous impressionist and post-impressionist painters, came to love 'Hokusai and Co.' so.
Recreating the Masters or Making them Your Own: It's Up to You!
Of course, after printing off our free ukiyo-e colouring book pages, how you finish them is up to you. If you want to try your hand at a perfect recreation of the artistic treasures of Japan, I think you will soon find the delicate array of pigments to be quite a handful – the indigoes and greens of the ukiyo-e world are especially tricky, a testament to the beauty and depth of the colours handcrafted by these artists from the 17th to 19th centuries. Otherwise, a creative 'reinterpretation' of Hokusai's famous Mt. Fuji might also be in the cards. Do whatever you like – and then print another one and try it again!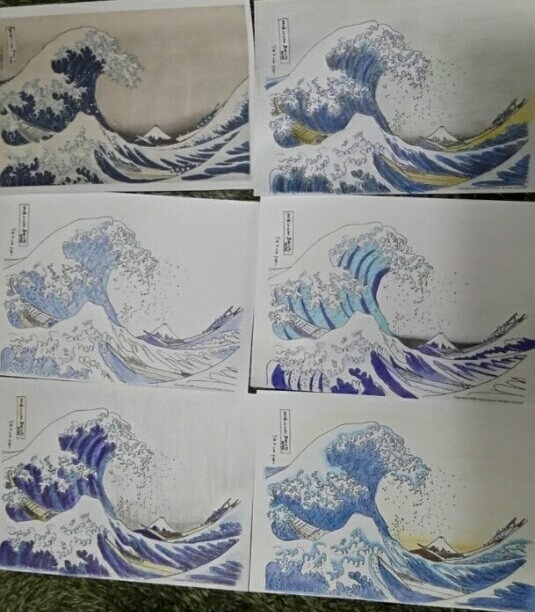 You could even have a contest amongst friends. Working Japan's greatest achievements in visual art into a Friday or Saturday could really start your weekend off right. Why not invite some friends over and try a 'Paint & Sip' wine or cocktail party with our printouts? Perhaps incorporate some Japanese rice-wine sake while you are at it? Once gathered, you could impress your friends with your knowledge of Japanese traditional arts and crafts that you learned from the OrientalSouls blog. Want to teach your friends about sake etiquette while you colour? Then check out our handy guide, right here: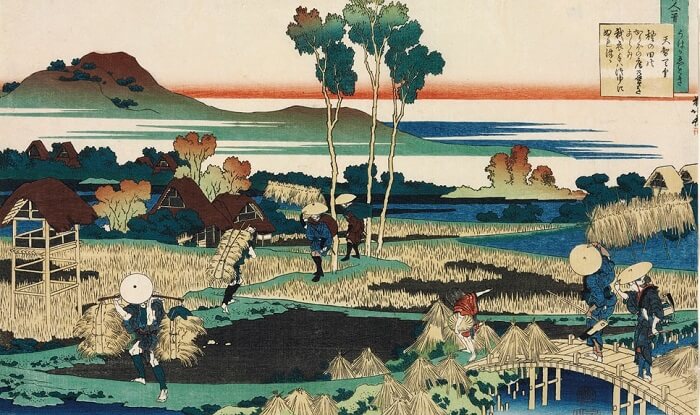 So, no matter young or old, you are sure to have a fun, relaxing, and maybe even educational time colouring in our free ukiyo-e woodblock print colouring book pages. Download and print your own today and watch your skills and appreciation for these historic works of world-famous Japanese beauty flourish as you fill in the lines with the deepest hues and lightest shades.
Deepen your appreciation for Japanese woodblock paintings while improving your own artistic skills. Download our free ukiyo-e colouring book today.
FREE DOWNLOAD PRODUCTS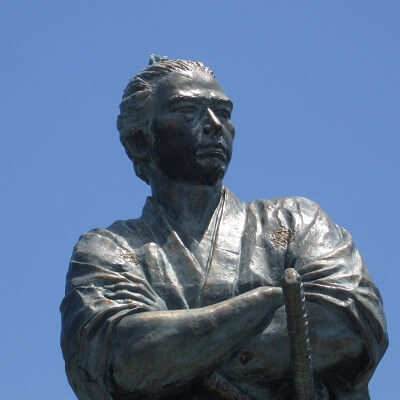 Author - Jay
In my spare time I enjoy watching baseball, tasting local cuisine, and exploring by road and rail. Having lived in several cities around the world, I have an appreciation for local as well as international histories and cultures. Excited by cultural and social exchange, it is my hope that this blog will help promote an interest in Japanese traditional wares and practises by introducing you to their history and meanings.
You May Also Be Interested In...