Imagine having one of Japan's great blade masters custom fit and finish a world-class kitchen knife to your very own specifications. Full customization – from the steel composition of the blade, right down to the handle and hand-etched, personalized markings – means that you can guarantee yours is a one of a kind knife. If you only buy one Japanese kitchen knife, why not make sure it is truly unique and entirely yours?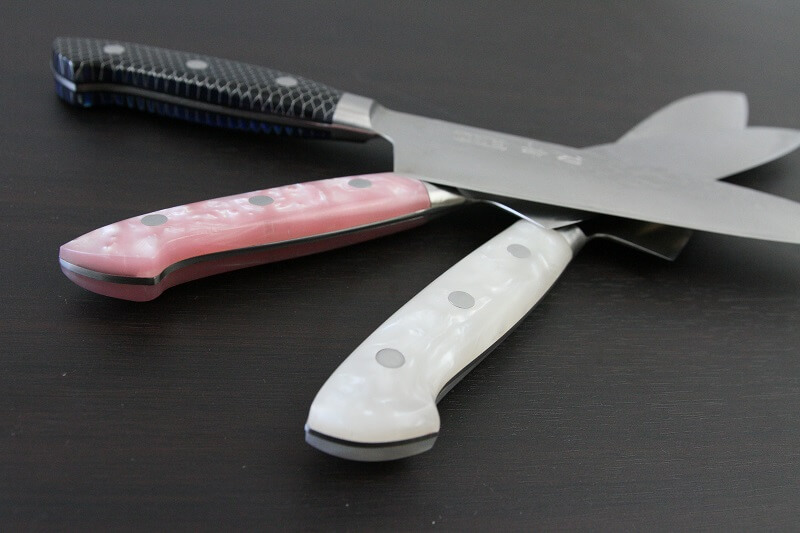 We've heard from the blade masters at Toshu Giken before. Perfecting professional and consumer-grade kitchen knives with their trademark high-speed steels and edo-togi grind, Toshu masters have been on the frontiers of Japanese kitchen knife technology for a solid two generations now. Today, you can get all these time-tested and proved features packed into a unique, personalized knife to suit your kitchen's needs.
From their hands-on, small-scale workshop in Saitama, Japan, the Toshu artisans are offering to meet the needs of any level of kitchen professional or enthusiast. Adding to the high-quality steel that has established the Toshu name, they offer a range of options and features. We at OrientalSouls are excited to help connect you with these custom ordered knives, guiding you through the process and overseeing their delivery worldwide – a service not found anywhere else.
Toshu's Custom Knives: Features and Flexibility
Just like picking the features on a new car or custom built computer, the ordering process designed by Toshu encompasses all their best features and services while offering full flexibility and freedom of choice. This begins with the steel of the blade. Then, you are able to choose from an array of shapes and sizes, including the ever-popular santoku general-purpose knife, the larger gyuto chef's knife, or the precise and mobile petty knife.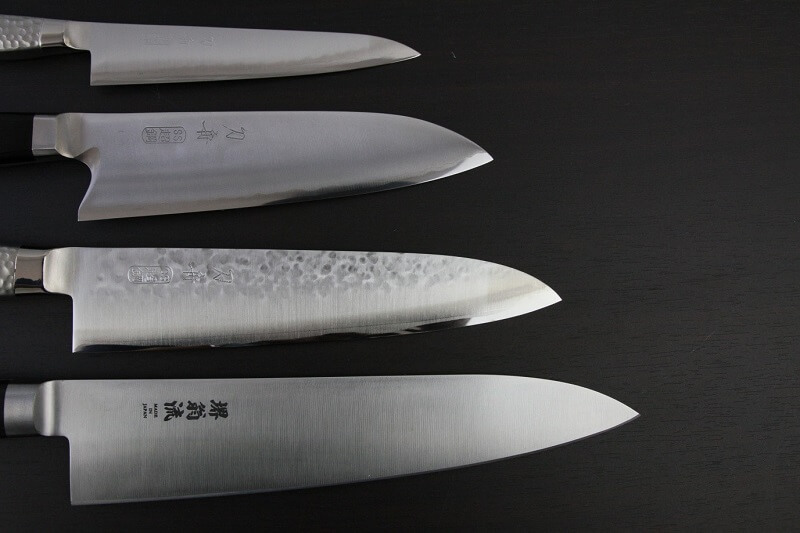 From there your next step is to choose a custom handle made with unique, eye-catching colours or classic, downplayed patterns. Finally, with your custom order form you can ask the Toshu blade masters to etch by hand into your custom knife a name or short message.
Choosing Your Steel
Toshu knives are known for their incredibly strong and durable blades. Offering a great cut with their easy to maintain razor-sharp edges, Toshu knives have earned the respect and admiration of professional and amateur chef's throughout Japan. Offering three types of steel, Toshu have the right blend to apply to your custom knife.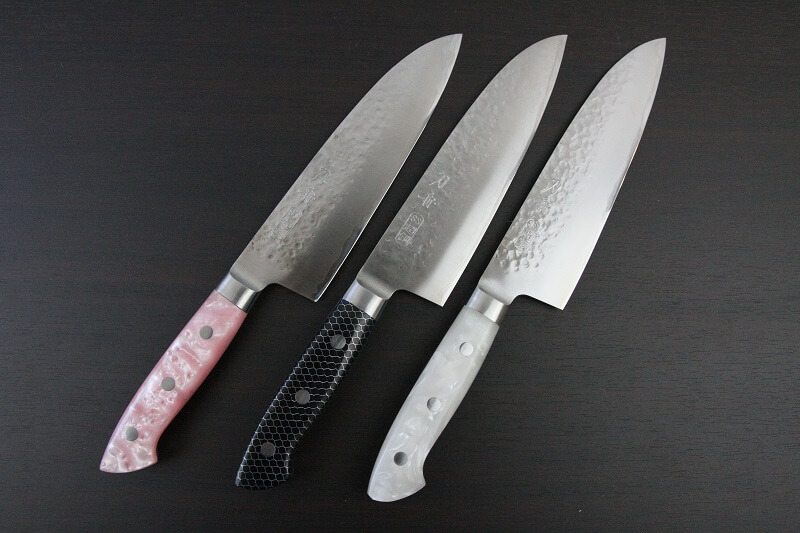 As the first step towards the brith of your very own hand-made Japanese knife, you will select from Toshu's menu of high-grade steels. According to Toshu head knifemaker Mr. Tozaki, Toshu's legendary cut and durability comes from their application of traditional, hand forged methods to state of the art composite steels. The first is their VG5 steel, a stainless steel that boasts a balanced hardness which allows it to hold its famously sharp edge for extended periods with minimal maintenance or special care. As a rust- and generally maintenance-free option, Toshu recommends their VG5 to the at-home cook looking for that legendary Japanese cutting ability.
Next, Toshu offers their VG10 steel, another stainless option this time with elevated hardness capable of taking a even sharper edge. This cutting ability does not come without a tradeoffs, however, as the harder the steel the greater risk of chipping or nicking becomes. Moreover, sharpening becomes more difficult, and the attention of a professional might be necessary should your care and attention for the knife falter in the years after our purchase. Toshu recommends this option to the semi-professional or at-home afficianado looking for a competive cut from a stainless steel blade. The VG10 steel makes almost no compromises in cutting ability, despite its stainless steel composition – a testament to the recent advancements in stainless steel technology. Today, Toshu's stainless steel competes neck and neck with even their most traditional and diamond-hard pure steel blades.
Even with all the recent advancements in stainless steel technology, some of us still want to know we have the best, most traditionally crafted and time-tested tool. For people like us (and top-tier restaurant professionals) Toshu offers their aogami super steel blade. With unmatched hardness, this steel is capable of providing the best cut with Tohsu's sharpest edge. With great power comes great responsibility, however, as the aogami blue steel demands careful love and attention to protect it from rust, chipping, and even breakage.
Toshu has offered up their best steels – now all that's left is to choose!
Finding the Right Fit: Size and Style
Starting with the all-purose handy workhorse santoku (180mm) variation, Toshu gives the custom knife shopper another set of options. After picking your steel, you will be able to pick your knife's size and style.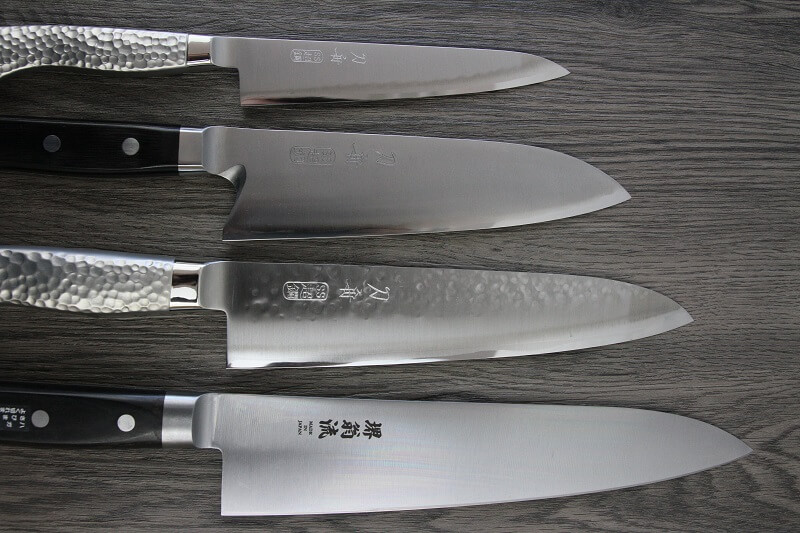 The santoku is a multi-purpose knife capable of chopping, slicing, as well as cleaning. With a balanced form that includes a flat edge near the heel and a tapered, pointed tip, you will find it works well with either vegetables or meat. For those of us who work with larger cuts of meat or root vegetables, Toshu has offered up two variations of their gyuto chef's knife. From the 210mm type to the all-mighty 240mm long sword, these are sure to handle any cut of beef or pork you might bring home.
Still unsure if you should go santoku or gyuto? Check out our comparative rundown here: LINK
Finally, as a versatile sidekick addition to your knife drawer, Toshu has the 150mm petty knife. Perfect for fruits and veggies, this knife will ensure you get an accurate cut that leaves no waste.
Of course each of these styles and variants have been treated by the Toshu masters' signature edo-togi grind, providing them with all the benefits of a single-bevel, one-sided knife in the form of an easy to use and maintain double-bevel blade. This means you don't have to relearn how to cut on a single-sided, fully-Japanese style knife, and can enjoy the benefits of this traditional cut that releases your ingredients quick and easily. For more on the Toshu difference, including their trademark edo-togi grind, see our exclusive coverage here: LINK
A Japanese Knife with Added Personality: Custom Coloured Handles and Engraving
Now here is where things get interesting: Toshu's custom coloured and decorated handles. In place of the standard wood wa-handles found on most Japanese style knives, or the normal old dark wooden mounted handles of German of other western knives, Toshu has pulled all the stops out in allowing you complete control and customization of how your knife will look.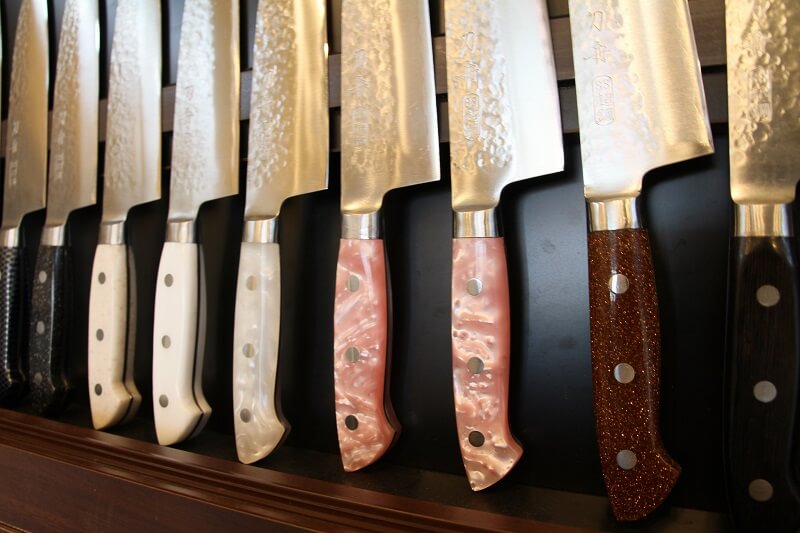 From marbled whites and blacks to pearlescent pinks and abalone shell, with Toshu now lets you mount your favourite colour and design to their hand-forged Japanese steel.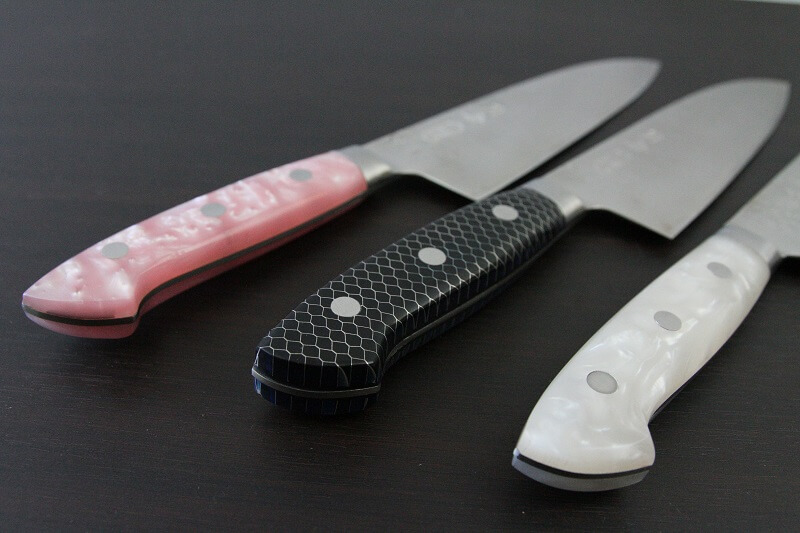 What's more, the Toshu artisans who hand forging and grinding your new knife will take the time to carefully engrave into it your custom name or message. Ordering this knife for a friend or co-worker? What better way to make their new knife really feel like it was made for them than with the addition of their name right there on the side? Or, perhaps you work in a busy kitchen and don't want jealous line-cooks grabbing your trusty sidekick – put your own name there so everyone knows who has the best knife in town.
The master knife makers at Toshu will carefully engrave western, Japanese, or even Chinese script into the blade, allowing you to creatively express your knife's "Spirit," "Power," or "Resilience" – maybe even it's nickname!
The Toshu Difference, Custom Made and Delivered Right to Your Door
Imagine having the undivided attention of one of Japan's great blade mastersl. That's what the artisans at Toshu are now offering – giving you a way to bring home a piece of Japan's legendary blade history with your own personal touch. A truly unique, one of a kind Japanese kitchen knife that costs less than you think!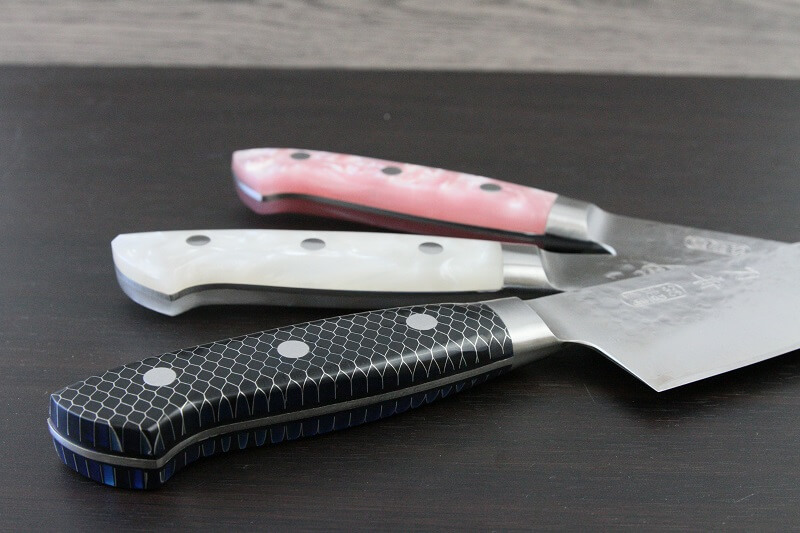 Now for the first time ever available worldwide, you can make your own custom Japanese kitchen knife. Guiding you through the entire process, we at OrientalSouls are here to help you find and order the perfect Toshu kitchen knife that matches your needs and personality. So why not check out our blog, stop by our web store, and get in contact with us to learn more?
See Toshu Custom Made Knife Product Page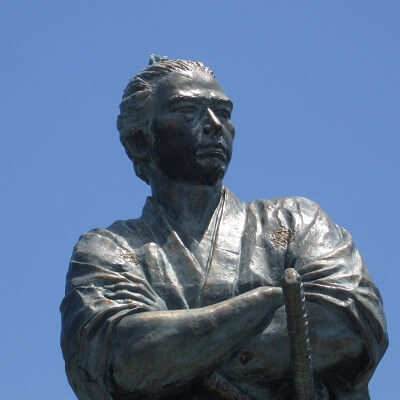 Author - Jay
In my spare time I enjoy watching baseball, tasting local cuisine, and exploring by road and rail. Having lived in several cities around the world, I have an appreciation for local as well as international histories and cultures. Excited by cultural and social exchange, it is my hope that this blog will help promote an interest in Japanese traditional wares and practises by introducing you to their history and meanings.