Today we will take a look at another one of Japan's highly rated and better-known knife makers: Toshu-Giken. The Toshu Kitchen knife shop began in 1946. They have been perfecting their own forging and grinding techniques ever since. With a sizable lineup of both western and wa-knives (Japanese knives), as well as a nice array of professional grade shears, Toshu knives are certainly ready to serve a wide array of customers and interests. Nevertheless, this knife maker has yet to receive very much buzz amongst knife aficionados and international retailers. In fact, little is known about the Toshu name and method. With only a limited number of reviews online – and even fewer articles or blog posts – not too many people outside of Japan have even heard of the brand.  Meanwhile, even fewer have had the opportunity to use a Toshu knife.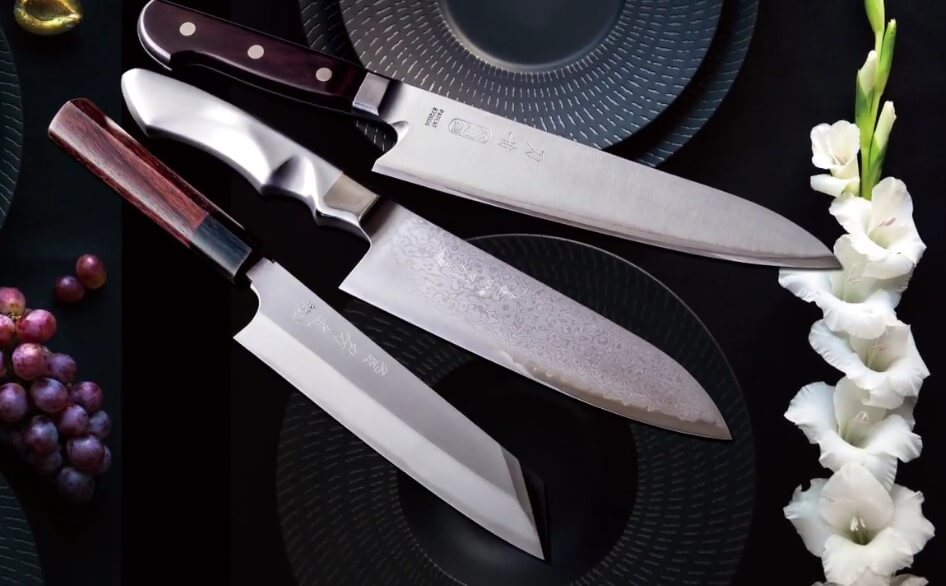 Hoping to fill that void and introduce the Toshu name and lineup to a wider audience, I did some research and got my hands on everything there is to know about these elusive knifemakers. I learned that these knives are hand forged and hammered, hand grinded, and hand finished, reflecting the personal touch of each of the trained experts who made them. What's more, I got to the bottom of just what else this comparatively young company does to set itself apart from the field of veteran knifemaking workshops. I figured out that you really do not want to miss out of this hidden gem of Japanese craftsmanship! Let's take a closer look so you can get the inside scoop before these guys (and their prices) 'blow-up' on a global scale.
Toshu Kitchen Knife Shop: A Leader in Eastern Japan
The Toshu-Giken head offices, smithy, and main retail shop is located in Misato city, Saitama Prefecture. The company's roots stretch back to the earliest years of the Showa-period in pre-war Japan when they specialized in Japanese style, single bevel knives under the name of their first master knifemaker, "Tozaki." With a new name, adopted sometime after 1946, Toshu-Giken have been based just north of Tokyo ever since. The company is now into its second generation with knife master Tozaki Takanori leading the team, making both Japanese- (single bevel)  and western-style (double bevel) utensils (for a complete rundown on the difference between western and Japanese knives, see our other kitchen knife blogs). An expert in the unique Toshu-methods we will see more of later, Mr. Tozaki has taken over the business after training under the first master knifemaker there – a system of apprenticeship seen in many if not all of the master trades in Japan. Today, Toshu continues the traditions of both their Japanese style knives, their Fusachika lineup, with the added compliment and international appeal of their Toshu-named western style set.
For years, the main focus of the Toshu knifemakers was the professional market. They spent their hours making high-end knives for the high-end chefs of Japan. Lately, however, Toshu has begun catering to the needs of the at-home cook. With a new lineup, website, and promotional video, they have made Toshu has made their debut into the homes of more and more families across the country while retaining the goals that originally got them into some of the most famous kitchens in Japan: the ultimate in cutting ability. But where does this durable sharpness come from? According to the masters at Toshu, it is all thanks to their specialized edo-togi grinding method. More on that later.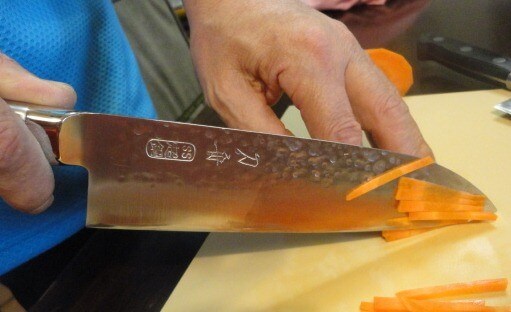 In Japan, recognition of the Toshu quality has grown so much in recent years that television shopping appearances have resulted in over a thousand sales per day. Once introduced to the quality and value of the Toshu knives, many first-time buyers are returning to complete their sets with the rest of the lineup. So what is it about the Toshu western style knives that are attracting so much attention from the at-home chef and homemaker? Let's take a look.
What Makes a Toshu Knife Special? The Toshu Difference
According to the Toshu head knifemaker Mr. Tozaki Takanori himself, the unique sharpness and usability of his western knives comes from his application of traditional techniques to state of the art composite, V10, and V5 steels. Beginning with the forging of these metals, all the way down to the application of the handles and inscription, every step (over 60 in all!) is done by hand. They even do all the hammering by hand! The Toshu knife master stresses this fact: these are not mass-produced kitchen knives.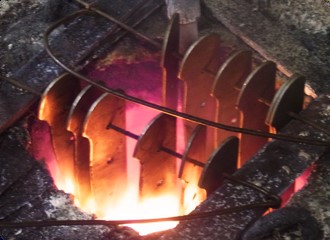 Toshu boasts their "flame polishing forging" method – a technique involving a forge at over 1,000 degrees Celsius. They are quick to point out similarities between this method and that of the traditional art of Japanese sword making, noting the import historical links their art has with the centuries-old history of samurai and warlords in Japan. This means a strict adherence to the hand-made tradition.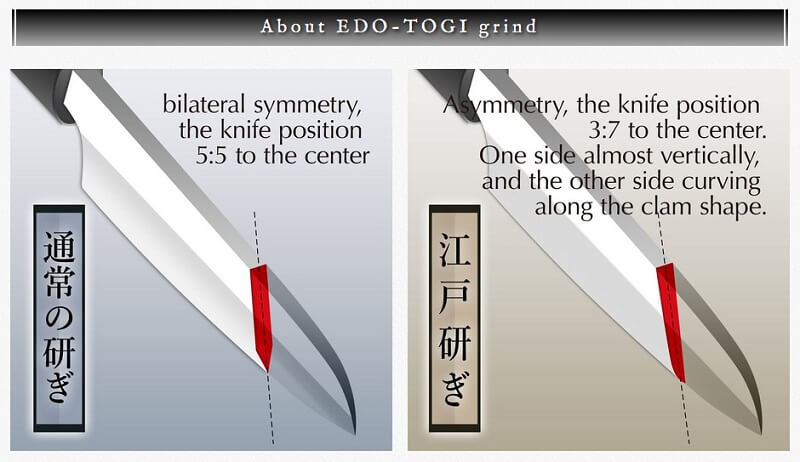 After forging, the Toshu knifemakers apply their unique and famous sharpened edge using the time-tested edo–togi grinding method. Taking its name from the Edo period of Japanese history (1603-1868, also known as the Tokugawa Period) from which its method was adopted, this step involves the knifemaker taking the blade over a rotating wheel-like rock, applying an edge to both sides while favouring the right over the left. This produces an asymmetrical blade with a curved back offering all the benefits of a difficult to handle single bevel (one sided) Japanese blades with the usability of a symmetrical, double sided blade of the style we are familiar with in the west. What this means for you is that your meat or vegetables won't stick to the knife as you cut. The lower the resistance, the better the cut – this is the main purpose of the Toshu edo-togi grinding method.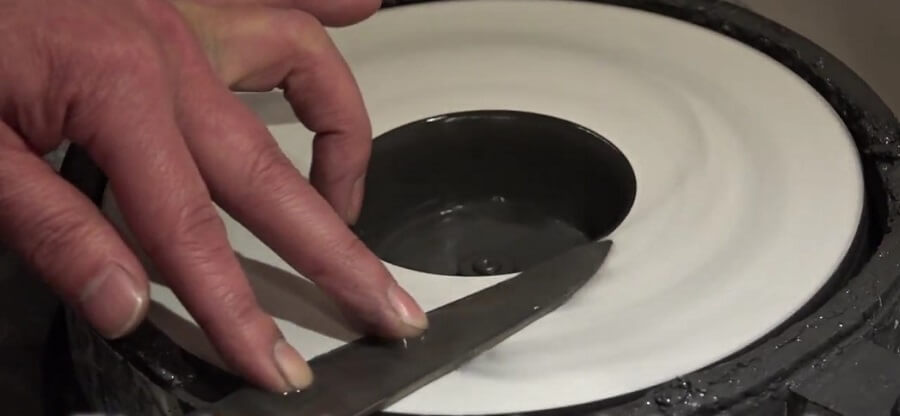 A video offered by Toshu (see below) offers a closer look at the edo-togi method. To me, this is what makes the crafting processes over at Toshu stand out. While I know knife making is no walk in the park for any of Japan's top craftsmen, the edo-togi­ grinding method is especially impressive. The speed and angle handled by these experts is pretty intense. I guess the dangers of the craft are part of the price you pay for such a sharp and hardened knife. Here's to hoping the Toshu team stay safe amidst all those flames, sparks and spinning parts.
With their small-scale, hands-on operation, the Toshu Kitchen Knife Shop has been diligently fulfilling orders and improving their craft. Though just on their second generation, the workshop is confident in their completely hand-made and unique method. From the "flame polishing forging" to their edo-togi grind, Mr. Tozaki and his team seem ready to take on wider markets abroad with their expanded lineup of western style kitchen knives. I really hope their name can take off and bring some more attention to the Kanto area – until now, the Japanese knife scene has been dominated by a few big-name producers, most from Seki and Sakai cities further west in Japan. If the Toshu team can hit it big with the ever-growing at-home cook's market, we might have another heavyweight Japan player on the global scene. I am excited to see how this workshop builds upon their already impressive domestic reputation and strong lineup of no-nonsense, handmade knives.
For a closer look at just how well the Toshu methods perform on the cutting board, stay tuned to the blog in the coming days as we prepare a special review of the 180mm Toshu Funmatsu Haisu Stainless Steel Santoku.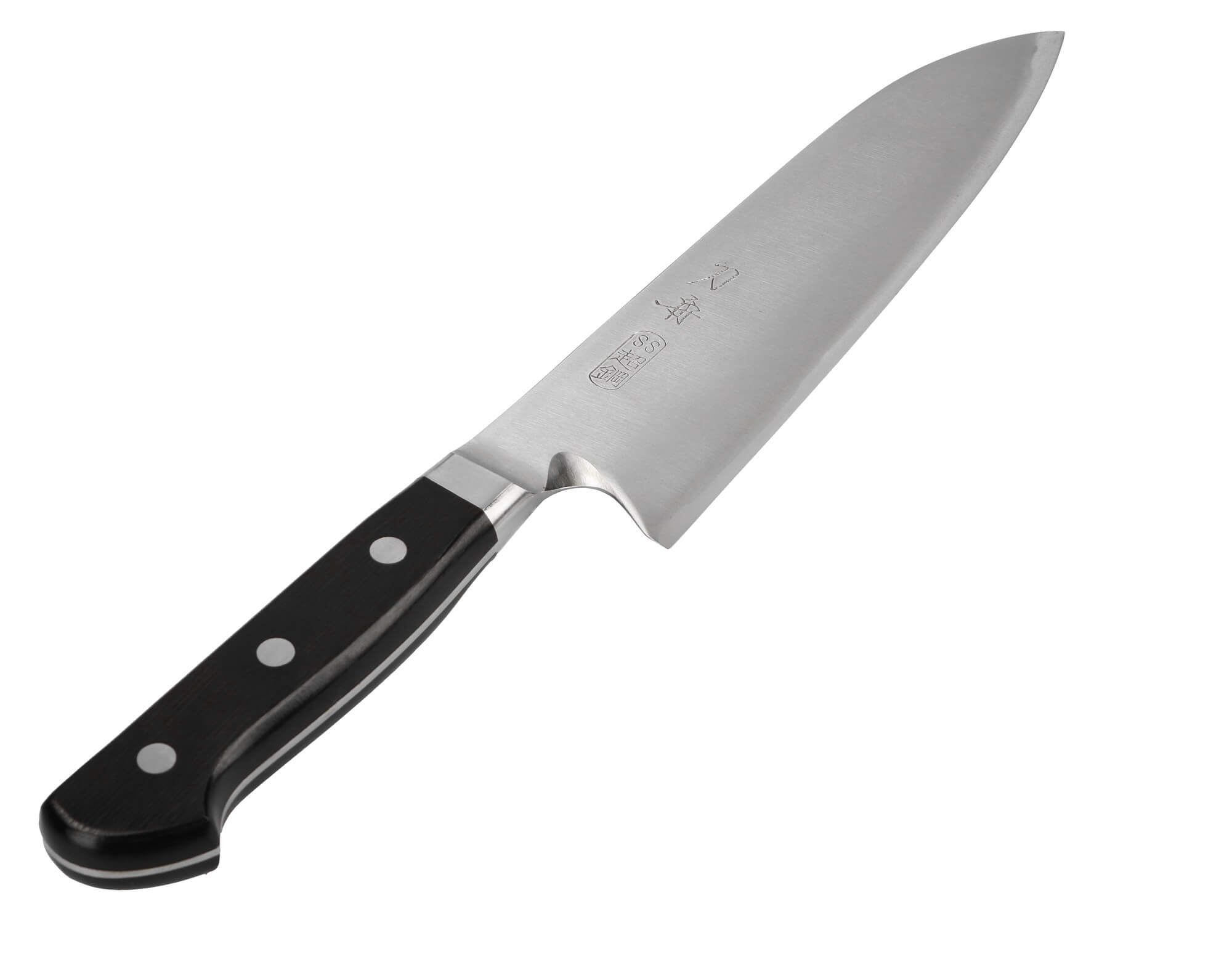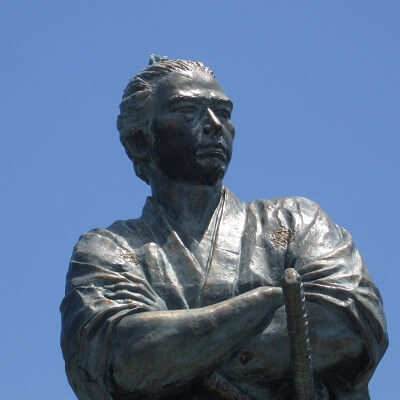 Author - Jay
In my spare time I enjoy watching baseball, tasting local cuisine, and exploring by road and rail. Having lived in several cities around the world, I have an appreciation for local as well as international histories and cultures. Excited by cultural and social exchange, it is my hope that this blog will help promote an interest in Japanese traditional wares and practises by introducing you to their history and meanings.
Our Products in Related Category – Toshu (double-edged knives)
Our Products in Related Category – Fusachika by Toshu