Until modern times, pictures are for upper classes. Therefore, there are many rules in expressions in the pictures. In comparison, there were few rules for Ukiyo-e, art for common people. Ukiyo-e painters drew what people demand, and Ukiyo-e was accepted by people and became very much popular soon. Different from woodblock print until then, Ukiyo-e prints were painted in vivid colors and expressed so free by painters.
In this post, I'll introduce 10 most important techniques which made Ukiyo-e that popular. I'll exemplify them with famous Ukiyo-e made by Hokusai, Utamaro, Hiroshige and Kuniyoshi.
Technique 1) Eccentric and Daring Perspective Drawing
This is one of a most famous series of Ukiyo-e, Thirty-six Views of Mount Fuji, drew by Katsushika Hokusai. In that series, Hokusai drew Mount Fuji from variety of angles and views. It got highest evaluation because of eccentric composition of the paintings. Not only that, however, Hokusai set a magic in the paintings which intuitively impressed viewers.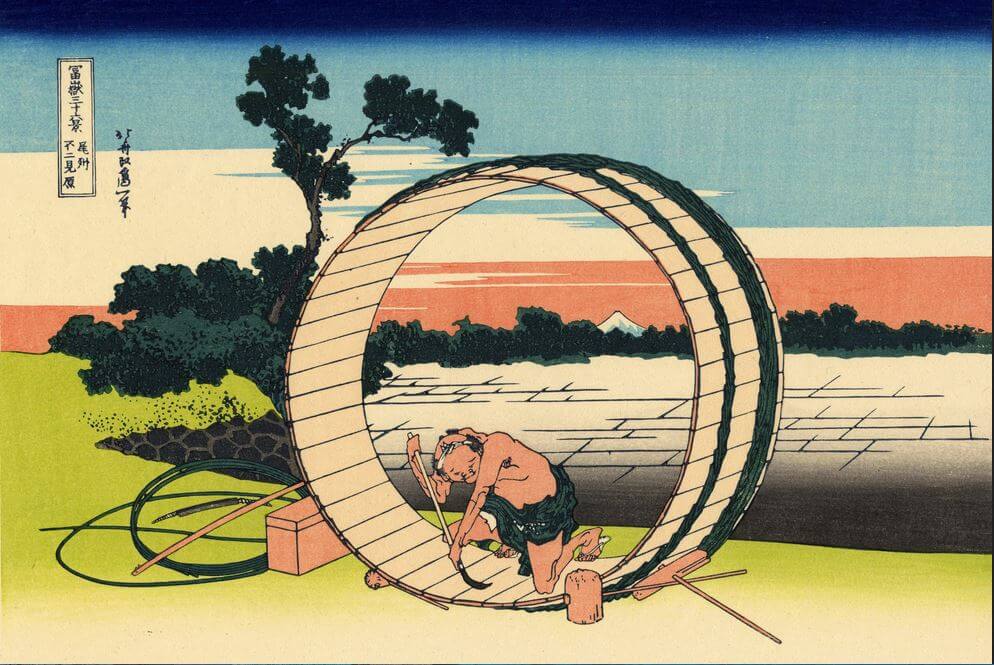 This Ukiyo-e print illustrates a landscape in Oshu Fujimi Field, where you can see white small Mt. Fuji in far away. To follow perspective, ridges between paddy fields should be narrowed in far side, but they are not drawn that way. In addition, a big tab being made is placed diagonal, whilst craftsman making it is facing right front which is inconsistent with direction of the tab. Although there are several breaks from "perspective" point of view, this Ukiyo-e print has a good impact. Framing effect of Mt. Fuji is also a great job; Mt. Fuji is emphasized its existence by rounded frame of the tab, although its size is small. Thus, Hokusai cleverly controlled composition eccentrically and daringly to give an impact by breaking perspective.
Technique 2) Ukiyo-e Illustrate Lapse of Time in Landscape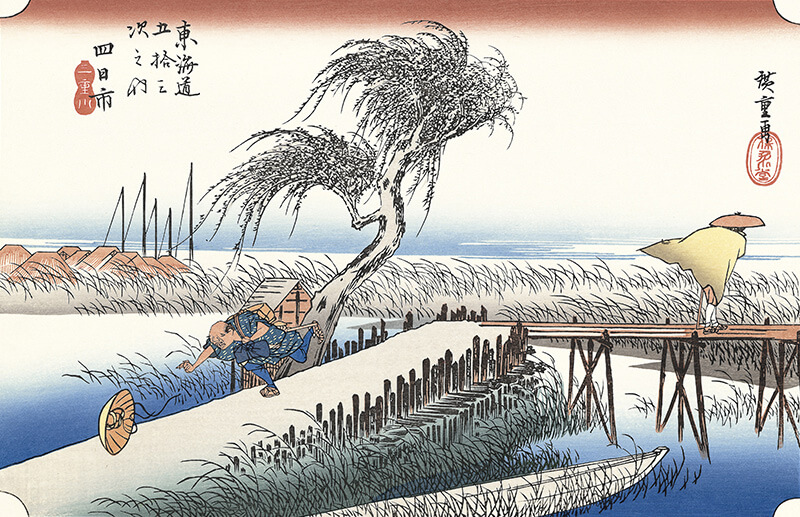 Around the willow tree blown by wind, there are two men; one man is carefully walking through the bridge so he won't blow his coat away by a gust; another man is running to catch his bamboo hat blew by a gust and being rolled over. You feel like hearing sound of the riot of the winds, don't you? Although this Ukiyo-e is cut of a moment, you'll see the lapse of time in the field.
Painter of this Ukiyo-e, one of a series of "old-time fifty-three stages on the Tokaido highway", is Utagawa Hiroshige. He was a top Ukiyo-e painter of the era in the genre of landscape painting. He was at the same generation of Hokusai, the most famous Ukiyo-e painter, and they were a rival.
A reason that Hiroshige beloved by people that much was his style of painting landscape. He illustrated casual but witty moments in his Ukiyo-e. His paintings have feeling of stir, and moments he cut are filled with full of humor. There are a lot of fans for Ukiyo-e by Hirosihge all over the world.
Technique 3) Origin of Animation Which is Illustrated by Creativity of Hokusai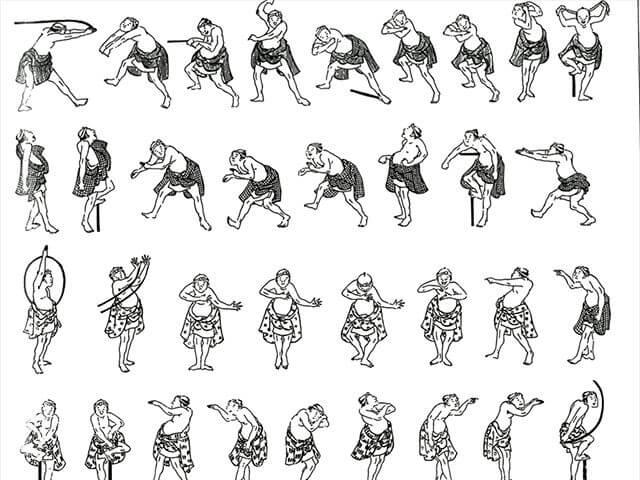 A lot of people burst upon Hokusai to be pupils. Because of that, Hokusai had to take too much time for taking care of them and he began to feel trouble. Hokusai was so bold to publish all his secrets in a book and published! That way, he thought people could learn from it without lessons by Hokusai himself. It is a book called Hokusai Manga. After that, he published another book named Dance Training by Yourself.
Content of the book Dance Training by Yourself was surprising. The content itself was just explanations of dancing which is directed by choreographer of Kabuki, but what is surprising was its structure. Choreograph of dances is illustrated sequentially by drawings. This kind of expression was completely new and it was origin of animated cartoon. Hokusai was the first people in the history to invent panel layout which enabled everyone to understand instantly. Furthermore, he added a line to support understanding for learners, by which people could understand how to move hands or legs to follow the example. (See below for example) In present, same lines are used in cartoon books and which is called "effect lines".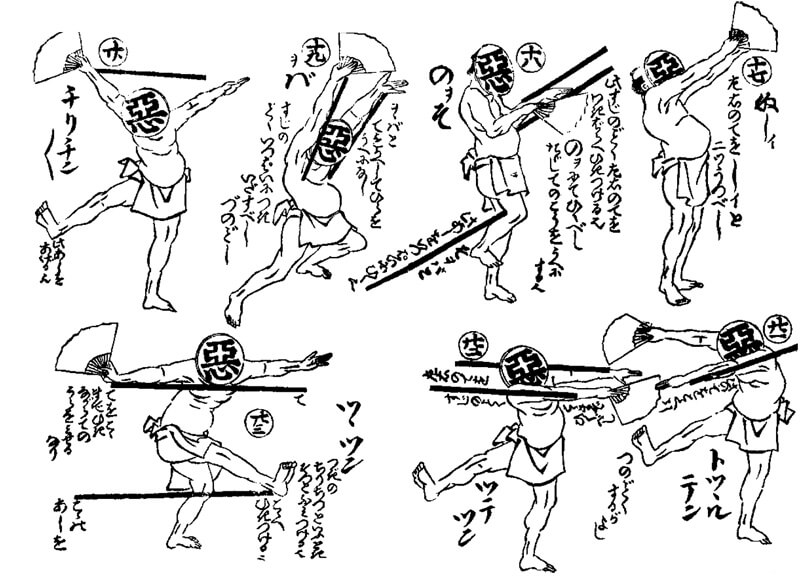 Technique 4) Express Overwhelmingly Large Scale, A Favorite Tech of Utagawa Kuniyoshi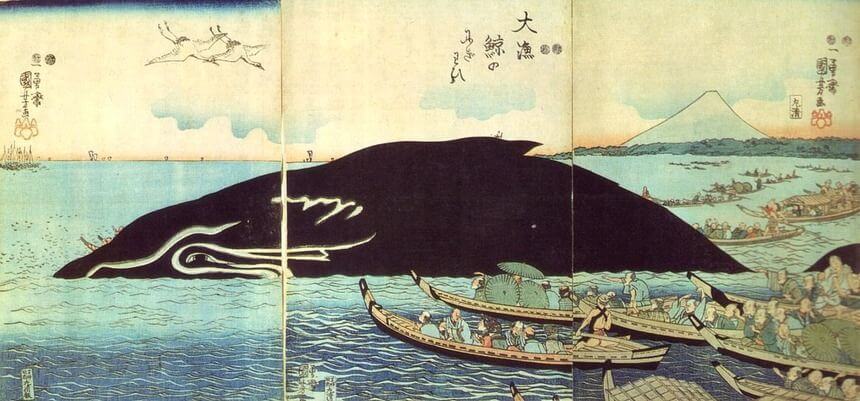 A black chunk like a small island is… a whale! This audacious composition of Ukiyo-e print fully demonstrate character of Utagawa Kuniyoshi. It consists of three separate prints. Generally in this type of Ukiyo-e series, each print was supposed to be drawn complete picture. Kuniyoshi broke this agreement (it was not rule but a tacit agreement among Ukiyo-e painters) and used three prints in a row as a single wide canvas. This large-scale expression was accepted by people and he became popular. He used same method for other Ukiyo-e pictures as well. Thus, Kuniyoshi took unconventional expressions in his Ukiyo-e, but all of them were just to entertain people, therefore people accepted his style and he became one of the most popular Ukiyo-e painters.
Technique 5) Characters Are Highly Deformed
There are a lot of interesting characters in Ukiyo-e paints as shown below. One technique for deforming was to personify animals and sometimes objects, which was often used in Japanese arts. This kind of deformation was a favorite among Ukiyo-e artists who competed for how freely, eccentrically and creatively they drew.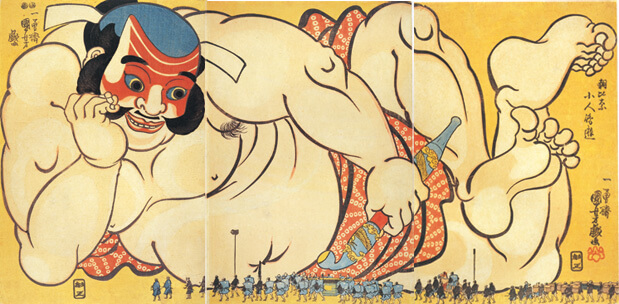 Utagawa Kuniyoshi was one who was best for deforming characters. He deformed and personified not only animals such as cat, gold fish, bat and sparrows, but also tools and ghosts, which became very popular among people.
Continue on the second half!
You May Also Be Interested In...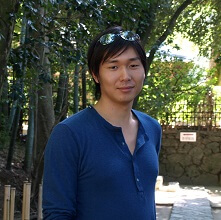 Author - Hiro
Lived in Kyoto in school days, I was impressed by profundity of history and tradition of the city. Had a job to join the three major festivals of Kyoto: Aoi, Jidai and Gion festivals. Love Kyoto and Japanese culture.
Manager of OrientalSouls.com, selling items of Japanese culture, tradition and craftsmanship. I'll introduce interesting information about Japan!
Our Products in Related Category