Continuing our series on Japanese art and the Ukiyo-e woodblock print tradition, this article will explain the actual process that goes into the creation of these impressive paintings. Perhaps you know them from trips to Japan; or, maybe you've seen them on TV or in galleries back home; maybe, just maybe you were introduced to them online and have seen their traditional images of daily life and scenery from feudal Japan. Either way, I bet you can pull from memory ukiyo-e images of Mount Fuji, bridges and temples of Kyoto, and the great waves off of Kanagawa.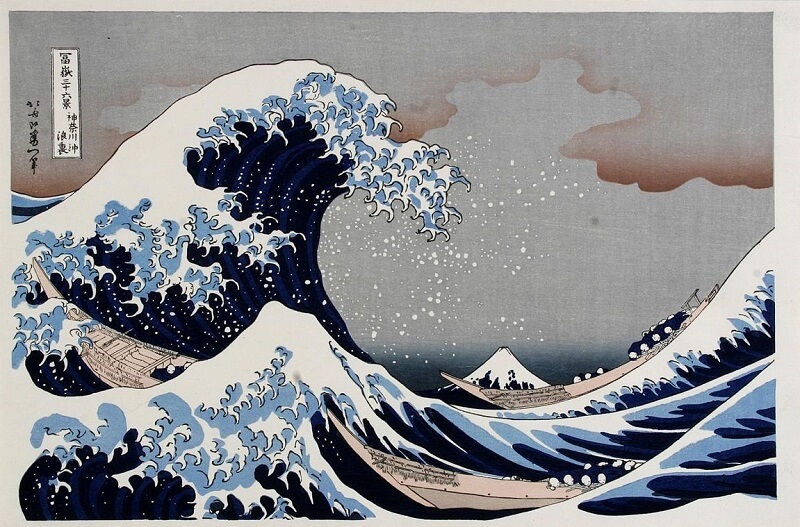 Sometimes calming, sometimes exciting, ukiyo-e depict a variety of themes and subjects ranging from daily life to the spooky and supernatural – sometimes even the erotic. The colours and styles are unmatched and ukiyo-e woodblock prints are uniquely and authentically Japanese. But how do woodblock artists create these scenes of alternate tranquility and liveliness? What allows them to produce such sharp lines of contrasting colours and shades?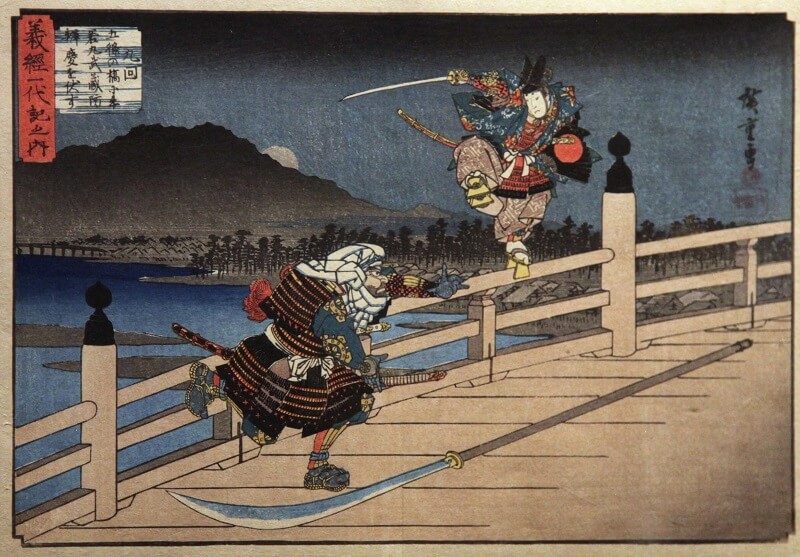 Today we will take a look at the traditional process behind each and every ukiyo-e print, starting with those produced during the woodblock heydays of the early- to mid-1800s, as well as the contemporary pieces we see for sale throughout Japan and online today.
The Woodblock Print Secret #1: Carving
The original image, designs produced by painting or drawing by hand, were traditionally inspired by even older forms and styles of Japanese visual art. Notably, figures depicted in woodblock prints have traditionally thick outlines – outlines that are later filled with bright colours. This is the artistic tradition and aesthetic that influences the earliest woodblock prints. It is the step of taking this artistic expression a little further, in order to make the pressing process possible, which makes ukiyo-e works different from earlier, traditional Japanese paintings.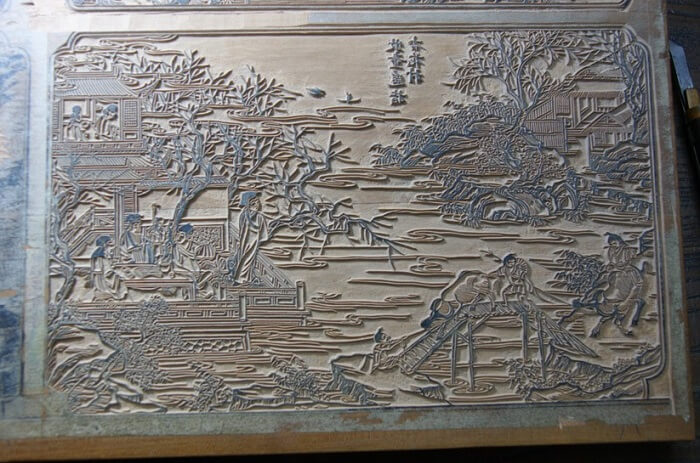 (Image: shukousha.com)
As the name suggest, ukiyo-e woodblock prints are made using wooden blocks. These become the sort of 'stamp' used to apply one layer of colour on top of another to produce the final, multi-coloured image. The first step then, after the original design is ready on paper, is to make a wooden block that will act as a stamp for subsequent pressings. Taking the original, the artist prepares the multi-layered and intricately carved wooden block used to 'print' the painting over and over. This block-making process is done entirely by hand of course, using hard iron chisels and only the best Japanese woods, specifically selected for hardness and workability by classically trained carpenters and woodworkers.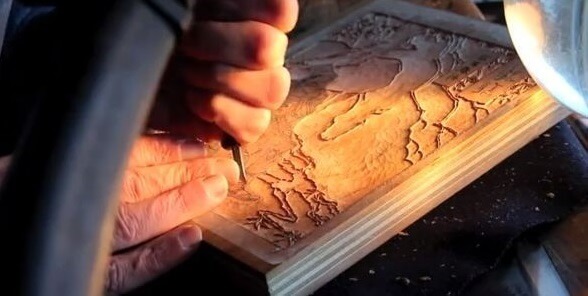 (Image: blog.livedoor.jp)
It is then up to the artist to apply his or her image to the wood. Below we see a modern woodblock artisan preparing his stamp in their Tokyo workshop. As you can see, this is certainly the most time consuming aspect of the woodblock process. It is also potentially dangerous, as one slip of the chisel could damage not only the surface of the art's most important tool, but also the fingers and hands of the artist himself! With this risk in mind, ukiyo-e is understandably not your usual form of painting.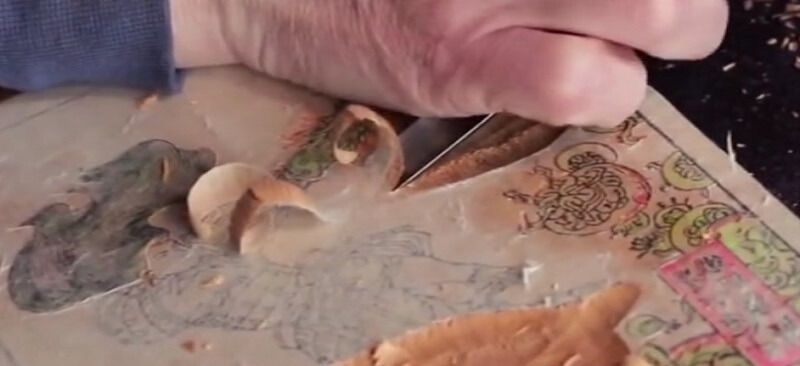 (Image: jp.ukiyoeheroes.com)
The Woodblock Print Secret #2: Stamping
With the 'stamp' woodblock ready, next comes the step in which the colourful image actually begins to take shape. One colour is applied where needed in the image with the application of that paint to the block. Thereafter, the artist puts paper to wood. As such, each colour you see is the result of one 'press' on a stamp wet with that colour paint. A work consisting of 40 colours, for example, will require at least 40 presses. After each press, the stamp is cleaned and the next desired colour is applied to the appropriate areas before the artisan completes yet another 'push' of his or her 'stamp.' Time consuming, sure, but once the blocks are prepared, the order decided, and a suitable rhythm adopted, the artist is capable of producing high-quality prints with all the beauty and character of the original. Unlike a simple machine-made print (produced, say, with a colour printer!), these works have the organic markings of a work produced with layers of paint and the care and labour of their artists.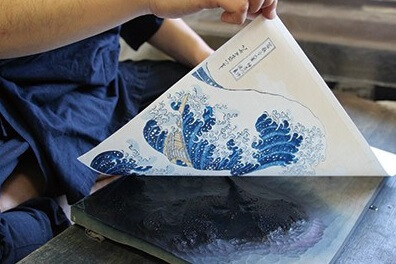 (Image: adachi-hanga.com)
Smaller, detailed areas of often cut on another block, to which the artist carefully aligns and matches the print before pressing it down on its surface to apply a desired colour to a certain area. One misprint and the entire work must to be abandoned! This is what makes each print so special. Including the cutting of the block: hundreds if not thousands of careful manoeuvres go into each and every print. We are talking an entire day's work (with no mistakes!) for one page. This method remains the exact same as the one used by legendary artists Hiroshige and Hokusai, the most famous of Japan's ukiyo-e painters.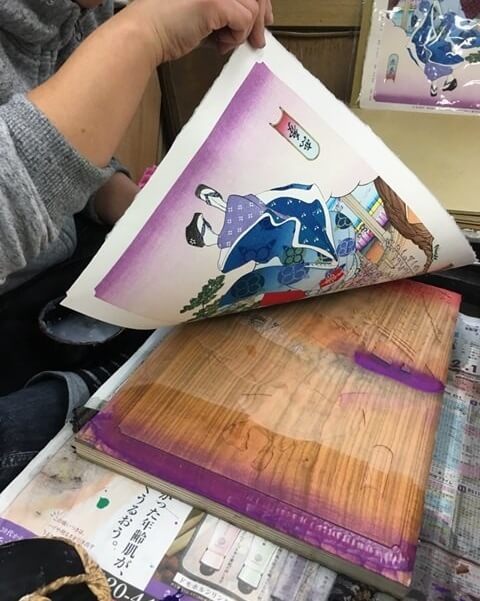 (Image: forum.gamer.com.tw)
One final note about the printing process: just as only the best wood is selected and chiselled by these experts, only the best washi Japanese paper will do. Beloved by ukiyo-e artists today (as in the past) are the traditionally crafted papers of Echizen in Fukui-Prefecture. Echizen Washi Japanese paper is still the number one choice by the master woodblock printers around the world. For more about this paper, be sure to check out our blog, as well as the Echizen Washi Village next time you are in western Japan.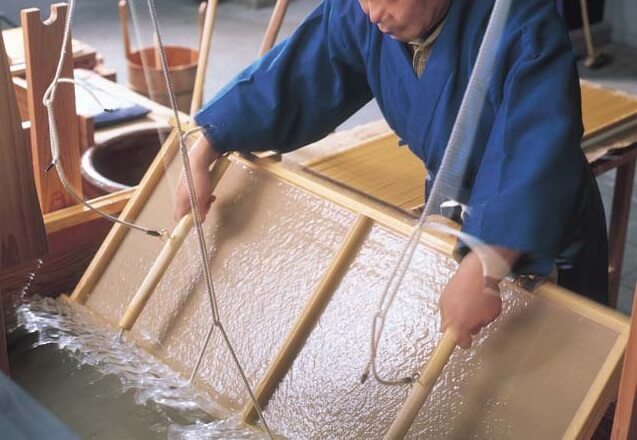 (Image: zennosato.jp)
The Ukiyo-e Woodblock Tradition: Alive and Well in the 21st Century
So now you know the secrets of the woodblock printing method – a traditional Japanese art form since at least the late 1700s. For more about the history of Japan's greatest artists, see our other blog posts here at orientalsouls.com (see below for related posts) – you can learn about the worldwide influence of these prints on the European tradition of impressionist painting, as well as the state of the field today. With classically trained artists continuing the tradition of printing and material-making, we can now enjoy the experience of selecting and purchasing these unique hand-make works from the comfort of the homes. Alive and well, the ukiyo-e woodblock tradition continues to impress with its personal touches of deep colours and careful line work.
Knowing what we do about the careful and hands-on process that goes into each and every one of these prints and having always wanted a quality print of my own, my urge to buy one for my home office has exploded since writing this post. The flare and character these add to a room is truly unmatched. Meanwhile, I'll be sure to get some extra prints to use as gifts. Being able to explain this history and process makes an already great gift idea even better – can't wait for my mom's next birthday!
Related Posts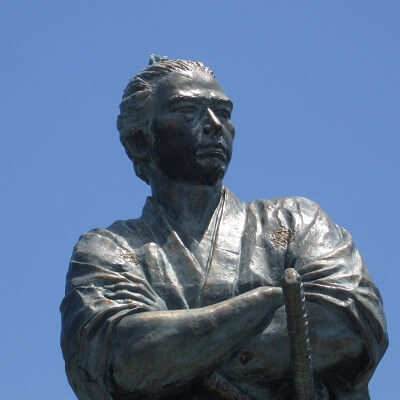 Author - Jay
In my spare time I enjoy watching baseball, tasting local cuisine, and exploring by road and rail. Having lived in several cities around the world, I have an appreciation for local as well as international histories and cultures. Excited by cultural and social exchange, it is my hope that this blog will help promote an interest in Japanese traditional wares and practises by introducing you to their history and meanings.
Our Products in Related Category