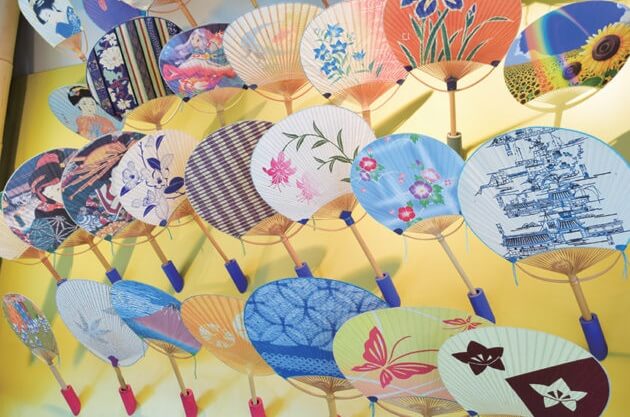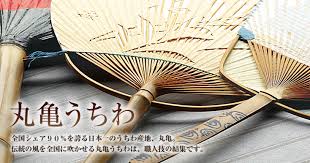 Marugame Uchiwa fans are originally made for a souvenir for visitors to Kompira shrine. After that, Uchiwa fan making is encouraged by the local government as a side business of lower-class samurai, and it became a local industry of Marugame area before long. Marugame fans are basically made of single bamboo stick. And they have a large share in the Uchiwa fan market.
However, demand of Uchiwa fans had shrinked rapidly once air conditioner and electrical fans were developed. To keep tradition of Marugame Uchiwa fans, they have tackled with developing new products based on their fan-making techniques in addition to making traditional Uchiwa fans. Let's take a look into more details of Marugame fans. (images: nicetown.co.jp, Kagawa Pref.)
Why Marugame Uchiwa Fans Are Number 1 in Japan?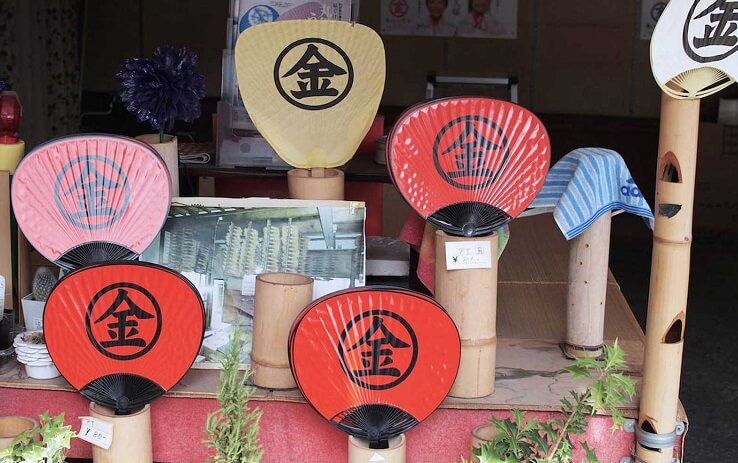 (Image: Sanchi)
Origin of Marugame Uchiwa fans looked like the image above. A symbol letter of Kompira shrine is drawn at the center of the red fan. Soon after the fans are sold for tourists in Kompira shrine, its demand had increased rapidly, and its reputation had increased as well. Today, Marugame area produces 100 million Uchiwa fans annually, which is equivalent to 90% of all market share in Japan. Marugame Uchiwa fans are number 1 both in mane and reality.
Aspiration of General Public! Why Did That Many People Visit Kompira Shrine and Get Marugame Uchiwa Fans?
By the way, why such a many people came to Kompira shrine, located far away from the Japan's capital of Edo (current Tokyo)?
Kompira shrine locates in Mt.Zozu in Shikoku region. People had to travel more than 900km from Tokyo (Edo) to the shrine. Why people wanted to travel that long distance?
In Edo era, when Marugame fans started to be sold, ordinal people were prohibited to go traveling except for a few cases. One of such cases is religious travels. Three major destinations of such religious travels were Ise shrine, Honganji temples in Kyoto, and Kompira shrine in Sanuki. These travels were a big boom among general public in the era.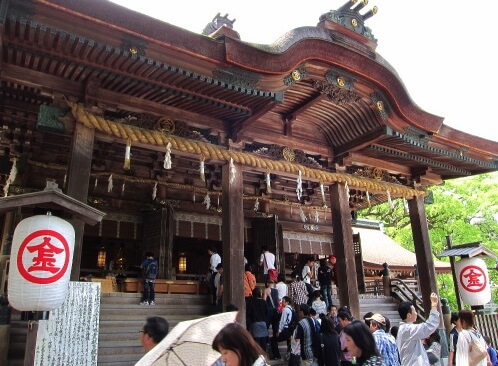 (Image: drive-nikki.com)
It is believed that a god of marine traffic is enshrined in Kompira shrine. A reason for that may be the shrine is located in a Shikoku island. Although Kompira shrine was one of the three major destinations of religious travels, the shrine was hard to approach. People had to go over mountains and cross the ocean, and they also climb up long long stairs to reach the main building of the shrine. From the ground, there are 785 steps to the main shrine building and 1368 steps to the rear shrine. (rear shrine is located behind the main shrine, but dedicated to the same deity; some people prefer to visit rear shrine.)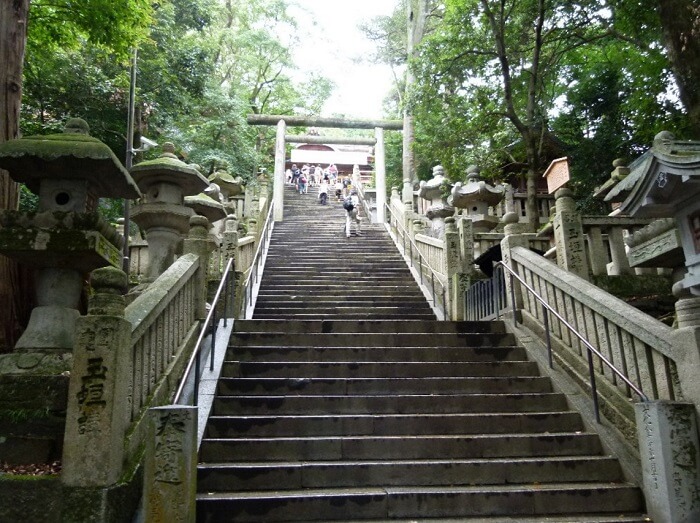 It is said that average person takes 45 minutes to climb up 785 steps to the main shrine building, and it takes additional 20 minutes to climb up to the rear shrine. Regardless of such a hard travel, (or because its way was that tough), people in the era were eager to visit Kompira shrine.
Bamboo is Authentic Traditional Marugame Fan Style. What's The Difference?
Nowadays, free Uchiwa fans are distributed at corners of big cities in the Summer. Company ads are printed on their surface, and the fans are distributed as a promotion. Majority of Uchiwa fans you can see is this free plastic fans. It's also the case for Marugame Uchiwa fans. More than 85% of fans produced in Marugame area are that free plastic machine-manufactured ones. Considering production and material costs, traditional bamboo and Washi fans can never become back to majority. Having said that, the handcrafted bamboo Uchiwa fans have elegance and warmful taste.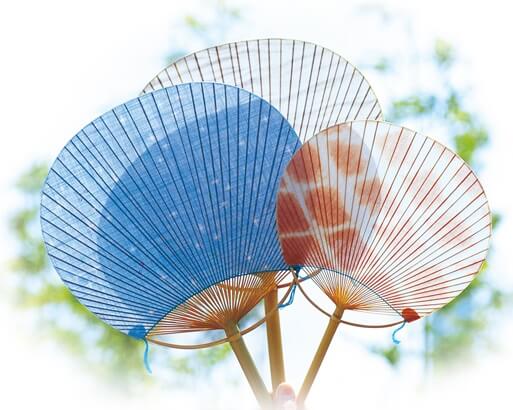 (Image: Kagawa Pref.)
Look at these traditional Uchiwa products made one by one by craftsmen. Each fan expresses craftsmanship and warmful handpainted colorings. In this industrialized era, this kind of traditional crafts attract people. Why not take one and feel traditional craftsmanship?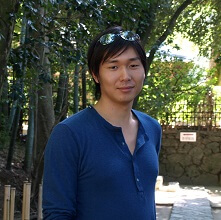 Author - Hiro
Lived in Kyoto in school days, I was impressed by profundity of history and tradition of the city. Had a job to join the three major festivals of Kyoto: Aoi, Jidai and Gion festivals. Love Kyoto and Japanese culture.
Manager of OrientalSouls.com, selling items of Japanese culture, tradition and craftsmanship. I'll introduce interesting information about Japan!