I visited one of the most famous Japanese Knife shops.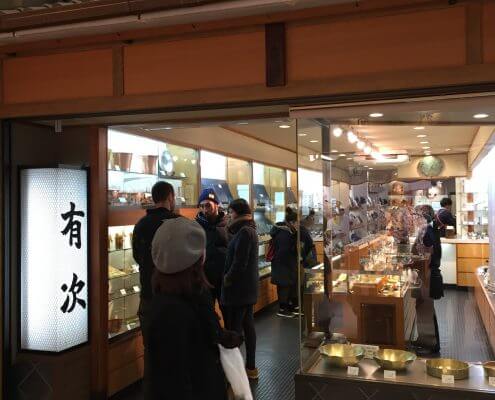 The shop locates in Nishiki market in central Kyoto.
The shop name is Aritsugu. "有次"
Now the knife of "Aritsugu" is one of the most famous brands in the world.
It was a very cold day in Japnuary,
but visitors from overseas came to the shop one after another.
The origin of Aritsugu is a swordsmith since 1560.
They had made swords which were dedicated to the government of the era.
After the demand of swords decreased significantly, they converted their skills to kitchen knives as other swordsmith did.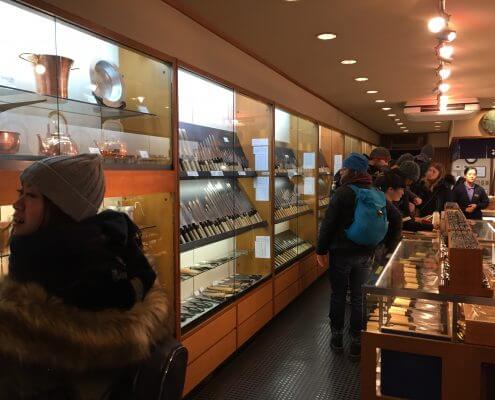 Aritsugu quit selling their products online now.
They sell their knives and all other products only in shop.
Staffs speak English for visitors from overseas.
When I visited the shop, no other Japanese came to the shop while I was there…
I took a look at some knives.
As you can see, their knives are pretty simple.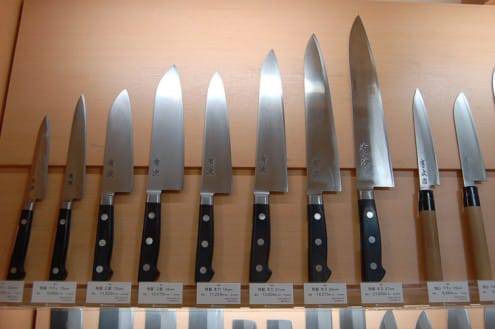 There's no decorations because they simply provide practical tools for cooking.
Decoration of knives doesn't affect taste of dishes…
Of course their skills to make knives are excellent.
Cutting quality of their knives are extremely high.
However, it may be difficult for us to find out difference between Aritsugu and knives sold in other shops UNTIL WE CUT FOODS!
This may be a reason they quit selling online.
They said they want to communicate with customers and explain the difference.
They want customers to buy their knives after the customers understand Aritsugu.
I understood their policy.
But I also think it's difficult to visit their shop especially for customers who live outside Japan.
It may be difficult for us to sell Aritsugu. (they don't provide their products to wholesales)
But we'll try to sell other brands which are also cut things well! (although not look gorgeous…)
If you're more interested in Aritsugu, let me know and I may be able to get more information when I visit their shops in the other day.
(I think they don't have homepage or contact form)
Also, check out our shop sometimes.
We are planning to expand our product line for Japanese knives!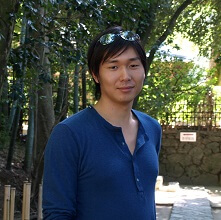 Author - Hiro
Lived in Kyoto in school days, I was impressed by profundity of history and tradition of the city. Had a job to join the three major festivals of Kyoto: Aoi, Jidai and Gion festivals. Love Kyoto and Japanese culture.
Manager of OrientalSouls.com, selling items of Japanese culture, tradition and craftsmanship. I'll introduce interesting information about Japan!