Sometimes, supermarkets hold cutting demonstrations of big fish.
In the last weekend, I saw a demonstration in the market close to my house.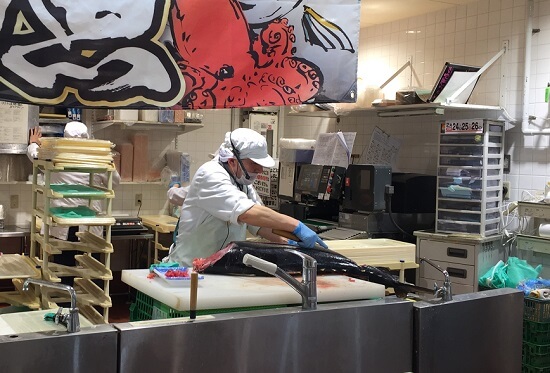 The demonstrator cut whole tuna in a few minutes with explanation.
Tuna is a popular fish for Sashimi and Sushi.
Its size ranges from 60-300cm in length, and its weight can be over 600kg in maximum.
Because of its size and life ecology, tuna is not a popular target for hobby fishing; but it is an important marine products for professional fishermen.
Although we don't often see whole tuna, we sometimes see them in this kind of demonstration.
Or we can visit fish market in early mornings, then there are tuna auctions we can see.
It may be hard to search cutting demonstrations held by supermarkets because this kind of information is too local.
So, I was lucky to be there in the last weekend.
The knife used in the demonstration was a Deba knife whose blade length was approximately 30cm (11.8 inches).
It's a bigger size of Deba compared to ordinal ones used in our houses.
The knife was simple without decorations, and its handle was made with magnolia.
It is a standard look of knives made in Sakai, Japan. (probably his one was also made in Sakai, too)
He did entire works with the Deba knife.
Professionals prefer to use this kind of simple and standard knives.
It's easy to care and handle.
If there's decoration, it takes more time for wash and care, so it's not preferable for professionals.
If you like to go fishing in the ocean and cut fish by yourself, Deba knife is a "must have".
In addition to that, I have
– a wire for "ikijime", a way to kill the fish at once without stressing it
– scales remover
– cutting boards made of wood
but these are optional "nice-to-have" stuff.
Good Deba works perfectly for cutting your fish for Sashimi.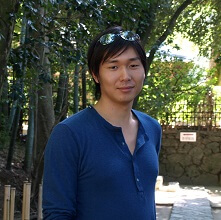 Author - Hiro
Lived in Kyoto in school days, I was impressed by profundity of history and tradition of the city. Had a job to join the three major festivals of Kyoto: Aoi, Jidai and Gion festivals. Love Kyoto and Japanese culture.
Manager of OrientalSouls.com, selling items of Japanese culture, tradition and craftsmanship. I'll introduce interesting information about Japan!