As a part of our site concept, "Learn and Buy Japanese Craftsmanship, Tradition & Culture", I've started to add Japanese Knives in our shop.
The first knife I got was when I moved to Los Angeles in California, USA.
Until then, I had lived in a dormitory and sometimes cooked by myself.
But the knives I've used at that time was mass-manufactured ones which I got for a free gift etc.
When I decided to move to the US, I thought I wanted to cook more because I might miss Japanese dishes.
For this purpose, I tried to buy some good knives in Seki, a famous place making knives.
Seki locates at almost center of Japan and was famous for making good Samurai swords.
It was also just 30 minutes drive from my home.
Because Samurais were gone and nobody buys Samurai swords, artisans in Seki changed their products from swords to kitchen knives and cutlery such as scissors.
In a cutlery market in Seki, I got some recommendations from the staff there.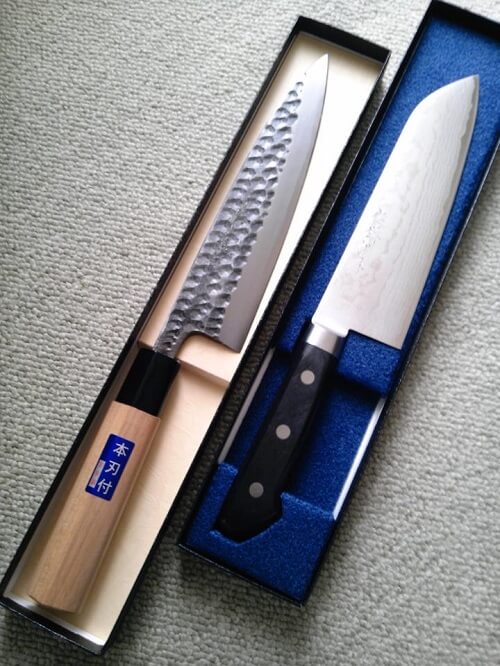 It was amazing!
I was impressed how high the cutting quality of those authentic knives were.
Vegetables were cut just by touching with them.
Fish bones could also easily cut through.
I enjoyed cooking in the US and understood the difference between mass-manufactured knives and hand made traditional Japanese knives.
In addition, I was told the necessity of the maintenance i.e. sharpening of these knives.
They were so sharp, which means blades were thin and delicate.
Staff in the market in Seki told me that it's not difficult to do sharpening.
I also got grindstones to sharpen knives.
They said, it's far better to do by yourself than do nothing, even your sharpening skill is almost none!
Sometimes, I tried to sharpen the knives up when I felt my knives went dull.
And the knives actually recovered their cutting quality again by my sharpening!
(I believe my sharpening was bad at first…)
In this site, I will try to introduce authentic Japanese knives for reasonable prices.
And also try to have our customers impressed by those qualities.
Take a look at our shop and please be looking forward to our information!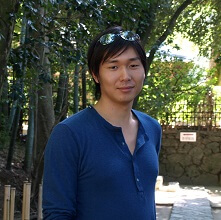 Author - Hiro
Lived in Kyoto in school days, I was impressed by profundity of history and tradition of the city. Had a job to join the three major festivals of Kyoto: Aoi, Jidai and Gion festivals. Love Kyoto and Japanese culture.
Manager of OrientalSouls.com, selling items of Japanese culture, tradition and craftsmanship. I'll introduce interesting information about Japan!