Dinner time is approaching and you've got the freshest ingredients and an exciting new recipe to try. You setup your kitchen and begin chopping your veggies as your mind wanders from the main course onward to your favourite dessert. Then, you notice in shock that your knife – your most valuable, versatile, and relied-upon tool in the kitchen – isn't making it cleanly through the skins and rinds of your carefully selected vegetables. You've got scallions still stuck together on one side, now looking like a sad, green accordion, and tomatoes that are more crushed than diced. The problem isn't your technique; the problem is your dull kitchen knife. A dull knife not only slows you down, but also degrades the flavour and appearance of your ingredients and prepared dishes. Why waste all that time, energy, and money spent on quality ingredients by putting them under a dull, ineffective knife? To avoid these wasteful and frustrating kitchen mishaps what you need is a sharp, reliable knife.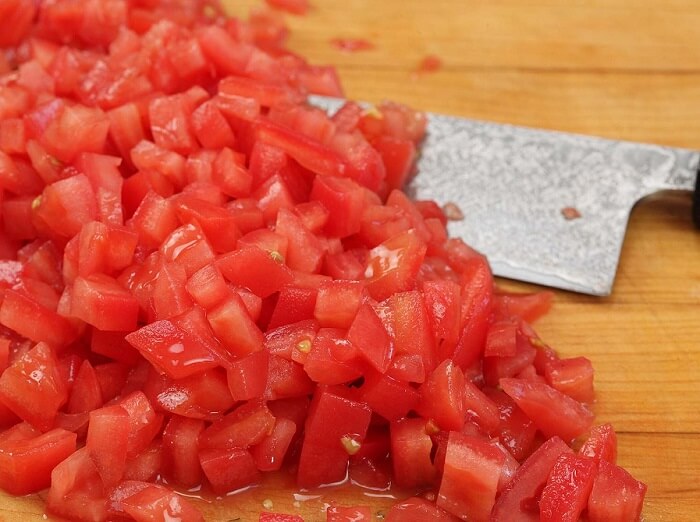 (Image: seriouseats.com)
Lucky for us, Japan's leading knifemakers have spent centuries developing their trade from ancient swordmaking methods. Today, Japanese kitchen knives are known as the sharpest, most durable knives in the world. But how did they come to receive this distinction? And more importantly, what does this mean for the at-home chef like you and I? Let's take a look at what the sharpest knives in the world can offer while considering how and why you should chose a Japanese knife for your kitchen.
The 'Japanese Difference' #1: World's Best Edge
Japanese knives are famous for a reason – this fame begins with their unmatched cutting edge. As we have seen in our other blog posts about Japan's legendary kitchen knives here at OrientalSouls.com, skilled artisans derive their world-leading knifemaking techniques from centuries of sword-making tradition. Indeed, the same steel smithing methods that went into the trusty swords and katana of the most famous and feared Japanese samurai find their way into each and every Japanese kitchen knife. These knives have long been the favourites of chefs and cooks at Japan's most revered restaurants, and they are now finding a larger audience abroad as people from around the world have adapted them to various culinary styles and cultures.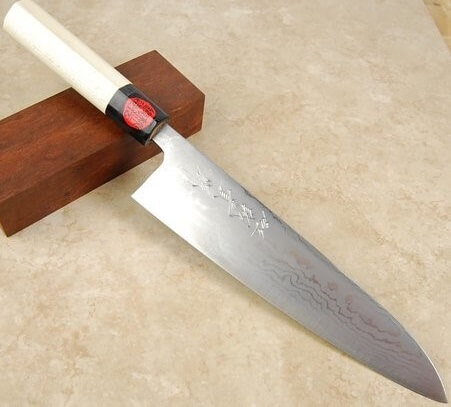 (Image: chefknivestogo.com)
The hardness achieved by Japanese knifemakers and blade smiths allows them to apply a thin, steeply angled edge to each blade. Indeed, if not for this intense sharpness, such a steep edge would never hold. Without compromise, however, Japanese knifemakers have pushed their steel to its limits while applying their now world-famous edge. Meanwhile, in meeting international demands, many Japanese knifemakers have begun to adopt the dual bevel, symmetrical design for their knives' edge. A typically and historically western design, the dual bevel makes the knife ambidextrous and comparatively easy to sharpen. The ultimate cutting experience, however, comes from the traditional Japanese single bevel design. With just one side sharpened, knifemakers can achieve the steepest possible angle on their wares. While this almost always results in a right-handed blade (left handed blades are available via special order), the thinner, steeper edge results in a level of sharpness unmatched by any western knife.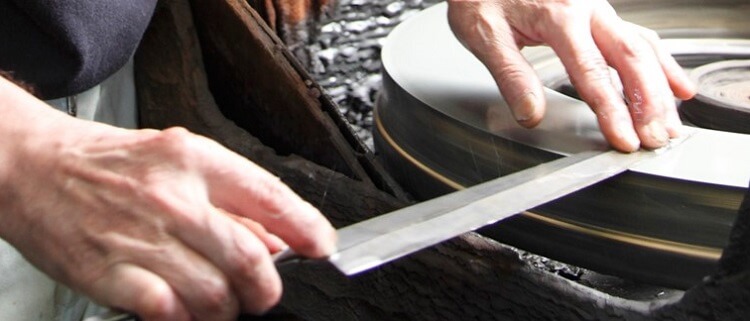 (Image: sakaiknife.com)
Add to this edge the carefully designed convex and concave sides of single bevel Japanese knives, and you get the ultimate slicing experience. The concave 'backside' of the knife – the right-hand side of a traditional, single bevel Japanese knife as seen from the chef's perspective – keeps sliced ingredients from sticking and building up on the middle and upper parts of the blade. Meanwhile, a slightly convex front reduces friction between the face and the larger, still uncut portion of your meats or vegetables. Together, these little features and traditions handed down from the blade and knifemakers of the samurai-filled feudal period of Japanese history add up to provide users of Japanese knives with an unbeatable slicing experience. All of this insures that you aren't ripping or smashing your ingredients, but instead cleanly and precisely slicing them. A good cut keeps the flavour and juices of your carefully selected meats and vegetables within each piece as if moves from cutting board to fry pan to dinner plate.
The 'Japanese Difference' #2: Durable Steel
It's not only the edge which sets Japanese knives apart from their competition. Let's take a look at a few of the other features traditional Japanese artisans in cities like Seki, Sakai, and Kyoto are applying to their world-famous kitchen knives today.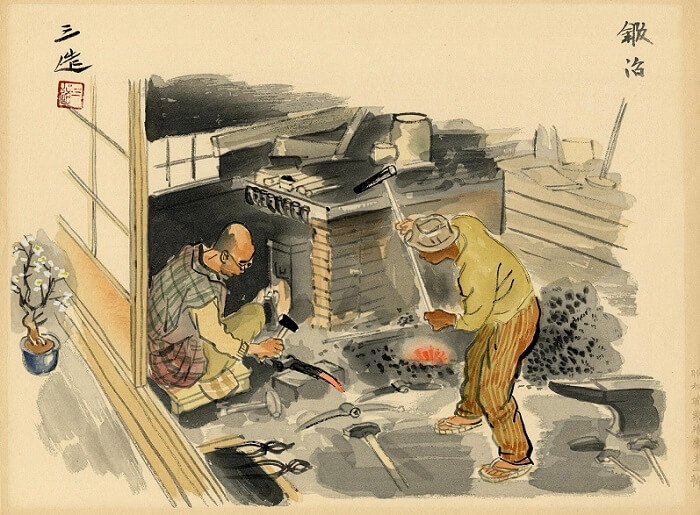 (Image: ohmigallery.com)
The durability of any kitchen knife is defined largely by the type of steel and method used in its crafting. This effects not only a knife's ability to 'hold' or retain its razor sharp edge, but also determines its resistance to chipping or warping as well as the respect and maintenance it demands from its owner. Lucky for us, Japanese knifemakers have diversified their use of materials and now offer knives made from various levels and qualities of steel as well as ceramics, ensuring that there is a Japanese-made kitchen knife to match any budget. Kyocera's now well known ceramic kitchen knives are one example of the application of ancient knifemaking traditions to modern, scientifically developed materials. Their ceramic blades provide the much of the cutting ability for which steel Japanese blades are known while remaining entirely rust-resistant. Moreover, they can be sharpened with only a quick pass through of their purpose-made, electronic Kyocera sharpeners.

(Image: kyocera.co.jp)
But perhaps you would rather stick with the time-tested, traditional steel blades. In that case, you are faced with a few options: stainless, composite, 'pure' steel, as well as various high-end options such as Damascus steel. Thanks to the aged traditions of blade and knife smithing in Japan, each and every 'type' of steel is thoroughly hardened, making each capable of holding an edge sharpened to the world-famous levels for which Japanese knives are now widely known. Stainless steel knives provide us with the most affordable option, meanwhile requiring the least amount of invested care and maintenance. As their name implies, stainless steel Japanese kitchen knives won't rust. As a reliable, low-hassle kitchen knife, stainless steel utensils from Global Knives were praised by famous chef and culinary journalist Anthony Bourdain in his breakout memoir Kitchen Confidential.
For the ultimate cutting experience, however, you will want to go straight to the masters who work in the small-scale, hands-on workshops of in the cities and villages of western Japan – places like Seki, Sakai, Echizen. It is here that generation after generation of Japan's best knifemakers are trained to produce the world's best kitchen knives by hand and one at a time. With layered steel hand tempered for ultimate hardness, these knives will retain the sharpest edge and – with the proper care – will provide a lifetime or more of unbeatable cutting performance. With a hefty price tag, the initial investment may seem a bit much. However, when we consider the fact that each one has been hand-crafted by world-leading expert artisans at the historic furnaces of Japan's oldest knifemaking villages, the character and durability of each knife is sure to provide an enjoying return on this investment.
For those wanting the ultimate in unique, and character filled kitchen utensil, check out the Damascus steel blades of Japan's most famous knifemakers. The beautiful, rippled effect appearing on the surface of every blade, as well as their unmatched hardness, make these knifes stand out amongst a tough field of competitors from Japan's best artisans. Meanwhile, their design ensures that no two knives are the same, giving you and future generations a kitchen tool to use and cherish.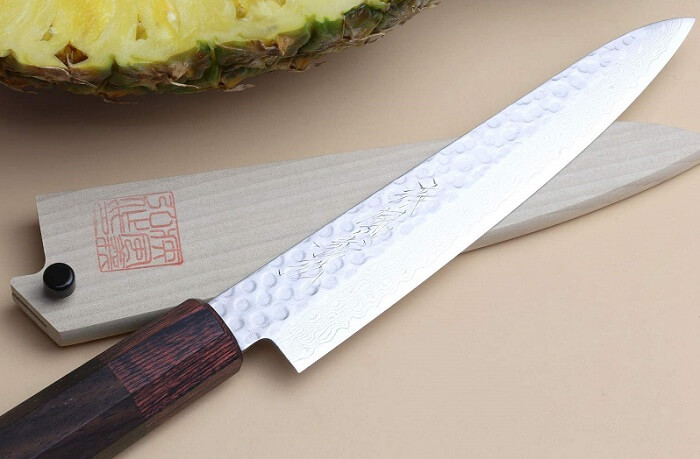 (Image: amazon.com)
The 'Japanese Difference' #3: Handle, Grip, and Weight
The third and final difference setting Japanese kitchen knives apart from their western counterparts is their handle. This last aspect is closely related to how Japan's best kitchen knives feel and perform in your hand. With their own traditional style and shape, Japanese 'wa' handles emphasize the strengths and unique traits artisans have spent their lives improving since making the switch from samurai blades to kitchen utensils. The most important characteristic is the inclusion of at least one flattened side to the handle. Taking either a hexagon, octagon, or even D-shape, the 'wa' handle of a Japanese knife is thinner and more lightweight that western variants.  This is an extension of Japanese knifemaker's efforts to make a nimble, accurate blade rather than a heavyweight, tank-like tool. The aim is to have the knife perform as an extension of your very own hand, allowing for precision cutting with little to no waste.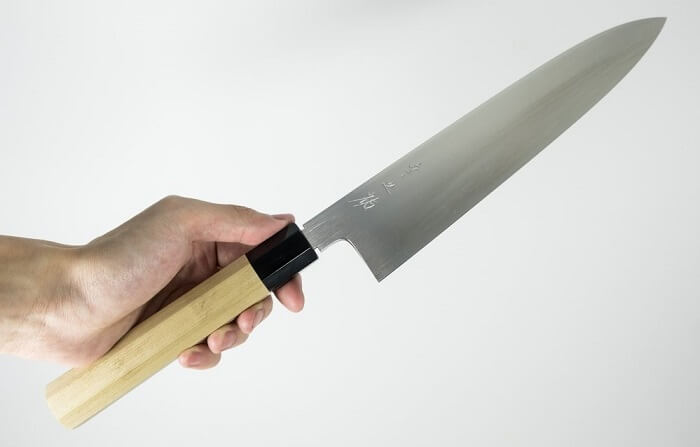 (Image: aiandomknives.com)
These aims reflect an overall effort to keep the knife lightweight, a goal achieved via the combined components of blade and handle. Thus, Japanese knives are thin and light, rather than hefty and heavy. Finally, as a testament to the careful craftsmanship that goes into these small-batch Japanese knives, artisans sometimes include with their blades a custom fitted, handmade saya – a sheath-like case sometimes included with high-end orders.
Try Out the 'Japanese Difference' for Yourself
Now that you know a bit more about what makes Japanese kitchen knives the sharpest and most versatile in the world, you are ready to try one for yourself. As Japan's most famous knifemakers continue to export their wares at increasing rates, these unbeatable blades are making their way into the display cases of knife vendors in more and more countries. I can guarantee that within moments of picking one up for yourself, you will get a sense of the differences setting Japanese knives apart from their competitors – the features introduced here today should be readily apparent. So get rid of those dull old department store knives and take your cooking to another level with the traditional craftsmanship of Japanese kitchen knives.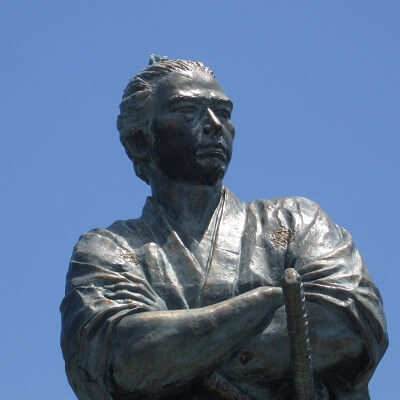 Author - Jay
In my spare time I enjoy watching baseball, tasting local cuisine, and exploring by road and rail. Having lived in several cities around the world, I have an appreciation for local as well as international histories and cultures. Excited by cultural and social exchange, it is my hope that this blog will help promote an interest in Japanese traditional wares and practises by introducing you to their history and meanings.
Our Products in Related Category