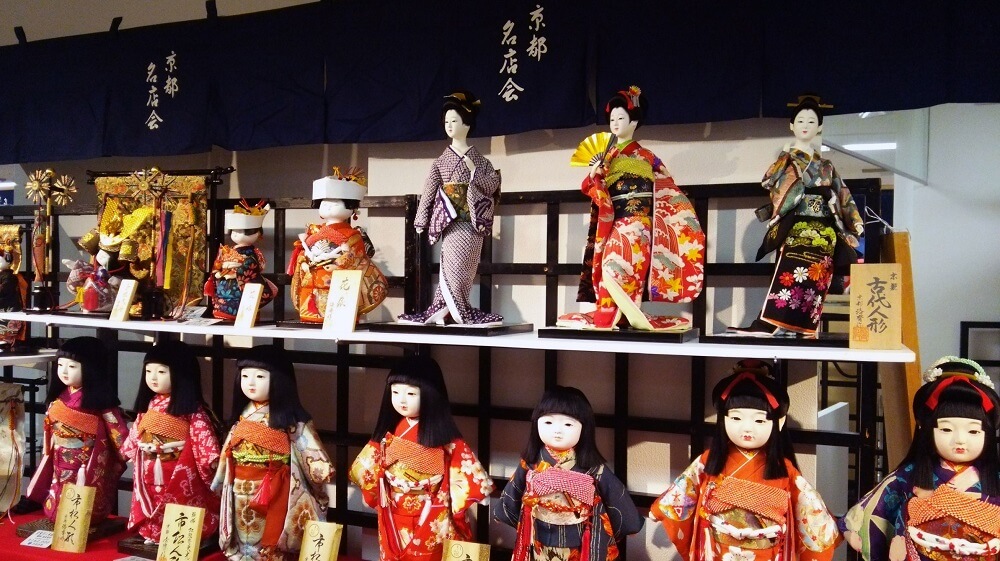 The origin of Kyoto dolls is said to be the 'hiina-asobi', a traditional leisure activity using 'hiina dolls'. It first became popular among the noble class people as entertainment during the 8th century, and later became a seasonal event in the Edo era. The event was held on the 3rd of March every year, where people were to participate in 'hiina-asobi'. Over the course of time, the 'hiina dolls' used in this event changed from a standing figure to a sitting 'hina doll', and the event came to be officially known as 'Hina-matsuri (festival)', an event to congratulate the birth of a child and pray for their healthy life.
(top image: rakusai-collection.com)
Kyoto: the Hometown of the Dolls
The history of Japanese dolls has always evolved around Kyoto.
Kyoto was the center of which the 'hiina asobi' became popular, and thus the doll makers of the area were able to develop and polish their techniques under the noble class. Even after the capital was changed to Edo (present day Tokyo), Kyoto remained the center of the Japanese doll making. Its long history and the refined techniques developed from this era is what supports the quality of Kyoto doll today.

(Image: Trip Advisor)
Types of Kyoto Doll
Aside from 'hina doll', Kyoto dolls include various types of figures such as 'Gogatsu doll', 'Ukiyo doll', 'Fuzoku doll', 'Gosho doll', and 'Ichimatsu doll'.
Hina Dolls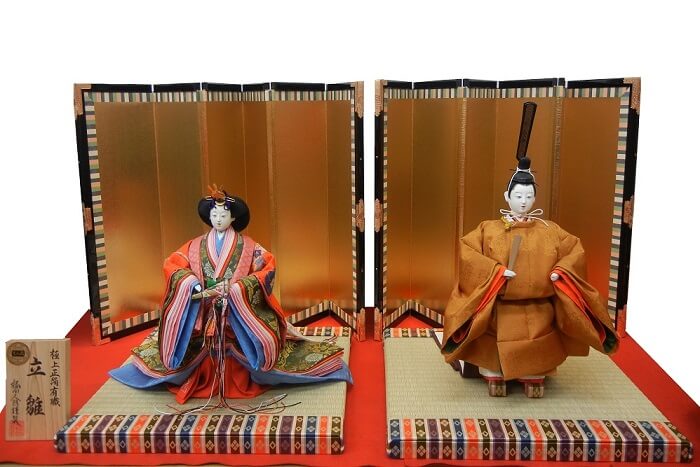 (Image: fukuda-ningyo.jp)
'Hina doll' is a costumed doll that take up most of the Kyoto doll production. This doll is considered as an embodiment of a parent's wish, which is the wellbeing of their (female) children and their children growing up into a kind person. Japanese house hold often displays these dolls on the 3rd of March so that their children can happily marry, and gain the happiness of life without major injuries or unfortunate occasions.
Gogatsu Dolls (Samurai Dolls)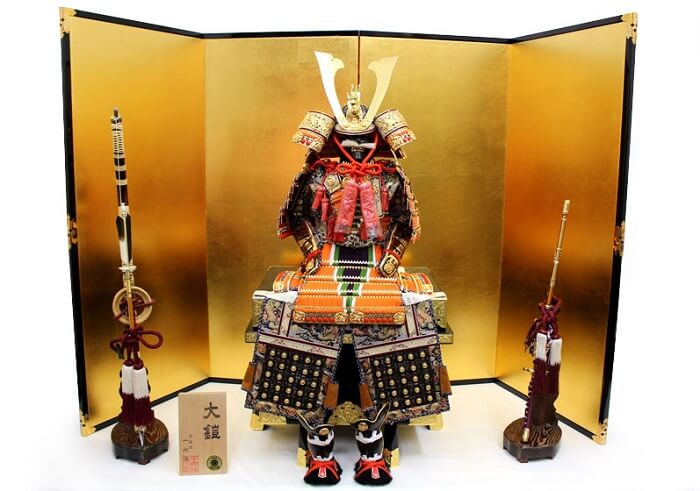 (Image: fukuda-ningyo.jp)
'Gogatsu doll' is a costumed doll that is modeled after a historical Samurai hero or a general commander,.often displayed on the March 5th to wish for the wellbeing of a (male) child. The items decorating the body of the doll are the miniature replicas of an armor and a helmet of a Japanese war hero, but since these items are almost entirely made using the same techniques and same materials for the real war costumes, it is considered as a valuable art piece rather than just a display.
Gosho Dolls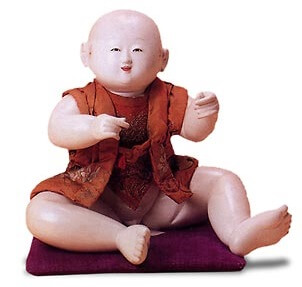 (Image: kyo-ningyo.com)
Embodying a small, naked baby is often the theme of this doll. Its major feature is the roundness in shape and the smooth surfaces, but it is also known for the amount of time it takes for production. Since white pigment powder has to be layered over the base countless times, it takes a whole year to complete a single piece. This makes the 'gosho doll' a rare figurine and artistically important.
Ichimatsu Dolls

(Image: kyo-ningyo.com)
Also called the 'Yamato doll', 'Ichimatsu doll' is a costumed doll which embodies small children. Often times the female figurine wears a long-sleeved kimono with bob hair, and the male doll wears a formal 'hakama (kimono for men)'.
The doll was first modeled after a Kabuki actor Sanogawa Ichimatsu in the Edo era, and later became popular as a doll that can take on the misfortune of a child in the case of major injuries or illness. Since the arms and legs are adjustable, it is not only popular as a display but also as a toy for children.
Fuzoku Dolls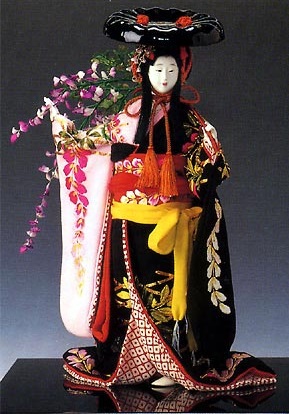 (Image: kyo-ningyo.com)
'Fuzoku doll' is often times modeled after a character from traditional Japanese plays such as Nou, Kyougen, Japanese theater, Buyo, and displayed as a decorative figurine. It is known for its unique aesthetics and techniques of the artists.
Well-known Kyoto Doll Shops
Shop with a long history – Andou Ningyou Shop
Andou Ningyo shop is located between the Kyoto Imperial Palace and Nijo castle, on the second floor of the traditional townhouse. Behind the displays of Gogatsu dolls and Hina dolls, the crafts people continue to produce high quality Kyoto dolls using traditional techniques.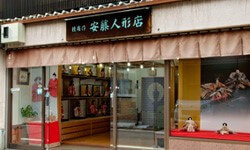 homepage:www.ando-doll.com
Kyoto Dolls – Tanaka-ya
Tanaka-ya was opened in 1808 and has continued their business over 200 years in the center of Kyoto, Shijo. Since almost any type of Kyoto dolls can be found here, it has become a popular center for gifts and home displays.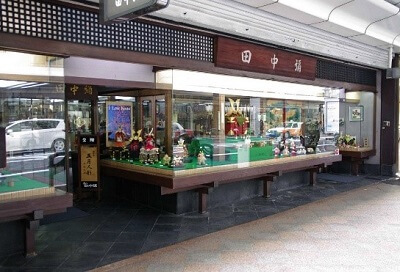 In Conclusion
Did you know that Japanese dolls are considered a symbol of horror among young people in Japan today? This isn't just because Japanese dolls are used for horror movies as a cursed item, but it's also because the faces of the Japanese dolls are so realistic and intricately made, that it's hard not to see a life behind it. It might scare you at first look, but there's a sort of refined elegance that attracts the eyes of the people.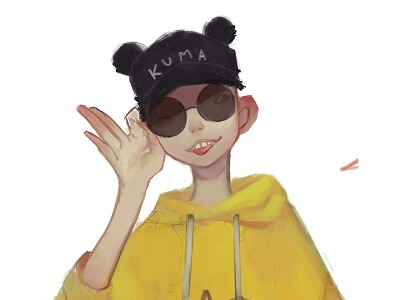 Author - Kanna
A writing/translating enthusiast and a part-time illustrator, recently graduated from Sophia University. My expertise is in media and English studies, but I am also interested in a wide variety of fields, including traditions of art in Japan and how it has changed and been preserved. I hope people find interest in Japan through this blog!
Our Products in Related Category