It became warm this week.
It's time for cherry blossoms wake up! Not only for tourists from outside Japan, blooming of cherry blossoms interests Japanese people as well.
In Japan, the Meteorological Agency and some other companies publish cherry blossoms forecasts.

Cherry Blossoms Forecast 2018
Weather news say it opens a bit earlier in 2018, compared to the average year.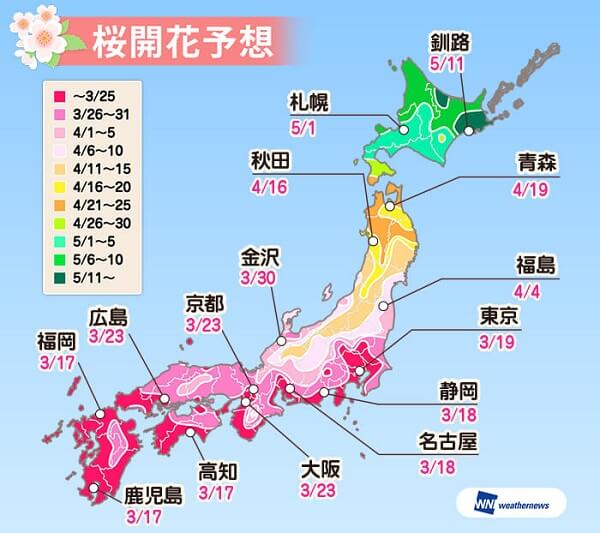 The map shows the forecast of flowering date in each major city of Japan.
A bit earlier than the average year, the forecast date when cherry blossoms opens is:
Kumamoto Castle in Kumamoto Pref. (Southern part of Japan, Kyushu) – March 17
Kochi Park in Kochi Pref. (Southern part of Japan, Shikoku) – March 17
Osaka Pref. (West part of Japan, Kansai) – March 23
Kiyomizu Temple in Kyoto Pref. (West part of Japan, Kansai) – March 23
Kanazawa Pref. (North-western part of Japan, Hokuriku) – March 30
Nagoya Pref. (Center part of Japan) – March 18
Ueno Park in Tokyo (East part of Japan, Kanto) – March 19
Hirosaki Park in Aomori Pref. (Northern part of Japan, Hokuriku) – April 19
Sapporo in Hokkaido Pref. (Northern part of Japan, Hokkaido) – May 1
(Listed from south-west to north-east part of Japan)

It is also anticipated that full-blooming of cherry blossoms is approximately 7-10 days after flowering date.
Blooming period is greatly affected by climate (it sometimes ends suddenly by raining after full-bloom..), but you can enjoy blooming for a week or so after full-bloom.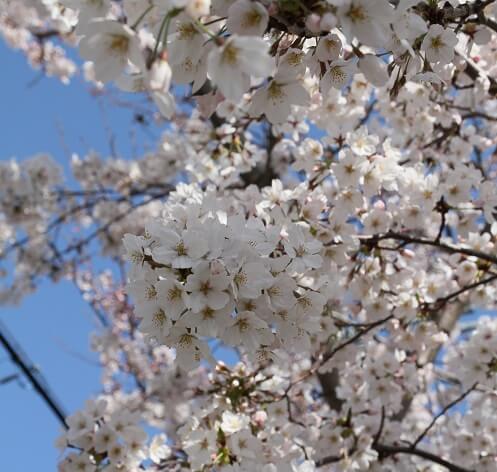 Flowers open a bit earlier due to severe cold weather in this Winter
Because it was severely cold in this Winter, "dormancy breaking" happens and buds of cherry blossoms grew rapidly. In March, we had consecutive warm days over 20 degrees Celsius (68F), which made buds grew earlier than usual.
According to the weather forecast, sunny warm days continues and buds also continues to grow. Therefore, flowering date of cherry blossoms are anticipated to be "earlier" in West Japan and "a bit early" in East Japan compared to the average year.
In earliest area, some cherry blossoms opens in this weekend. Trees growing where getting a lot of sun and less breeze, they tend to open earlier compared to surrounding trees.
Actually, a tree close to my home in West Japan has already opened!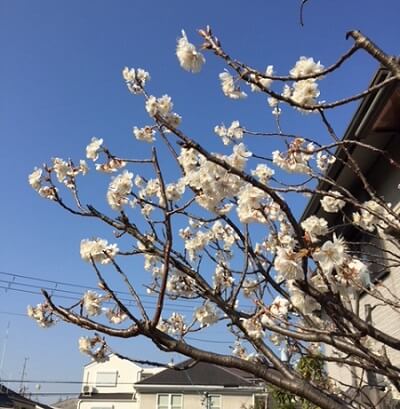 Enjoy one of the best season of Japan!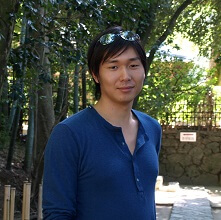 Author - Hiro
Lived in Kyoto in school days, I was impressed by profundity of history and tradition of the city. Had a job to join the three major festivals of Kyoto: Aoi, Jidai and Gion festivals. Love Kyoto and Japanese culture.
Manager of OrientalSouls.com, selling items of Japanese culture, tradition and craftsmanship. I'll introduce interesting information about Japan!
b>Related Post