Have you seen carp flags flown in Japan? It's like fishes flying in the air.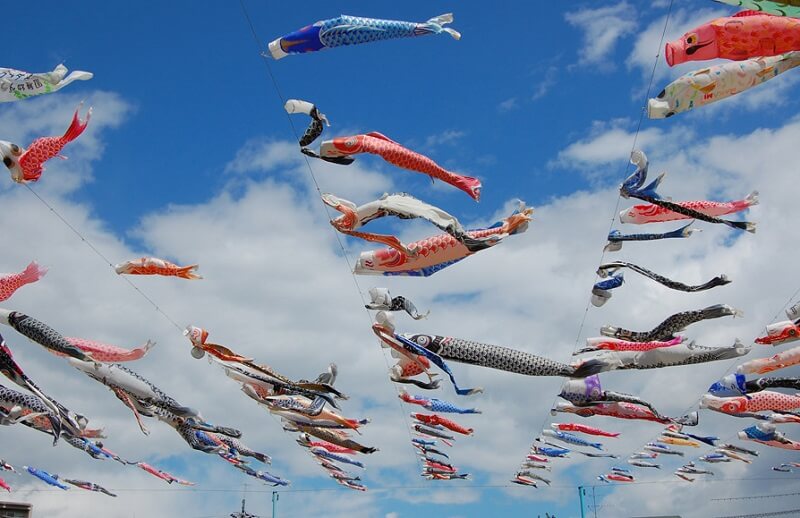 These flags are called Koinobori, meaning carp flags, which is a traditional decoration to hung it outside the house to wish the boys a successful life. Japanese people display the carp flags from April through early May, for the Children's Day (May 5th).
In this article, we introduce history, customs, sightseeing spots of Koinobori, and other interesting information such as "why carp?"
History: Why Carps Flying in the Air?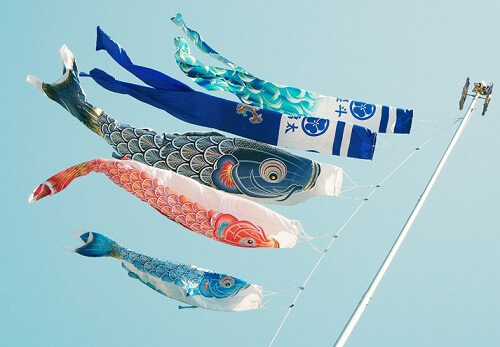 Carp symbolizes advancement and success in life.
There is an old story. Once upon a time, many kinds of fishes tried to swim toward the upstream of a long river named "Koga River". Although most fishes gave up, only a carp succeeded to reach the upper stream and became a dragon. Since then, carp became to symbolize advancement and success.
It is said the origin of Koinobori, the carp flag, is in Edo period (1603 – 1868 A.D.)
Shogun of Edo period started to raise flags in which carps are drawn. It is to celebrate a new born boy in Shogun's family. Shogun is the top general of the era. By raising carp flags, a symbol of advancement and success, they prayed for the prosperity of descendants. At the same time, Shogun displayed his power to people by raising great flags of carp.
Then, some other people with power and money begun to imitate Shogun. They also prayed their children's advancement and success in their lives. Someone added some decorations around the carp flags, other one added other colors, and some others added other types of flags or windsocks in addition to carp flags. This was the origin of Koinobori.
Generally, they've raised Koinobori in April to early May. And this custom is called the Boy's Festival, or it also called "Tango no sekku".
Design: Typical Pattern of a Set of Koinobori
There are several variations in minor part, a typical pattern of Koinobori is as following.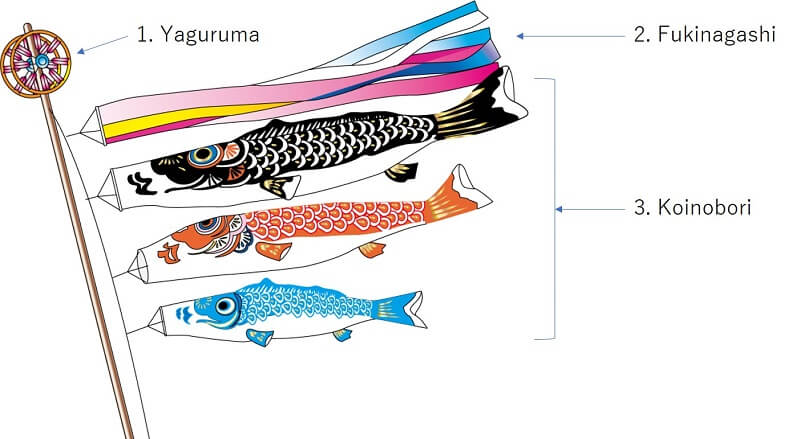 From the top of the pole down,
Yaguruma – a pair of arrow-spoked wheels with a ball-shaped spinning vane
Fukinagashi – flying-dragon streamer (called Fukinagashi) which looks like a windsock
Koinobori – several carp flags/windsocks that fly beneath the streamer – the most basic set of Koinobori consists of a black Koinobori representing the father, followed by a smaller red Koinobori representing his eldest son. If more boys are born in the household, additional of blue, green and purple/orange Koinobori(s) are added depending on the number of boys.Nowadays, however, other definition of Koinobori set are widely accepted; the red Koinobori came to represent the mother of the family and the other colors and sizes of carp came to represent all the family's children both sons and daughters. It is said that this change was made after the government's decree that converted the Boy's Day (Tango no Sekku) into the present Children's Day, by which the holiday came to celebrate the happiness of both boys and girls.
Koinobori Song
Traditionally, there is a song for Koinobori. This song often sung by children and their families at around the Children's Day (May 5th).
Lyrics of the Koinobori Song
In Japanese
屋根より 高い 鯉のぼり
大きい 真鯉は お父さん
小さい 緋鯉は 子供たち
面白そうに 泳いでる
In English (translation)
Higher than the roof-tops are the koinobori
The large carp is the father
The smaller carp are the children
They seem to be having fun swimming.
Interesting Spots: Special Koinobori (Carp Flags) Displayed in Japan
In some areas, the following districts will raise carp flags to celebrate the special occasion. It's a common scene in rural areas.
Saitama pref., Kanto region – in Kazo city, the biggest Koinobori sized 100m long and weighed 350kg was made in 1988.

Kumano pref., Kyushu region – in Aso district, 3500 Koinobori are raised in Tsuetate hotsprings.

Ishikawa pref., Hokuriku region – in Kanazawa city, 200 Koinobori are displayed in Asano river and they are illuminated at night. In Suzu city, many Koinobori are raised in Otani district.

Kochi pref., Shikoku region – in Takaoka district, 500 Koinobori are raised across Toh river.

Gunma pref., Kanto region – in Tatebayashi city, more than 5000 Koinobori are raised, which is registered in the Guinness World Records in 2005 for its number of Koinobori.

Related topic: Samurai Armor Dolls for Children's Day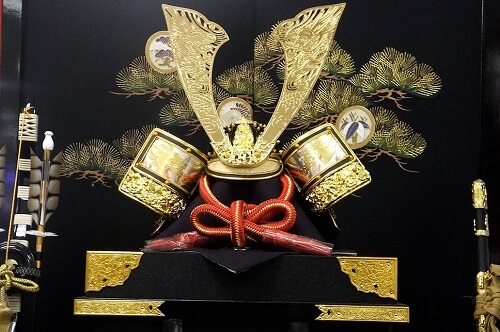 It is common for a family that has a son to decorate their house with carp flags and Samurai armor dolls to wish for their son's health and success. In addition to raising Koinobori in the garden, people in Japan have also displayed Samurai armour, helmets (we call it Musha ningyo meaning Samurai Warrior dolls) in the house, wishing for the boys to grow to be strong and wise.
For more details of Samurai Warrior dolls or Samurai helmets, please see different post.
We have Samurai Warrior dolls or Samurai helmets in our online shop. Please check them if you're interested.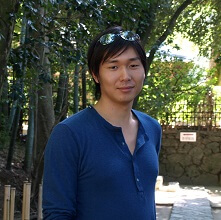 Author - Hiro
Lived in Kyoto in school days, I was impressed by profundity of history and tradition of the city. Had a job to join the three major festivals of Kyoto: Aoi, Jidai and Gion festivals. Love Kyoto and Japanese culture.
Manager of OrientalSouls.com, selling items of Japanese culture, tradition and craftsmanship. I'll introduce interesting information about Japan!
Related products: Samurai Armor and Samurai Helmets