Sakagura Street in Nishinomiya city in Japan, literally means Sake Breweries.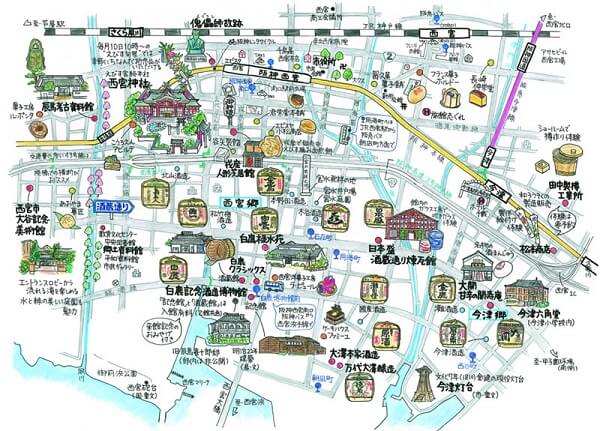 Icons on the map indicate Sake breweries.
Japanese Sake was officially born in 8th century in Nara, then Sake brought to Kyoto. After that, Nada area in Kansai region (west Japan) became a center part of Sake production in the mid-18th century.
Nishinomiya city in included in the Nada area where a lot of Japanese Sake breweries were born since that time.
Water, the most important factor for Sake, was there in Nishinomiya
Water is a most essential element to produce good Sake.
Clean water is not enough for Sake. Water for Sake should be hard water which have abundant phosphorus, potassium and calcium. These minerals are necessary to ferment raw materials of Sake.
At the same time, water should NOT include too much iron because it gives bad color and smell to Sake.
Although there are a lot of places to get spring water in Japan, only a few of them are appropriate for making good Sake.
In 18th century, water in Nishinomiya was discovered to be one of the best for Sake.
Since then, a lot of Sake breweries were born in Nishinomiya, which was resulted in the origin of Sake Breweries Street of the city.
When you visit the street, you can visit these breweries, learn how to make Sake and try Sake.
You can also enjoy Sake served with traditional Japanese course menus in restaurants inside breweries.
Access to Nishinomiya is quite convenient; around 15 minutes by train from Osaka, or about 20 minutes by car.
Nishinomiya is not a major place for sightseeing, but a famous place for Sake fans; many majoy Sake companies/breweries are concentrated in Nishinomiya.
You can visit here easily in addition to visiting Osaka and Kobe.
Good effects of Japanese Sake
Since ancient times, we Japanese have said "sake is the best of all medicines".
It has demonstrated scientifically. Sake includes over 700 nutrients and over 100 active ingredients. Sake is the most nutrition rich alcoholic drinks in the world!
It is said that these nutrients and active ingredients are effective for disease prevention and mitigation. In addition, some of them suppress cancer cells to grow, and inhibit rise in the blood pressure.
In addition, Sake is good to add in cuisine. Japanese dishes use a lot of Sake for a secret ingredient.
Sake removes smell of raw materials.
Sake adds delicious taste, body taste and after taste.
Sake soften raw materials/foods.
Sake affects to hold good taste inside foods.
Sake adds a good smell.
Sashimi is one of the best dish served with Sake
When you have Sake, Sashimi may be the best one you have with it. It is often served when you go Japanese restaurants.
When you choose Sake for Sashimi, we recommend to get one with strong scent. (corresponds to "aroma" or "bouquet" for wines) It will be a good harmony with a light taste of Sashimi and bring out good tastes of fish from Sashimi!
When you prepare Sashimi by yourself, good kitchen knife must do a good job. It also bring out good tastes of fish by just cutting. Smooth cutting edge by high quality knives gives smooth and soft taste of cut fishes.
Please see Japanese knives in our store if you're interested. (Shop page from HERE)
Enjoy Japan!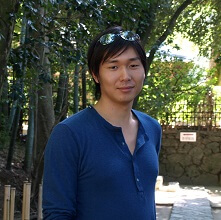 Author - Hiro
Lived in Kyoto in school days, I was impressed by profundity of history and tradition of the city. Had a job to join the three major festivals of Kyoto: Aoi, Jidai and Gion festivals. Love Kyoto and Japanese culture.
Manager of OrientalSouls.com, selling items of Japanese culture, tradition and craftsmanship. I'll introduce interesting information about Japan!