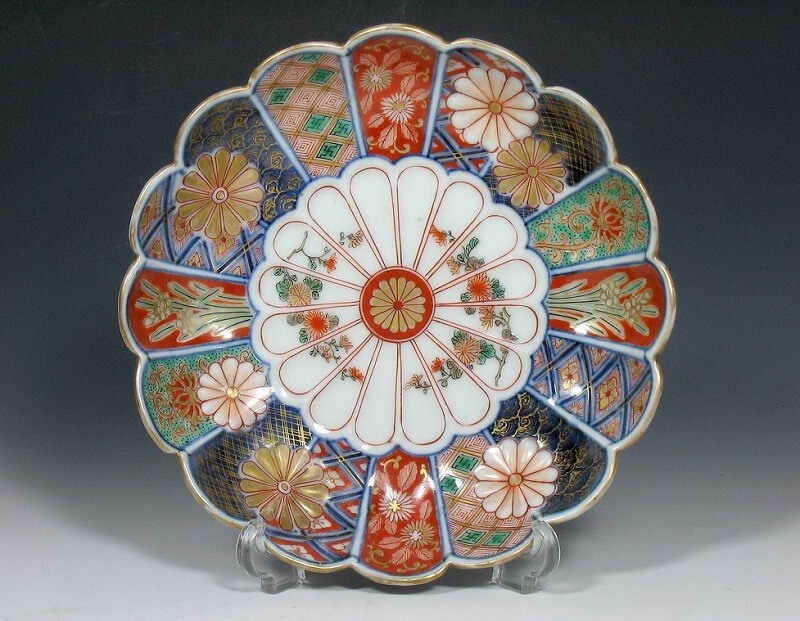 Arita porcelain, as known as Imari porcelain, has became one of the most major Japanese porcelains all over the world. They are made in Arita town in Saga Prefecture in Kyushu Region. Different from pottery (made mainly of clay), porcelain is made of mix of a kind of stone and clay. Although porcelains look thin and delicate, they are durable enough because they are made of stone which contains much of glass materials.
Notable features of Arita/Imari porcelain are smooth touch feelings, clear texture of white porcelain surface and vivid paintings on it. Arita porcelain and Imari porcelain are fundamentally same thing; both of them are made either in Arita, Mikawauchi and Hasami areas; they are called differently, Arita of Imari, based on the name of station of port porcelains are shipped.
Although Arita and Imari porcelains are same, there are different styles inside. Appearances and the way of decorations are different among styles. In this post, I'll introduce three of the most artistic, therefore most popular and expensive, styles of Arita porcelains. (image: Yahoo!blog)
Koimari Porcelains – The Most Commonly Recognized Style Among Arita Porcelain Styles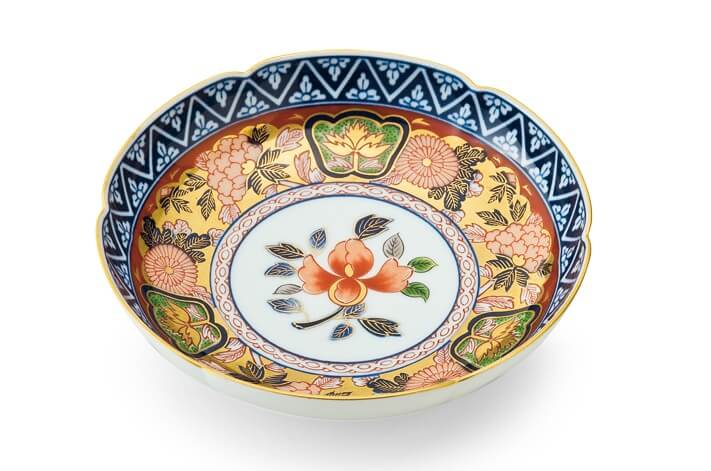 (Image: Nishiyama)
When Arita porcelain were widely delivered in Edo era (18-19th centuries), the most common style in the market was Ko-Imari style porcelains. Ko- means old, so Ko-Imari literally means old Imari style. In this style, vivid colors, especially red and gold, are mainly used to paint gorgeously on its surface. Because of their attractive appearances, Ko-Imari style porcelains attracted not only people in Japan but also people in Asian and European countries. In fact, many Ko-Imari style porcelains were exported to outside Japan, and got excellent valuations. Here, let me introduce representative painting techniques "Sometsuke" and "Kinrande" of Ko-Imari style.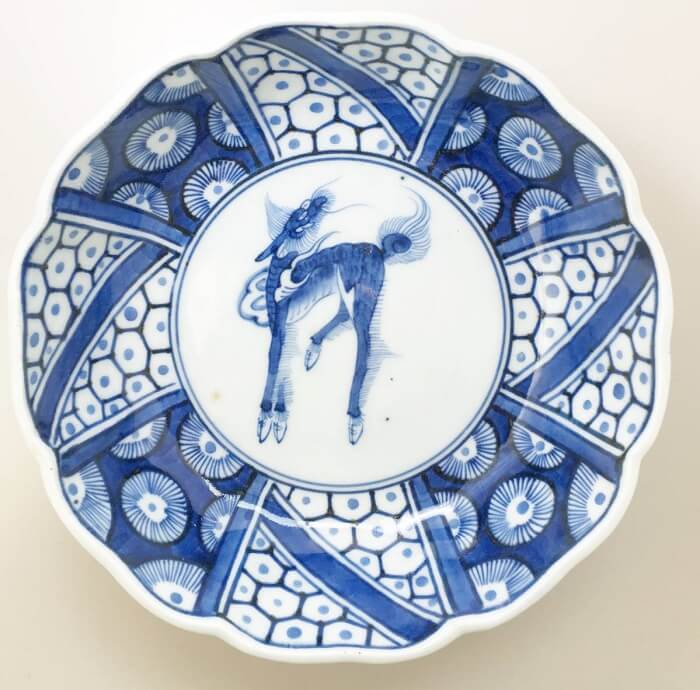 (Image: Yahoo!)
Sometsuke is a decoration technique to express patterns only with blue color on white porcelain campus. Although it is made all by blue colors, its complicated and various patterns as well as light and shade of blue express gorgeous impression to porcelains.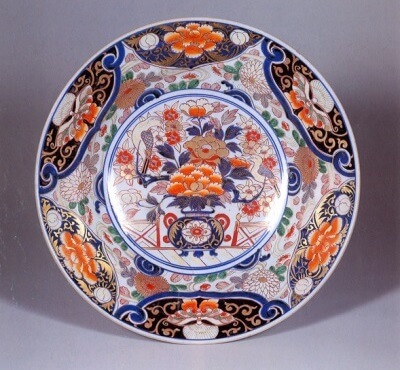 (Image: FC2)
Another decoration technique Kinrande is to burn and place gold-colored patterns on top of regular paintings on porcelain surface. This way, porcelain patterns get more gorgeous by gold pattern. This method was originally born in China and handed to Japan afterwards. Although it has opposite impression of Wabi-sabi modest expression of Japanese culture, craftsmen applied delicate patterns and people were highly valued its taste.
Kakiemon Style: Delicate But Bold Drawings As An Accent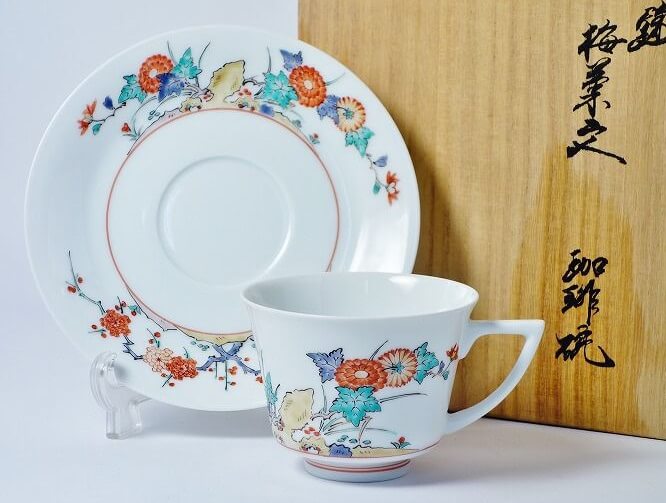 (Image: Rakuten)
In 17th century, King August in current Germany exchanged 600 of his soldiers with Chinese white porcelains. Among King August's art collection, what he tried to imitate most was not porcelains from China but Arita porcelains, especially this Kakiemon style. What attracted the King was Kakiemon style's colorful but modest paintings on deep white porcelains. In Kakiemon style, craftsmen draw Japanese beauties of nature with vivid red, green, yellow and blue with enough margin of white porcelain remained. This contrast of colors and design was well balanced as an art, which led Kakiemon style evaluated that much. They called it "the beauty of white margin".
Nabeshima Style: Samurai's Favorite For Generations!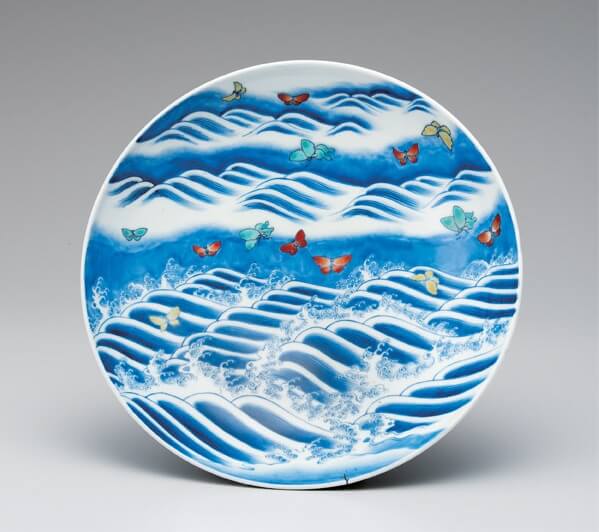 (Image: otanisanso.co.jp)
Nabeshima style is characterized in its blue-based coloring with some accent colors. In this style, only three fundamental colors of red, blue and green are used for paintings. This style is to be placed at the greatest of all Arita and Imari porcelains.
Although Nabeshima style has three sub-styles, Colored-Nabeshima (Iro-Nabeshima in Japanese) has been most popular and evaluated; porcelains of this sub-style were present to VIPs visited around Arita area. Feudal lord of Saga (including Arita and Imari) recruited craftsmen with highest techniques, and he had them make Nabeshima-style porcelains and never published its techniques. Thus, Nabeshima-style porcelains took no account of the profit for the feudal lord's honor. This is why Nabeshima style porcelains are evaluated as the greatest of Arita porcelains today.
An art connoisseur says, "Nabeshima style patterns expressed with only three glazes of red, yellow and green has perfect color development and balance as a porcelain. In addition, they have no superfluous colors and patterns, therefore they are perfectly beautiful."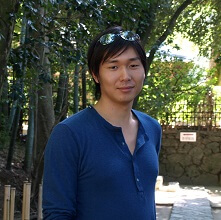 Author - Hiro
Lived in Kyoto in school days, I was impressed by profundity of history and tradition of the city. Had a job to join the three major festivals of Kyoto: Aoi, Jidai and Gion festivals. Love Kyoto and Japanese culture.
Manager of OrientalSouls.com, selling items of Japanese culture, tradition and craftsmanship. I'll introduce interesting information about Japan!