Years ago I took a class in Japanese calligraphy. Called either shodō or shūji, this traditional at form involves authentic and time honoured materials, methods, and aesthetics. Though a centuries-old traditional art form, Japanese calligraphy is still popular throughout the country. Taught in schools as a way to at once improve student's penmanship while boosting their vocabulary, the practice is continued by many pupils long after graduating. That's why you can still find evening classes held at community centres and private calligraphy schools throughout Japan. Meanwhile, materials are sold everywhere from dollar stores to high end department stores, reflecting the various levels of quality and history behind the many tools of the trade. Nowadays, the necessary brushes, washi Japanese paper, and sumi ink are also stocked online, allowing you to practise at home wherever you might be.
As we have seen in our other posts on the traditional art of calligraphy here at OrientalSouls (related posts shown below), we know about shodō's important history and range of master crafted, artisanal tools and materials. But what about this art keeps people of all ages and backgrounds coming back year after year? What is the appeal? Finally, what can we, foreigners with varied degrees of Japanese language ability, get from calligraphy? (image: shodoukyoushitu.com)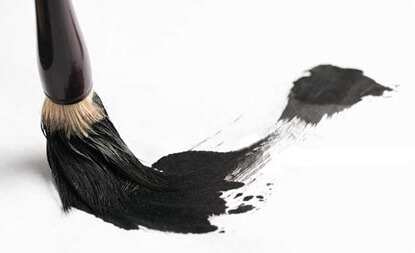 Today I want to take a look at the various benefits, charms, and bonuses that come with practising Japanese Calligraphy. Looking back on myself as both a calligraphy- and Japanese language beginner, walking into that classroom I had no idea what to expect. Maybe you feel the same way. I'm here to tell you what I learned and what to expect when you embark on a calligraphy journey.
Japanese Calligraphy 101: More than Just Ink on Paper
Soft brushes dipped in cool, viscous ink slid over smooth, soft washi Japanese paper. Can you get a sense of how nice that feels?
Let me explain in a little more detail:
Horse hair brushes (or very similar vegan options) are as soft as you can imagine. 'Indian ink' is water based, so it glides and flows with ease. The paper is often handmade – it soaks up the deep black ink without catching on the hairs of your brush.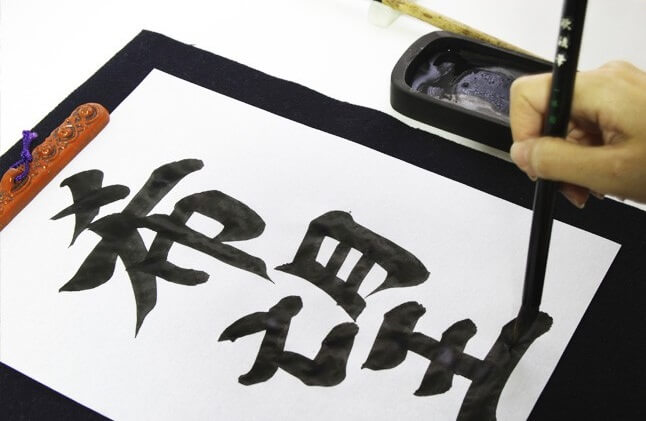 (Image: info-fresh.com)
The whole process is like melting butter. Talk about relaxing. You sit perched almost directly above the page and move your entire arm in clean sweeps. Meanwhile, it feels like you are wiping the stress and worries right off your own back. What's more, the others around you will be enjoying the moment; they will be considering their next move in silence. This is the key to Japanese calligraphy: the silence of the process. Practising calligraphy, I was totally ensconced in the silent atmosphere. Amidst the hectic aspects of daily life, shodō calligraphy gave me a few hours of nice, relaxing silence. It's safe to assume that no matter where you practise, things are going to get quiet. When you get in that zone, you don't notice a thing around you. The same goes for those practising around you. You could end up feeling all alone, whisked away to the soothing land of calligraphy concentration, all while sitting in a room of 10 or more people!
These are the reasons why I find shodō calligraphy to be a form of meditation. It calms the body and soul.
Getting 'Good'
As a form of visual art, there is no one that can tell you that you are doing it 'wrong.' While there are widely appreciated and respected aesthetics in Japanese calligraphy – certain spacing of the characters, adherence to stroke orders, and a traditional way of moving from character to character – in reality, freedom of expression starts and ends with you the artist. This is another aspect of calligraphy which affects the mind – the freedom it provides. Your brush can move almost on its own should you let it. As Zen Buddhist masters – the originators of the calligraphy tradition – say: 'one must clear one's mind and let the letters flow out of them, not practice and make tremendous effort.'
Now, if you are truly interested in expanding your ability to let the words flow out, you will want to first study Japanese vocabulary. Knowledge of some Japanese characters – either hiragana phonetic characters, or, even better, kanji Chinese characters that alone can be entire words – will get you started. As the building blocks of calligraphy, the artistic inflection you place on the swipes of your brush can emphasize or downplay aspects of the meaning of the word you have selected. You can, for example, portray a soft, gentle 'love,' or that of a more rushed, torrid 'passion.' This is the aspect of calligraphy which reflects most closely the artist's desired, creative expression.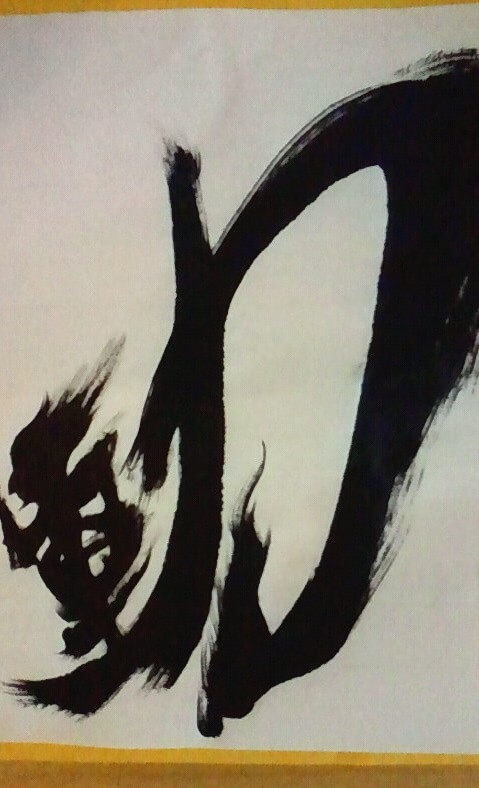 Linguistic expression of this kind offers you the chance to celebrate victories with 'joy,' 'cheer,' or 'happiness,' while leaving room for you to address 'uncertainty,' 'worry,' or 'guilt.' Just like traditional meditation, the possibilities are endless – if you can think it, you can do it.
Calligraphy as a Gateway to East Asian Languages
 As you write more and more, you will find yourself searching for the Japanese word or Chinese character that best reflects the feeling you wish you express. Without even knowing it, you are drilling yourself on vocabulary!
Combining shodō calligraphy with language study is a great way to double up your progress in three fields: calligraphy practise, language study, and self-care through relaxation. Just as kids do in Japanese schools, you can use the art form to bulk up on new words to use in conversation with friends or on vacations to Japan! It's a hobby with practical, marketable skill-building benefits.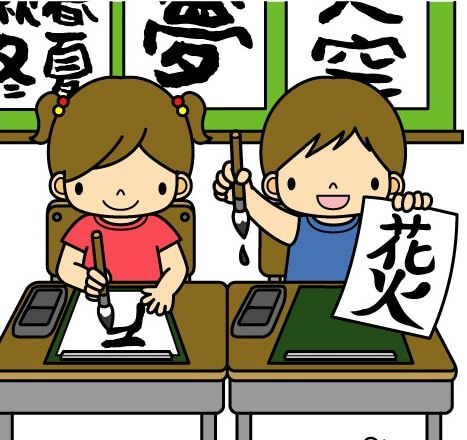 (Image: oliveoil.wp.xdomain.jp)
What's more, you will be practising the 'spelling' of these pictographic kanji words. Stroke order is key, and the orders you use in this stylized form of writing is the exact same you will need when you are filling out forms at the bank or writing out your friend's address on that birthday card you want to send! That's why so many people translate the common name of Japanese Calligraphy: shūji, alternatively as 'penmanship.' Calligraphy is useful for both the day-to-day and in the silent retreats you take from it.
But Don't Overdo It!
Like any visual art form, however, you can easily get caught up on your ability to produce so-called 'beautiful' work. For the purpose of calming the mind and body, ignoring these thoughts should be priority number one. Doing it for you should be enough. This will help you overcome your insecurities while exercising your mind and calming the body.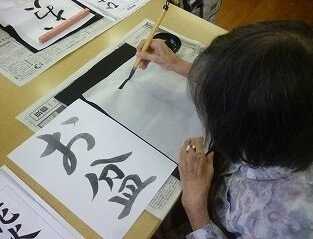 (Image: activityjapan.com)
Don't Just Take My Word for It: Ask the Experts
Researchers in the fields of physiology and behaviour management have recently begun experimenting with calligraphy as a confirmed method of stress reduction. In a 2014 issue of Psychology Research and Behavior Management, a scientific journal devoted to the field of brain sciences, encouraging work to this point was published. Taiwanese researchers demonstrated in people writing calligraphy a drop in heart rate and skin temperature, classic signs of increased relaxation and reduced levels of stress. Though not a participant in their experiments, I was struck at how close their subjects' experiences were to my own – it was like they were writing about me. It is safe to say that calligraphy is surely an effective form of meditation that can be enjoyed by people of all skill (and stress) levels.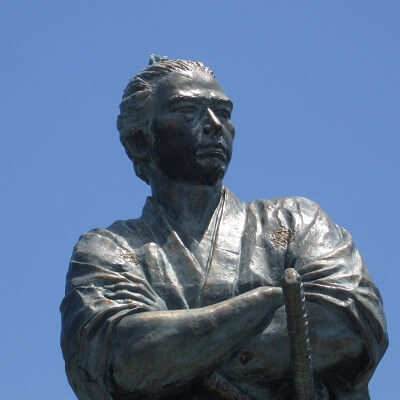 Author - Jay
In my spare time I enjoy watching baseball, tasting local cuisine, and exploring by road and rail. Having lived in several cities around the world, I have an appreciation for local as well as international histories and cultures. Excited by cultural and social exchange, it is my hope that this blog will help promote an interest in Japanese traditional wares and practises by introducing you to their history and meanings.
You May Also Be Interested In...