Nishijin is an area in the northwestern part of Kyoto, and the main production area of 'Nishijin-ori' textiles. These textiles were mainly used to produce kimono and kimono sash belts, but today its use has expanded to cover both the production of traditional and modern items, such as neck tie, shawl, and Japanese clothing related accessories. Interior decorations such as tapestries have even come to take up the second highest share for the output of the said textile. In an effort to popularize this refined item, producers are attempting the introduction of innovative designs, including unique western kimonos. These traditions are protected by trademark registration under 'Nishijin' and 'Nishijin-ori' today.
Varieties of Nishijin-ori Textiles
The major feature of Nishijin-ori textiles is that there is a huge variety, including openwork called 'shara' and double layered 'futsu-ori'. These varieties can be broken down into 12 different categories, some of which are going to be introduced below.


(Images: nishijin.or.jp)
Nukinishiki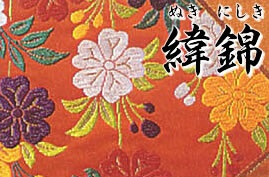 'Nishiki' is a general term for textiles that uses variety of yarns to create a unique pattern, and known to have one of the finest visuals among all textiles. The method of production was developed during the Nara Era, which is nearly 1300 years ago.
Futsu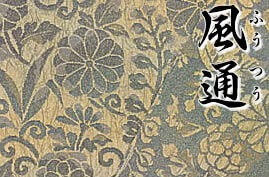 The cross section of a normal textile is single layered, but textiles such as 'futsu-ori' are called multi-layered textile, and their cross section has two or more layers. In 'futsu-ori', the most widely known multi-layered textile, the pattern is composed of two to three layers of different colors. The double-layered 'futsu-ori', often used for Nishijin kimono, shash belts, and bags, is called 'futairo futsu (bicolor)' and can express the same patterns on both sides of the fabric with two opposing colors.
Honshibo-ori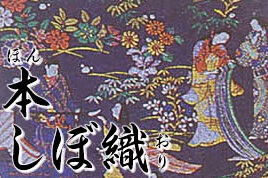 Shibo-no-tatsu silk textiles include 'Chirimen' and 'Omeshi'; 'Chirimen' is one of the most essential method in the making of 'atozome (dyed after the yarn is made into a fabric)' products such as the Yuzen textiles. 'Omeshi' is also a type of 'chirimen' textile. The name comes from the honorific word for clothing 'omeshimono', and the fact that this specific 'chirimen' was favored by the 11th Shogun during the Edo era. Later it became popular among both women and men in the Bunka-bunsei period for its stylish texture and uniquness, and became known as high-class kimono.
Head to Nishijin-ori Hall if you ever visit Kyoto!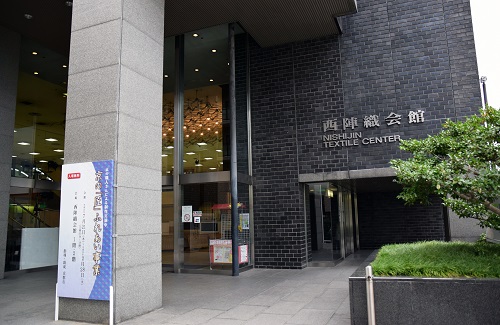 (Image: nishijin.or.jp)
In Nishijin-ori Hall, you can find the displays for historical records and introductions of Nishijin-ori, and also enjoy a "Kimono show" at the same time. Not only that but you can also watch or participate in the making of the traditional craft, or learn how to dress in kimono.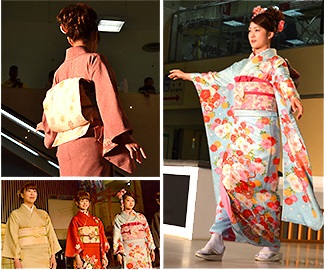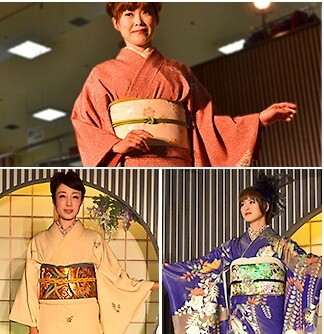 "Kimono show" can be enjoyed on the third floor of the building, which takes place every one hour. If you want to see the beauty of traditional kimonos, you can start off from accessing the link below!
Nishijin-ori Hall hompage:
http://nishijin.or.jp/eng/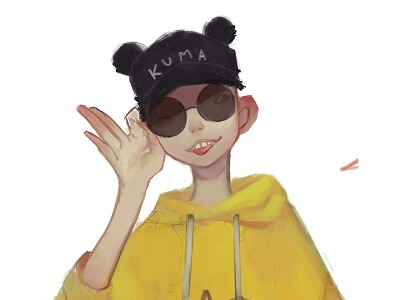 Author - Kanna
A writing/translating enthusiast and a part-time illustrator, recently graduated from Sophia University. My expertise is in media and English studies, but I am also interested in a wide variety of fields, including traditions of art in Japan and how it has changed and been preserved. I hope people find interest in Japan through this blog!