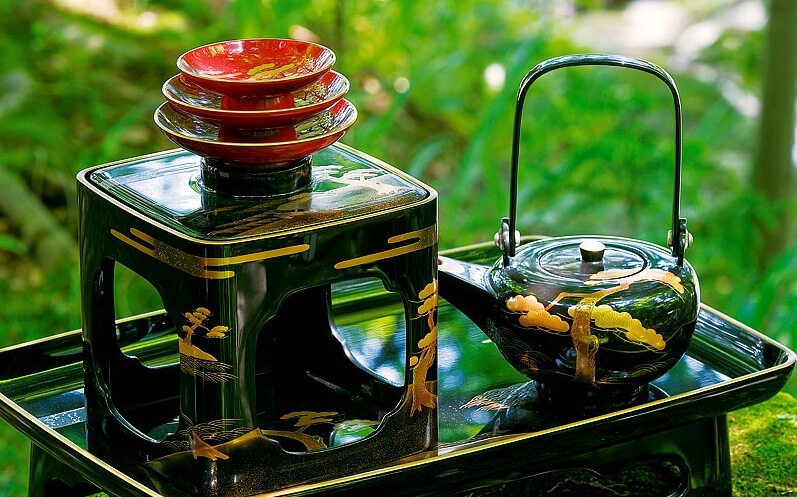 (Image: art-toukei.com)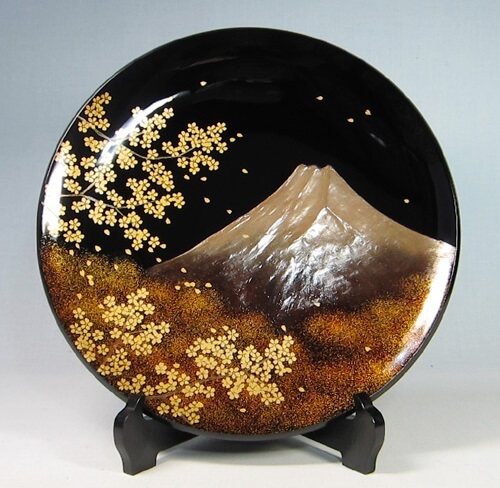 (Image: wajimanuri.biz)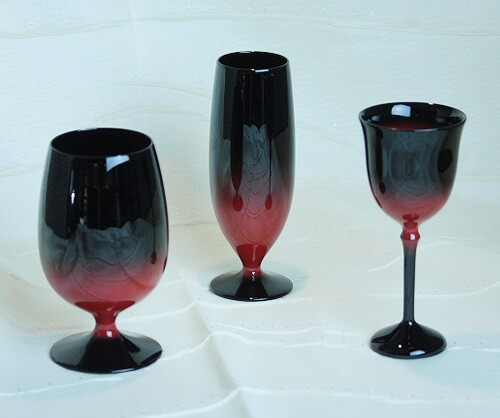 (Image: wajimanuri.info)
Wajima-nuri lacquerware is distinguished for its use of a type of earthen clay found only near the city of Wajima in Ishikawa prefecture on Japan's eastern coast. Through the skillful use of this local clay, Wajima lacquerware achieves its durable strength and beautiful appearance. The brilliant imagery created by its gold-decorated engravings, as well as dustings of gold and silver flecks, are known and appreciated widely throughout Japan. The graceful elegance of this gold and silver design attracts the eye with a seemingly timeless beauty. The beauty of  Wajima lacquerware is achieved by artisans trained in the local traditional method – a method involving over 100 painstaking steps.
Wajima-nuri: Japan's Most Famous, High Grade Lacquerware
It is said that those who take up Wajima lacquerware in their hands are quickly impressed by the level of craftsmanship and beauty which goes into each and every piece. The depth of each colour, amplified by the many layers of lacquer varnish, produces the dramatic backdrop for the decorative, golden ornamentation adorning its surface. Each aspect of this beauty of impressive depth reflects the many steps carefully taken by Wajima artisans who continue to work to keep this traditional art and its lengthy history alive for future generations.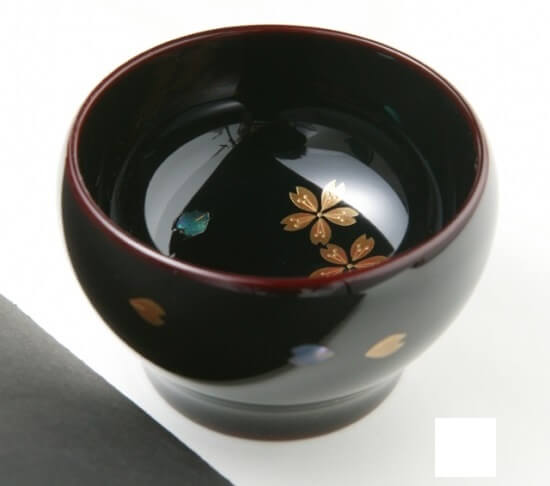 (Image: notostyle.shop-pro.jp)
During the Edo Period (also known as the Tokugawa Period, 1603-1868), Wajima lacquerware were valued within the Japanese archipelago. Appreciation for their beauty, meanwhile meanwhile propelled early export efforts out of ports on the nearby Noto Peninsula on the Sea of Japan. With the start of the Meiji period in 1868, exports continued and an increasing popularity resulted in the appearance of Wajima lacquerware in the permanent exhibits of art galleries and museums around the world. Compared to other lacquerware producers in Asia, Wajima pieces are highly appraised for international trade – a sign of their widespread appeal and desirability. Thus, these strong, sturdy, and yet beautiful lacquerware can be found in use not only on the Noto Peninsula and throughout Japan, but also in various regions throughout the world.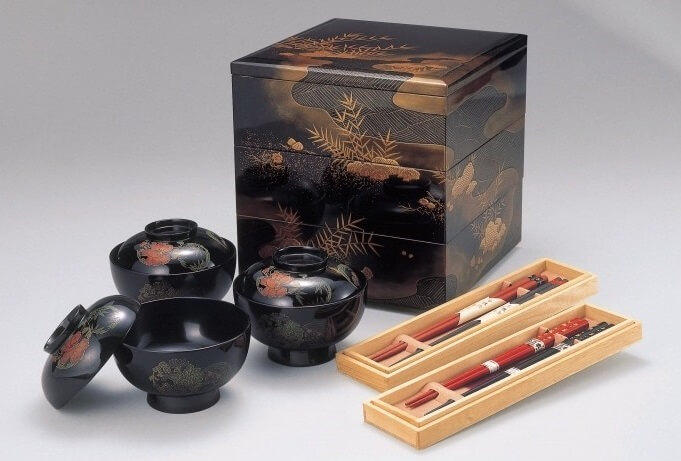 (Image: wajimanuri.or.jp)
A Strong-yet-Elegant Beauty: The Unique Wajima Lacquerware Process
With such well-known lacquerware traditions as Tsugaru-, Naruko-, and Kyou-shikki, Japan boasts over 20 distinct styles officially recognized as traditional crafts. However, as a unique and irreplaceable 'brand' complete with international appeal and a history of overseas export and trade, Wajima lacquerware is unparalleled by the works of these other regions.
The unique features which set Wajima wares apart from those mentioned above includes the simultaneous strength and beauty of their composition. This double accomplishment of refined elegance and durable usability is made possible by the unique method through which Wajima lacquerware are crafted by skilled artisans.
The Unique Wajima Method:
1.) The Use of Wajima Ji-no-ko while Lacquering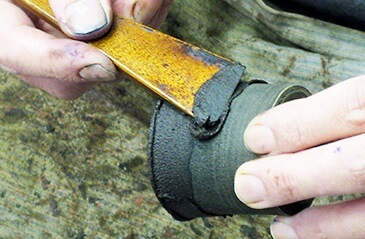 (Image: wajimanuri.or.jp)
In creating Wajima lacquerware, porous sedimentary rock called diatomite found along the Noto Peninsula is baked and purified into the ji-no-ko paste applied as a foundation to the surface of the lacquerware as its base. As a porous material by nature, it mixes and bonds firmly with the lacquer when mixed, providing the strong base for the subsequent layers. The strength of this bond protects from the wear and tear of later use, meanwhile ensuring that Wajima lacquerware are distinguishable from those without this durability.
2.) The Application of Cloth
Wajima lacquerware are then given a layer of cloth strips during a process referred to as the 'dressing' of the ware.  By 'clothing' the piece two things are achieved: First, the corners and rim of the lacquerware are strengthened to prevent breaking along these traditionally weak spots. Second, an additional level of reinforcement is provided to the already durable base layers. It can thus be said that the durability and longevity of Wajima lacquerware is largely thanks to this careful 'dressing' process.
These two important steps – the use of Noto Peninsula ji-no-ko as a base, followed by the application of cloth or 'dressing' for reinforcement – are an important part of the strengthening process. After drying, this process is in fact repeated over the course of three to four months. Then, and only then, is the basic foundation of the beautiful and durable Wajima lacquerware ready for further preparation.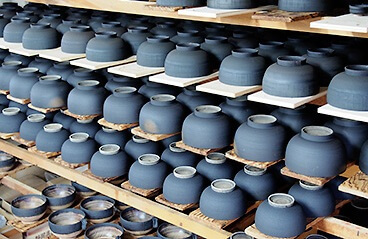 (Image: wajimanuri.or.jp)
3.) Gold Inlaying and Gold- and Silver-flecked Lacquer
With the body and base of the lacquerware formed and complete, next begins the process of decoration. Groves cut and dug from the face of the piece are then filled with gold leaf producing the golden and metallic imagery. This imagery is then embellished by the application of gold and silver flakes in a process known as maki-e. Wajima lacquerware thus achieve an unmistakable shimmering beauty, meanwhile retaining the strength and durability provided by their hearty core. These unique values have made Wajima wares a resounding hit across Japan, where they are now a household name.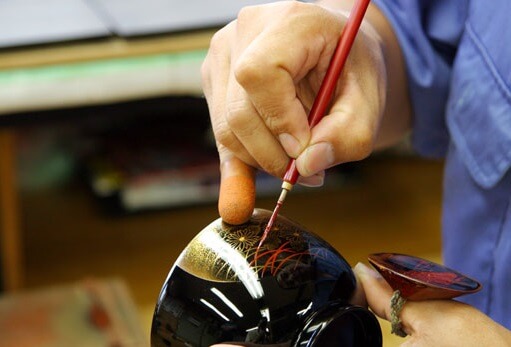 (Image: wajimanuri.or.jp)
Just as the word "China" has become more than simply the name of that large continental Asian nation, but also that of its famous porcelain wares, the word "Japan" points not only to a chain of islands but also to the lacquerware which it's artisans have made so famous. Symbolizing the beauty and strength of the Japanese islands and their peoples, wajima-nuri represent to the world a time honoured artistic tradition applied to modern needs. They are indeed the foremost leading 'brand' of historic Japanese lacquerware.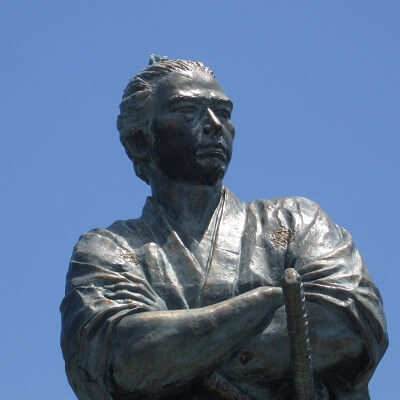 Author - Jay
In my spare time I enjoy watching baseball, tasting local cuisine, and exploring by road and rail. Having lived in several cities around the world, I have an appreciation for local as well as international histories and cultures. Excited by cultural and social exchange, it is my hope that this blog will help promote an interest in Japanese traditional wares and practises by introducing you to their history and meanings.
Our Products in Related Category