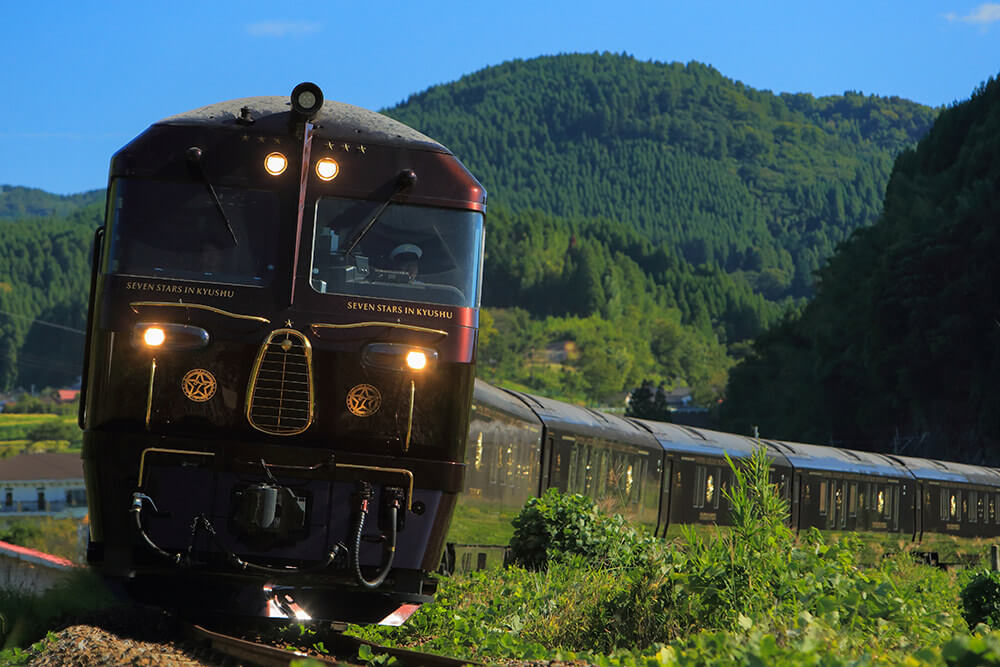 Since its operation started in 2013, ticket of the cruise train "Seven Stars in Kyushu" has became an object of envy in the world. Its tickets can be purchased by highly competitive lot; less than 10%, it sometimes raises up to 1%, of all applicants can be purchased the seven-star's tickets.
Why the Train Named "Seven Stars"?
The "Seven Stars" is named after the number of prefectures in Kyushu region and seven resources of the regional specialties. Itinerary of the train is three nights and four days, but you can also enjoy a part of the itinerary for one night and two days etc. Cruising at the seat of the train, you can enjoy excellent meals and warmful stays as well as magnificent landscapes of Kyushu region.
Gorgeous Cabin For Only 30 Passengers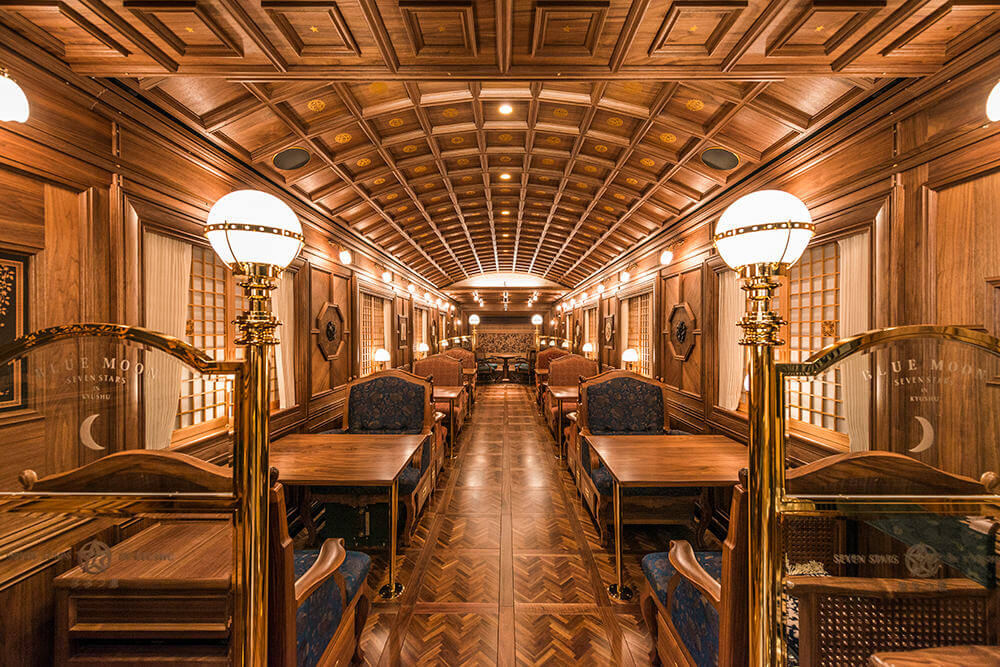 When you check in the Sevan Star, what catches your eyes most is its beautiful appearance and gorgeous decoration of the cabin. Outside wall of the train is painted in Japanese lacquer "Urushi" color and polished thoroughly as much as it reflects your face like mirror. The train consists of seven cars; car no.1 is the rounge, no.2 is the dining, no.3-7 are all suite rooms, and car no.7 consists of only two delux suites; total capacity of the train is only 30. Each suite is decorated with different kinds of woodworks and fabrics, and all suites are designed differently. For example, wash basin is made of pottery by an artisan of a living national treasure. Other decorations are made by traditional crafts and finest quality materials. If you're interested in an object in the train, ask cabin crews and they will kindly tell you its history, tradition and making story.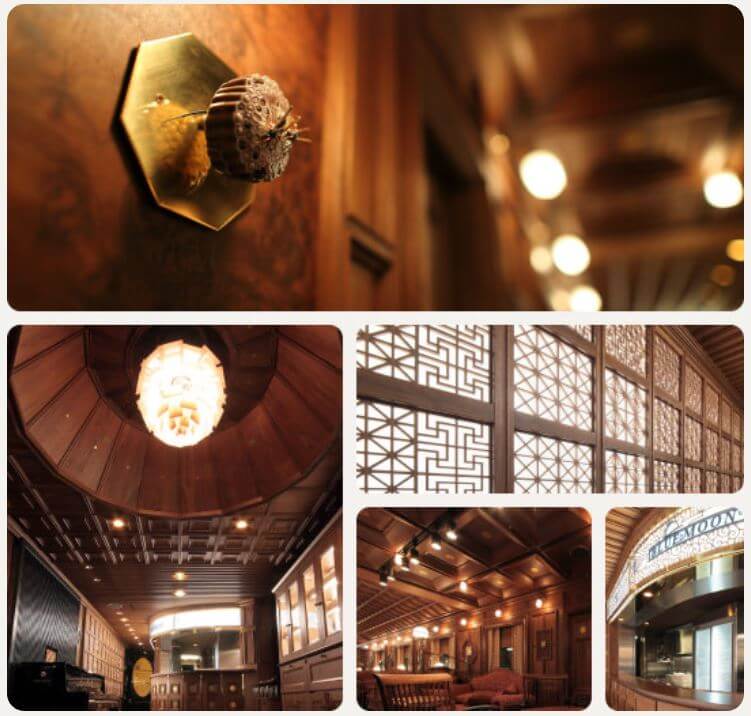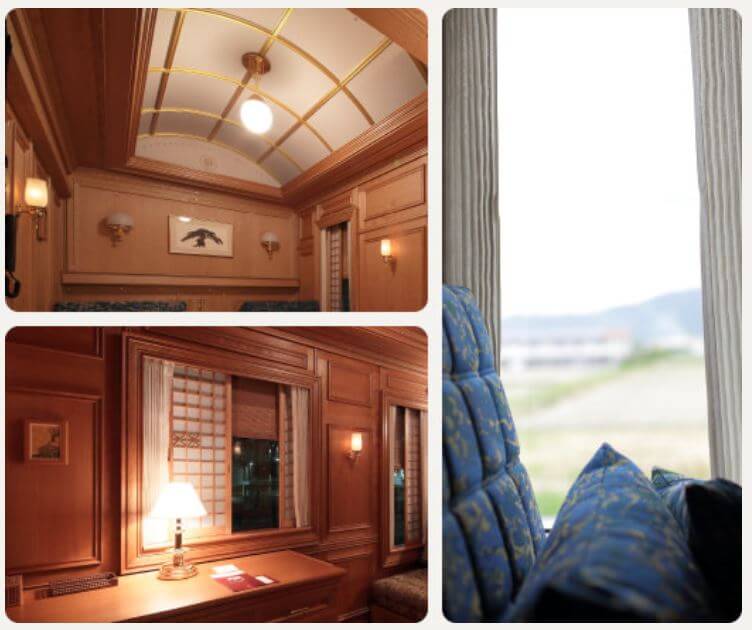 Symbol of Interior Design: Ohkawa Woodworks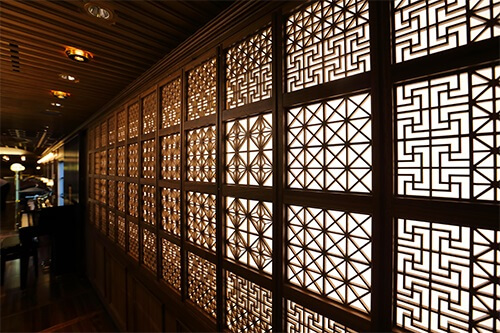 One of the most notable decoration in the cabin of the Seven Star is the woodwork decorating its walls and partitions. The woodwork is made by Kinoshita Wood Factory in Fukuoka prefecture, one of the "seven" prefectures in Kyushu region. Considering for one and a half month, the factory declined the order of the art director of the Seven Stars at first. For its  purpose as sleeping cars, squeaking noise that are normally occur by woodworks was never allowed. There was no craftsman who had tried such a strict woodwork used in harsh environment like train where products are almost always exposed to vibrations.
The art director, however, had stood resolute to use their woodworks. He said to Mr. Kinoshita, the representative of Kinoshita Wood Factory, "nobody has done such a strict work yet. However, we can never create something new without the will to success. If you become sunk, all of us will support you." Finally, Mr. Kinoshita agreed and accepted the order; he had completed all his works in seven and a half months since then. Now, Mr. Kinoshita sometimes check his products in the train, no trouble has occurred yet until today. This indicates how the products made by experienced craftsman is durable even in the harsh condition like running train.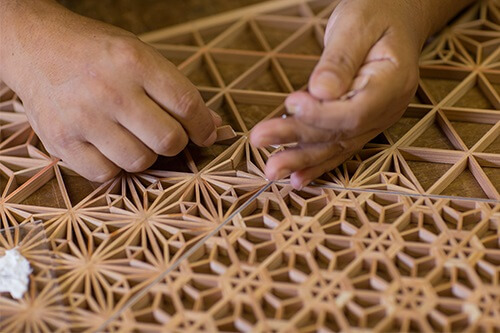 "Generally, this kind of woodworks are sandwitched by glass plates, otherwise it results in trouble for subsequent cleanings. However, the art director of the Seven Stars decided to use our woodworks fully open to have passengers enjoy with its design. Cabin crews takes time to remove dust in between the complicated woodworks. Thanks to their rigorous works, passengers can enjoy the woodworks directly. It's truly comfortable to touch the woodworks. Wood materials are still alive and breathing, so passengers must feel warmth of the wood. Another advantage of the woodwork is that it gives different mood in accordance with the light outside; it softens sunlight in the daytime and provides privacy space after dusk.", the craftsman Mr.Kinoshita said.
Would You Like The Woodworks? Yes, You Can!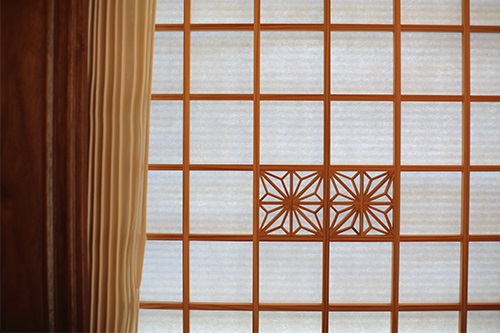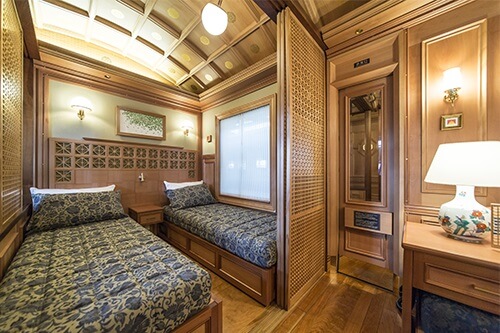 In addition to walls and partitions, the woodworks are used for key rings for suites, tissue box cases etc. The woodwork box is also sold as a souvenir only in the train; those who are impressed with Mr. Kinoshita's work are willing to purchase it.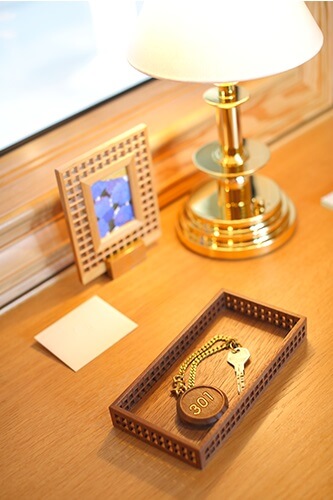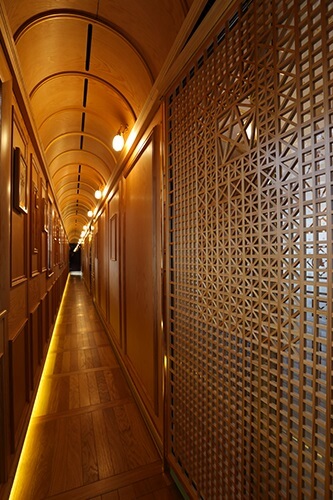 Not limited to the woodworks, all the interior objects used in the Seven Stars are made-to-order products by craftsmen in Japan, except for only one item of a lighting made by Poul Henningsen. You can feel craftsmanship anywhere in the train. We hope you enjoy not only magnificent landscapes and delicious meals but also excellent works of Japanese craftsmanship.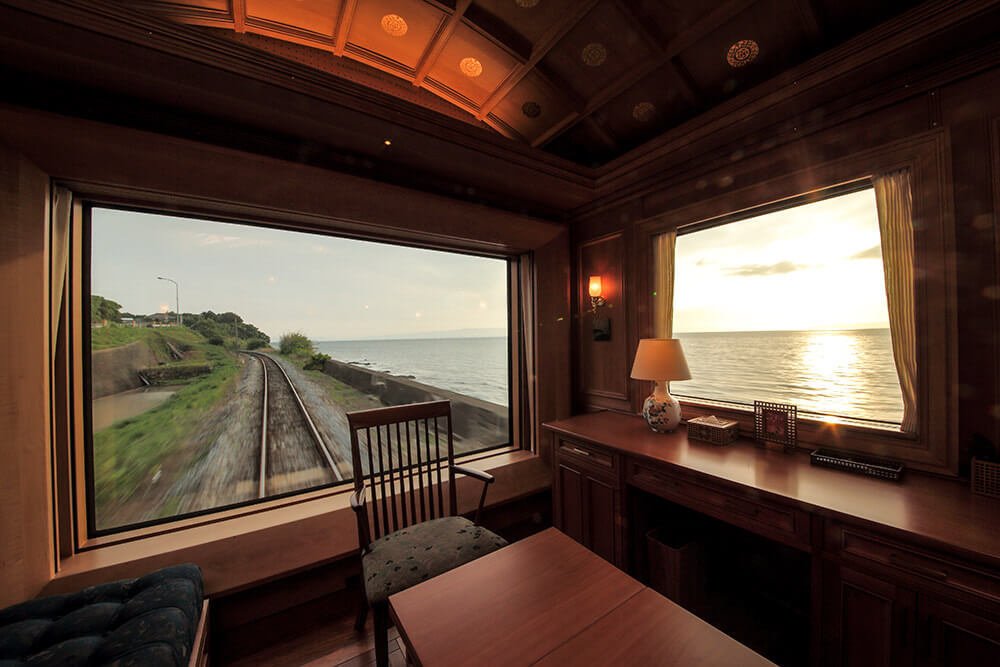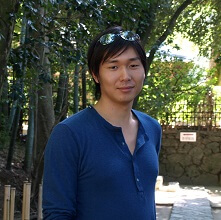 Author - Hiro
Lived in Kyoto in school days, I was impressed by profundity of history and tradition of the city. Had a job to join the three major festivals of Kyoto: Aoi, Jidai and Gion festivals. Love Kyoto and Japanese culture.
Manager of OrientalSouls.com, selling items of Japanese culture, tradition and craftsmanship. I'll introduce interesting information about Japan!