When you hear 'sushi bar' or a 'sushi restaurant', what do you imagine? Perhaps you think of a small, authentic restaurant with just a few chefs and assistants behind a counter, where you can see the meticulous process of how your sushi is being composed. Or perhaps you imagine a casual restaurant with family tables and westernized cuisines. But have you ever wondered, in what occasions should you be choosing the said authentic restaurant?
In this post, I'd like to introduce you to two distinct types of sushi restaurants in Japan (Counter type and rotating type) and its merits, and hopefully set up a guideline on how one can choose between the two.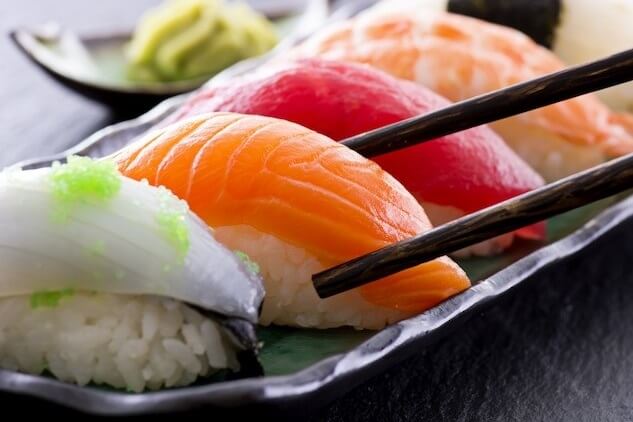 (Images: tabizine.jp)
Difference 1. Pricing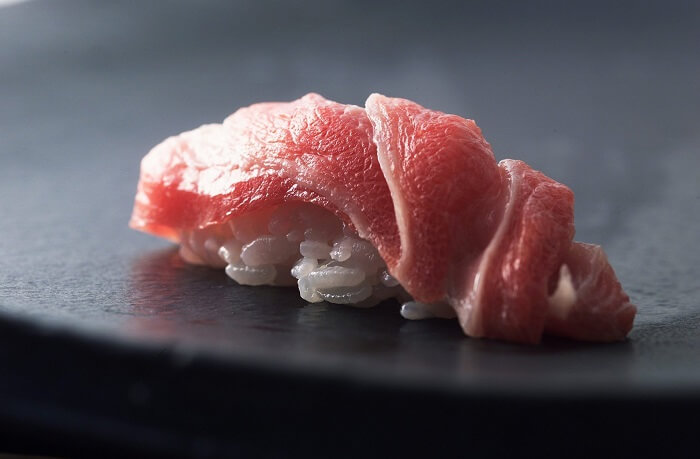 (Images: mimosalabo.com)
Let me first start of by saying that not all counter type restaurants are authentic or expensive. There is a huge franchise for counter sushi restaurants as well as rotating sushi bar, and some of them have a similar pricing ranging from 108 JPY to 300~400 JPY per plate. It is a rare occasion, however, that a rotating sushi restaurant would serve a sushi that costs 1000 JPY or more for each. Rotating sushi is more or less a 'fast food' chain, and will hardly ever shock you the way some fancy sushi restaurants can in terms of price.
That is to say, counter restaurants CAN shock you so hard that you regret all of your negligence to do a research before you asked Siri to show you 'the closest sushi bar from here'. Some places do serve cheap sushi with the similar pricing as fast food, and they are also friendly enough to tell you how much each menu costs. But one in a couple would also never charge you less than 50,000 JPY for, maybe 10 sushi, and also without telling you what costed you how much. This isn't because they are trying to deceive you and overcharge you, but this is because the price of the sushi can change depending on how much they bought the fish for from the market. They charge you for the quality, service, and the authenticity.
So if you're someone who takes quality over price and looking to find an authentic experience, you can choose a fancy counter restaurants that serve you fresh, non-frozen sushi. This doesn't mean that rotating sushi is a crude experience though. It might be less authentic, but it still tastes delicious and has its own taste that counter sushi restaurants don't have.
Difference 2. System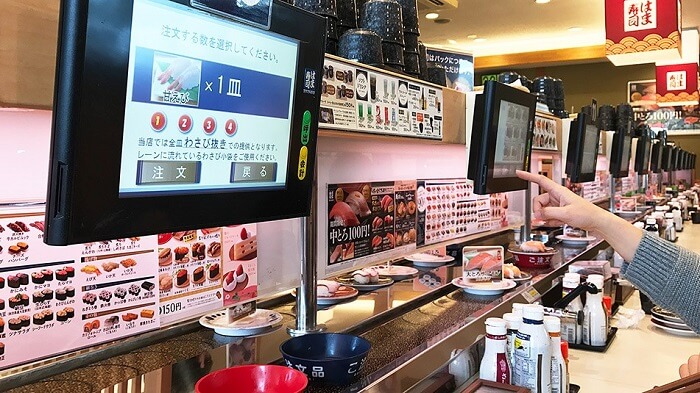 (Image: sidedish.org)
The merits of choosing the rotating sushi is mostly in its accessibility and entertainment. Not to mention the price, but most of them are also structured so people can enjoy either alone or with families. These restaurants are mainly composed of tables and counters, with belt conveyors railed through all of the seats. You can either pick sushi from the conveyor belt or choose sushi of your liking and order it from a tablet menu. Some places even began installing bullet train toys that carries you the sushi you ordered, and roulette app on the tablet that's initiated by discarding plates into a machine set at the side of the conveyor belt. Minimum interaction is required between the customers and the workers, and chefs are all behind a wall, so you are freed from all the tacit rules that sushi restaurants often compel you to follow. If you want to take your family to a sushi restaurant and enjoy sushi without worrying about the rules or the price, then this is a great place for you.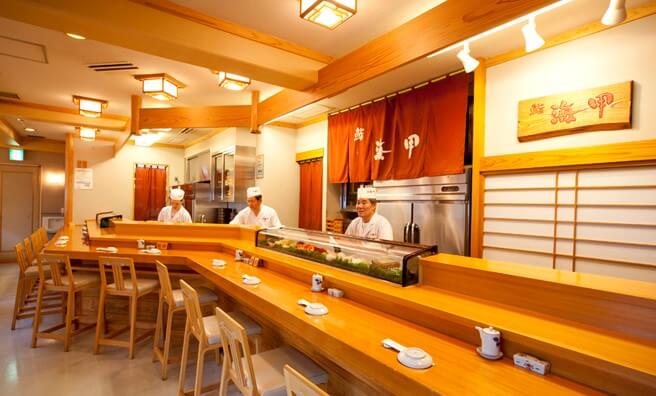 (Image: con-quest.tv)
As for the counter system, there's no bar between you and the chef, so if you enjoy interactions with workers, maybe this is the place for you (but be careful because some chefs are unwilling to be disturbed, which you can probably tell by their attitudes). Since the toppings are in a glass case on the counter, you can check the quality of what you are eating, and choose what suits you the best. Once you order, a sushi will be placed either on a plate, a wooden table called 'sushi geta', or directly onto the bare table in front of you. In some occasions, if you become a friendly repeater, chefs might tell you what fish is fresh and what isn't as good, and if you're lucky enough they might serve you a sushi that isn't on the menu. The only demerit for those who are looking for a more casual experience is that there are unsaid rules that you might have to follow. Not mixing wasabi with soy sauce, ordering from sushi that has a simple flavor palette, putting soy sauce on the topping instead of rice….and the list goes on, and whether you should follow which and to what extent all depends on the restaurant.
Difference 3. Menu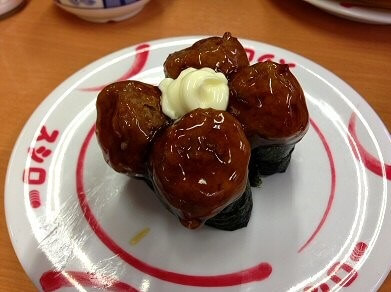 (Image: takuteku.exblog.jp)
Perhaps one of the biggest differences between the fancy counter type restaurant and rotating sushi restaurant is its menu. Again, some places do have similar menus, but rotating sushi restaurant tend to have much more variety, and serve both traditional and non-traditional menus. Some places have reverse-imported California rolls and avocado related sushi. They often serve non-sushi cuisines as sides such as udon, ramen, fried potatoes, and desserts.
On the contrary, authentic counter restaurants usually only serve traditional sushi or sashimi related cuisine, and hardly ever has anything westernized installed on their menu. They are much less likely to create a new recipe or add a new type of sushi.
If you want a fun experience and also enjoy both traditional and non-traditional flavor, I'd recommend rotating sushi restaurant. If you're quality-oriented and not the one to expect entertainment in variety, though, fancy counter type might be the place for you.
In Conclusion
I've been to both fancy counter sushi restaurants and rotating sushi bars, but I enjoy both of them equally. I go to fancy ones with my family for special days, and I go to cheaper ones to enjoy with my friends. My personal favorite though, was when my sushi chef friend who usually only makes traditional cuisine customized a westernized sushi for me. It was great!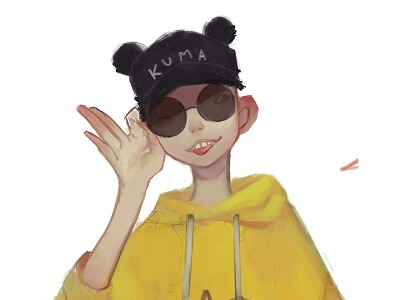 Author - Kanna
A writing/translating enthusiast and a part-time illustrator, recently graduated from Sophia University. My expertise is in media and English studies, but I am also interested in a wide variety of fields, including traditions of art in Japan and how it has changed and been preserved. I hope people find interest in Japan through this blog!