This week I test drove a Powder High-Speed Steel Santoku multipurpose knife from Toshu. Santoku literally means 'three virtues,' a reference to both its capabilities slicing, chopping, and dicing, and its effectiveness against meat, fish, and vegetables. We heard about Toshu earlier this week when I profiled their company's history and knife making methods. (see this post) Today, let's take a closer look at how their high-end santoku performs while tackling the needs of the household kitchen.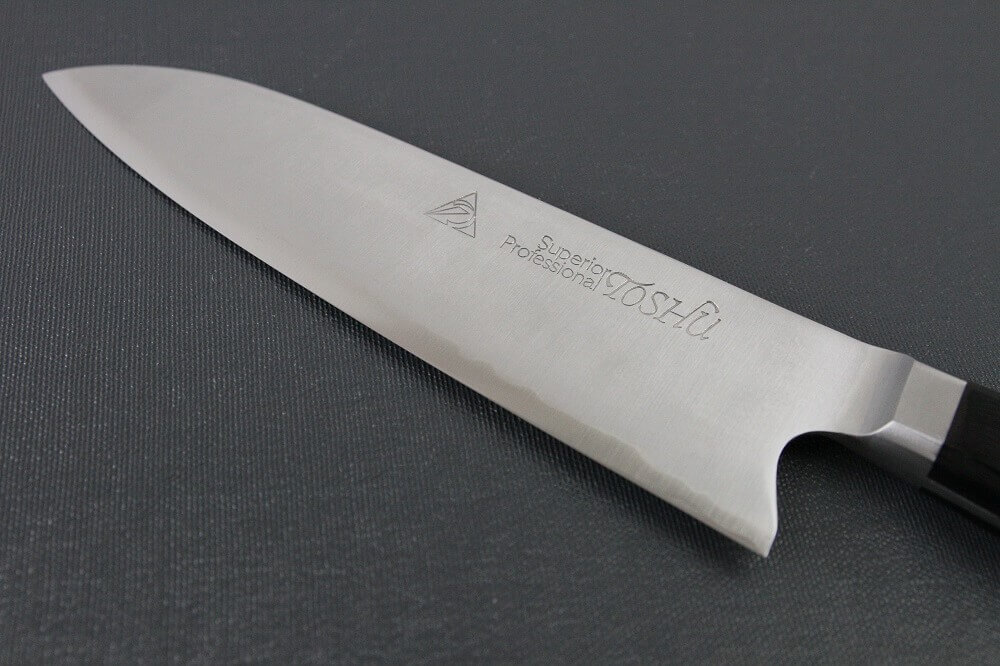 If you remember from earlier this week, Toshu is a small, hands-on knifemaking operation located just north of Tokyo in Misato city, Saitama Prefecture. Led by their second generation Toshu master, this team embodies the word 'hands-on' – indeed each one of their knives is made by hand from start to finish. After introducing western-style knives to their lineup and rebranding as Toshu in 1946, they continue to perfect their trademark forging and grinding methods: the hizukuri forge and edo-togi grind.
As top-end model of their western-style lineup, the artisans at Toshu have poured everything they have got into this flagship line of knives – all the expertise and techniques adopted from tradition and perfected since the company's founding are here. For that reason, they have given this lineup of kitchen knives the company name: Toshu.  As the flagship multipurpose kitchen knife of this lineup, the 180mm High Speed Steel Santoku I tested represents the pinnacle of Toshu technology and innovation.
With all the quality and care that Japanese master knifemakers are known for, the western-style design and handling of this knife provided this reviewer a level of familiarity and comfort that was much appreciated. If you want to experience Japanese steel in the kitchen without re-learning everything you know of knife-handling, this Toshu santoku is for you. Let's find out more about what I mean.
Balance and Feel: Picking up the Toshu Santoku the first time
The first thing I noticed when picking up this knife was the balanced weight of it. The knifemakers at Toshu are well aware of the tradition of weight and heftiness common amongst western knives (see German, Swiss, or Scandinavian brands). Without abandoning this formula for the more familiar Japanese characteristics of a thin and lightweight design, the masters at Toshu have applied the best features of the traditionally fickle Japanese knife to a style familiar to those of us from North America or Europe. This includes the large, rounded handle with ample weight throughout. What this means is that the feel of the Toshu santoku multipurpose knife won't throw you off. Additionally, the rounded tip and relatively long and flat blade along the heel means you won't have to abandon the rock-chopping and precision cutting methods you learned in Home Ec class back at high school.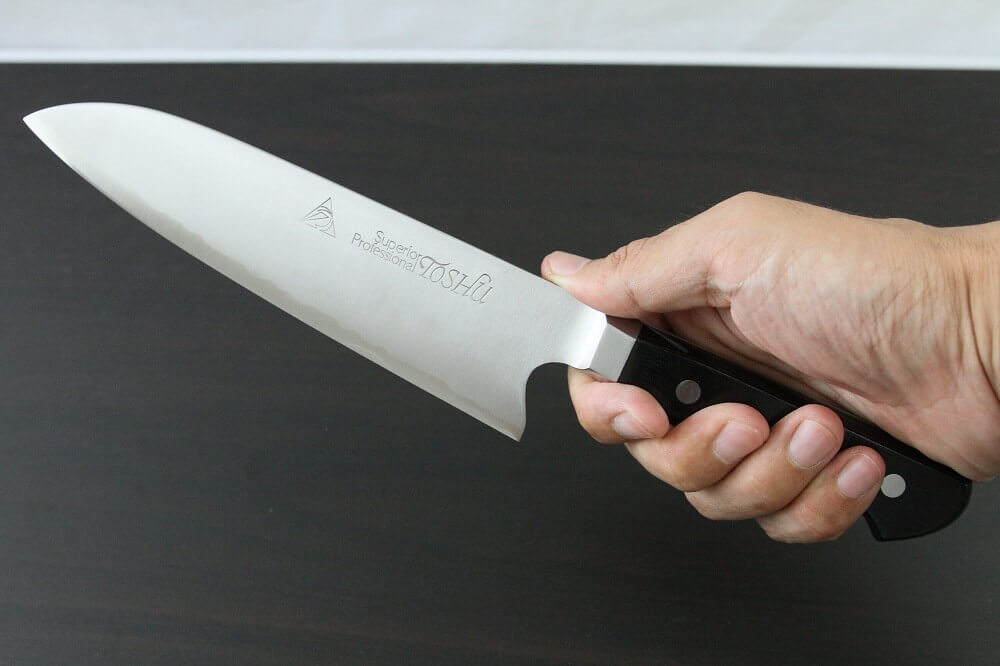 Unlike the larger, heavier gyuto chef's knife, the santoku comes in a modest 180 or 165mm variation. In my opinion, these two sizes are perfect for the at home kitchen where counter and storage space might come at a premium. As someone who lives in a medium sized apartment with limited countertop surface area, I appreciated the manoeuvrability the 180mm length provides. You don't want to be knocking things over with this knife, as its sharpness and weight aren't likely to be kind to the utensils and ingredients you might have laying around your cutting board.
For these reasons, my roommate and I found the length and design of this 180mm santoku not only easy to handle while cooking but also to carefully and properly store between meals. For reference, see the entire lineup of Toshu Powder High-Speed Steel knives below. The 180mm santoku featured today is found second form the left on the bottom row – the perfectly balanced shape and size, if you ask me.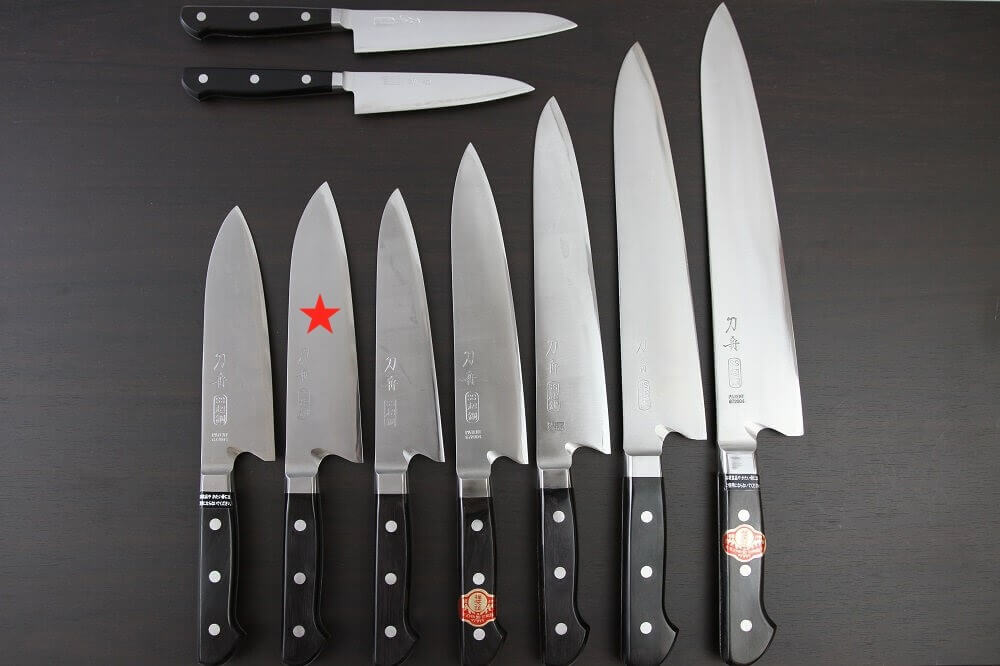 What this adds up to is a manoeuvrable Japanese kitchen knife that doesn't require any relearning of tricky new techniques or skills. I was easily able to work my North American trained kitchen techniques with the Toshu santoku. Not only were my cuts efficient and clean, the knife tempted me to try the more traditionally Japanese pull-cut – and to great effect. To understand this difference in traditional styles, note the shape and design of a wa-style Japanese kitchen knife as represented by Toshu's own Fusachika lineup seen below. take a look at the thin, hexagon and octagon-shaped handles made of light wood, as well as variation in shape and size.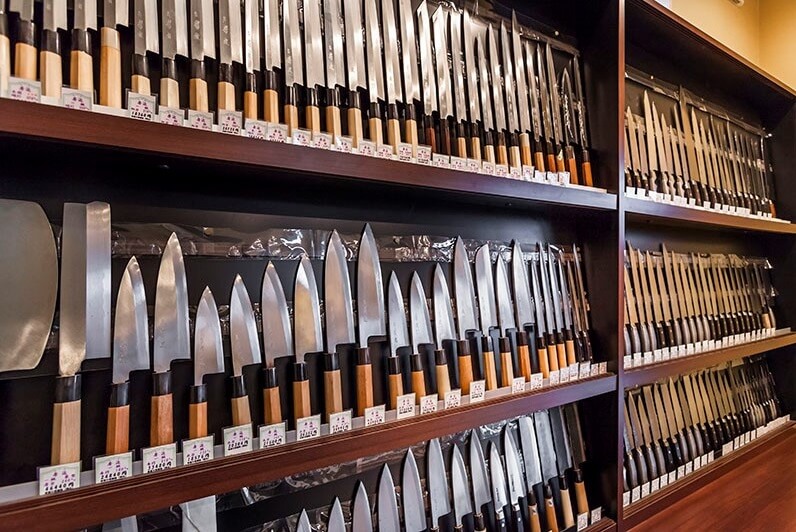 The Toshu Cut
With my old hardware-store kitchen knife, diced chicken thigh meat usually ended up looking like they had been torn apart by hand. Yet, with just a few pulls of the Toshu knife I was able to quickly and easily cube up a thigh while keeping the skin attached to each piece. This meant that my pan-fried meat each had a similar shape, making the actual process of cooking that much easier. No wasteful leftover pieces and a uniform distribution of skin across each piece!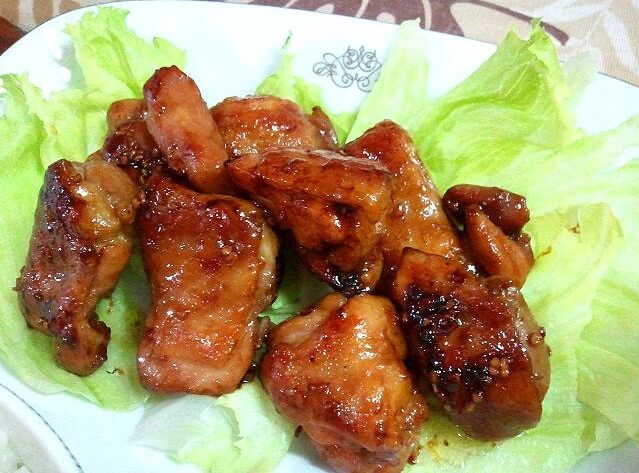 What's more, the cut itself was seemingly done entirely by the knife itself. The weight and balance meant I hardly had to work at all. I simply placed the knife and guided it by hand. This cutting ability was even more pronounced with vegetables, and the clean edges produced meant a tastier and more visually appealing final product as my ingredients held their shape with the flavours locked inside.
Double Bevel with a Twist: Toshu's Special Edo-togi ­Grinding Method
This effortless cut is achieved thanks to the forging and grinding method applied to this entire lineup of Toshu knives. As their flagship series, each is forged from an ultra high-end stainless steel that boasts extreme hardness thanks to the high-speed powder metallurgy methods used in forging. To this is applied the edo-togi grinding method for which Toshu is known. This is their specialized way of applying their high performing, razor sharp edge to the knife. By favouring one side over the either at a ratio of 7:3, Toshu knives are given all the benefits of the single bevel, one-sided edges which have been the norm in Japan for centuries, meanwhile providing the ambidextrous, low-maintenance features that we are familiar with from the double bevel, two-sided knives of the West. Truly the best of both worlds, the result is the perfect setup for the Western, at-home cook who wants all that Japan's historic knives have to offer.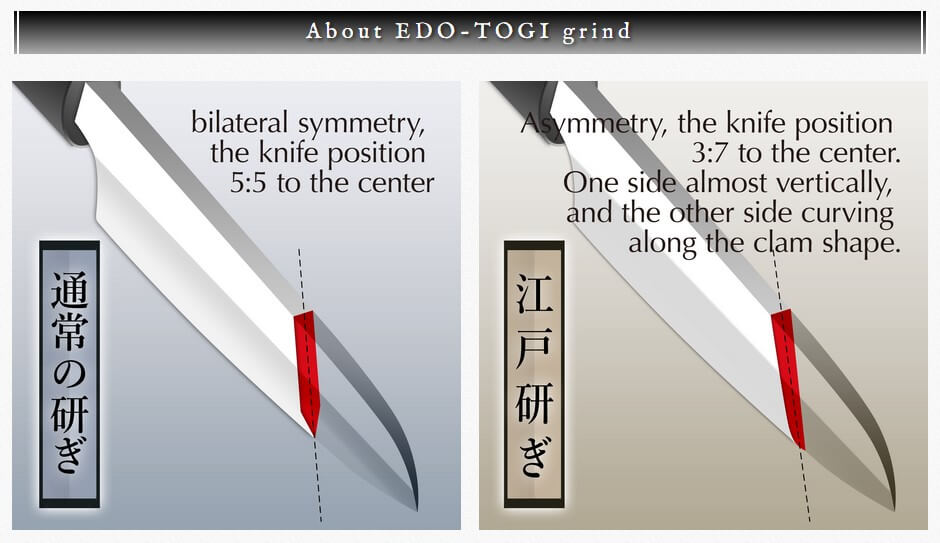 Finally, a little more peace of mind for the at-home cook: Toshu's knives have all the hardness and durability expected of a master crafted Japanese knife with the added benefit of its stainless attributes. These knifes are dishwasher safe and rust-free, a huge bonus for those with a busy, almost hectic lifestyle like me. I found the knife no more difficult to wash and store than my dollar-store cutlery, and the relief of knowing that the knife could withstand sitting damp and unwiped for a while allowed me to focus on the handful of other things that inevitably distract you before, during, and after cooking.
Conclusion: the perfect balance of East meets West
As a member of brand's own namesake lineup, the Toshu Powdered High-Speed Steel Santoku multipurpose knife can really handle anything your kitchen might through at it. Add to this its relatively low maintenance design – the result of its stainless steel design – as well as its familiar handle and manoeuvrability and you have a kitchen tool sure to be with you for decades. What's more, this knife really broadens your horizons by accommodating techniques you already know while enticing you to try new things and take on traditional Japanese culinary methods.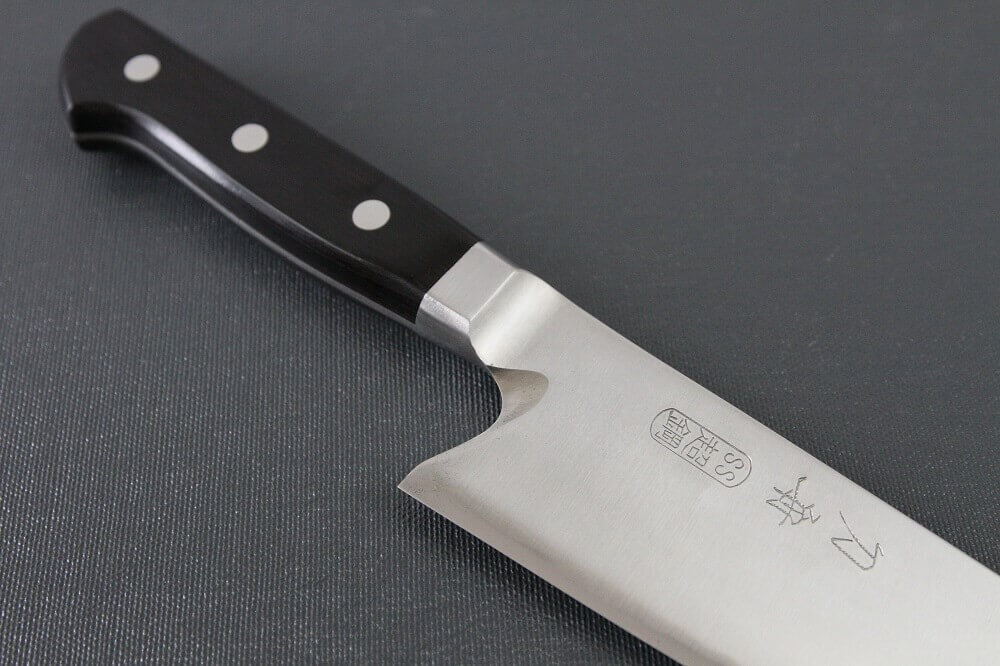 If you are only adding one Japanese knife to your kitchen, Toshu's Powder High-Speed Steel santoku knife is sure to match your needs. As you learn new techniques in Japanese or East Asian cuisine, the Toshu santoku will do more than keep up – it will allow you to excel and expand your cooking repertoire by challenging you to try new things. For its durability, versatility, as well as its ease of maintenance and storage, this santoku is a high performing everyday workhorse and the perfect way to elevate your kitchen's game. Whether you are a culinary newcomer, or a seasoned cook with a large collection, there is always room in your kitchen for this knife, and I am certain you will find yourself coming back to it when you take on any of the santoku 'three purposes:' meat, fish, or vegetables. A well rounded multipurpose knife that lives up to its name, this Toshu santoku kitchen knife is my recommendation for the at-home cook who wants world-leading quality and traditional Japanese craftsmanship.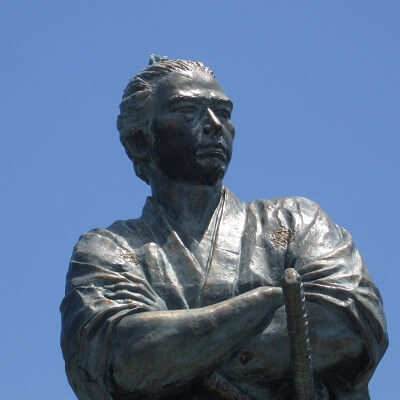 Author - Jay
In my spare time I enjoy watching baseball, tasting local cuisine, and exploring by road and rail. Having lived in several cities around the world, I have an appreciation for local as well as international histories and cultures. Excited by cultural and social exchange, it is my hope that this blog will help promote an interest in Japanese traditional wares and practises by introducing you to their history and meanings.
Our Products in Related Category – Toshu High-speed Steel Series