It's a fine Saturday, but my wife went out for her work…
When she's work, I cook breakfast for my kids.
One of their favorite dish is tamagoyaki, a kind of omelet arranged in Japanese style.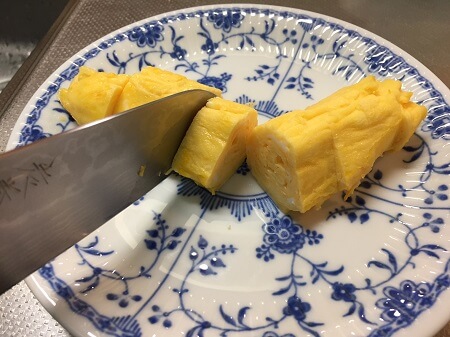 Here's a recipe for tamagoyaki…
How to cook delicious tamagoyaki (Japanese rolled omelet)
Serves two
Ingredients: 3 large eggs

– 4 tablespoons dashi (fish soup stock)
– 1 tablespoon sugar
– 1 teaspoon soy sauce
– 1 teaspoon mirin (an essential condiment)
– 1 pinch of salt
– Adequate amount of cooking oil (Add 1 tablespoon oil and remove extra oil with folded paper towel)

Instructions:
Gently mix the eggs in a bowl using chopsticks. Don't whip the eggs.
Mix the seasonings well in another bowl and pour the seasonings mixture into the mixed egg and whisk gently.
Heat the pan over a medium high heat, add oil to the pan and remove any extra oil with a folded paper towel. See if the pan is hot enough by dripping a little bit of the egg mixture from your chopsticks.
Pour a thin layer of the egg mixture into the pan and move it around to cover the pan. When the bottom of the egg is set but the top is still soft, start rolling it into a log shape from the front side of the pan to the back.
Add oil to the pan with a paper towel and pour in more egg mixture. Make sure to lift the previously rolled omelet to spread the egg mixture underneath it. Once again, when the underside is set but the top is still soft roll one side to the other. Repeat this again and again.
Brown the surface slightly to your preference.
Wrap the omelet in a bamboo mat to shape the egg while it's still hot.
It's relatively complicated, isn't it?
Because they like it, I try to cook it taking time in a busy morning…
When I finish making it, it's time for cutting.
I use my well-sharpened Santoku kitchen knife for cutting.
Just moving its blade with slight power on it, the omelet is cut without any resistance.
Cutting surface is like specimen in a science classroom.
To feel its cutting ability anytime I cook, I sharpen my Santoku knife once a month.
It takes about only 10 minutes, and I can keep it like super sharp!
Only one shorecoming is… my wife sometimes cut her finger due to its sharpness…
She sometimes complains it's too sharp.
I try to sharpen it after she goes to bed.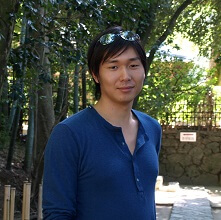 Author - Hiro
Lived in Kyoto in school days, I was impressed by profundity of history and tradition of the city. Had a job to join the three major festivals of Kyoto: Aoi, Jidai and Gion festivals. Love Kyoto and Japanese culture.
Manager of OrientalSouls.com, selling items of Japanese culture, tradition and craftsmanship. I'll introduce interesting information about Japan!