In the last weekend, I went to Himeji-jo Castle with my family.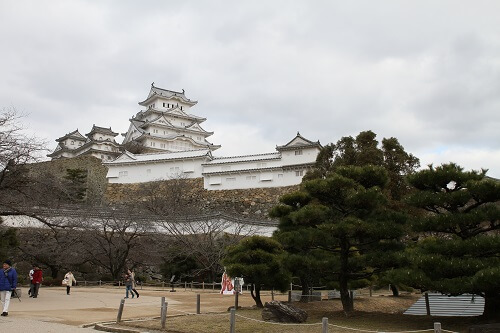 Himeji-jo Castle is one of the oldest castle among existing castles.
It's built in 400 years ago.
It is famous for it's beauty.
Because of it's white walls, people call it "Egret Castle" as a nickname.
It was a very cold day.
It was cloudy, although the weather report said it'd be fine…
The castle is in Himeji city in Hyogo Pref. It's in West Japan.
If you take a train, it takes about an hour.
Because I went there by my car, it took about one and a half hours though…
Honestly, I don't have very good knowledge for castles.
I was expected to see gorgeous castle.
It must have decorated pretty well, I thought.
Because…
it's a very famous castle for Japanese!
big repair works have done just recently.
it's nickname "Egret Castle" easily reminds me gorgeous and beautiful details just like Palace of Versailles in France!
The reality is, however, the details of the castle were very simple and frugal.
It seems that the castle is not build for a symbol of its owner's power.
Talking with an elder staff there, I was told that the Japanese castle is not for a residence.
Generals, who had built castles, hadn't lived in the castle!
I was surprised… I've thought its' for general's residence for a long time!!
The castles are, the staff said, storage of foods and weapons.
If you've been to a Japanese castle, you may remember that it's very roomy and simple inside.
I've visited several castles, and remember that there's no place to have an audience with generals.
Once a war had started, the general and Samurai's had gathered in the castle as a fort, and fought against enemies.
Anyway, the castle was interesting enough.
However, it didn't have much "Ninja Kanagu" hardware both inside and outside.
Because it's a place to fight, it might not necessary to decorate so much.
It should be more practical.
Having said that, it must durable enough.
It must tidy and show some power to subordinates e.g. Samurais and Ninjas.
Therefore, gates, walls, doors and pillars are built with traditional architectural hardware.
In other post, I'll show some details of them.
Have a nice day!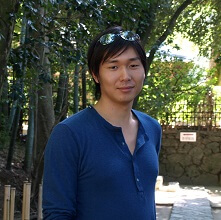 Author - Hiro
Lived in Kyoto in school days, I was impressed by profundity of history and tradition of the city. Had a job to join the three major festivals of Kyoto: Aoi, Jidai and Gion festivals. Love Kyoto and Japanese culture.
Manager of OrientalSouls.com, selling items of Japanese culture, tradition and craftsmanship. I'll introduce interesting information about Japan!