Some people wearing "Kimono" are walking in Kyoto.
Kimono is a traditional clothing of Japan as you can see in the pics below.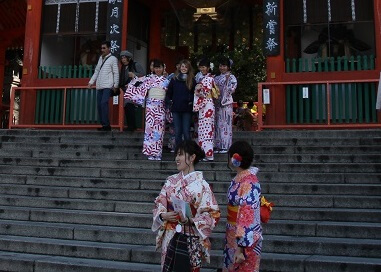 It was not like this when I had lived in Kyoto 15 years ago.
The number of people wearing the traditional clothes have been increasing since several years ago.
It is not because people live in Kyoto started to wear Kimono.
They are all outsiders.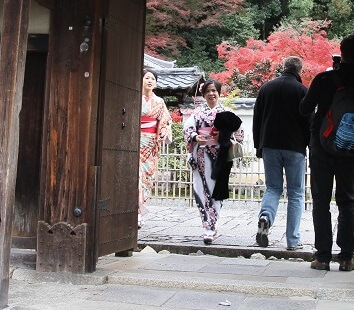 Recently it's popular among tourists to rent Kimono to visit sightseeing spots.
When I walked around Kyoto last year, I sometimes saw tourists from overseas took photos with people wearing Kimono in sightseeing spots.
I'm not sure whether they thought those Kimono people are native Japanese…
Actually, Kimono people there are 99.9% outsiders.
If you're interested in wearing Kimono in Kyoto, it's very reasonable price.
You can find rental shops searching by keywords like "Kyoto kimono rental".
An example I found is here.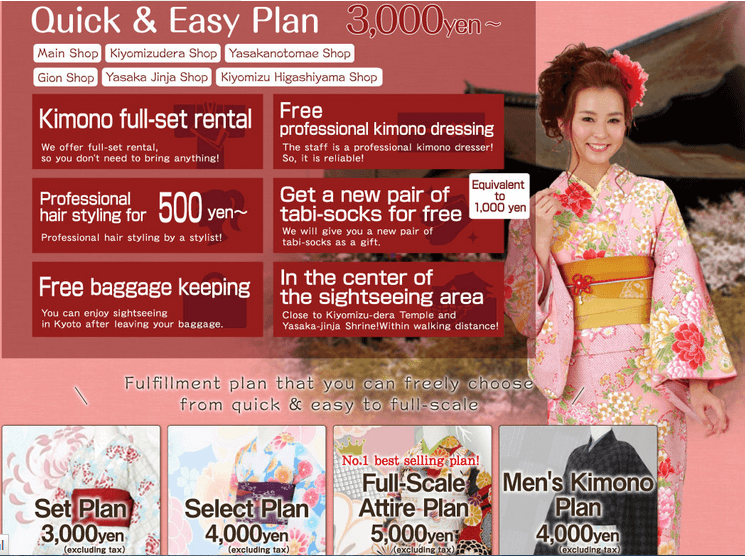 Prices are mostly like this.
It may be good experiences. Your picture taking in Kyoto will become brilliant!
If you are interested in renting a kimono, you don't need effort finding ones.
When I walked around some sight seeing spots in Higashiyama (around Kiyomizu temple and Gojo), I could found tens of rental shops.
Or you can just ask in front desk of your hotel.
Although it's the coldest season in Kyoto, many people walked around with Kimono.
We'll sometimes post tourism information so you can enjoy Japan more.
Please go to Tourism Info category of the blog for more information.
Enjoy your stay in Japan!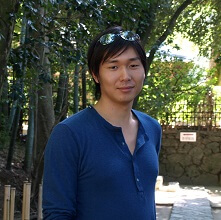 Author - Hiro
Lived in Kyoto in school days, I was impressed by profundity of history and tradition of the city. Had a job to join the three major festivals of Kyoto: Aoi, Jidai and Gion festivals. Love Kyoto and Japanese culture.
Manager of OrientalSouls.com, selling items of Japanese culture, tradition and craftsmanship. I'll introduce interesting information about Japan!