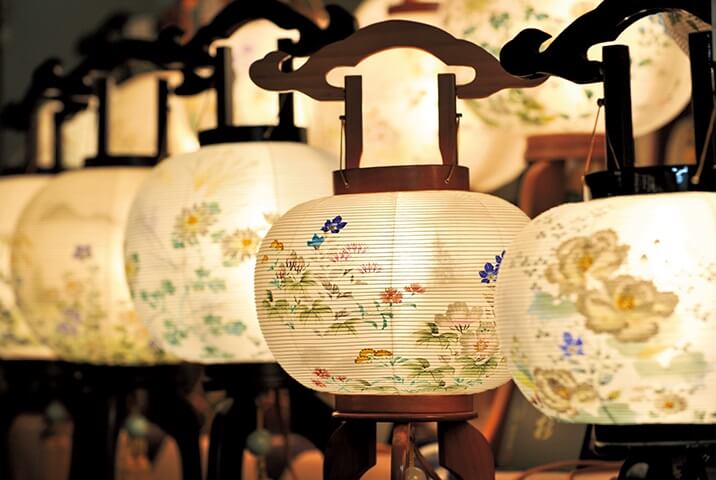 (Image: cool-gifucity.jp)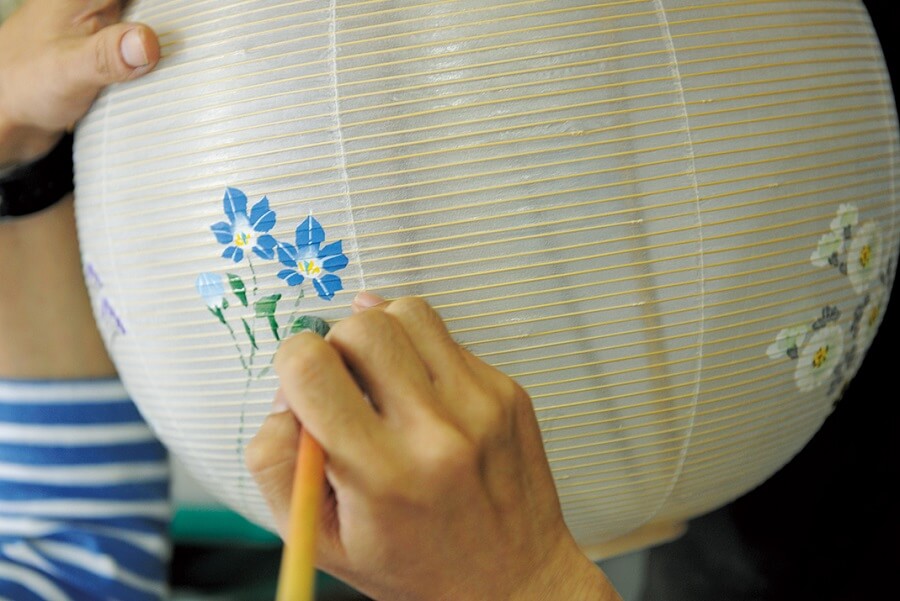 (Image: cool-gifucity.jp)


(Image: Wikipedia)
What is Gifu Lantern?
Gifu lantern refers to the lanterns made in Gifu city, Gifu prefecture.
Gifu lanterns are made from bamboos in the Mino region and Mino Washi (very high quality Japanese papers), and it is famous for its delicate drawings, such as autumn flower and landscapes. Through traditional techniques that have been continued to be used since the Edo Era, these lanterns maintain its perfection and beauty. The Mino Washi used to make the lanterns are known for being very tough despite its thinness, and the paper itself is officially recognized as one of the traditional Japanese crafts.
The lanterns are often used as decorations during the Buddhist festival 'Obon' in Japan, but they are also used as an interior décor or as a lighting.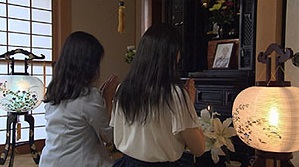 (Image: gifu-chochin.or.jp)
Techniques Used for Gifu Lanterns
People often assume that lanterns have a simple structure, but more steps and expert skills are involved in the making of lanterns. Gifu Lantern, of course, is one of them.
First, the crafts people wrap a thin string of bamboo around the model of the lantern until it covers the whole thing. Then they request a first-class Japanese style painter a rough sketch, and put the washi with the drawing onto the string — a step that requires extreme caution and delicacy. After they paint the draft with colors, they finally get a single Gifu lantern.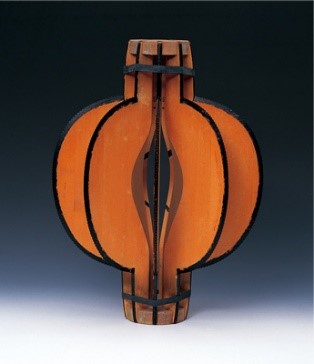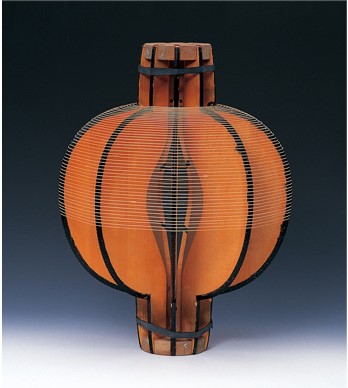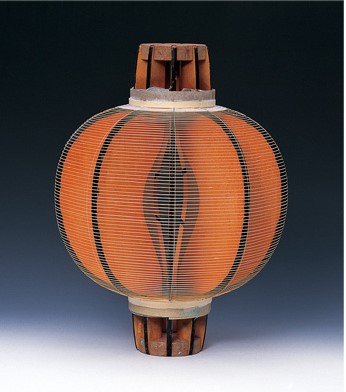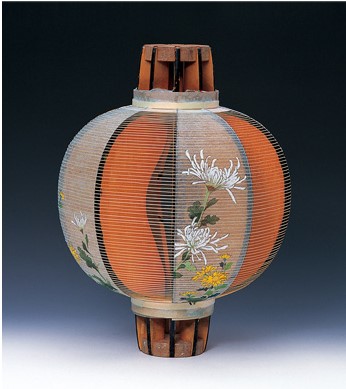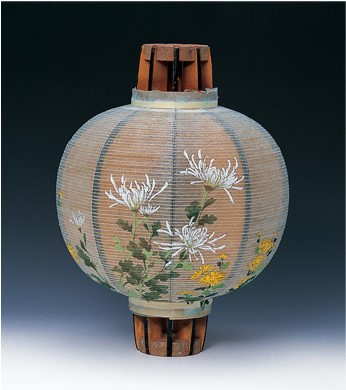 Gifu lanterns are often decorated with beautiful drawing using various colors. From the ancient times, Japanese people have lived with nature, saw its beauty, and has continued to assimilate it into their living. What is painted on the Gifu lanterns, is the kindness and prayer for the people and nature. There are expert techniques involved in drawing directly onto the lantern, thus each of the pieces finished up by professional Gifu lantern painters are all manifestation of excellence.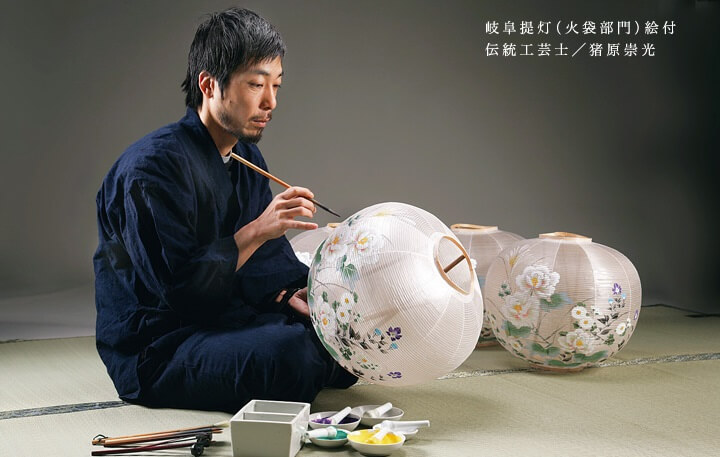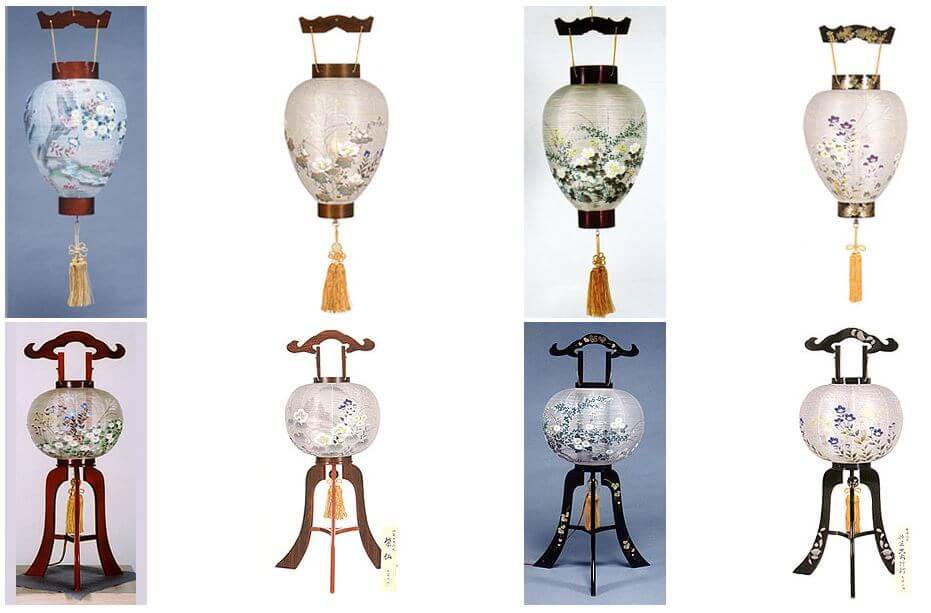 (Image: gifu-chochin.or.jp)
Products : Gifu Lanterns for Sale
From the world-known traditional craft Gifu Lanterns, I'd like to introduce you some that are being sold as a product.
Bon Lantern- Chrysanthemums and Seven Flowers of the Spring (Pair)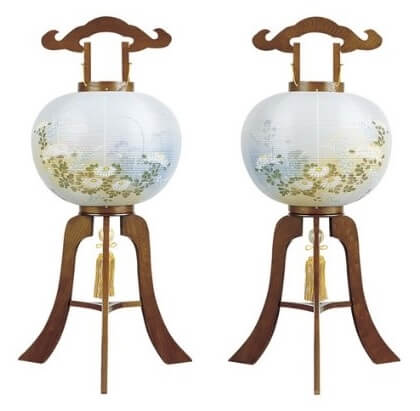 (Image: Rakuten shop)
<Product details>
Size: 83cm×φ34cm
Price: 55,200 JPY (approx. $500 / €460)
Gifu Lantern - Lantern for Family Crest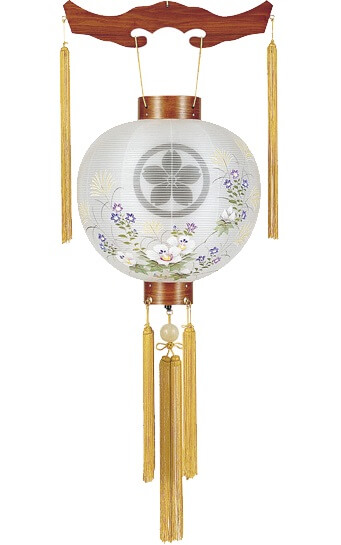 (Image: Rakuten shop)
You can order your family crest to be drawn onto the lantern. Family crest refers to the sign that represent your family; royal houses often had a family crest specific to their family. Today, they are only seen at some rituals.
<Product details>
Size: 42cm×φ39cm
Price: 26,700 JPY (approx. $240 / €220)
In Conclusion
It is a rare occasion to be able to see a lantern today. But if you see one, it will provide you a sense of safety and relaxation through its soft, delicate light.
I hope you get to see some at Japanese festivals or maybe during Bon Festival!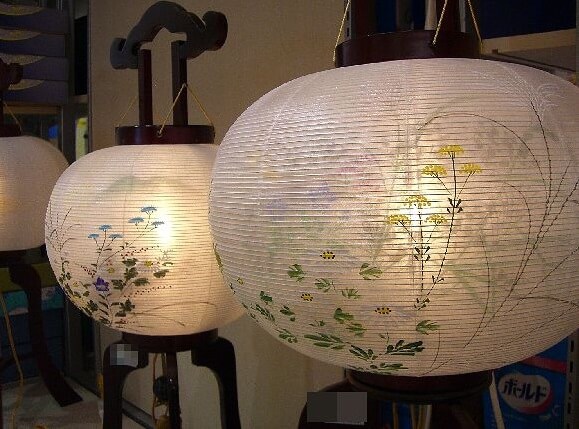 (Image: Goo Blog)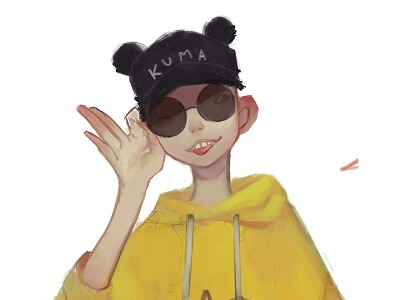 Author - Kanna
A writing/translating enthusiast and a part-time illustrator, recently graduated from Sophia University. My expertise is in media and English studies, but I am also interested in a wide variety of fields, including traditions of art in Japan and how it has changed and been preserved. I hope people find interest in Japan through this blog!