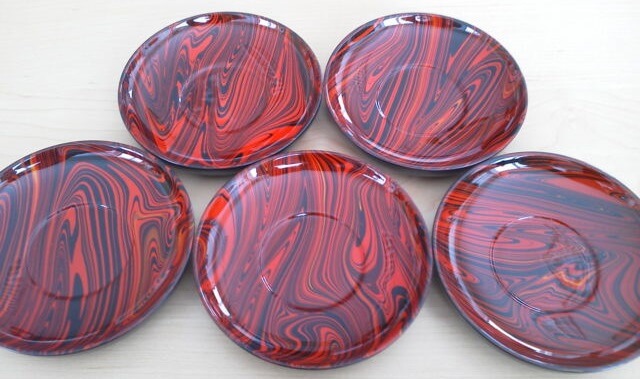 (Image: Kenseisya Group)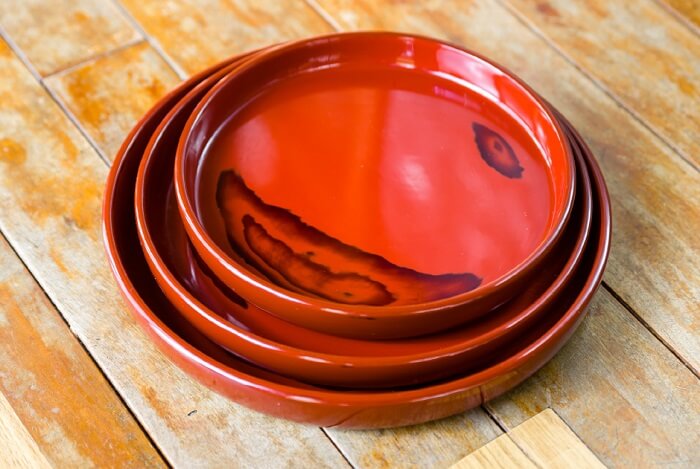 (Image: tetotetote-sendai.jp)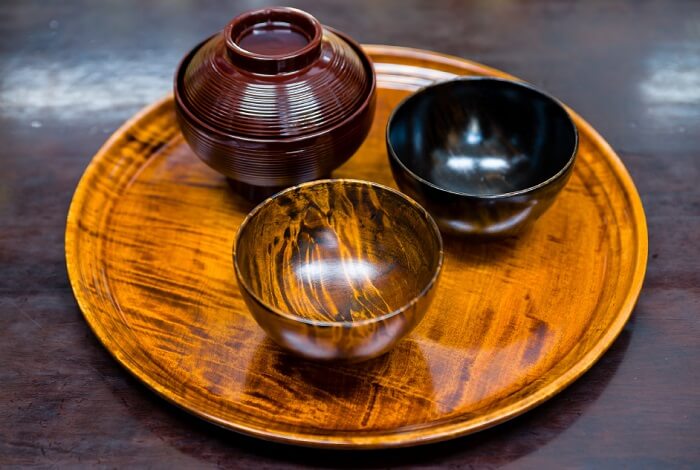 (Image: tetotetote-sendai.jp)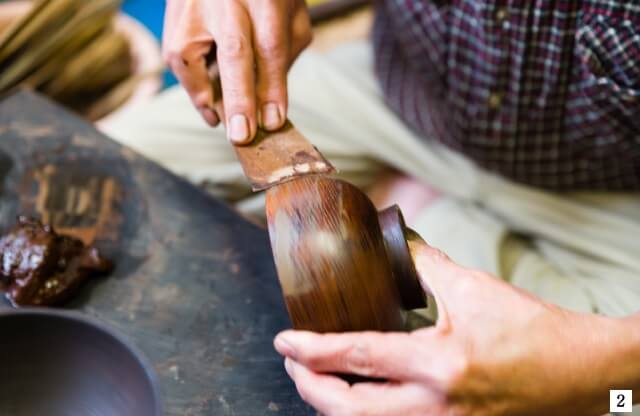 (Image: tetotetote-sendai.jp)
The distinctive feature of Naruko lacquerware is that it has unique painting technique. One of the representative painting technique is called "Kijiro painting." Wood grain is used in Kijiro painting. Naruko lacquerware, painted with candy transparent lacquer by Kijiro painting, the more you use, more you can see beautiful wood grain emerges through it.
Naruko lacquerware is not only beautiful in appearance by also it is durable for many years because many layers of lacquer are painted on thick wood.
Unfortunately, the number of craftsman who can make Naruko lacquerware with gorgeous pattern is becoming dangerously small. Currently, there are very few traditional craftsmen who can make beautiful crafts of high class. Even with the Naruko lacquerware culture with 350 years history, the problem is same still.
This time, lets focus on craftsmen those who are continuing to make crafts for preserving/protecting traditional craft culture from extinction.
Unchangeable Reality And Craftsmen's Pride
"There is nothing I can help."
A Naruko lacquer's painter Tsuneo Goto said.
"I feel sorry, but there are only about 10 craftsmen of Naruko lacquerware. I understand that we need to pass this culture to next generations, but I cannot say directly to my children or grandchildren to inherit what we are struggling now."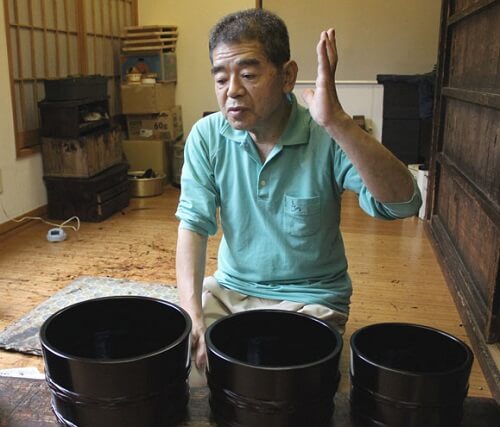 In consumption life of modern days, people buy something cheap, and if it gets bit older, they throw away and buy another. There are very few people who really appreciate value and they choose something that suits them to use it for long time even if it is expensive. It is becoming very hard to sell handmade crafts with high value while cheap crafts can be found on sale such as from China.
Mr. Goto says "I want people to pick out real craft that matches their use and themselves, then they can find out the real value of fine material, durability, and tradition by using it." The tool which matches with yourself is means not only about design preference, but also means matching size, weight, and feeling of it for your hands.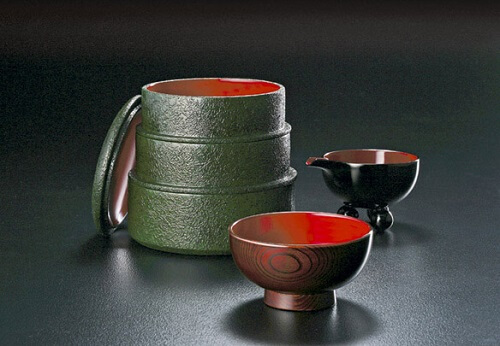 Craftsmen are making crafts with extreme caution so that people can really enjoy while using it. Sometimes, craftsmen try to reduce weight of crafts without changing look and design for making it easier to use based on traditional techniques. This is a process made according to the demands of users. Making crafts process is not like general buyers and sellers communication. Sometimes, new crafts are born by close interaction between users and craftsmen.
A Wood Master Continuously Challenging New Product Development
Katsuo Sasahara is one of few wood master of Naruko lacquerware.
"In Naruko, tea-chests and rice-chests, which are used in hotels, are created in the past." he said, "bowls like for soup are not made much." Mr. Sasahara has a reputation for identifying good materials and grinding wood precisely as the draw.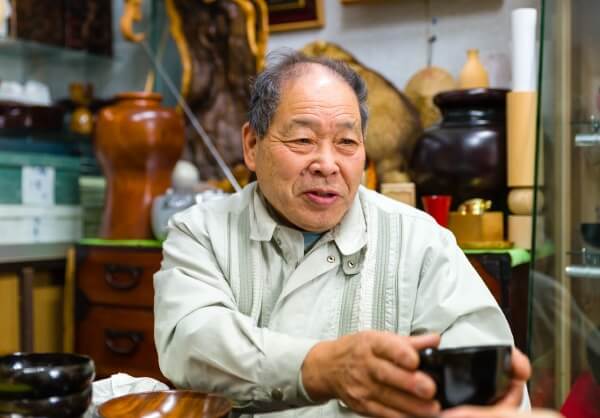 From his good reputation for delicate work, he receives many prototypes and collaboration proposals. 5-layer of crafts that can be stacked into one, "multi-tiered food box", which he explains by saying "I tried to make round shaped food box", shows his preciseness of skill.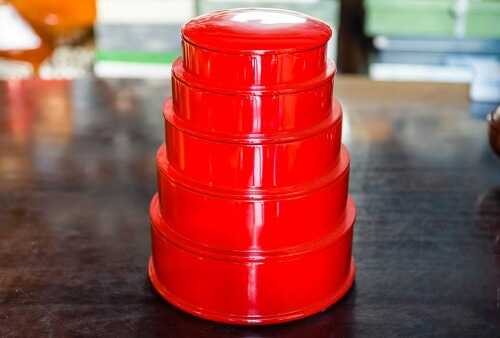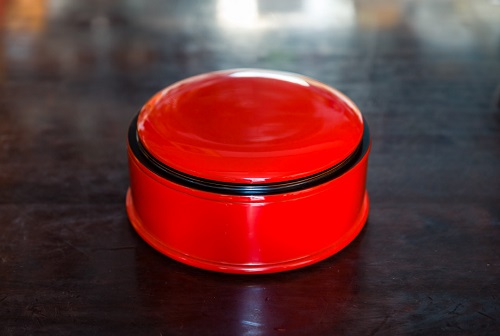 In Conclusion
Naruko lacquerware is also one of the fascinating Japan lacquerware worth to try and experience. Candy transparent lacquer can show the real color of wood and tree makes very distinctive from others. So, you can really enjoy the meal while experiencing finest art come from natural resource. Although it is more expensive than others, it will bring great experience while using it. Like typical lacquerware, it is very easy to handle and preserve hot/cold from outside for long time. It is very unfortunate news that there are very few craftsmen who can make Naruko lacquerware. So, if you buy it and use it, it will be very precious souvenir from Japan.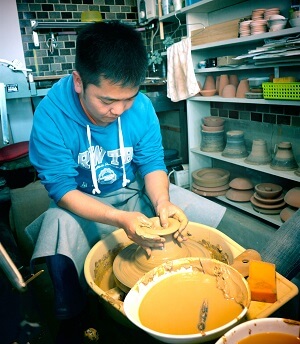 Author - huchka
I am from Mongolia and studying abroad in Japan since 2007. Currently, I am living in Osaka and studying at Graduate school of Information Science and Technology, Osaka University. I have always fascinated about Japan product's quality in so many different levels, especially in deep specific fields. Also, Japan has very interesting long historic and traditional culture and it has been kept so well within modern era that I found amazing.
Recently, I am taking interest in handmade crafts and it's background culture and history. So I can introduce what you are looking or interesting.
Related Products