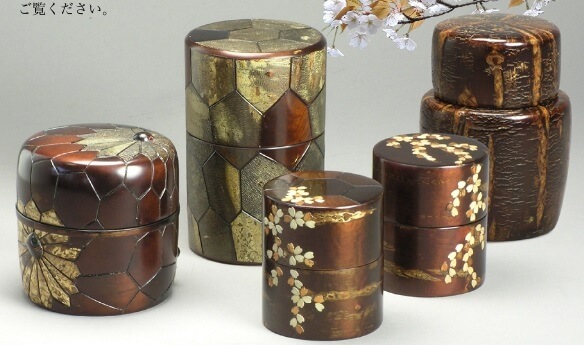 (Image: ldt.co.jp)
Those wood products are made in Kakunodate, Akita prefecture. Wood products' technique is inherited within only Akita prefecture nationwide, and it can be said it is representative precious craft in Japan.
Can you tell what kind of trees they are made of?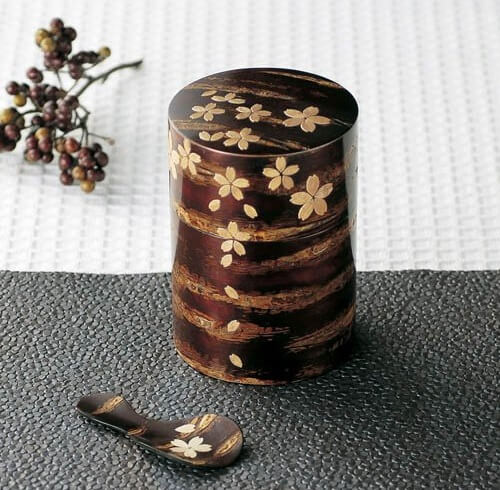 (Image: rakuten.co.jp)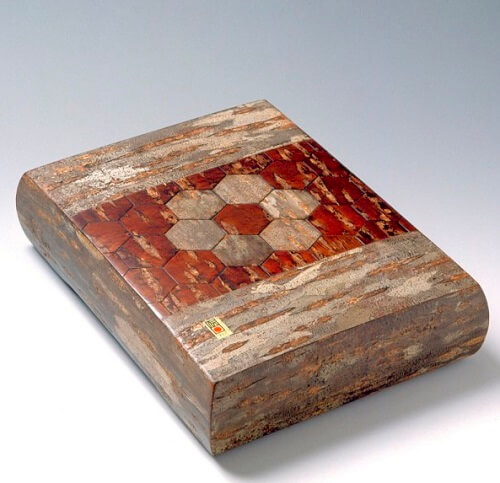 (Image: kougeihin.jp)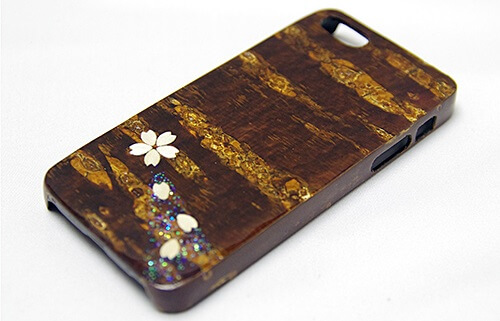 (Image: Rakuten.co.jp)
"Birch" is bark of mountain cherry tree. In other words, those are made from bark of mountain cherry tree.
Birch works have distinctive features like excellent moisture proof, at the same time good in anti-drying, and robustness. Tea canister and teacup saucer like tea ceremony equipment's, organizing boxes, and flower vases are made from bark of mountain cherry tree by taking advantage of shiny luster and astringent tone mixture of it and natural rustic and beautiful pattern of bark itself. In addition, bark is used widely for making small modern accessories like strap and hair camp, and souvenirs. Furthermore, beautiful brooches and pendants are made by making use of gorgeous beauty of bark luster.
This time, let's introduce how those gorgeous products are made? And what kind of products are on sale?
Making Process of Birch Work
The Birch work, made by sticking thinly scraped bark of mountain cherry tree on wood basement, has been said as truly unique bark craft in the world. And Birch work's technique is being inherited only in Kakunodate among all regions in Japan.
Birch work has 3 kinds of making methods: 1)"Wrapping style" in which bark is wrapped onto wood basement, 2) "Folding style" in which bark is processed into brooches and pendants , and 3) stretching, "natural style" which simply stick bark onto something.
Let's see the making process of tea canisters.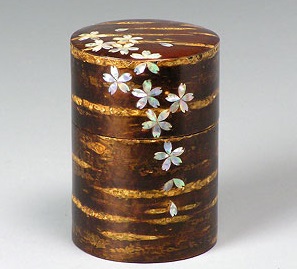 (Image: LDT Interior Shop)
1. Scraping
Cut a raw material, which is bark of mountain cherry tree (birch), by adjusting to product's size. Moisture and hot trowel is used to soften the birch by steaming and ironing. To equalize the color and give shiny gloss, wide kitchen knife is used to carve the surface of birch. To make work easier, glue is put on thinly scraped birch and dried.
2. Preparation
As soon as the thinly scraped wood with glue put on is dried, press and iron it with 200 degrees hot trowel by wrapping it around wood mold (see picture), to make cylindrical shape. For making basic cylindrical shape form, 3 layers of thinly scraped wood is used. After making basic shape, birch is pasted on inside side of it by putting glue together.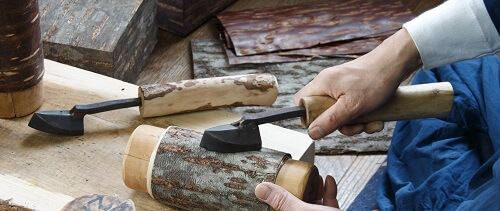 3. Pasting
In order to separating tube into a lid and a torso, cut it using small knife. Put glue on torso and, paste birch on it using hot trowel. In order to prevent from burning birch up with high temperature, dip hot trowel into water to cool down. Then, press perfectly cooled down trowel repeatedly until the birch blend into wooden mold without any wrinkles on sight. In this step, using trowel and glue with perfectly adjusted temperature by warming up and cooling down requires very high skill from the craftsmen.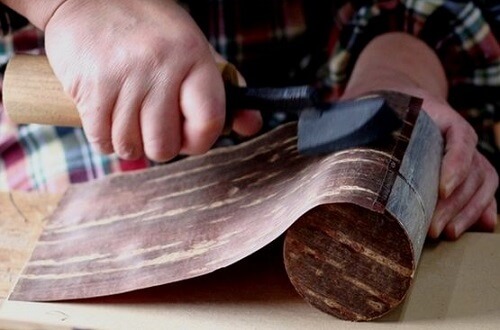 4. Finishing
After pasting birch on outside surface, it need to be polished for giving beautiful luster. At first, 6 stages of sandpaper are used to polish. In those stages, gradually softer sandpapers between no.180 to no.800 is used for polishing birch on outside surface. Next, polish it with powder and finally, finish it putting hair oil on it.
Introduction of Wonderful Birch Woodworks
What kind of birch woodworks you can buy now? Let's see representative ones of these beautiful craftsmen's works.
Birch craftsmanship: Tea ceremony set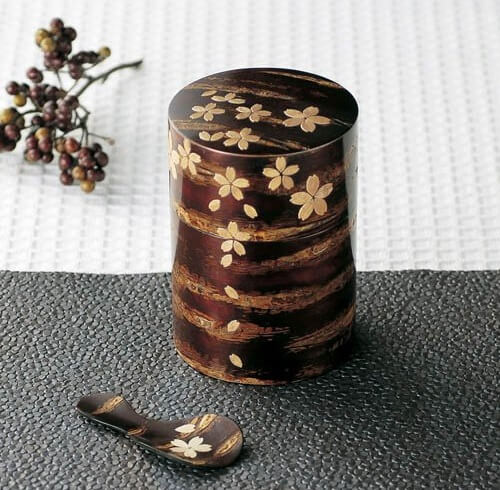 (Image: Rakuten.co.jp)
Birch woodwork of designated traditional crafts from Akita, Japan.
Popular for gifts such as birthday, and wedding celebration.
Price: 11,010 JPY (approx. $100)
Dimensions: diameter 8.3 x height 12 cm
Mail rack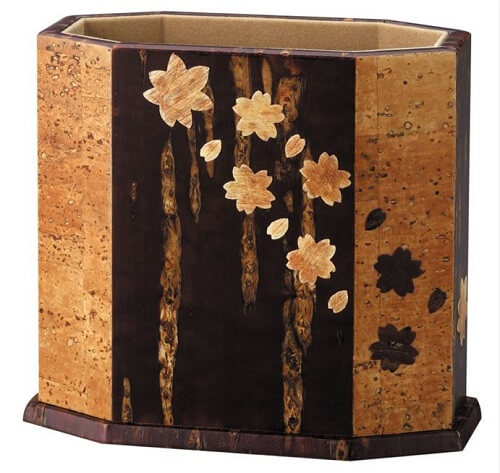 (Image: Rakuten.co.jp)
This item can be beautiful and luxury mail holder in your office or working room.
Popular for gifts such as birthday, and wedding celebration.
Price: 4,000 JPY (approx. $36)
Dimensions: around width 13 x deep 7 x height 12 cm
Material: Medium quality fiberboard, Urethane coating
Cherry blossom tea ceremony set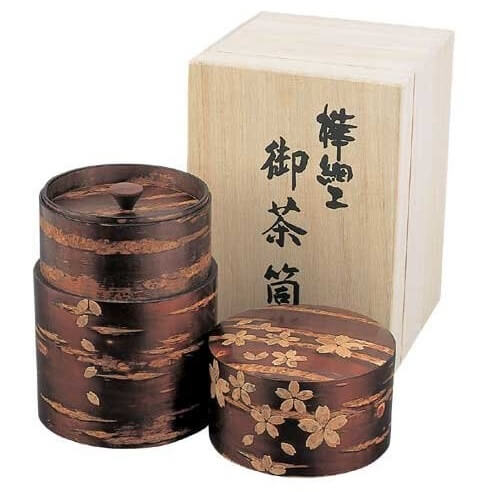 (Image: Amazon.co.jp)
Traditional crafting passed down from the Edo period. Birch woodwork with box.
Price: 12,960 JPY (approx. $115)
Dimensions: diameter 8.30 x height 12 cm
Material: natural tree, cherry blossom
Weight: 130g
Capacity : 150g of tea leaf
In Conclusion
This beautiful birch woodwork of cherry tree can be gorgeous interior in your luxury home. It can be also very pleasant and meaningful gift with very traditional and specific history culture for your precious friends. Beside the culture and tradition, because birch woodwork is created through many careful steps with skilled craftsmen from natural material, it has many good points during usage such as keeping a tea with good quality for long time, and does not break easily.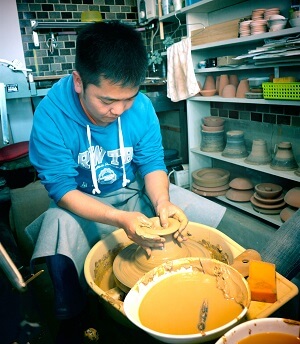 Author - huchka
I am from Mongolia and studying abroad in Japan since 2007. Currently, I am living in Osaka and studying at Graduate school of Information Science and Technology, Osaka University. I have always fascinated about Japan product's quality in so many different levels, especially in deep specific fields. Also, Japan has very interesting long historic and traditional culture and it has been kept so well within modern era that I found amazing.
Recently, I am taking interest in handmade crafts and it's background culture and history. So I can introduce what you are looking or interesting.