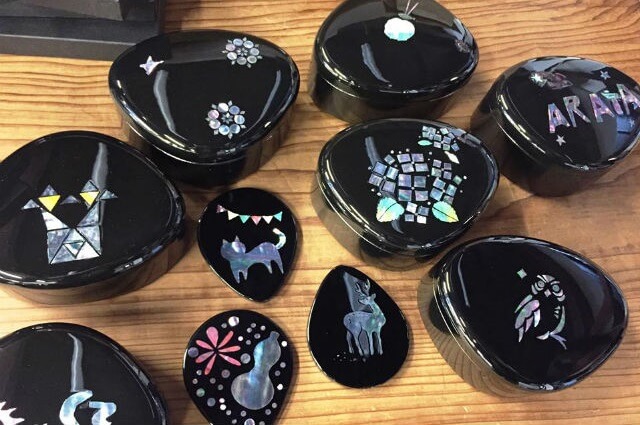 (Image: asoview.com)
Takaoka lacquerware uses three techniques to express flowers, birds, landscapes and such.
Technique of Takaoka Lacquerware- "Aoigai Coating"
One of such techniques is the "Aogai (mother of pearl, limpet) Coating". This technique requires the crafts people to shave thin slices from the lustrous part of Aogai shells, cut them out in diamond shapes or triangles, and combine them to make flowers, birds, landscapes, etc.
The techniques used in shell works are called "Raden", and generally uses a shell of about 0.3mm width. Takaoka lacquerware however, also uses shells that are about 0.1mm in width. By using thinner slices, the colors from base lacquer shows through and shines in bluish glaze. This is a technique original to Takaoka lacquer.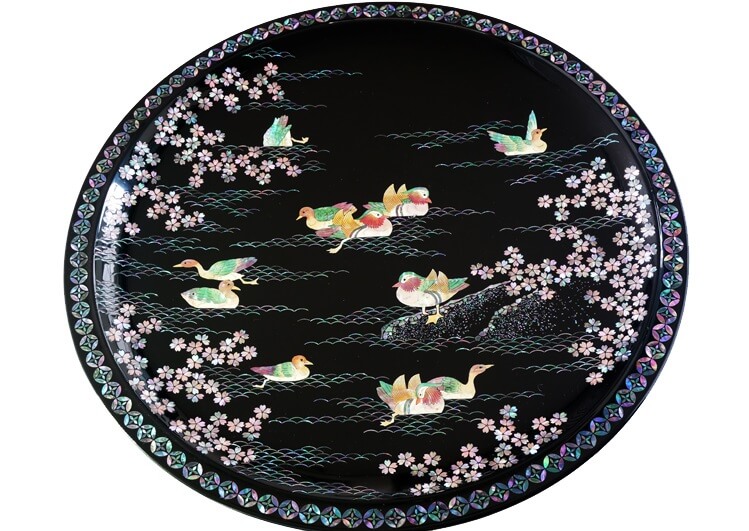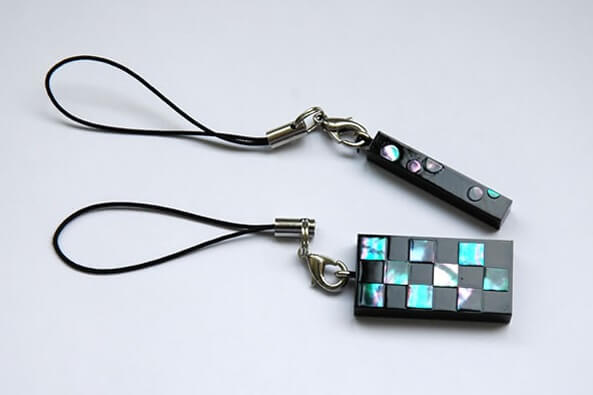 (Images: hanbunko.org, toyama-brand.jp)
These cellphone accessories have six distinct designs that expresses cherry blossoms, stardust, raindrops, lattice, stones, and lines. When you hold it in your hand, you can feel the smooth, rich texture and the tiny shells shines in various colors.
Manufacturer:Takaoka Lacquer Corporation
Prices:1,400 JPY (large; approx. $12.50 / €11) / 1,200 JPY(small; approx. $10.50 / €9.50)
Technique of Takaoka Lacquerware - "Yusuke Coating"
This technique was created by Yusuke Ishii around the end of Edo era, as his passion grew for Chinese lacquerware of the Ming Dynasty. Using rust lacquer, this technique allows crafts people to express Chinese style nature, landscapes, portraits, and such, and layers it with Aogai, silver/gold leaves, and sculpted cobblestones.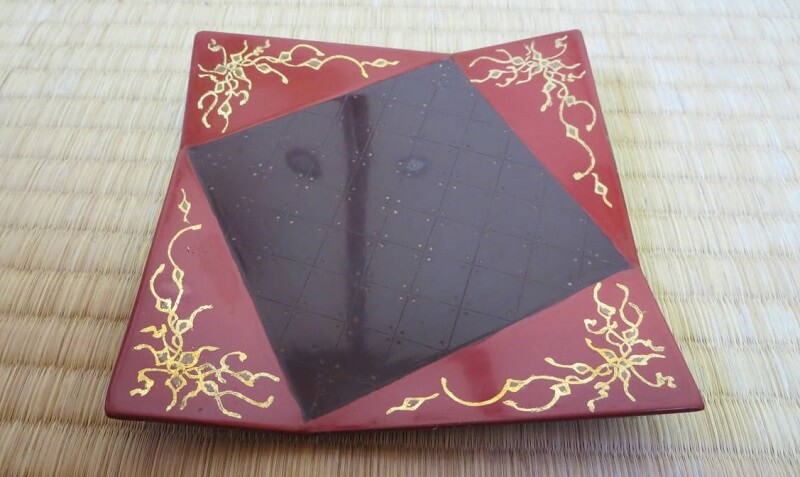 (Image: Yahoo! Japan)
Technique of Takaoka Lacquerware - "Sculpture Coating"
For the third technique, black and red lacquer are layered multiple times, and designs such as flowers, wildlife, peony, peacocks, 'Seigaiha' patterns are carved on top of Chinese thunder or tortoise shell pattern afterwards. The lacquer that has been created through this techniques look three-dimensional and has a specific gloss to it.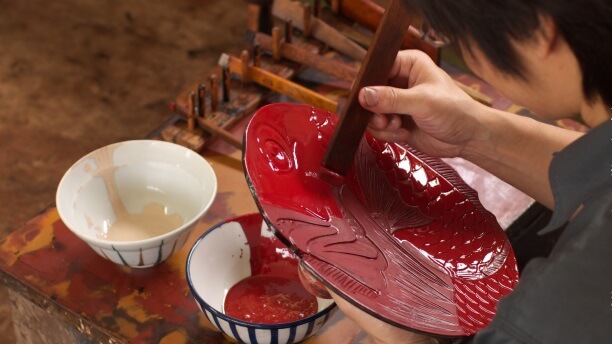 (Image: kunimoto-japan.com)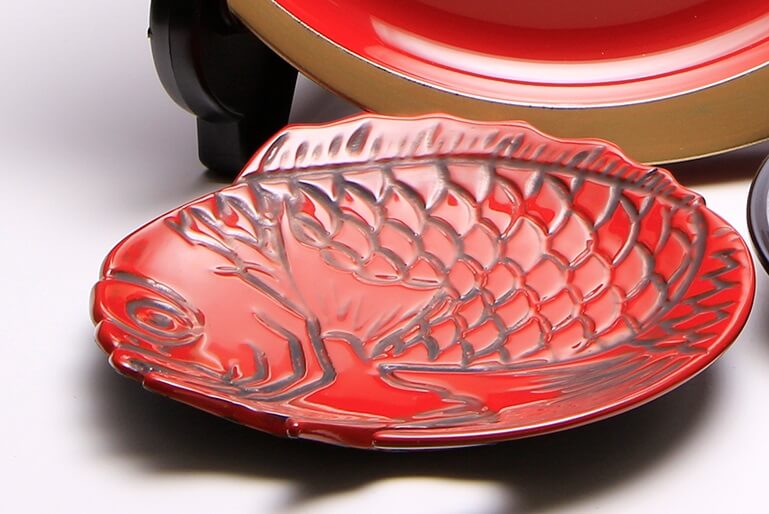 (Image: shibata-sikki.com)
This is a Higashibon, a tray used to place higashi (dry Japanese sweets) on.
Price:15,000 JPY (approx. $135 / €120)
In Conclusion
Techniques of Takaoka lacquerware was first brought in from China as a basic method of layering black/red lacquer. It changed its form over the course of time however, and has developed into a technique that still continues to be appreciated today. Even recently, 'Kawari nuri' (lacquer layered on various materials) has been recognized as an interior decor by some designers.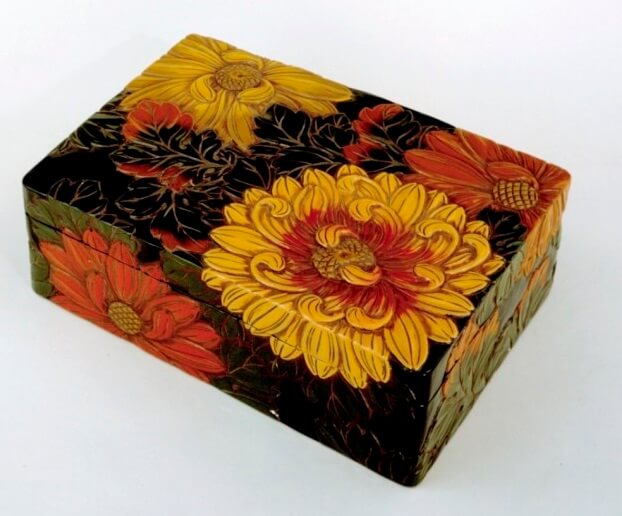 (Image: Aoyama Square)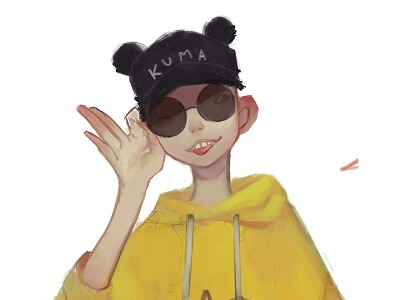 Author - Kanna
A writing/translating enthusiast and a part-time illustrator, recently graduated from Sophia University. My expertise is in media and English studies, but I am also interested in a wide variety of fields, including traditions of art in Japan and how it has changed and been preserved. I hope people find interest in Japan through this blog!
Our Products in Related Category