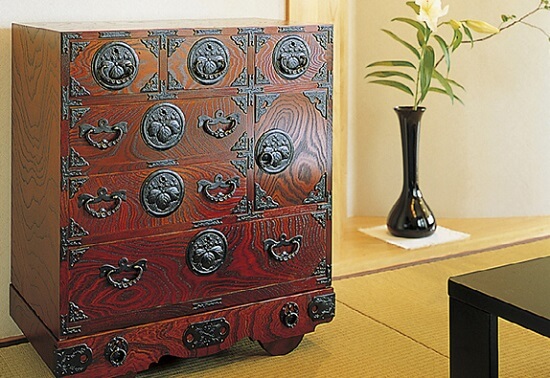 (Image: iwatekensan.co.jp)

(Image: iwatekensan.co.jp)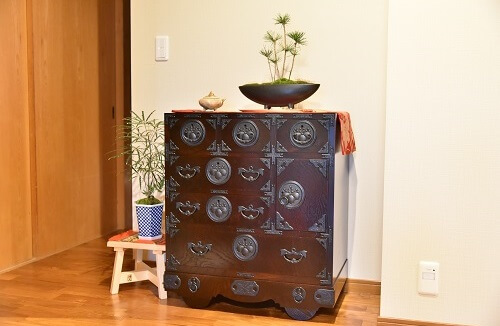 (Image: iwatekensan.co.jp)
The Iwayado Clothing Chest is a traditional Japanese antique dresser.
One of the distinctive point of Iwayado chest is metal fittings. Normally, there are 60 to 100 pieces of metal fittings decorated in one chest.  Brilliantly relieved picture patterns are combined with crystal clear dignity and bring profound feelings.
Additionally, brilliantly decorated lacquer painting is one of special features.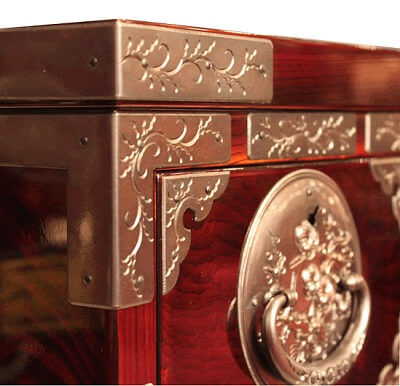 There is saying that making wood material is soul of chest. From this reason, even now, craftsman do all the processes by himself alone including cutting and preparing woods and make chest. Lacquers are painted layer by layer with great cares and then beauty of grains is emphasized by it. It has not only very beautiful appearance, but also it is extremely durable.
Wood materials, which are used in Iwayado chest, has complex procedures before making into chest. Logs are cut down and they left for drying over several years. After that, sawed lumbers are piled up and exposed into natural wind. Then, after dried enough for years and months, now it is ready to use it for making chest. You can use Iwayado chest for several hundreds of years with care because it has been made carefully and elaborately using very strong materials. Solid paulownia wood has been used in inside of the chest because paulownia wood is beautiful wood grain and has character without madness.
In this article, let's introduce Iwayado chest, one of traditional craft item, which you can buy now.
"Iwayado chest of drawers" – Low chest wood texture painting with Nambu ironwork fittings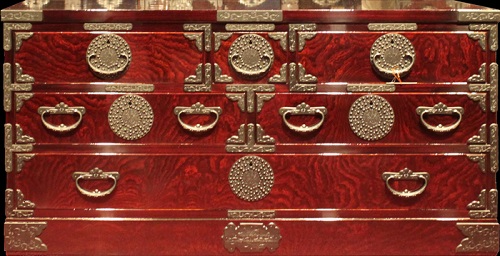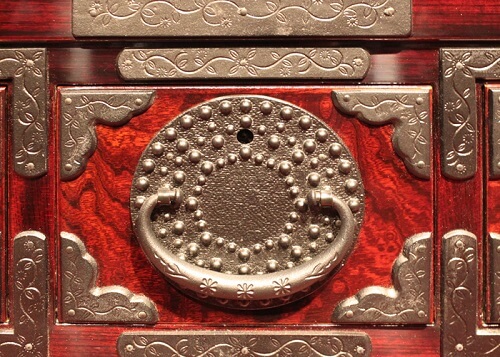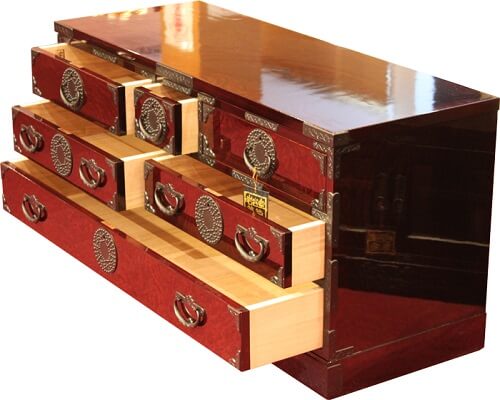 (Images: Rakuten.co.jp)
Price  616,000 JPY (approx. $5,500)
Dimensions: WDH = 1200 x 450 x 600 mm
Drawer depth: 380 mm
Materials: Paulownia tree
Lacquer painting: Wood appliance painting
Metal fittings: Nanbu ironware fittings
Painting: Wood application painting
Iwayado chest – Arranging drawer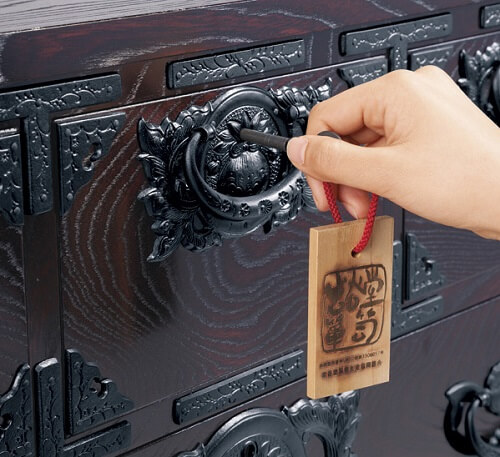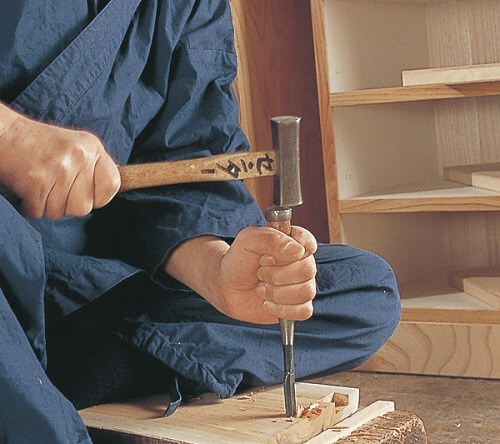 (Images: Takashimaya Online)
Price  200,000 JPY (approx. $1,850)
Dimensions: WDH = 850 x 410 x 850 mm
Weight: 40kg / 90lb.
Materials: Plywood of natural trees (Zelkova tree)
Drawer inner material: Natural tree (Paulownia)
Lacquer painting: Wiped lacquer
Metal fittings: Nanbu ironware
Iwayado chest – Wide sideboard with wooden lacquer and hammering fittings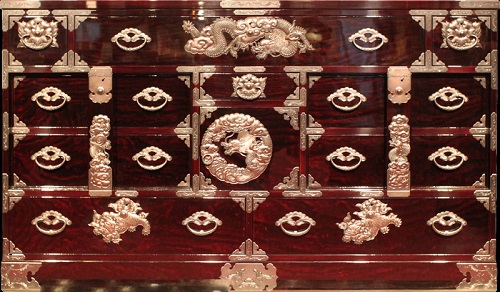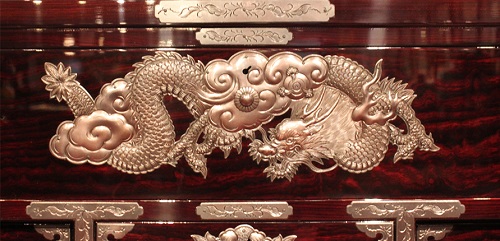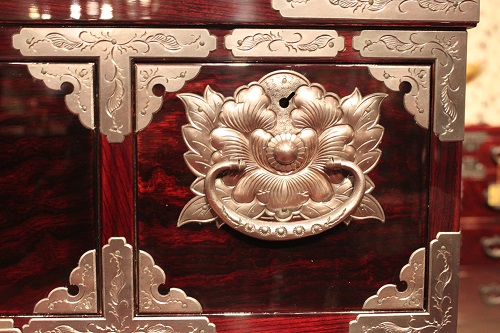 (Images: Rakuten.co.jp)
Price  2,240,000 JPY (approx. $20,000)
Dimensions: WDH = 1680 x 440 x 1000 mm
Materials: Zelkova tree, Paulownia tree
Lacquer painting: Wood appliance painting
Metal fittings: Hammering metal
In Conclusion
This is a furniture to feel real Japanese tradition in the house. It is very elegant and beauty, you can have it for long time. Because of its toughness and beauty, it is possible to use for generations. It is very natural so it never loses its unique fashion at your home. So, it can be very important inheritance in your family generation tree. One very fascinating thing about this special Iwayado chest of drawer is that only one craftsman creates from the wood material preparing to painting finish all the processes. That makes chest is so precious for everyone including craftsman and owner.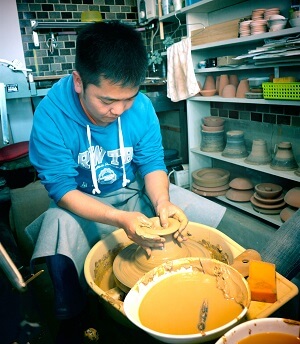 Author - huchka
I am from Mongolia and studying abroad in Japan since 2007. Currently, I am living in Osaka and studying at Graduate school of Information Science and Technology, Osaka University. I have always fascinated about Japan product's quality in so many different levels, especially in deep specific fields. Also, Japan has very interesting long historic and traditional culture and it has been kept so well within modern era that I found amazing.
Recently, I am taking interest in handmade crafts and it's background culture and history. So I can introduce what you are looking or interesting.