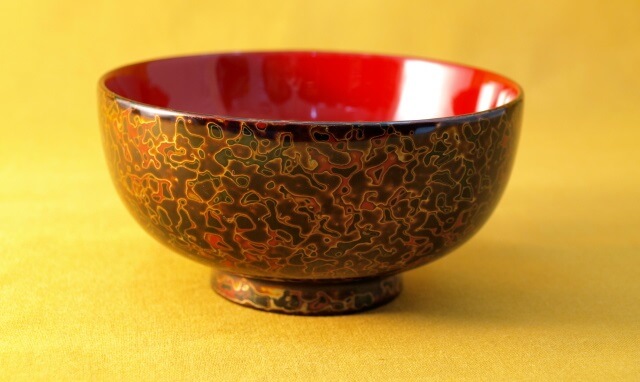 (Image: ebisuyatsugarunuri.net)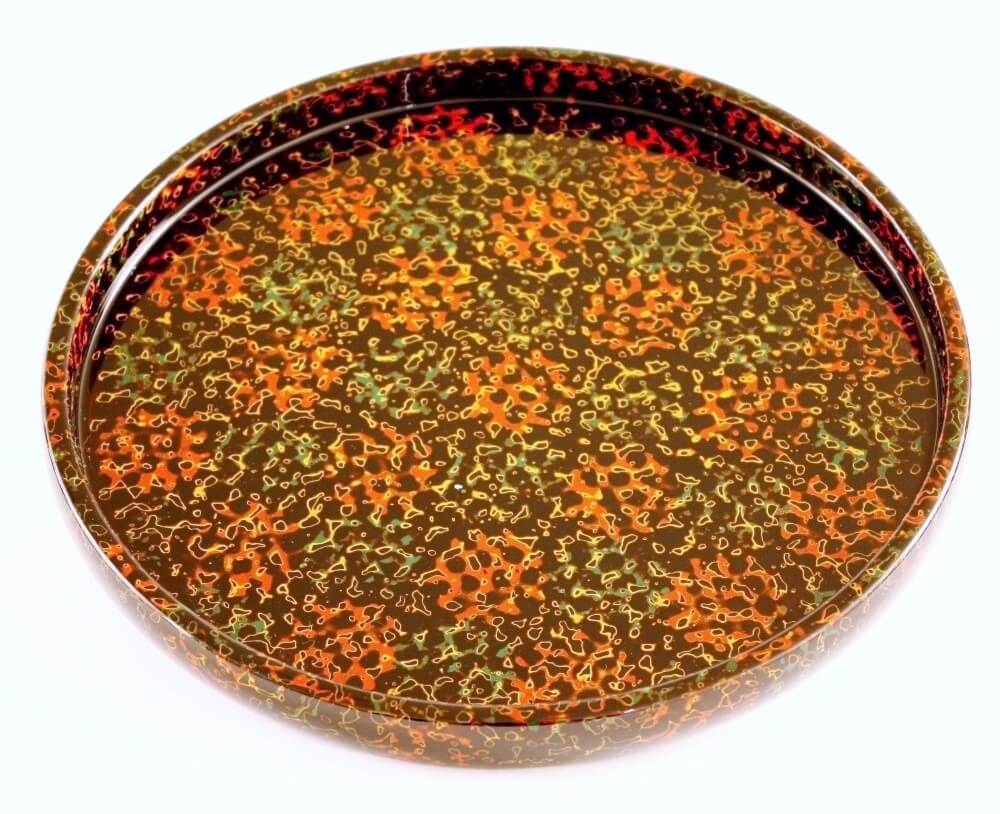 (Image: Aoyama Square)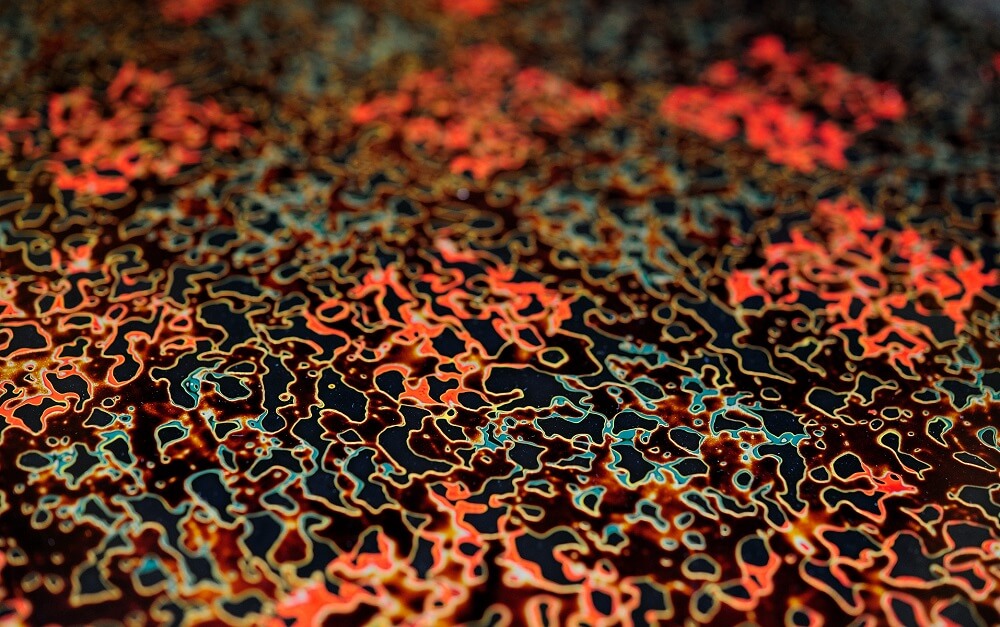 (Image: blog.goo.ne.jp)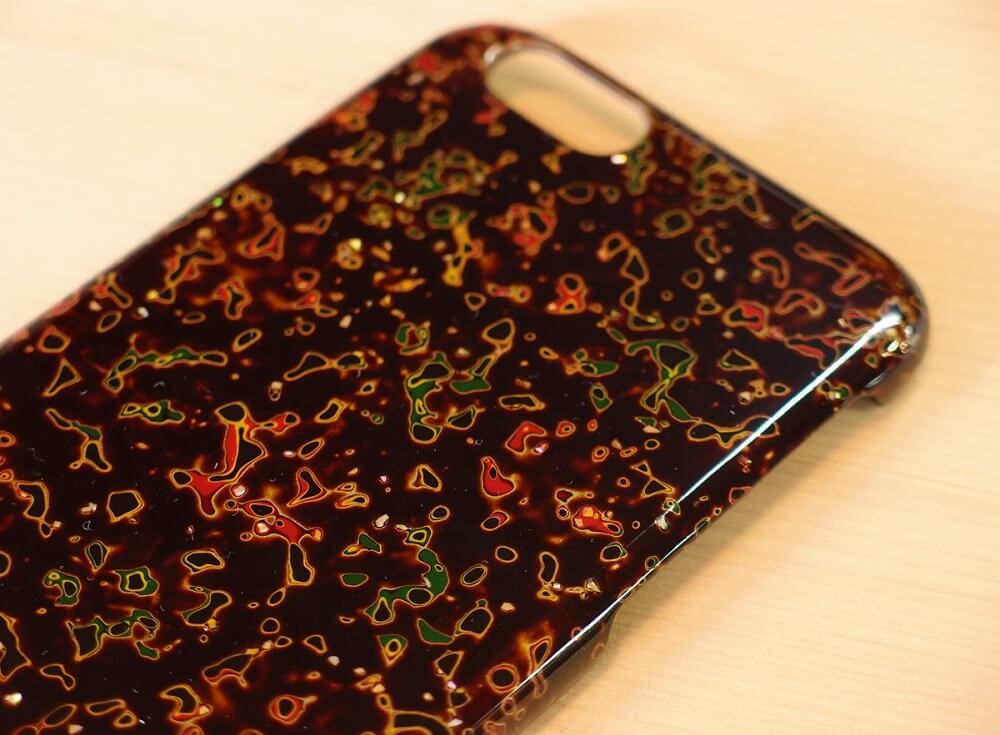 (Image: Tanaka Meisan)
Tsugaru lacquerware is a lacquerware made in Aomori prefecture.
A distinctive feature of Tsugaru lacquerware is that it is strong, even though appearance is very elegant. A unique painting technique called "Sharpening, Changing, and Painting" has been used to create beautiful pattern by painting layer by layer several times. This has also different name of "Stupid painting" because of enormous amount of time to make it. There are over 50 steps including repeatedly painting and sharpening for making gorgeous unique pattern. Tsugaru lacquerware had exhibited at Vienna World Exposition.
Three Distinctive Features of Tsugaru Lacquerware
Tsugaru lacquerware is widely known as product of Aomori's traditional craft. So, what makes Tsugaru lacquerware special and distinctive from others? We introduce 3 attractions of Tsugaru lacquerware which make it so special.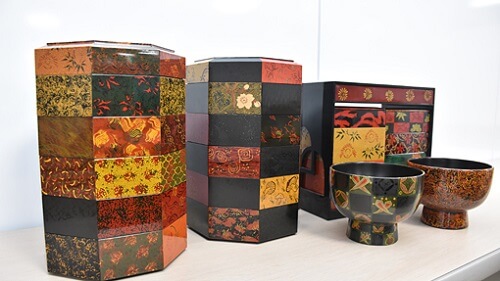 (Image: ebisuyatsugarunuri.net)
Uses Japanese Cypress (Hiba: ヒバ), which has chosen as Japan's three major beautiful woods
Aomori Cypress (Aomori Hiba) has been used to make Tsugaru lacquerware. It is selected as the three major beautiful woods in Japan. Aomori Cypress is very useful material as a wood product for crafts because it takes 3 times slower than usual trees to grow, and it is premium wood with finest texture and less distortion.
A beautiful unique pattern
In Tsugaru lacquerware, dozens of steps over several months period has been applied for making beautiful unique pattern. Some beautiful Tsugaru lacquerware could take more than 50 steps over a half year period for painting over and over. There are many fans who are fascinated by mysterious and beautiful pattern which is painted with time and effort.
A glossy without change over time
About 70% of lacquer (Urushi: 漆) is made from Northeast Forest in Japan. It has been said that many robust lacquers are come from especially Aomori's forest. Tsugaru lacquerware, which is painted by robust lacquer, has abilities such as hardly degrade over time, wet with water, and repeatedly used as chopsticks/bowls. Tsugaru lacquerware's glossy expression is beautiful, strong, and stays for long period of time.
Four Design Types of Tsugaru Lacquerware
In fact, flexibility of designing new patter is extremely high in Tsugaru lacquerware pattern painting. So, it is possible to make new pattern, color, and designs by applying these traditional techniques into full usage of the Japanese beauty of lacquer.
For that reason, Tsugaru lacquerware, which has reflection of deep commitment of craftsmen, have introduced various kinds of painting techniques over the history.
Currently, 4 types of painting techniques are used in Tsugaru lacquerware mainly.
Tang Coating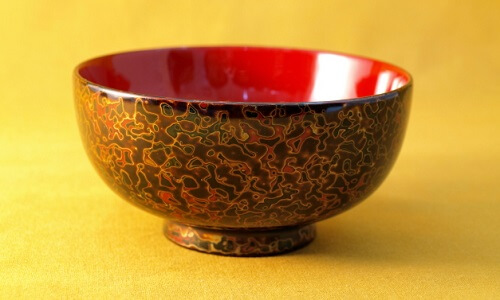 (Image: Ebisuya = all following types)
"Tang" of "Tang Coating" means "unusual and excellent thing." "Tang Coating" is one of the Tsugaru lacquerware making technique and have popularity with many production steps.
In this technique, lacquerware is dried and painted layer by layer for several times, and after that, sharpen the pattern, and gloss to finish it. Enormous amount of time is taken for this technique, so that every pattern is unique. And it is one of the pleasures for being able to have only unique item in the world.
Nanako Coating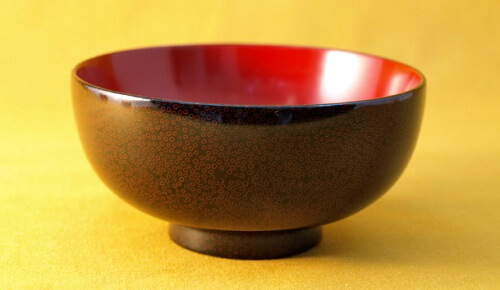 "Nanako" of "Nanako Coating" means "fish egg." It is a kind of sharpening and painting technique which is elegant and popular among women. Adorable little rings are applied with very delicate technique. It is unique taste of attractiveness with mixture of luxury and beauty.
Crest Coating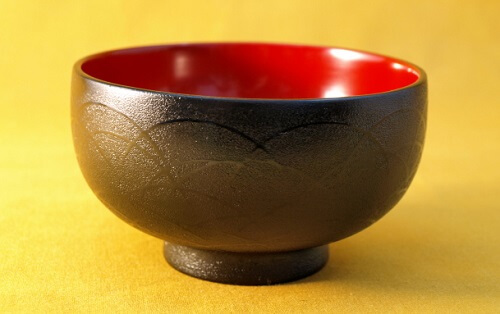 "Crest" of "Crest Coating" means "Rice husk" in Tsugaru area. Black lacquer's presence is impressive, and professionals with astringent taste like to use them.
It has been said that using black lacquer and charcoal for painting is very special technique and there are is no other coating techniques in Japan. Black lacquer with combination of robustness and astringency shows real strength of Tsugaru lacquerware.
Nishiki Coating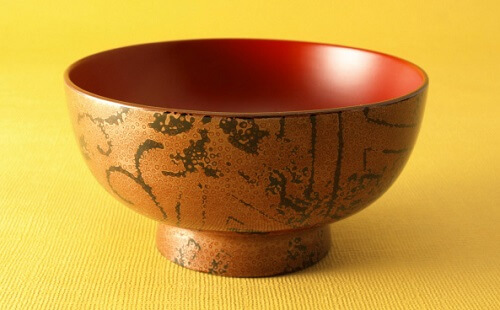 "Nishiki" coating shows glittering Nishiki as the meaning says. This is the newest one among those 4 techniques, and gorgeous and precious painting technique.
Nishiki pattern has painted on part of Nanako Coating, with distinctive golden color. Patterns are decided by design and color usage and requires highest level of technique. Currently, there are very few craftsmen who can paint Nishiki, and it is gorgeous painting with high value.
Introduction of Tsugaru Lacquerwares For Sale
Let me introduce Tsugaru lacquerwares which are actually you can buy.
Round Tray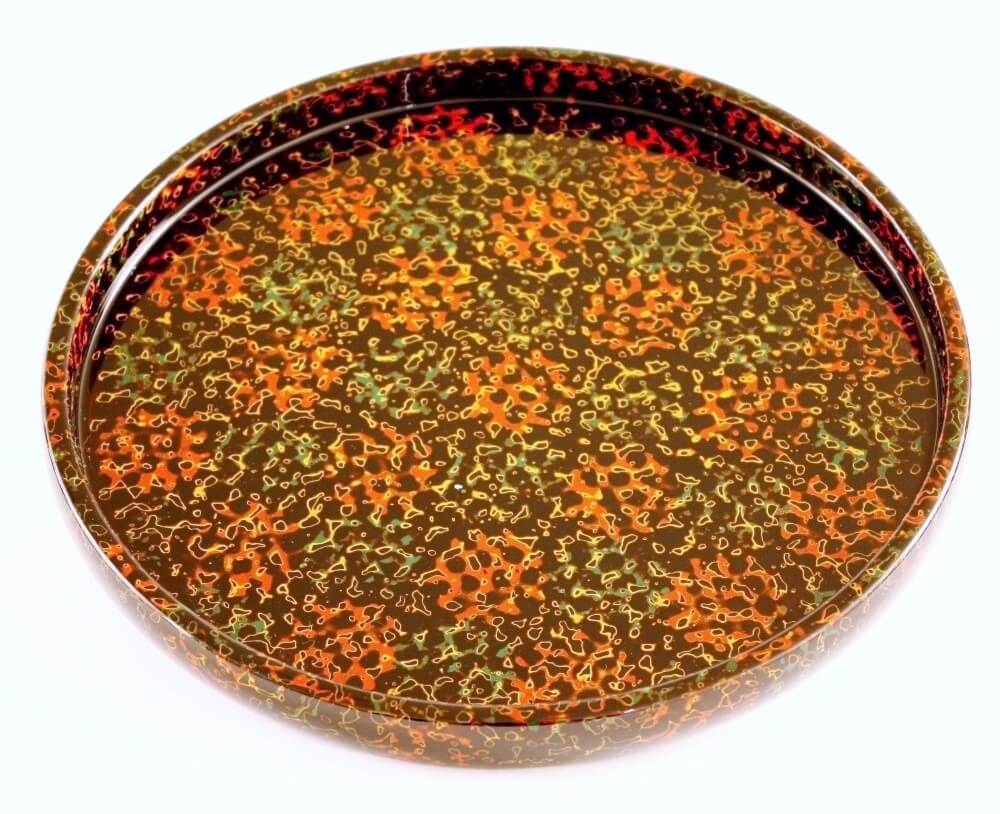 (Image: Aoyama Traditional Crafts Square)
16,200 JPY (approx. $150), 24cm
This Tang Coating, with special characteristics, is representative product among Tsugaru lacquerware.
Cypress wood is used for creating base body mainly. Afterwards, lacquer of each colors are painted and sharpened by layer using "Trimmers" to make patterns.
iPhone Case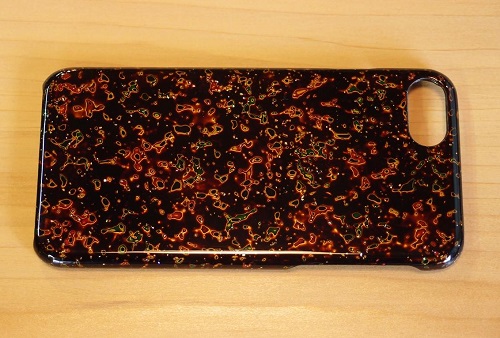 (Image: Tanaka Meisan)
8,640 JPY (approx. $78), For iPhone X, 8 and 7
For bringing modern Japanese style to iPhone. Lacquer has unique feeling of handling, so it is popular for birthday presents. Each iPhone case is different and unique because it is handmade product.
Soup bowls for couples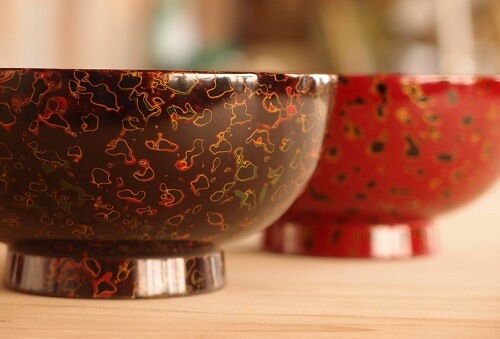 (Image: Tanaka Meisan)
18,900 JPY for a pair (approx. $170), 12cm each
Soup bowls for couples is made by using traditional Tang coating arrangement and red color. The elegance of Tsugaru lacquerware makes every meal so delicious and gorgeous.
Conclusion
This lacquerware seems like very elegant and beautiful products. Especially, each of products require tremendous amount of effort and time to make it. So, craftsmen's commitment and efforts are absorbed by each Tsugaru lacquerware which makes very unique about it. It should be very good present to someone you really care. It is really good news that there is iPhone case painted with lacquers.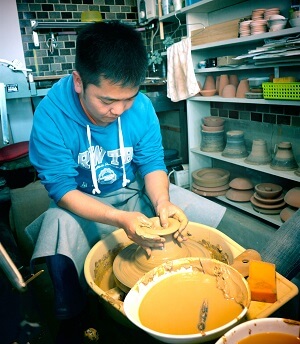 Author - huchka
I am from Mongolia and studying abroad in Japan since 2007. Currently, I am living in Osaka and studying at Graduate school of Information Science and Technology, Osaka University. I have always fascinated about Japan product's quality in so many different levels, especially in deep specific fields. Also, Japan has very interesting long historic and traditional culture and it has been kept so well within modern era that I found amazing.
Recently, I am taking interest in handmade crafts and it's background culture and history. So I can introduce what you are looking or interesting.
Related Products