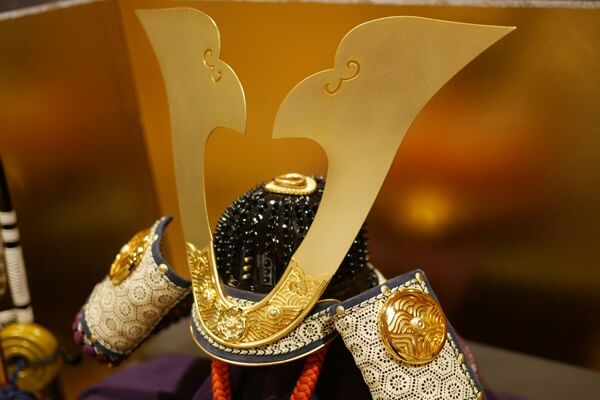 Samurai are the name of representative warriors in Japan. Samurai armor is what Samurai put on for wars. Those armors' designs and appearances are so unique. It's a famous story that the mask of Darth Vader (from the Star Wars movies) modeled a Samurai warrior's helmet! However, nobody uses Samurai armor currently. This is completely different from Kimono, which is also a traditional cloth and still some people put on usually.
Having said that, though, a research indicates more than 67% of Japanese people still possess Samurai armors. They display ornamental helmets called Kabuto or samurai dolls at home on the children's day, wishing their kids grow up strong and success in their lives. For this purpose, Japanese people buy at least one set of Samurai helmet.
Have you seen those Samurai helmets or armors sold in shops? Where they buy it and how to select one? In this article, we introduce how to and where to find Samurai helmets for sale. Also, we explain how Japanese people display them.
What is Samurai helmet and armor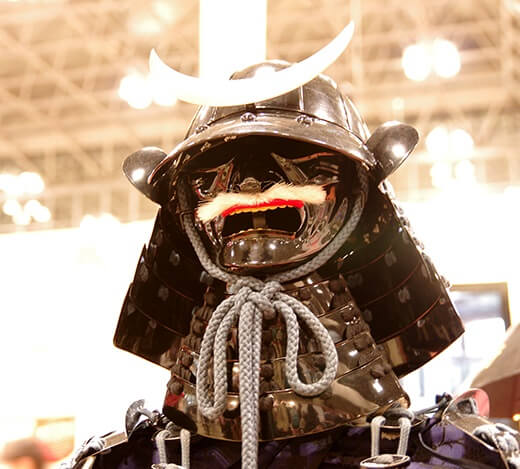 Samurai helmet (also called "Kabuto") had used by ancient Japanese warriors, and in later periods, they became an important part of the traditional samurai armor worn by the samurai class and their retainers in feudal Japan.
The kabuto was an important part of the equipment of the samurai, and played a symbolic role as well. Samurai in higher rank displayed their power and dignity by wearing notable decorations on their helmets.
Materials
The most popular material for samurai helmet is steel. Sometimes, leather and wood are also used for it. For decorations of the helmets, gold, silver and copper are used in addition to leather, wood and Japanese paper "Washi". (See next section for decorations and parts of helmet)
Parts of Samurai Helmet (Kabuto)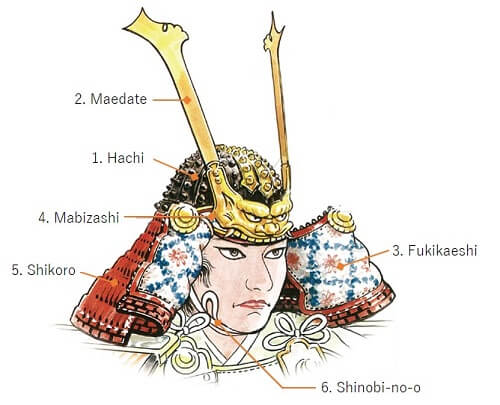 Hachi – a dome composed of overlapping elongated small plates
Maedate – a crest attached at the front of helmet, to show owner's power and strength.
Fukikaeshi – wing-like or ear-like projections to the sides of the Hachi
Mabizashi – a brim or visor on the front of the Hachi
Shikoro – a suspended neck guard composed of multiple overlapping lames
Shinobi-no-o – chin cord often used to secure the helmet
Although samurai helmets came in different shapes and sizes according to the need and liking of the warrior and according to the time and age. However, a typical kabuto was built with a central dome which is constructed from riveted metal plates ranging from one to three hundred in number. These plates are put together in a radiating manner, seemingly stemming from the top opening on the kabuto. These riveted metal plates could be changed, in accordance with the needs and likings of the individual Samurai warrior.
Another prominent feature of the samurai helmet is a suspended neck guard used alongside the helmet, the guard was called "Shikoro" and was comprised of up to seven lacquered, semi-circular metal parts. These were then attached and tighten with the help of leather or silk lacings.
Side Story 1: Model of the Mask of Darth Vader in the Star Wars Movies
The mask and helmet of Darth Vader, the famous character in the movie "Star Wars" was modeled after the black-lacquered armor with five pieced cuirass used by Masamune Date.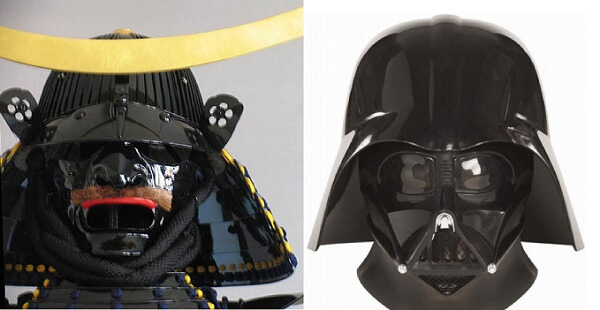 Masamune Date is the seventeenth head of the Date clan. In spite of facing an infamously traumatizing childhood, he rose to prominence as the most dominate ruling power in Ohshu. He is reputed as one of the wisest Samurais of the era, biting back his ambitions to stay as one of the wealthiest independent rulers of his time.
Side Story 2: The Word "Kabuto" in Japanese Sayings
"Kabuto" Meaning Samurai Helmet is used in several Japanese sayings, which indicates how the kabuto or samurai helmets represents tradition of Japanese culture.
The Kabuto undoubtedly played a very prominent and long-lasting role in depicting the ancient war code of the Japanese warriors, however, the symbolism of samurai helmet far surpassed its military application and seeped into Japanese wisdom and everyday sayings. One Japanese saying "Katte Kabuto no o wo shimeru", translated as 'tighten your Kabuto after winning', points towards the wisdom that one must not adhere to rest very soon after one's victory as this could be a loss in and of itself. Another such phrase of Kabuto symbolism is "kabuto wo nugu" which literally means 'take off the kabuto', having used to depict surrender or sometimes defeat in a war.
How to use Samurai helmet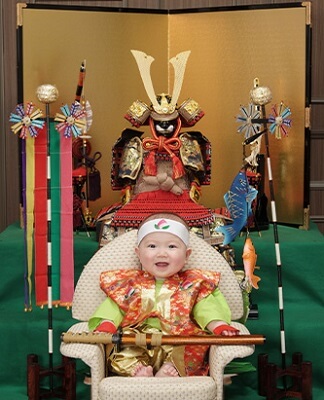 Typical usage of Samurai helmet in Japan is for the Children's Day which is in May 5. On the day, Japanese families who have boys display Samurai helmets (Kabuto) or samurai armor dolls at home.
The purpose of the Children's Day is to celebrate children's happiness and to respect their personalities. The day was originally called "Tango no Sekku" or Boy's Festival. People displays Samurai helmets or armors in order to wish the healthy growth of the boys in the family, because those Samurai's arms are symbols of strength and vitality.
Although there's no official rules to display Samurai helmets and armors, there are several types of displays sold in the markets. Note that all those displays are replica of Samurai helmets and armors; there is few people who have Samurai arms actually used in ancient wars. You can see genuine arms in museums.
Types of Samurai Helmet, Kabuto and Armors
1. Full Set of Samurai Armor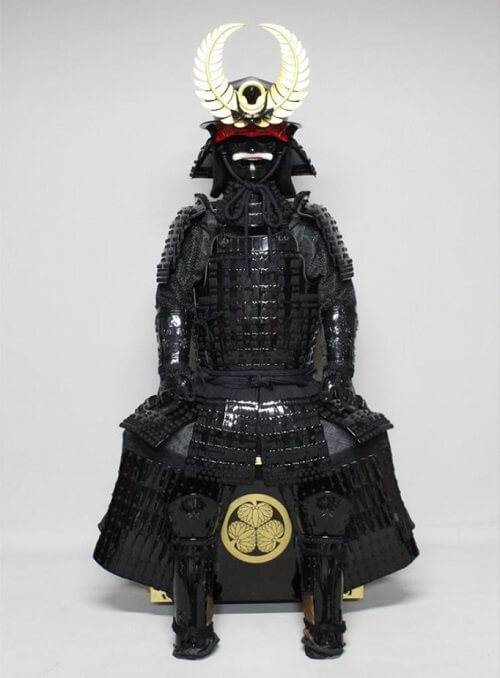 This type of products are the most gorgeous displays for Boy's Festival. Motif of these armors are the ones used in period of the warring states (15th-16th centuries). Popular products are replicas of the armor of Ieyasu Tokugawa and Masamune Date, who are stars in the era.
Although products in this category is full-fledged and realistic, shortcomings are high price and the size of the products. You need a space to display; it needs a space of 1.5 square meters.
2. Wearable Samurai Helmet Display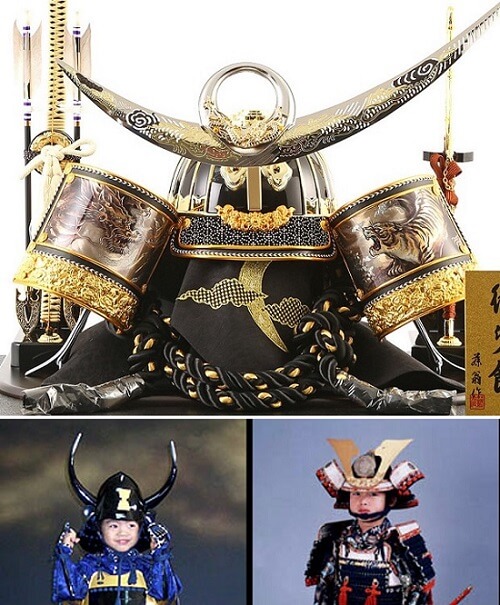 Products in this category is also made gorgeously. Details are replicated from the original helmets used by famous samurai warriors, and elaborate decorations are also made by the materials such as leather, paperwork or sometimes gold.
Some products are designed and made so that kids can actually put on. Dimensions of these products varies and are much smaller than full-set of armors, so you can choose one fit to the place you'd like to display.
3. In-case Samurai Helmet Display

Some helmets are set in transparent cases to display. Helmet itself may be same to wearable ones introduced above, but there are some advantage to display in case. You can avoid dust put directly on helmets. Because helmets are complex objects made of various materials, it may be hard to clean. For this type of products, you can easily remove dust by using cloths or dusters.
Where to find Samurai helmet for sale
You can find those Samurai helmets, armors and other displays for the Children's Day in various places. Shops of manufacturer, department stores for expensive ones, internet shops, hobby shops and even in super markets.
However, samurai helmets and armors are a seasonal product, so you may not be able to see them sold once the season ends. Typically, those shops start selling samurai helmets after the Girl's Festival in March 3, and end after the Boy's Festival in May 5. You need to go to those stores in March or April to shop them. In addition, popular models may be gone soon in the shop.
Some internet stores may keep selling after the season, but they may not have in stock products because of low demand.
Points to Choose the Best Samurai Helmet for You
1. Determine your budget
Price range of Samurai helmet or armor products are very wide. When it comes to extremely gorgeous product made by master artisans, it can be more than ten thousand dollars. On the other hand, you can still find nice ones for a few hundred bucks. It's important to set your budget on how much you're willing to pay for it.
2. Measure the place you display
Even a Samurai helmet product may be larger than you think. It's important to measure where you'd like to display before you start choosing ones. Generally speaking, you need a space of 1.5 square meters to display a full-size Samurai armor. Samurai helmet products have width from 30cm/12in to 70cm/28in.
3. Recommended designs
Actually, there is no right answer about design to choose. Nor is there official way to display. So, you can choose any one you like, and you can display anyway you want.
Some may choose one by the design of crest, some others may choose one of his/her favorite Samurai warrior, and so on.
Having said so, it may happen that popular design are gone quickly at the beginning of the season. In the shop, it may not be easy that same product becomes in stock again once sold out. In addition, this kind of seasonal item tends to change its price.
In our shopping site, OrientalSouls.com, we keep almost all products throughout the year for constant prices. Feel easy and enjoy your shopping in our site anytime you want to.
DIY: Samurai helmet paper craft
You can make paper craft Samurai helmet in just a couple of minutes!
It is a great traditional model that even a kindergarten kids can make. Simple to make and fun to put on. What you need is just a piece of square paper.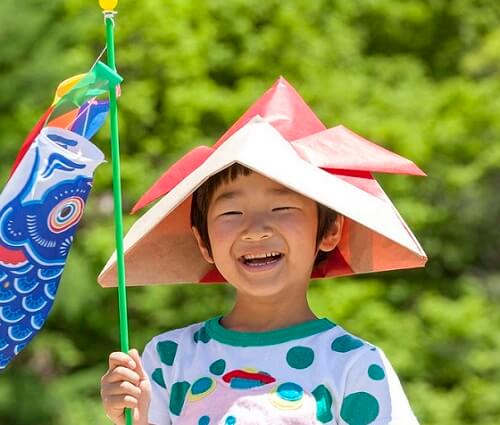 To make one, please follow the instruction below: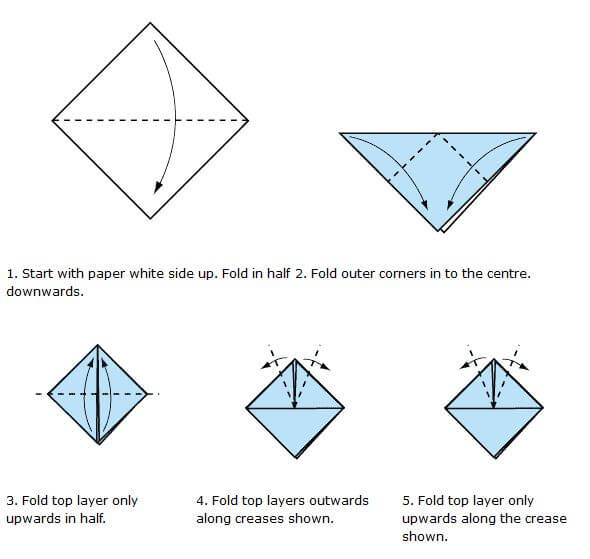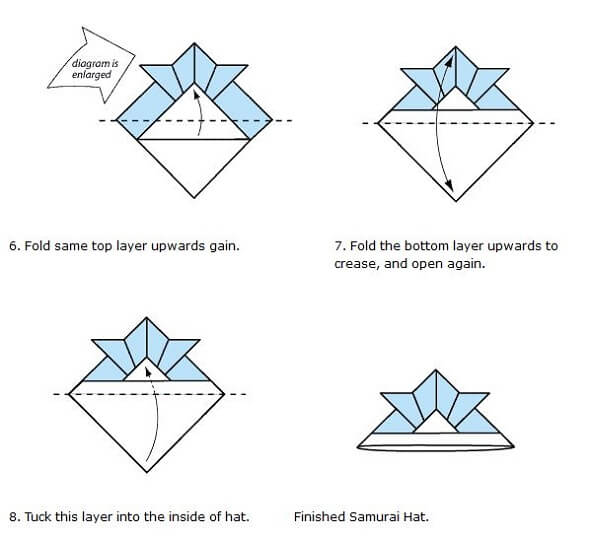 At last, please let us introduce our products of Samurai helmet.
Many models are replica of a famous Samurai warriors. And all products are all handmade by Japanese artisans.
Please see details in product pages! We have many photos for details of each product.
Cheers!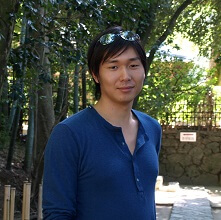 Author - Hiro
Lived in Kyoto in school days, I was impressed by profundity of history and tradition of the city. Had a job to join the three major festivals of Kyoto: Aoi, Jidai and Gion festivals. Love Kyoto and Japanese culture.
Manager of OrientalSouls.com, selling items of Japanese culture, tradition and craftsmanship. I'll introduce interesting information about Japan!
Related products: Samurai Armor and Samurai Helmets