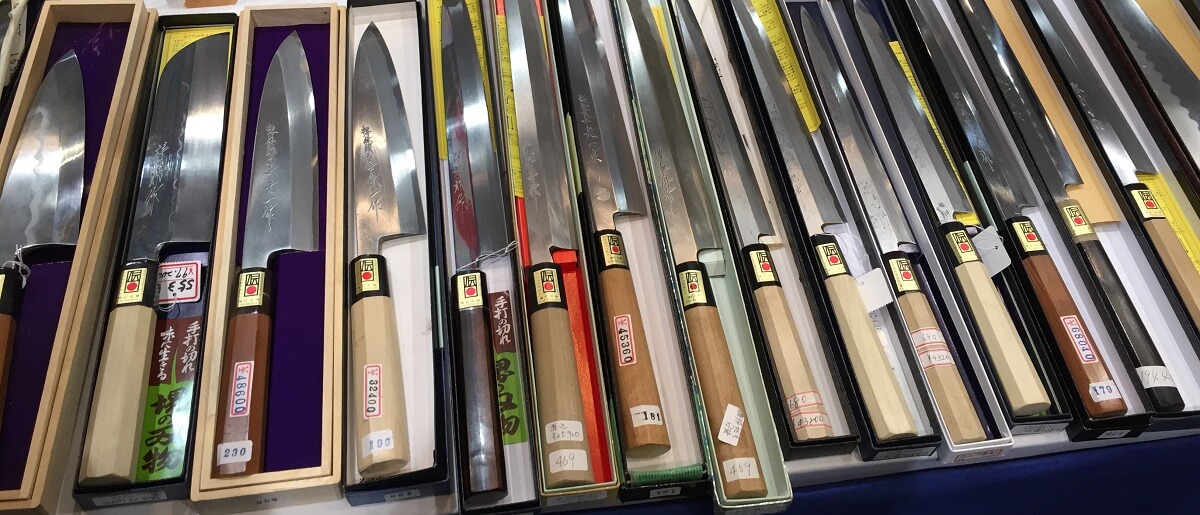 Handle is a part of kitchen knife which covers blade and enable to grab by hand. Because you cannot grab blade directly, handle is only the part you touch while using the knife.
Blade is, especially in case of traditional Japanese kitchen knives, just pushed into handle by mallet. However, it won't come out under general using conditions because force won't be applied to that direction.
Handle becomes run out as you use for a long time. This is why traditional Japanese kitchen knives are made to be able to exchange handle easily.
Kinds of Knife Handles and Materials
Handles have various shapes. There are two types: one is mainly for western kitchen knives and another one is for Japanese kitchen knives. For western knives, handle is fixed to a knife with rivets, followed by waxing to give it shine. For Japanese knives, handle is made of wood and a hole is made at the center of the handle. Heated knife blade is pushed into the hole by mallet.
Handle of a Japanese Knife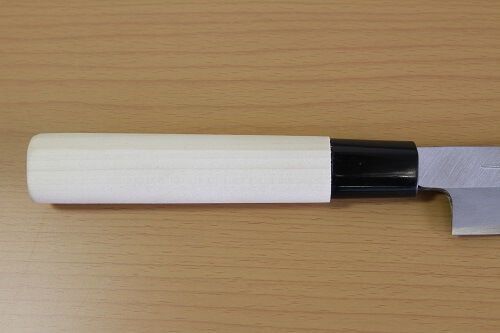 Handle of a Western Knife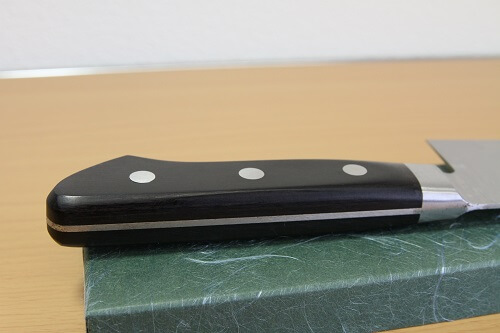 Most of the handles of Japanese kitchen knives are made of wood. Several kinds of wood are used for handles. Japanese white-bark magnolia is the most major wood used for handles. Yew trees (Taxus Cuspidata) or blackwood (Ebony) are sometimes used for expensive/high grade kitchen knives.
Here is a movie in that a craftsman of Sakai is attaching knife handle.
How expensive handles differ from the others?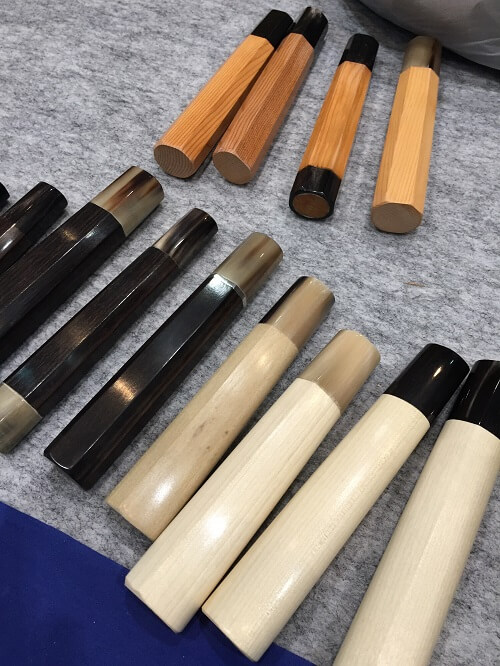 For expensive or higher grade kitchen knives, an appropriate grade of knife handles are used. They are made of high grade materials such as yew tree or blackwood. Yew tree is a precious wood which has bacteriocidal action and has beautiful wood pattern, so it is preferable used for medium to high grade knives. Blackwood or ebony is more precious than yew and has literally natural black color, therefore preferable applied to the highest grade knives.
In addition, as you may aware comparing the two handles above, material of handle caps are different for expensive handles. While plastic caps are used in most cases, water-buffalo horns are used for high grade knife handles. Most of handles made of yew trees and ebony have that water-buffalo horn caps. As you can see, there are no gap between wood handle body and horn cap. To make the handle that smooth, craftsman need at least three times of grinding and at least two times of buffing processes; so, using water-buffalo horns costs much compare to plastic caps. However, it is more for decorative purpose than for practical reasons; water-buffalo horns are not necessarily durable than plastics. Horns may be cracked when roughly handled.
Wood material of handle body and the material of cap differ. This is the main reason why high-grade handles cost much.
In addition, there is another difference in terms of decoration. Higher grade handle sometimes has a ring between wood handle body and cap. Please refer to the beautiful handle below.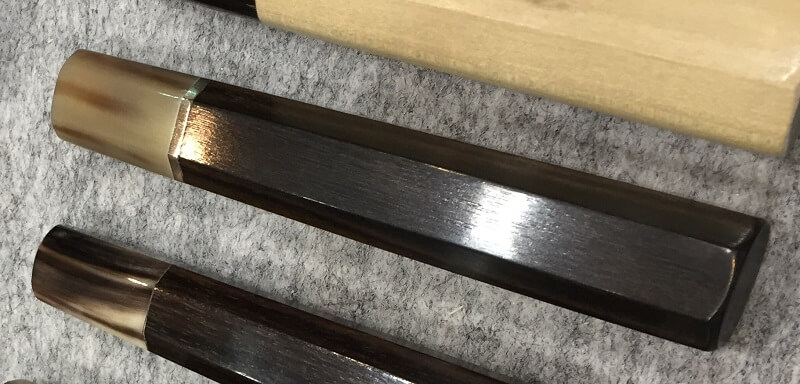 This is a made-to-order handle by a customer in Beverly Hills in California. A silver ring is attached between the octagonal-shaped ebony handle body and the water-buffalo cap. It costs more than $100 just for the handle.
Which handles professional chefs choose?
First of all, there is no rule among chefs what kind of knives they should use. So, they use whatever appropriate for their purpose.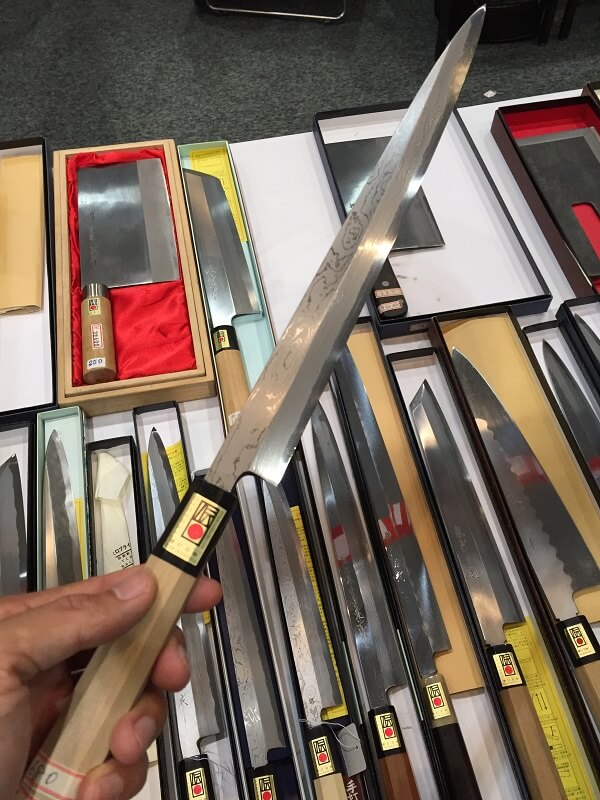 Generally speaking, chefs in Japan prefer to use most common handles; it is the handle made of Japanese white-bark magnolia and plastic cap. The reason for it is that professional chefs who hardly use knives every day have to change knife handles every half to one year. Wood handles tend to be worn out as they use, and water may cause rust of blades especially inside handles. Therefore, professional chefs prefer to choose ones that are easier to exchange handles frequently. Japanese kitchen knives are designed to make it easy to exchange handles, and they can get a new handle instantly in case they use most common type. By changing handles periodically, they can keep their knives sanitary and check the state of their knives.
In case you choose your knife for home use, you don't need to change handles that frequently as chefs do. Most people don't change knife handles even once under general using conditions. So, it's okay to choose common handle made of white-bark magnolia, or you can choose more durable and good-looking yew tree or ebony handles.
Hope you can find one you cherish for a long time!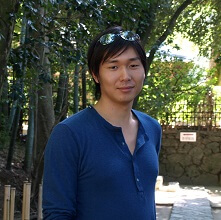 Author - Hiro
Lived in Kyoto in school days, I was impressed by profundity of history and tradition of the city. Had a job to join the three major festivals of Kyoto: Aoi, Jidai and Gion festivals. Love Kyoto and Japanese culture.
Manager of OrientalSouls.com, selling items of Japanese culture, tradition and craftsmanship. I'll introduce interesting information about Japan!