For Japanese calligraphy Shodo, one uses writing brush and Sumi ink to write. However, equipment for Shodo is not enough for them. You need a tray to keep the ink (called Suzuri), brush pillow (to avoid Sumi ink to stick to table), tool box to keep delicate brush etc. To enjoy Shodo calligraphy writing, you need to prepare equipment, and you also have to wash, dry and tidy up what you've done. Frankly, it's quite a work to enjoy Japanese calligraphy.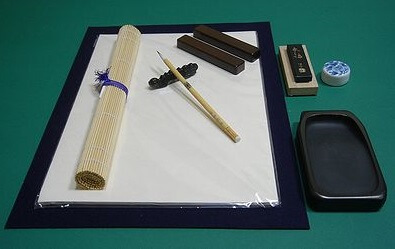 That's totally fine if you love to do Japanese calligraphy Shodo, or you're a genuine calligrapher, but you may feel it's too much to try some calligraphy writings. It's also the case for Japanese. We sometimes need to write calligraphy just for a sentence; it's a great idea for write celebrating letter in Shodo calligraphy, or address on an envelope of gift money (Japanese have a custom to give gift money occasionally) is supposed to write by calligraphy. To meet these demands, stationery makers have developed a convenient pen, what we call "Fude pen" meaning writing brush pen.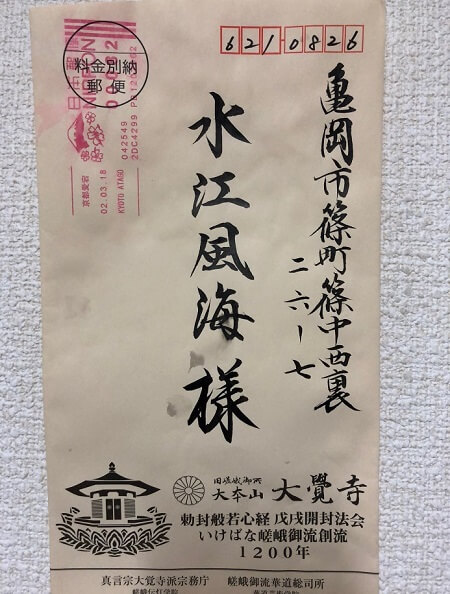 Writing brush pen literally has both features of writing brush and ballpoint pen. You can feel like writing by ballpoint pens, but written characters look like ones by a writing brush. Unlike writing brush and Sumi ink, you don't care about refill ink while you write. Yes, you have to put your brush in ink frequently just like a quill pen. Of course, you don't need that troublesome preparation and cleaning up of calligraphy equipment. You can even take the "Shodo set" with you, and write calligraphy whenever you want to.
In this post, I'll introduce this amazing equipment writing brush pen.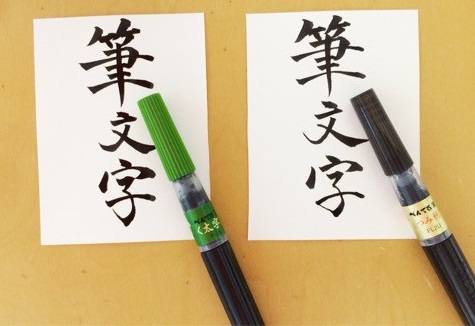 How to Use Japanese Calligraphy Pens?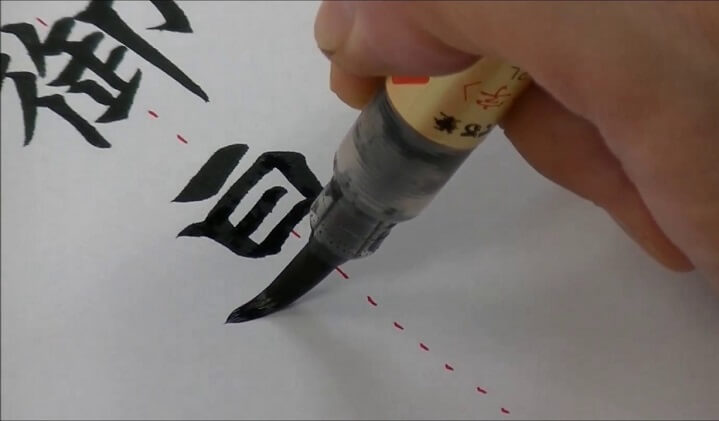 Fude pen, or writing brush pen, has only good points of writing brush and ballpoint pen. It's quite easy to use. What you need to use is just hold and put off a cap. Writing feel of the writing brush pen is, however, unlike ballpoint pens. Its nib is thick and soft so that writer can write characters like calligrapher.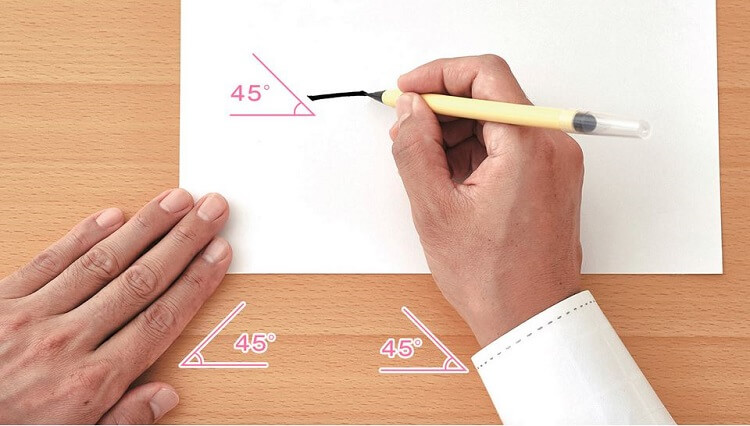 An important point to use writing brush pens is to keep 45 degrees. You should keep nib angles to be 45 degrees. And you should keep angles of your dominant arm and of the other hand to be 45 degrees as well. (see the image above) Try to keep that angle while you're writing.
Other than that, you can write as you feel. Sumi ink that is necessary for calligraphy writing is already set in the pen body. It gradually comes out as ballpoint pens, so you can keep writing as much as you want to.
Product Variations of Japanese Calligraphy Pens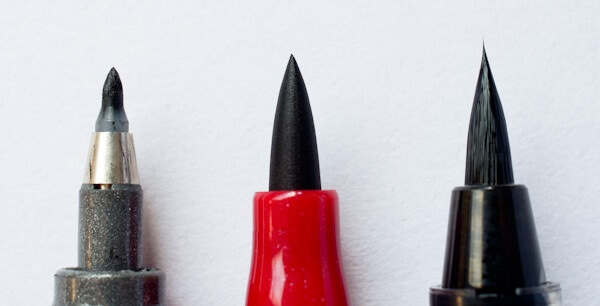 Genuine writing brush has variations in tips of brushes so that calligrapher can choose the best one that can express what s/he want to. Likewise, writing pen brush has some variations in nibs. The image above shows three major types of nibs. One is closer to the writing feel of ballpoint pen, one is closer to the writing feel of brush, and the last one is in between. The closer writing feel is to writing brush, the more technique of calligraphy writing is required.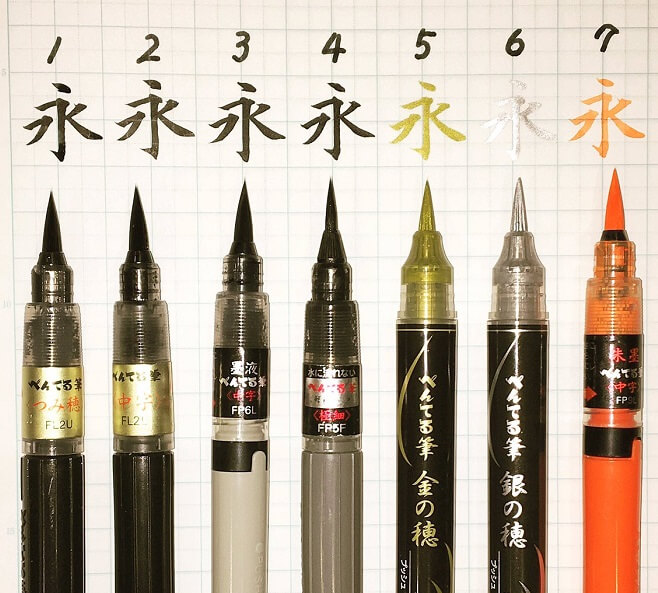 In addition, there are variety of writing brush pens among a nib type; there are variations in thichness, or there are different colors such as red, gold and silver, in addition to the basic color of black. It's price is several hundred yens (around $5/€4), so you can choose some interests you and just try.
It's Also Possible to Write Drawings by Calligraphy Pens
Finally, let me introduce some arts done by writing brushes.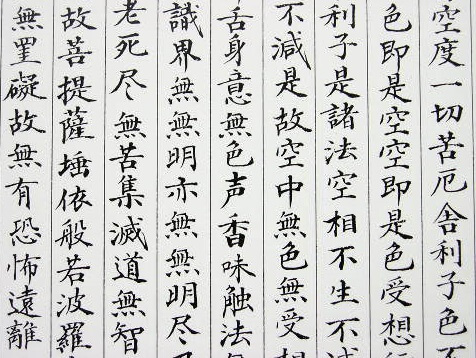 This is a part of the Buddhism spell written by writing brush pen.
Original work is basically done by genuine calligraphy equipment, it's possible to duplicate similar spell by this easy-going pen. If you're new to this kind of pen, there are practice sheets found on web search!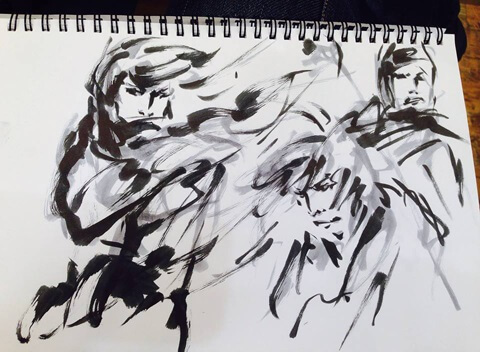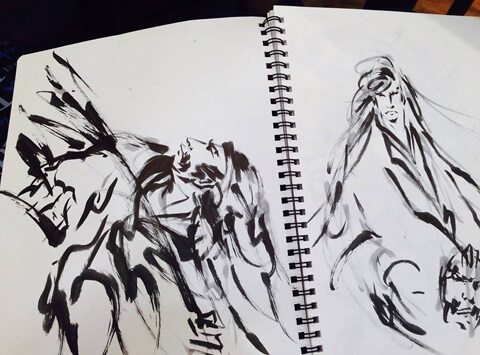 These drawings are all done by writing brush pens. With unique writing feels and ink, you can express this kind of dynamic drawings making full use of tint and thickness of lines.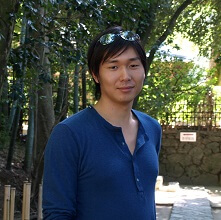 Author - Hiro
Lived in Kyoto in school days, I was impressed by profundity of history and tradition of the city. Had a job to join the three major festivals of Kyoto: Aoi, Jidai and Gion festivals. Love Kyoto and Japanese culture.
Manager of OrientalSouls.com, selling items of Japanese culture, tradition and craftsmanship. I'll introduce interesting information about Japan!
You May Also Be Interested In...