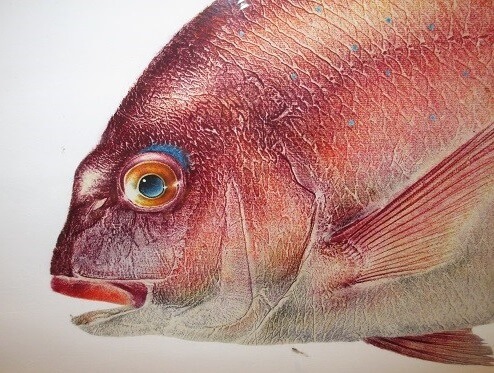 Gyotaku is a technique to copy the fish you caught. It copies every detail of your fish basically on paper. The technique was developed in hundreds of years ago when there was no camera. To demonstrate a big fish one caught, people transcribed the fish by paper and ink. Now, the Gyotaku technique attracts people as a Japanese traditional art.
Why People from Abroad Come to Anonymous Resident Section?
Groups of people from abroad appeared here at a house in a resident section in Saitama Prefecture, about 55 km/35 miles away from Tokyo and not a famous sightseeing spot. When they entered the house, they said with shining eyes,
"So cool!!"
What they saw there were drawings of fish… no, they are all Gyotaku fish prints. The purpose of the groups of people is to see the Gyotaku prints.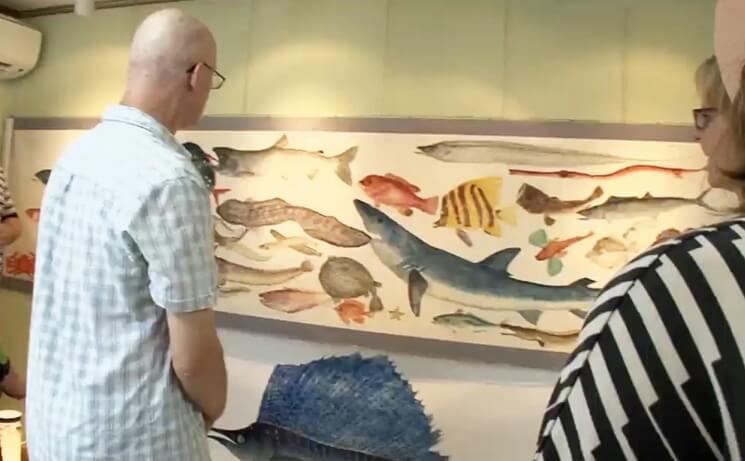 Among those Gyotaku, there is one over 10meter in length on which a giant squid is printed with cooperation with the National Science Museum. The print took more than a month to complete.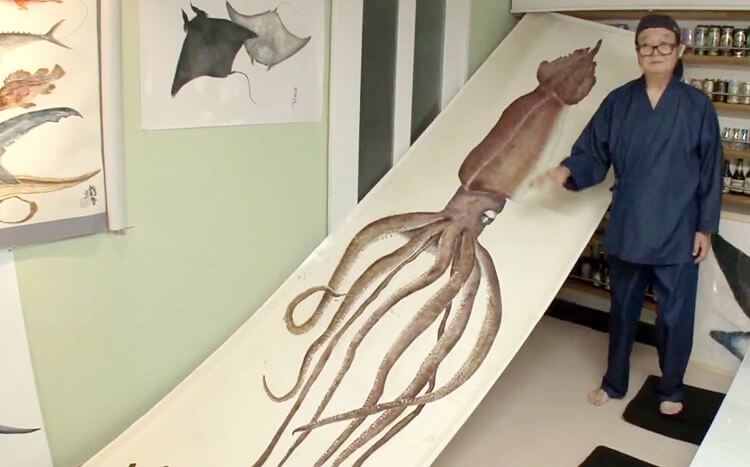 What Is Gyotaku Fish Print?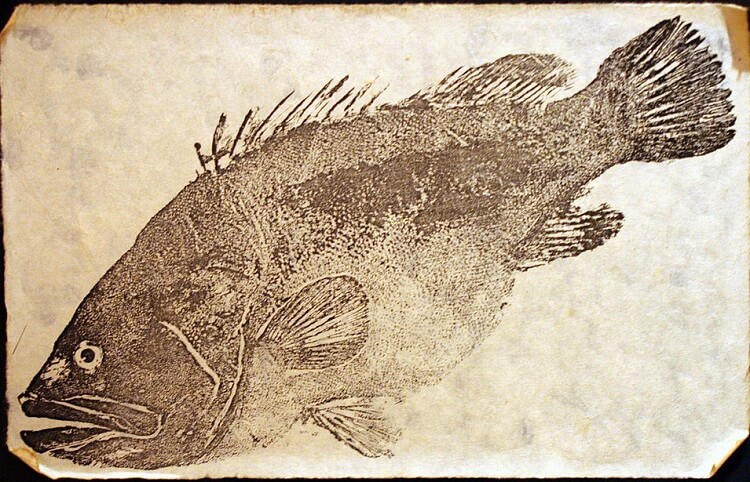 Once upon a time in Japan, fishermen went out for fishing with paper, ink and brush. When they caught big fish, they printed the fish on Gyotaku before sold in the market. It was a record of their accomplishments. Gyotaku was encouraged by a municipal government in Edo era (17C and later), and its technique had improved until 1800s. Some techniques like adding eyes, fins and tail were developed later, and Gyotaku became to have more factors as an art. Basically, there are two ways to transcribe fish as a Gyotaku print; in direct method, put ink directly on fish and transcribe it onto a paper; in indirect method, place a paper or cloth on fish, followed by adding colors on.
Originally Gyotaku fish paints were made by the direct method in which one puts ink on fish and transcribed on a paper. So, old Gyotaku prints are basically black and white. In present, Gyotaku has developed into color prints, and they became highly evaluated all over the world as an art.
Mr. Yamamoto, a leading person of Gyotaku print today in Japan, once worked as an employee, but he quit his job and started to master Gyotaku fish print art. Now, his Gyotaku arts are famous in the world. A famous Hollywood actor Robert De Niro has one of his art work.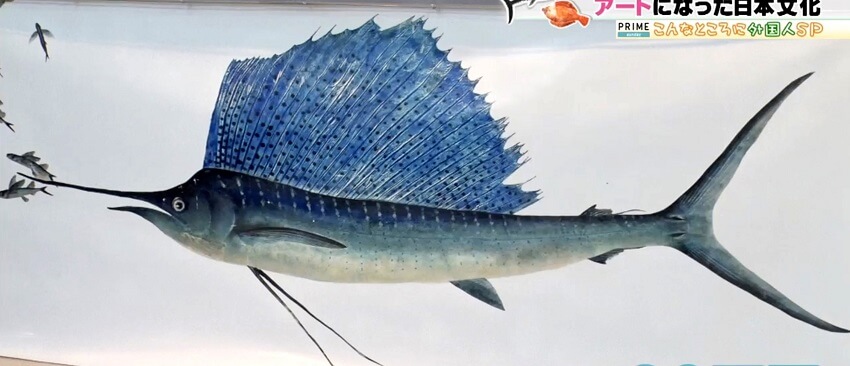 In his atelier in Saitama prefecture, many Gyotaku art prints are displayed and sold. His works are not affordable for everyone. For example, a Gyotaku print of killer whale is sold for over $9,000, over 2m length print of merlin is for over $8,000, tuna is for about $2,800 and so on.
How To Make Gyotaku Color Print
Let's take a look at how Mr. Yamamoto, a leading person of current Gyotaku prints, make a print of flatfish.
First, he prepared a raw fish to print. He already made pretreatment by removing its internal organs, removing slime, place silk cloth on it with a special glue. He then adds colors with colored ink by a puffing tool called "Tampo". He layered multiple colors to make it look real. This layering color method belongs to a type of indirect printing method. He has developed the basic method and established his original method.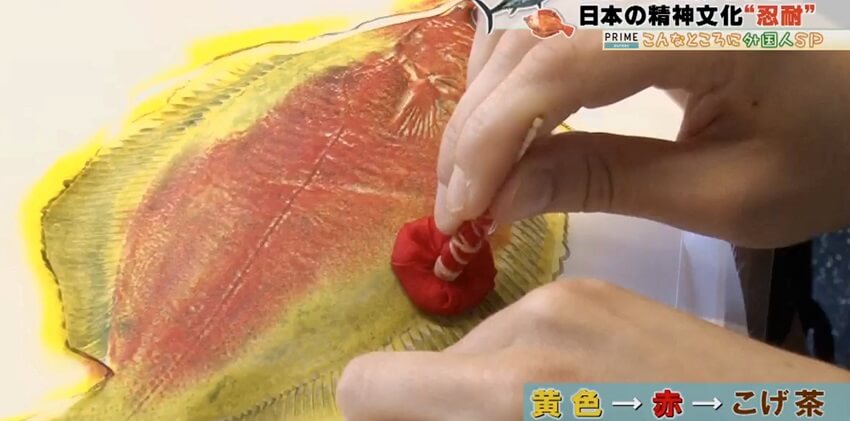 Don't put colors carelessly, Mr. Yamamoto says, puff softly but repeatedly up to 30 times for one place. Don't press too hard, don't slide the puff. Touch really softly to put colors, and repeat the same process until enough color will be there. Patience and endurance, that is the point to make good works. To make a flatfish print, he started from yellow color as a basement, then a shape of the fish appeared. Next, he added red color to express depth of color. Finally, he added light and dark browns to express original texture of the fish. Layering the three colors one after another, copy every texture of the fish. In about three hours, his work of flatfish has completed.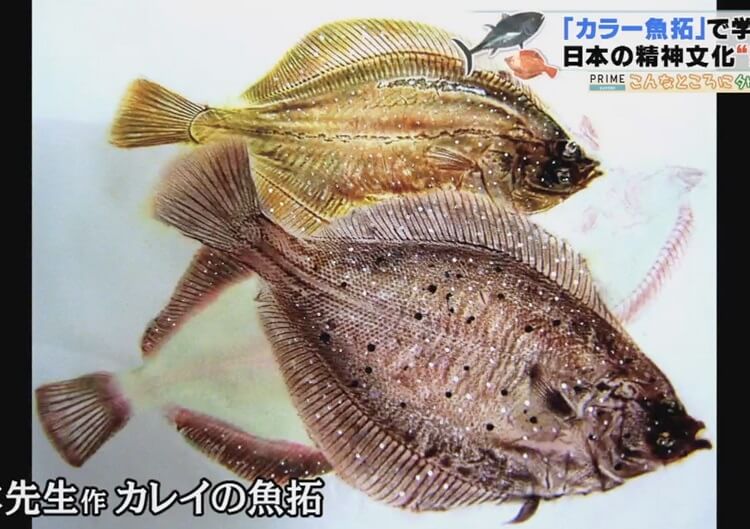 Mr. Yamamoto's work by his unique technique which has been developed over 40 years in his careers is certainly an art representing Japanese Gyotaku fish print!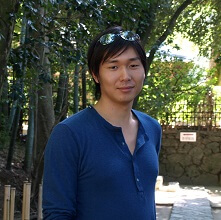 Author - Hiro
Lived in Kyoto in school days, I was impressed by profundity of history and tradition of the city. Had a job to join the three major festivals of Kyoto: Aoi, Jidai and Gion festivals. Love Kyoto and Japanese culture.
Manager of OrientalSouls.com, selling items of Japanese culture, tradition and craftsmanship. I'll introduce interesting information about Japan!
You May Also Be Interested In...