Kimono fabrics aren't all created equal. Neither are the patterns Japanese artisans carefully dye into them. Today I want to introduce to you 5 of Japan's most popular kimono fabrics and patterns while telling you a bit about their history. Then I want to show how you can enjoy this delicate, artistic beauty in the day to day. Here's a spoiler: you don't have to buy or wear a kimono to enjoy this traditional Japanese beauty.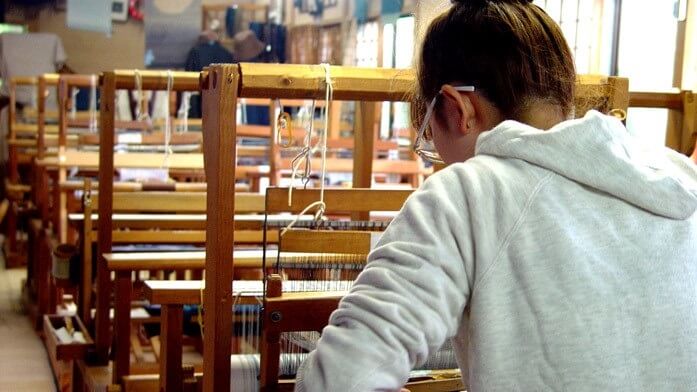 (Image: tsumugi.co.jp)
A Colourful Country of Kimono Varieties
From the furthest northernmost reaches, all the way down to its southern beaches, Japan is home to a wide array of kimono styles and patterns. Regions across the country have competing claims over who has the best silk. Famous kimono vendors in Kyoto – known around the world as the Kyoto capital for the famous geisha of the Gion neighbourhood – brag that they stock indigo silks from Yūki in Ibaraki, the individually hand woven and died fabrics of Kumejima, Okinawa, Japan's southernmost group of islands, as well as those from Ushikubi in inland Ishikawa Prefecture and beyond. The point is, each region has a distinct weave and style.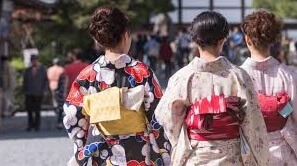 (Image: wendywutours.co.uk)
So important are these regional differences that Kyoto's best shops make sure they have a wide selection from around the country to offer their loyal customers all year round.
5 Popular Kimono Fabrics and Patterns
1.) Hon-Shiozawa Silk:
The highest grade silks always have the term 'hon-' before their name in order to designate them as 'real,' or 'true.' The first popular kimono fabric today is Hon-Shiozawa silk fabric from Minami Uonuma city in Niigata Prefecture along the Sea of Japan coast. Known for the strength of its weave, as well as for its simple, cross-like patterns, Hon-shiozawa fabrics are a nation-wide favourite for kimono makers and wearers alike.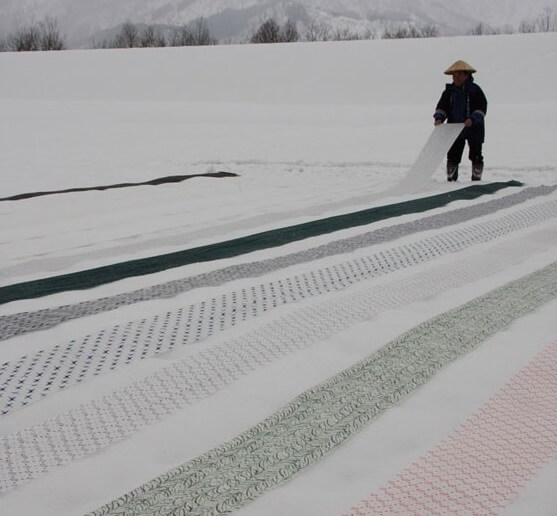 (Image: kogeijapan.com)
In fact, this region of Niigata is the home to several very famous silks and specific weaved fabrics, including Toukamachi's Akashi-chijimi, Ojiya chijimi, and Shiozawa tsumugi silks.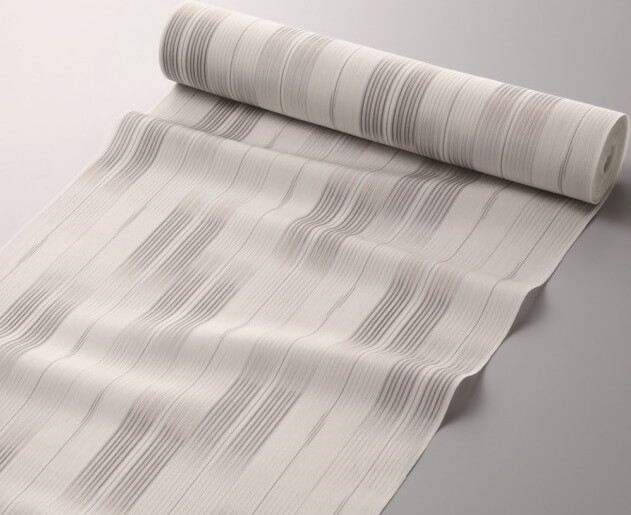 2.)  Nishijin-Ori Yarn
Straight from the kimono capital, Nishijin-Ori is one of Kyoto's most famous fabrics. With their offices right in the city, you can even visit and take a look for yourself. Some forms of this ancient woven fabric are dyed using the famous yūzen method we have heard about before. For a complete rundown on Nishijin-Ori, see our featured blog post here: LINK

3.) Ushikubi Tsumugi Silk
Ushikubi comes from Ishikawa Prefecture, a place we hear from a lot. In fact, I think we might have to start calling Ishikawa the arts and crafts capital of Japan! Seriously, they are killing it out there. Pottery, washi, lacquerware … and silks too?
Ushikubi tsumugi silk is so tough it's got the nickname as the 'nail-pulling' silk. That's because it's rumoured to be able to pull one right out of a wall if you hook it on good enough. Ushikubi fabrics are famous for their indigo dyes which give them a timelessly 'cool' colour.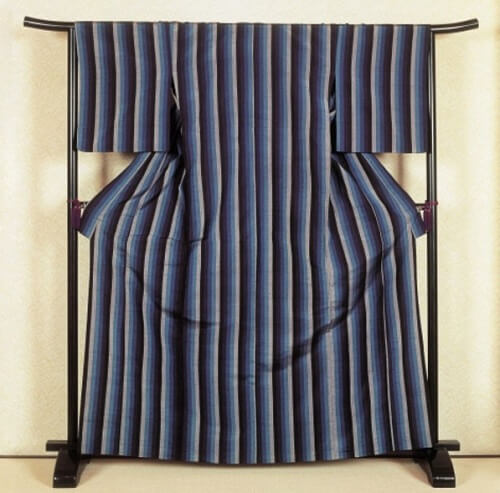 4.) Hakata Brocade
Hakata brocade is a strong, stiff, and impressive fabric made in Fukuoka Prefecture in southern Japan. Interestingly, it's tough and cool image matches the feel of its hometown perfectly, as the young people of Fukuoka are known for their liveliness (and sometimes craziness). These strong fabrics are used mainly for the obi sash, but you can imagine how many other creative uses we might come up with if we really wanted to experiment! (Just don't tell your kimono teacher!)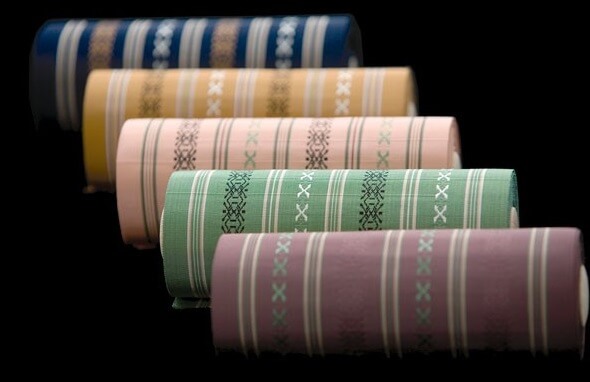 5.) Kaga Embroidery
We covered Kaga from Ishikawa Prefecture (again!) embroidery before on the OrientalSouls blog – review that post here: LINK
These hand woven and sown designs are beloved due to the uniqueness of each artist's personal touch.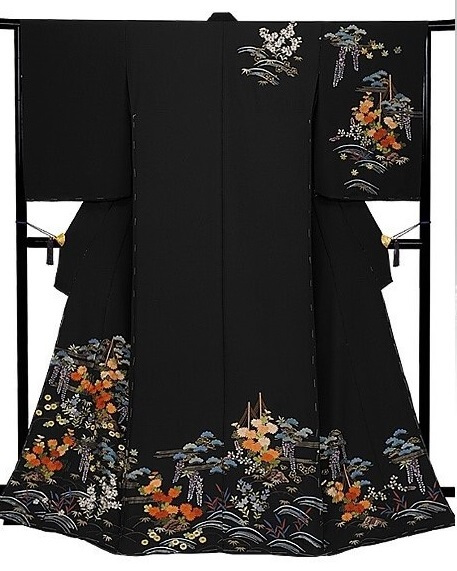 Kimono Secrets: Creative Uses of Japanese Kimono Fabrics and Patterns
Did you know that there are more ways to enjoy a traditional Japanese kimono than just wearing one?
Many worn-out, damaged, or unneeded kimonos are converted into useful, everyday goods. Reborn as book bags, purses, scarves or wraps, some families are taking their grandmother's treasured but worn-out kimono and making them into something useful for the whole family. Here we can see some creative use of kimono fabrics to decorate small jewelry boxes. This way, you can keep that beautiful pattern out in the open every day of the year, instead of leaving it up in the closet like you used to!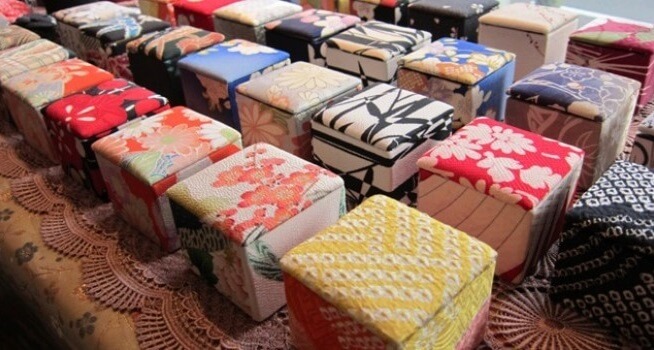 (Image: japaaan.com)
Or, how about this phone cover, remade from an unneeded kimono's fabric and an old, simple case?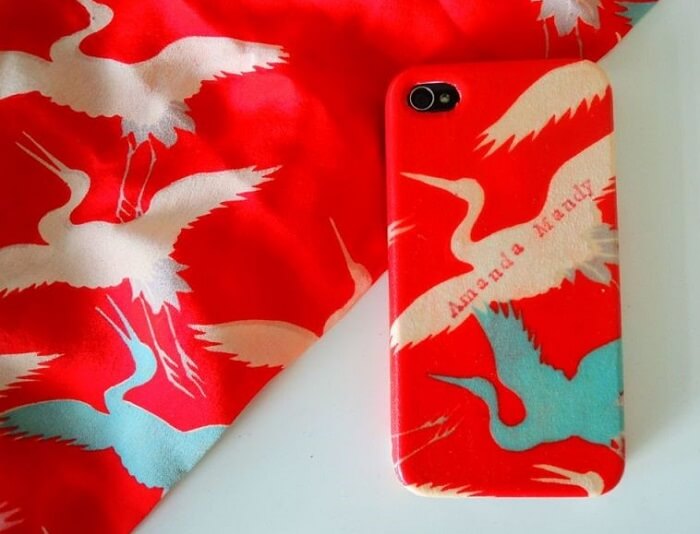 (Image: japaaan.com)
Or a beautiful tote bag, complete with an authentic hakkake lining!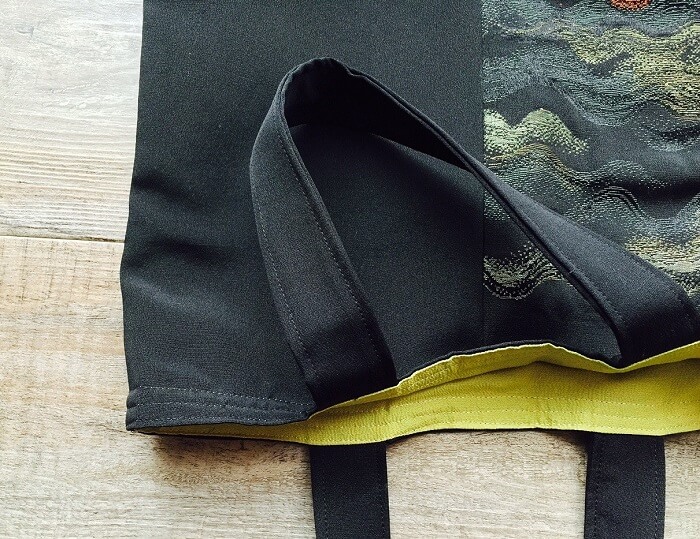 (Image: kimono.cc)
Another Way to Enjoy the Traditional Beauty of Kimono Patterns?
But hey, let's admit it – not everyone is going to invest in a kimono. We don't always have many opportunities to wear them outside of Japan, and who is going to teach us the proper style and etiquette? Plus, my family doesn't have an old, damaged kimono lying around I can just commandeer and turn into something useful for my day-to-day. There must be some other way that we can enjoy these traditional patters …
What about if we substitute the delicate silks for luxurious hand-made washi papers? What about instead of wrapping these beautiful garments around our bodies, we wrap them around a durable and versatile pen?
Here at OrientalSouls, our Mino Washi pens use the very same printing process as these traditional Kyoto kimono patterns. That's why the decorations contain such authentic, ancient beauty. With colours that pop and shine, the yūzen printing masters of Kyoto don't want to limit their beauty only to those of us who wear kimono – that's why we've teamed up with them to bring these traditional styles to your home or office.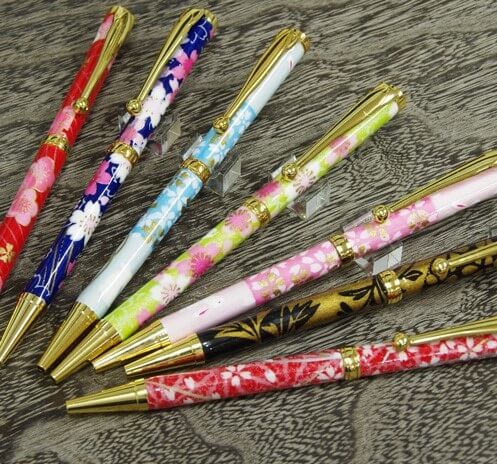 Take a look at the wide array of patters which utilize only the best Mino washi paper, traditional yūzen dying techniques, and authentic Japanese artistic patterns. Now you can take the ancient Japanese tradition of kimono where ever you travel, without having to change out of your shirt and pants!
Check out our shop and stay tuned for more blog posts!
Products in This Post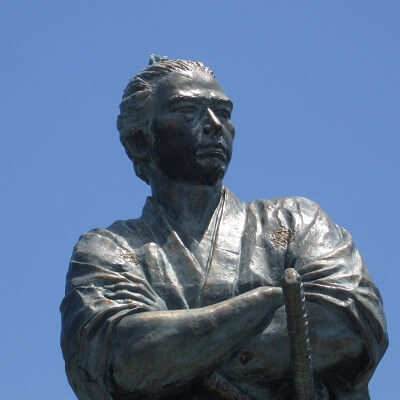 Author - Jay
In my spare time I enjoy watching baseball, tasting local cuisine, and exploring by road and rail. Having lived in several cities around the world, I have an appreciation for local as well as international histories and cultures. Excited by cultural and social exchange, it is my hope that this blog will help promote an interest in Japanese traditional wares and practises by introducing you to their history and meanings.