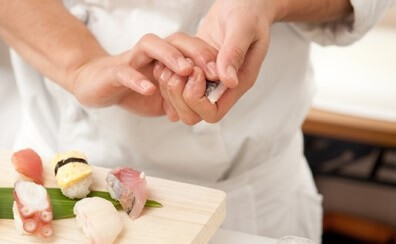 (Image: sushi-kichijo.com)
Somehow, quite a number of people believe that becoming a sushi chef is an easy task. I mean, it's a slice of fish on a portion of rice mixed with vinegar, how hard could that be, right? What they don't know is that technique in making a sushi isn't exactly the most and the only important part of becoming a sushi chef. One might easily make a gorgeous sushi if they are given the ingredients and a set of time to learn how to treat them right, but if that's all they've got the best they'd get out of is maybe, an appealing presentation probably worth inviting their friends over. But that's not a chef.
Stamina!
Being a sushi chef requires a lot of stamina. This is a sample schedule of a typical sushi chef:
04:00  Wakes up, and goes to the fish market
05:00  After buying the ingredients, goes back to sleep at the restaurant
08:00  Breakfast
08:30  Preparation for lunch hours
11:00 Opens the restaurant
14:00 Closes the order, rests (sleeps, or goes to the fish market if anything runs out)
16:30  Prepares for the dinner hours
17:30 Opens the restaurant
22:30 Closes the order, cleans up
00:00  Sleeps
Additionally sushi restaurants are often open throughout the week, so sushi chefs hardly get any day off. Not to mention the energy-consuming amount of workload but the sort of life style requires a stamina that allows them to work throughout the day and the week without getting ill, and the ability to control their sleep in order to get enough rest to work on the next day.
Communication!
Communication ability is also an important quality that sushi chefs need in order to run their restaurant. There are two ways in which running a sushi restaurant requires communication skills: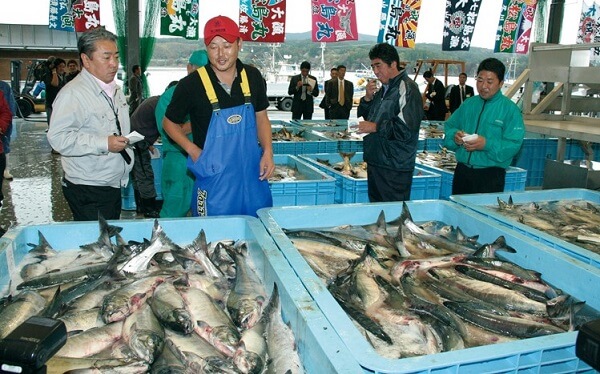 (Image: jfa.maff.go.jp)
Chefs need to be able to keep up a conversation with their customers in order to keep them coming back. Even if a chef could make a beautiful, delicious sushi, customers might not want to come back to a quiet restaurant that gives them annoyed look or half-hearted replies.
Chefs need to communicate well with those in the same industry and people from the fish markets. In order for the chefs to get a better fish, faster than other restaurants, they need to have a healthy connection with people working in the fish-related industries. If they fail to keep up with the relationship, they may lose the trust and a quality ingredients all at the same time.
Techniques!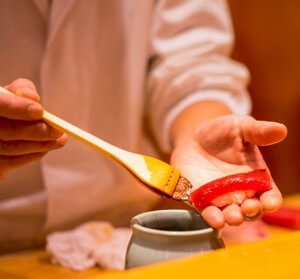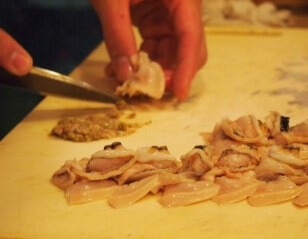 Just as important as stamina and communication skills is, of course, the techniques. A sushi, with a proper ingredients and proper preparation, will look beautiful and delicious. Real sushi chefs, however, often have a technique that cannot be taught to others, and thus makes a difference to what people create from mere recipes. These techniques differ from one chef to another, and it is almost considered a 'habit' that even they themselves don't realize they use. It could be the way they use their knife, the amount of pressure they put on their rice, or the combination of everything that creates one excellent timing. Or it could simply be the creativity to come up with something original and delicate at the same time.
Commitment!
Typically people spend five to ten years before they become a sushi chef, and the first couple years they are not even allowed to touch the ingredients. But recently people started yelling a new theory that 'you don't need so many years to learn how to make a sushi'. And I actually think it's true. I don't think they need so many years of working over hours without a proper wage, without being taught what they need to be taught. But I still disagree with people who think that becoming a proper sushi chef only requires a couple of years of practice and their natural talent, because there's always something you cannot learn without watching how people work in the industry, and how the chefs move about in behind the counter. Or why they do what they do.
Ugh I need sushi :O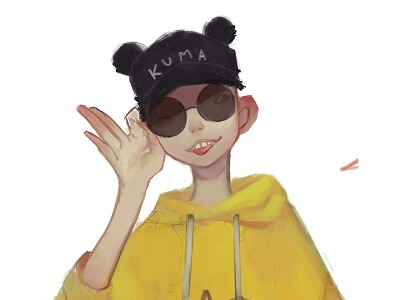 Author - Kanna
A writing/translating enthusiast and a part-time illustrator, recently graduated from Sophia University. My expertise is in media and English studies, but I am also interested in a wide variety of fields, including traditions of art in Japan and how it has changed and been preserved. I hope people find interest in Japan through this blog!
Our Products in Related Category