How to display your Shodo calligraphies in your home? Nowadays, more and more people begin to become interested in mounting of his/her Shodo calligraphy. You'll be more interested in Shodo when you understand how to display your Shodo calligraphy.
In this post, I'll show you how to mount your Shodo calligraphy in a typical Japanese style, hanging scroll by yourself.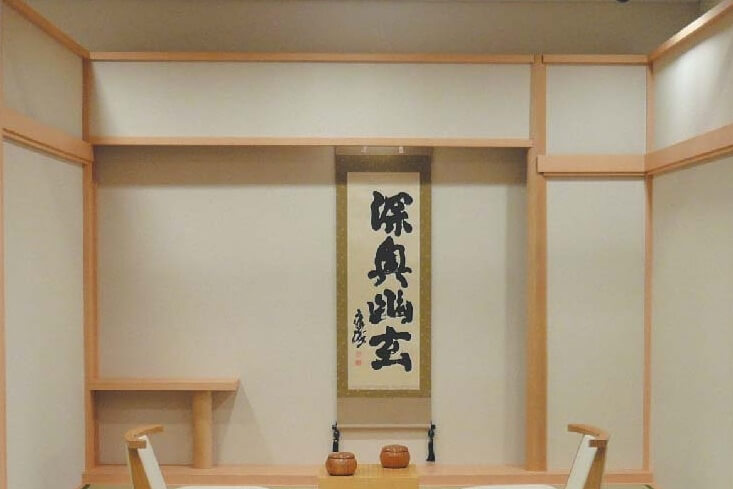 First, You Need To Know Two Mounting Styles: Hyoso and Karimaki
There are two mounting styles for Shodo art: Hyoso and Karimaki. In short, Hyoso is an official style that will done by professionals and that costs much. On the other hand, Karimaki is more casual style in which just attaching a calligraphy sheet on a background sheet followed by placing it on a scroll-shape mount. You can do the latter Karimaki style easily for lower cost.
You should mount in the official Hyoso style in case your calligraphy will be displayed in exhibitions, but it'd be enough just enjoy by yourself and display in personal spaces.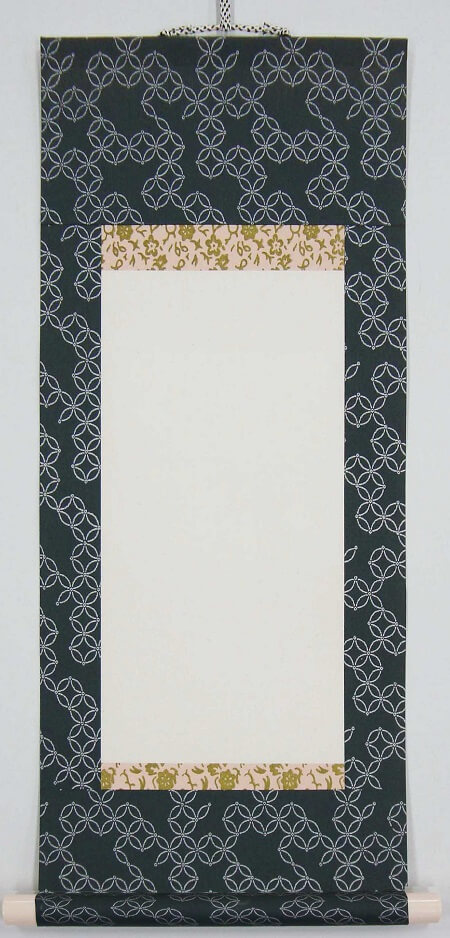 Check Your Art Size Before Start Mounting
There are various paper sizes for Japanese calligraphy writing. (See this post for size variations LINK)
Therefore, you can find many items for mounting which is appropriate for your Shodo writing. Prepare right size Karimaki for yours. Karimaki is a scroll shape mount basically made of paper by which you can scroll and display your Shodo writing. You can find one in EC shops like Amazon; search for an item by putting Karimaki (仮巻) in the search box.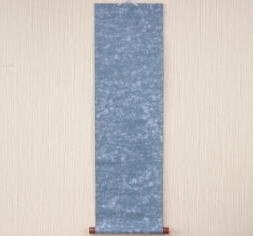 Many kinds of patterns will be hit by the search, so choose your favorite. Please note that Karimaki is not enough to make handing scrolls. You have to get a background sheet and Ichimonji in addition. The background sheet is made of paper, cloth or leather which on which your Shodo writing is placed in order to reinforce your writing.
Background Sheet and Ichimonji Look Your Shodo Writing Nice
Background Sheet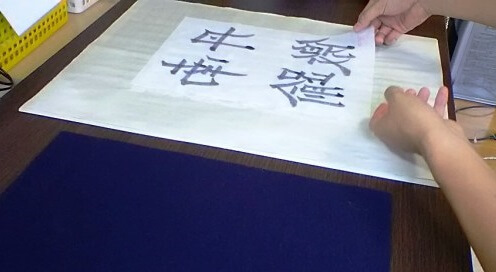 Literally, the background sheet will be pasted on the backside of your Shodo writing paper. It makes your writing look nicer and durable enough to be able to display for many years. Not only that, background sheet show your writing to advantage by adding solid white background and clarify black Sumi ink used by Shodo writings. This sheet can be found in EC shops as well.
Ichimonji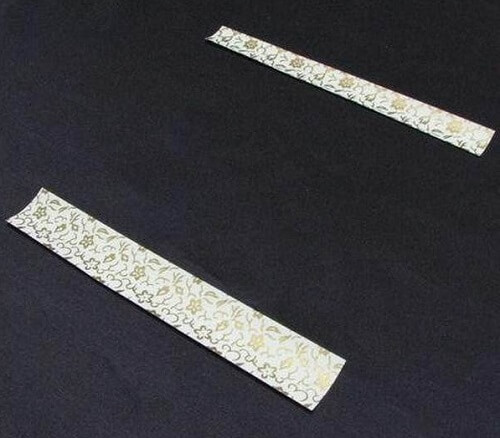 Ichimonji is the decoration attached on top and bottom of writing. It adds gorgeous mood by putting gorgeous but traditional pattern on both sides. The easiest product of Ichimonji is made in sticker form, so you can just affix the seals. If you'd like authentic Ichimonji products, ask in Japanese stationery shops or professional shops.
After you get Karimaki, background sheet and Ichimonji, then you just paste them on your Shodo writing. Following the steps of,
Put your writing on the background sheet
Put the background sheet on Karimaki
Finish by decorating with Ichimonji
That's it! It's this easy. Please also refer to the packages of Karimaki or Ichimonji and follow their instructions. All you have to do is to be careful not to break your writing.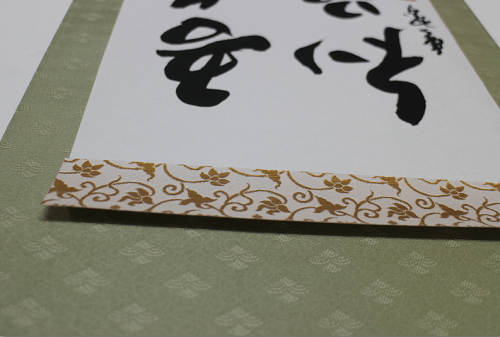 Try To Add Fuchin To Display In More Authentic Style
It is an official way to display in Japan that add a decoration stull called Fuchin at either end of the bar of hanging scroll. (See the image below) It costs you extra, but please try to add them if you can.
Thus, you'll find your Shodo writing will become very gorgeous and authentic by mounting. It wears dignity by those decorations, although it'll take some time and works. If you are not confident with DIY, there are mounting shops in Japan where you can send your work, then they'll send it back to you mounted work nicely. They'll also fix old or broken art works, so ask them if you're in trouble with your art works.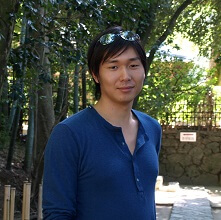 Author - Hiro
Lived in Kyoto in school days, I was impressed by profundity of history and tradition of the city. Had a job to join the three major festivals of Kyoto: Aoi, Jidai and Gion festivals. Love Kyoto and Japanese culture.
Manager of OrientalSouls.com, selling items of Japanese culture, tradition and craftsmanship. I'll introduce interesting information about Japan!
You May Also Be Interested In...