This post is the latter half of previous post. (LINK here)
Katsushika Hokusai is one of the greatest Ukiyo-e artists. He is a most famous Japanese artist in the world and selected as the top artist in 19th century in a questionnaire made by an American famous magazine LIFE. Here are 10 reasons why Hokusai was appraised so much in the world.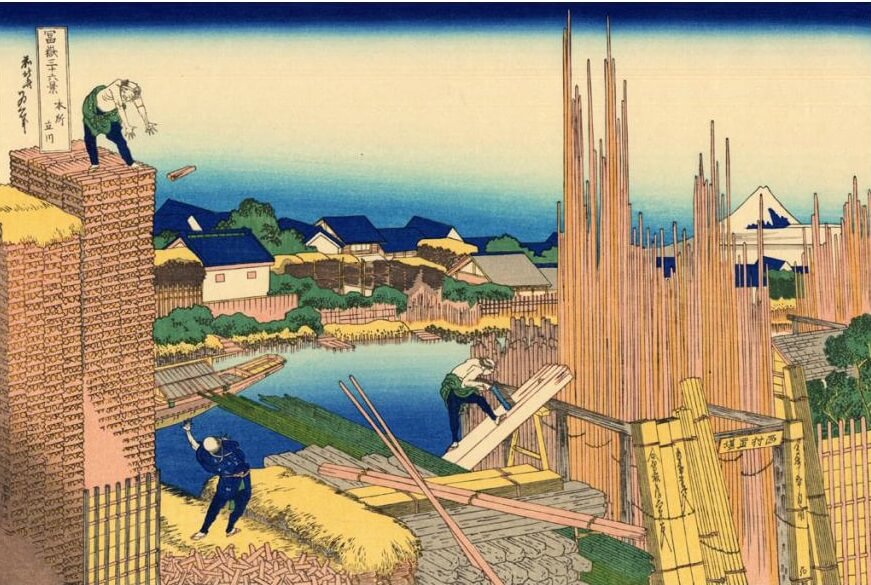 Reason 6) Hokusai Made It Possible to Draw Invisible Things
Among a series of Hokusai's masterpieces, Thirty-six Views of Mount Fuji, an Ukiyo-e drawing a place named Ejiri illustrates travelers are buffeted by a gust of wind. They are having difficulties in walking, and their bamboo hats and papers are about to be swept by wind.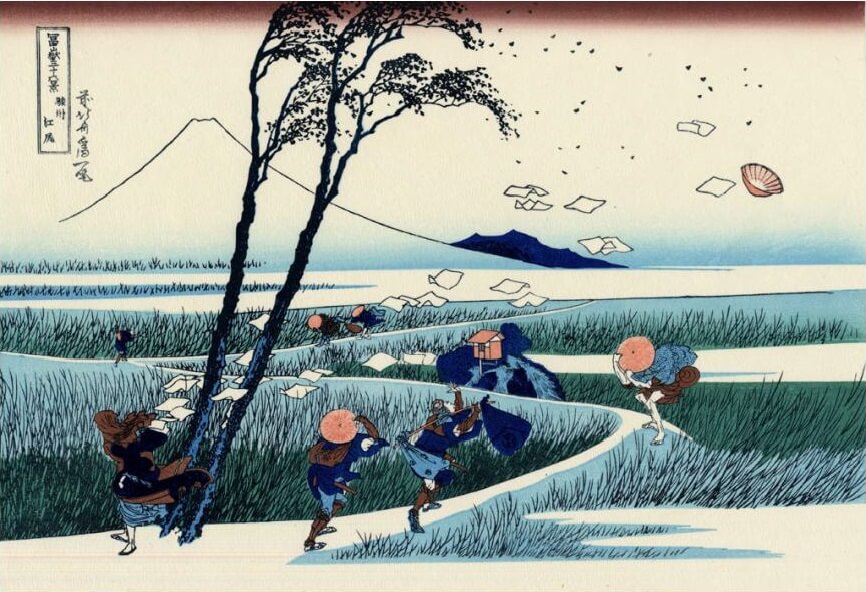 A remarkable point in this picture is that you can feel a gust of wind even the wind is not drawn in the picture at all. Not limited to your sense of vision, it also appeals to your sense of hearing just like you can hear whistling sound, soughing in grasses and trees, and groan of travelers.
This kind of technique to visualize what you can't see was an expertise of Hokusai. Hokusai was the top artist to illustrate what are invisible, and no other artist in this era could have done like Hokusai. This technique was a sensational topic among European artists, and many artists referred this technique of Hokusai.
Reason 7) A Great Impressionist Artist Monet Referred Hokusai To Draw A Series of Paints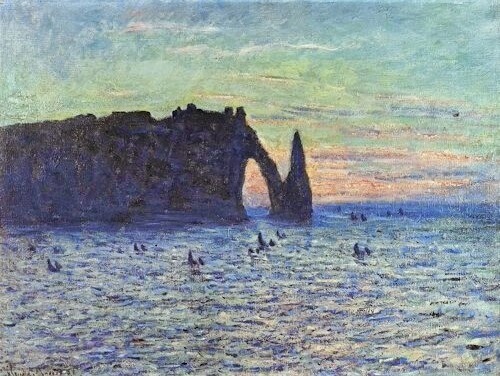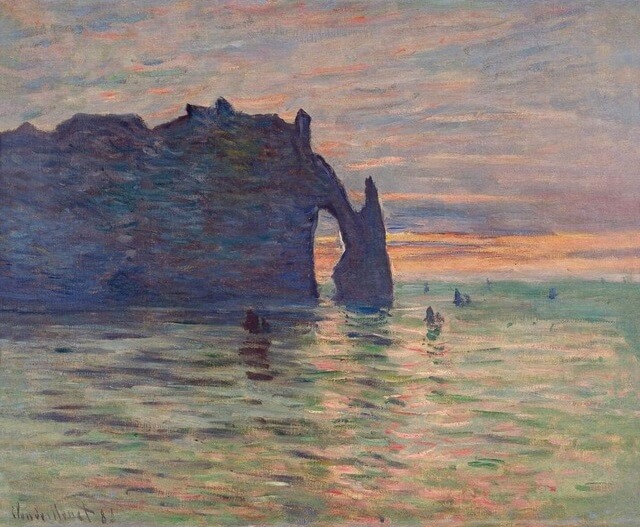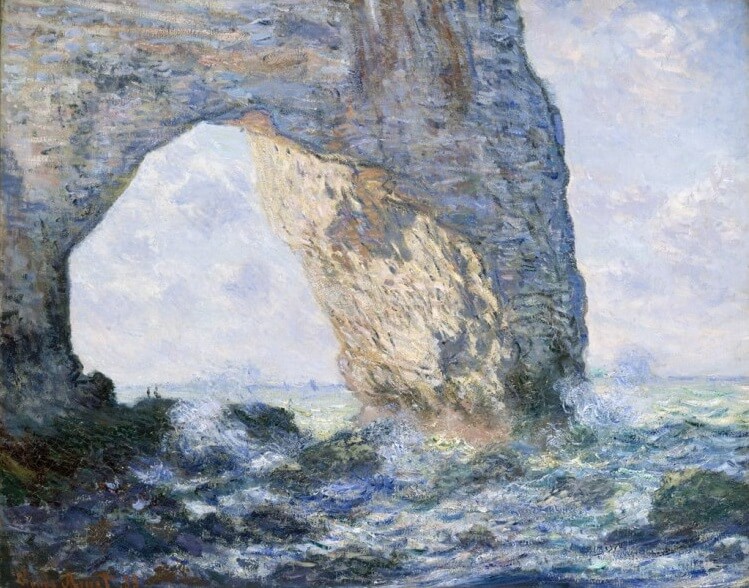 There are a lot of things that Hokusai affected to impressionists: flat but lively depiction, deformation of objects, vivid and vital coloring, unique screen layout which is made by asymmetry and white space, and so on. Those techniques used in Ukiyo-e are all innovative and new for European artists.
Those impressionist painters tried to adopt not only drawing techniques of Ukiyo-e but also composing a series of paintings on the same subject. Like Hokusai did in Thirty-six Views of Mount Fuji, they copied the way of drawing same subject but in different conditions such as season, hour and angles. A representative example of this is "The Water Lily" and "Étretat" made by Claude Monet.
Thus, Hokusai affected artists in the world not only from artistic expressions but also from way of making series of drawing. And these effects are still alive in modern art!
Reason 8) Innovative Depiction of Exaggeration That Nobody Did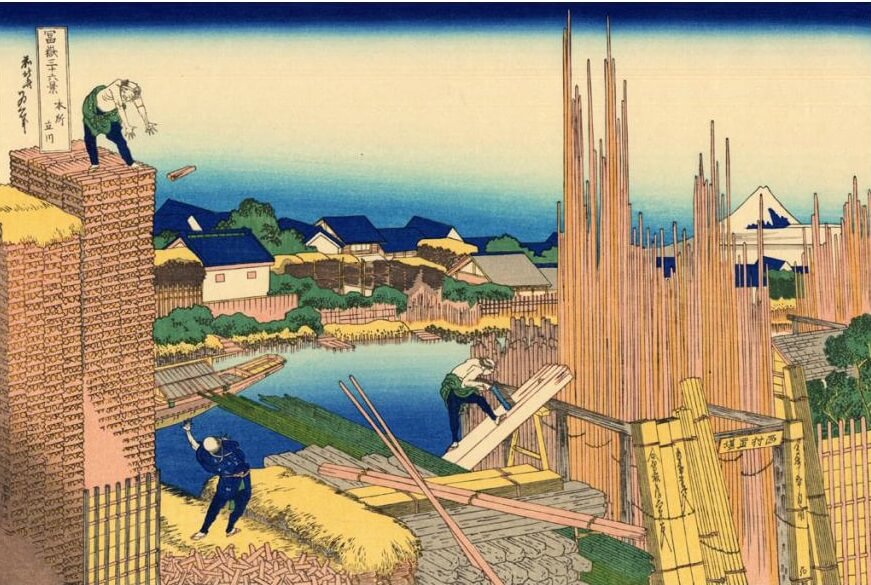 An Ukiyo-e here is a depiction of Honsho-tatekawa with small Mt.Fuji in far away. As you can see, lumber merchants are there in this place, but they are depicted in a very unique way. Men are passing lumbers to pile up in a tower, but the height of the tower is apparently exaggerated. If the height was depicted as it was, you'll never feel tense atmosphere and feeling of stir that this Ukiyo-e expressed.
Long timbers leaned in the right half of the picture are also depicted in the same way. In the old era when people didn't have concept of graphic design, Hokusai used graphical expressions by which exaggerated depiction were prioritized to reality. It is said that pictures drew by Hokusai were strikingly expressive compared to other artists of the era.
Reason 9) Manga is The Word Made by Hokusai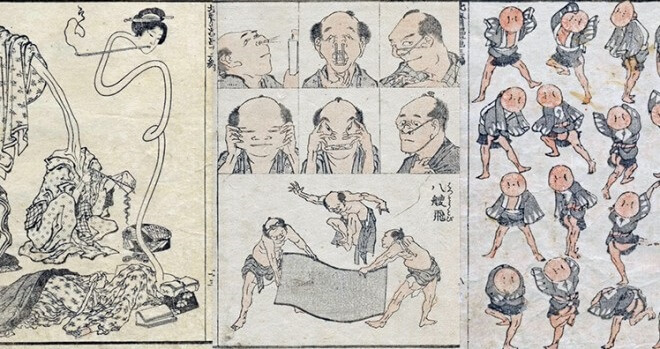 Manga is a word that indicates Japanese comics. Surprisingly, the word manga is used by Hokusai when he made what he called Hokusai Manga. It is not clear how he came up with the word 'manga', it is clear that Hokusai used the word for the first time.
Reason 10) Hokusai is Only Painter in 19th Century; He is Ranked with Edison and Columbus
A famous photo journal LIFE published a result of their questionnaire about the most important person in the last millennium. In the top 100 people in the list of result, inventor Thomas Alva Edison ranked in the first place, explorer Christophorus Columbus ranked in the second place, followed by famous persons you saw in the textbook of world history. Only Japanese listed in the top 100 was artist Katsushika Hokusai. Furthermore, he was the only artist selected among artists of 19th century.
A reason of his selection was his accomplishments of causing Japonism. He made a great impact on western art, and he must have worked as a milestone for great artists including Monet, Dega, Renoir, Gogh and Picaso.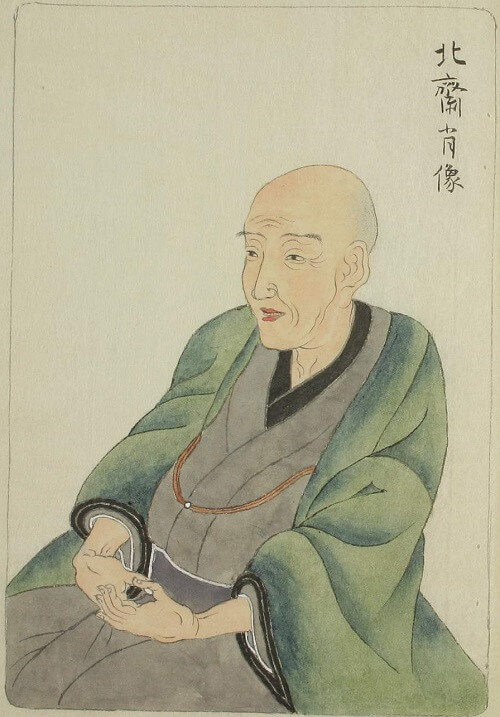 The other 5 reasons will be continued in another post.
You May Also Be Interested In...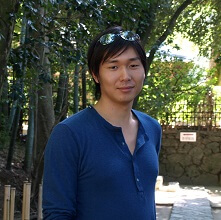 Author - Hiro
Lived in Kyoto in school days, I was impressed by profundity of history and tradition of the city. Had a job to join the three major festivals of Kyoto: Aoi, Jidai and Gion festivals. Love Kyoto and Japanese culture.
Manager of OrientalSouls.com, selling items of Japanese culture, tradition and craftsmanship. I'll introduce interesting information about Japan!
Our Products in Related Category